Gainan's Midtown Flowers
Florist Gainan's Midtown Flowers, 1603 Grand Ave Suite 140, Billings, MT 59102, United States:
89 reviews
of users and employees, detailed information about the address, opening hours, location on the map, attendance, photos, menus, phone number and a huge amount of other detailed and useful information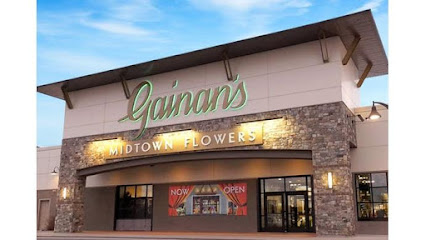 Address:
1603 Grand Ave Suite 140, Billings, MT 59102, United States
GPS coordinates
Latitude:
45.7851051
Longitude:
-108.5579501
Location on the map
Reviews Aleksey K
Thank you so much for delivering my wonderful MIL this beautiful, custom arrangement for her birthday today!! I ordered online yesterday and requested delivery by noon. She received her flowers by 10:30 am and loves them. Great job!
9 months ago Irene Davis
I have been ordering flowers for years from Gainan's. The flowers have been great and always got what I ordered. Within the past year things have gone down hill. I always order the deluxe flowers which add Roses on three different occasions they have not added them. They have made it right after the fact but but when I am spending good money on flowers once I understand. This time I ordered flowers for my wife for mother's day they didn't get delivered till after 5 we weren't here they didn't leave anything to say they had stoped by. I had to call and they told me they would be out today. Still haven't arrived. I called again they said they would be delivered by 8 pm.so now I am held hostage to wait. I will be looking elsewhere next time. They used to be great not so much anymore. Don't get me wrong the flower arrangements are good. But I'm sure someone else can do a better job.
6 months ago Ali M
I order Mother's Day flowers for all the mothers in my life every year. This year my step-mother was unexpectedly out of town, so when the flowers were originally delivered Gainan's made arrangements to redeliver when she returned at no additional expense. Gainan's provides beautiful floral arrangements with a variety of price options and their customer service is exceptional. They also offer a great loyalty program!
5 months ago Tracie Love
Called today and they delivered a beautiful arrangement for my friend that lives in Billings. So easy and the arrangement was gorgeous! Thank you!
4 months ago Tony Thomas
I stopped by Gainan's to grab some stuff to make a beautiful cheese spread, all 3 of the staff helped me find all of the perfect items, it was like shopping with friends who knew exactly how to make your party perfect!! Great Job Gainan's you have an amazing team working with you! Here's the photo's I promised you!
6 months ago Katherine Leblanc
It was a wonderful experience. I believe had a lady named Tammy helping me. She was awesome. She made sure I got what I wanted for my father in laws flowers for his funeral!!!
6 months ago Brett Hayton
This is the most wonderful flower shop and business I have had the pleasure to work with! They are amazing! The flowers are quality and gorgeous!! I live in NC and my mom ordered me flower from here - they found a shop here to work with and when it wasn't quite right they resent the whole order back over!! They are so ethical and amazing I hope everyone supports this company they really go above and beyond to do the right thing!!
10 months ago Tierra Burns
This store is decorated beautifully with lots of furniture and home decor. However I have to take a star away because floral arrangements were not the focal point of this location. Another because most the items seemed to be rather expensive, for what you were receiving. This location did have very friendly and helpful staff. And the items selected fit well together in this space.
8 months ago Robert Garcia
Stopped in to pick out an arrangement for the holidays. I was being very particular about what was in it so as to be pet-safe. The gal helping me was very patient and accommodating. It was put together shortly while I waited. I will definitely be back.
4 months ago Matthew Anderson
Stacy helped me today with flowers and gift cards. She and the other ladies at the front counter were so kind! I will shop here more often because of your great attitude and kindness. Thank you!
11 months ago Danny Mac
Service and selection are AMAZING!! I honestly don't think I have had such a good experience at any other business in town.
10 months ago Darlene Morse
Thank you for making everything better.
7 months ago KONSTANTINOS DIAMANTIS
This was the worst experience I have ever had at a florist, the woman was rude and acted as if she was doing me a favor by selling me 6 red roses when I asked for a dozen. I will never use this florist again and will tell everyone I know to stay away.
9 months ago israr pathan
In the past I have been very pleased with the arrangements I've ordered from Gainan's. In several recent orders though I have been the recipient of very poor customer service. Even when speaking with someone in management, it was clear that they could care less if I continued on as a customer. Apparently they are a big enough deal now that they don't need the little people that have supported them through the years. I haven't minded paying the "higher than everyone else" price, but I feel like I'm also paying for the customer service. Since I'm no longer receiving that benefit, the flowers are no longer worth the cost. I will be switching my business to one of the many other quality shops in Billings that I'm sure will be happy to provide customer service along with my orders.
7 months ago Jesse Cole
Beautiful store. Helpful staff.
1 month ago Don Mitchell
Ordered flowers online for my sister in California for Mothers day. Gainans confirmed they were able to deliver 2 days before mothers day. They called and said it would be after mothers day. So I asked if they could do the next week for my sisters birthday instead. I called 4 times that week and finally the 4th call they confirmed it had been delivered. I paid $85 for a TINY, Horrible looking bouquet. The Lilys were completely closed, and the Rose's look like they are already dying. I am so disappointed and annoyed with not only the customer service but with the quality of product. I will never use Gainans again!
6 months ago Douglas Smith
Was placing an order from out of town, Jenna was unbelievably helpful. I highly recommend
10 months ago Patrick Papakee
Gainan's has such beautiful arrangements that bloom for weeks.
2 months ago Deepu Varghese
Stacy was wonderful and super funny! She took time out to help my 3 year old pick out flowers. She put up with my crazy family. The whole staff there is wonderful! Thank you stacy for being an amazing person!
8 months ago S M
Today was my mom's birthday. First one without my step dad. Went in there to get 55 roses, in different colors, vases, cards. Expected them to tell me it wasn't possible to do same day. Boy was I wrong. Not only same day, but I didnt even leave the store. They had them done up and beautiful in less then 30 mins. Very friendly gals. Helpful, kind, and honest. Wont go anywhere else! Keep up the great work! From the bottom of my heart.. Thank you
10 months ago Lisa Benson
Professional and helpful staff.. Was out of town when an arrangement was delivered. Called, arrangement remade even more beautiful than the original arrangement. Have been a customer for 40 years and will continue to be a customer.
4 months ago Tarin Trobec
I had a very positive experience.... My flowers had not lasted as long as they should have... The wonderful staff at Gainans were so very helpful and took care of my situation and were so gracious.... I will stay a client with them and can't thank them enough for their positive and special help.... They were great!!!!
7 months ago Francesca Darco
My husband got a beautiful arrangement from here for Valentines Day. Very happy!
7 months ago Fady
Beautiful Christmas displays.
1 week ago Robert Harrington
The flowers we decided to choose from your website were the Florist's choice! It was beautiful and exactly what I would have chosen had it been a selection on the website. The natural colors and assortment in the bouquet were perfect! Thank you so much for exceeding our expectations and providing such a fresh bouquet. I was so happy to see the photo from the recipient, she loves them.
4 months ago Karen Toothaker
Great staff willing to answer questions. Good plant selection.
7 months ago John Catlett
Great people and great products
1 month ago Siddhant Yawalkar
Gainan's has the best customer service. They always go above and beyond to accommodate me! I love to go there for high quality gifts, fun decor, beautiful unique flower arrangements, and everything for gardening! Plus their website is so easy to use and love getting my "points" online so I can save up and send someone free flowers! It's definitely one of my faves all around!
2 months ago Brenda Taylor
What a fun place just to window shop. They have a lot to see. Quite the Waterford glass collection if you are into that. Some things are quite pricey. Their greenhouse is well done and plants are healthy. Reasonably priced.
8 months ago Eduardo Lopez
They did an excellent job with the cut arrangement and the other plant was just beautiful and great pricing!! They even took the time to send me a picture of the cut arrangement to ask if it had enough color in it. Wonderful job easy to work with!
11 months ago Chris Coletti
Gaiman's has such a friendly atmosphere. I am greeted when I come into the retail area. Everything is displayed so beautifully and with pops of color to stimulate my eyes! WOW!!
8 months ago David Thompson
Nancy was so helpful! Sent the most BEAUTIFUL plant to my mother in-law for her birthday! Everything was perfect. They even worked with Lou Talberts to add a gift certificate. Thank you!
8 months ago Barbara Johnson
It was amazing they had all my orders there on Valentine's day the kids loved them so did my love. It was good service also..
7 months ago Richard Otten
While shopping at my favorite gift store in Billings ... Gainan's... I had the honor of being greeted by Mr. Gainan himself! So excited for their entire team as they make plans for their new location. Thanks for the very warm welcome! Love your store and staff.
9 months ago Naushin kiran
If 0 stars was an option, this would be more appropriate. My niece had heart surgery and I wanted to get her some flowers for her recovery. I attempted to have them delivered to Homes 2 Suites hotel as I didn't know if she would be at hospital still when they were supposed to be delivered. The flowers never showed up on the scheduled day of delivery, and there wasn't even a simple phone call given to me. Gainan's said the flowers were refused by the hotel, but I don't believe this to be true due to the fact I was sitting in the lobby on the phone with them and they said they were on the phone with my hotel. The only thing they did as they said would be charging my credit card!
10 months ago Jeremey Gaylord
Traci was incredibly helpful and kind. We chose the French Country Arrangement. Wonderful service.
7 months ago James Shibley
Great flowers for a fantastic wife for Mothers day couldn't ask for better.
3 weeks ago Jimmy C
I will never use this company again. I called the number on their website and got transfered twice and spent 20 minutes waiting for someone to answer. I finally hung up and called back waited 4 more minutes and then placed my order. I ordered the "succulent garden" and got and owl vase with one large succulent. They didn't even resemble each other.
9 months ago stephen simpson
I like this place . It is close to us, they have great plants, etc.
10 months ago Keith ROBBINS
Wonderful,short visit looking at Waterford Crystal for signing event but couldn't afford the piece I wanted. Will go back and browse another day
3 weeks ago DJ CONNECT
Wish there was a better selection, very nice presentation. The old one downtown was better.
10 months ago Jason Lortie
Higher end items that are typically harder to find locally. They even gift wrapped my purchase for no extra charge . If you are coming here for a large variety of plants or flowers you will be disappointed as they don't have a lot in stock.
7 months ago Nick Georgiou
It is a very nice place. They selection is varied and the quality is good. It is expensive but I love to buy gifts for my favorite people there
8 months ago Angela Patman
Very fast, friendly customer service. I will order again for sure. Delivery charge to Hospital was very low, I was surprised. Great Service!!
4 months ago Baillie Pool
It would have been nice if some one would have helped us when we came in. We were ignored . So we went some where else to get flowers. Very disappointed in how no one would help us
4 months ago Christine Reighley
Found a great ponytail palm plant. I ride the met bus so I asked if they could wrap it in paper and put it in a bag. The employee seemed upset and treated me like I was a pain. She barely spoke to me and no smile.
9 months ago Bruce Rape
Gainan's has always been my, "go to" for all my floral needs. Friendly and helpful staff
3 weeks ago Mark Wright
Beautiful flowers and unique gifts. Store decor is outstanding!
4 months ago art
Wonderful help and customer service. High end home decor.
4 months ago John Doe
I recently called Gainans to order flowers for a funeral. I had some pretty specific elements I wanted included and Gainans not only caught my vision but exceeded my expectations! Thank you.
8 months ago
Popular places from the category Florist