Nicks Handmade Boots
Boot store Nicks Handmade Boots, 6510 E Sprague Ave, Spokane Valley, WA 99212, United States:
114 reviews
of users and employees, detailed information about the address, opening hours, location on the map, attendance, photos, menus, phone number and a huge amount of other detailed and useful information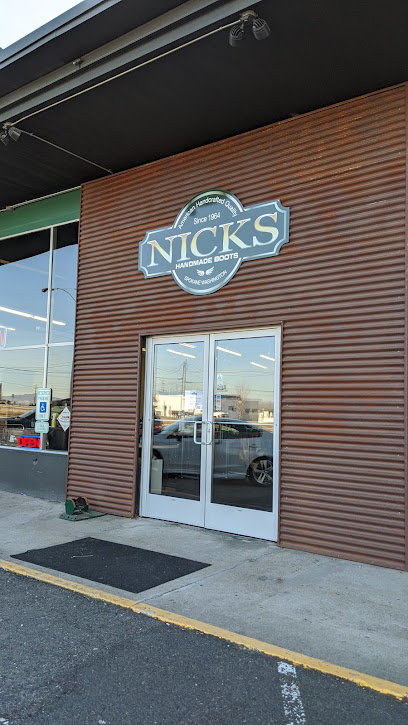 Address:
6510 E Sprague Ave, Spokane Valley, WA 99212, United States
GPS coordinates
Latitude:
47.6563470
Longitude:
-117.3168000
reviews Joakim Myllynen
Nick's Boots is hands down the best boot company I've had the pleasure of doing business with. Its not an easy business to be in and they certainly are not perfect but they make up for it where it counts. Quality and customer service. Every interaction I've had with the men and women of this company has been respectful and helpful. The only thing that isn't great is the production time but they do not hide that there is a lengthy wait. As much as I hate waiting I understand that handmade boots just don't happen over night and with a product this awesome I can see how lots of people want to get their hands on Nicks boots. My order was custom so it took longer than had I just ordered a stock boot which is considerably less. Once you get to touch and hold these boots you will understand why the wait was worth it. They are an over built heavy duty boot that make you feel like you could step over the worth when wearing them. My First pair (black Robert boots) were quickly followed by a pair of Charley boots and a pair or Travelers. I now have three pairs on order as I write this so suffice to say Nick's must be doing it right because I keep throwing my money at them. :-) Get some, You'll be happy you did
4 months ago Molly Pitts
Nick's its my favorite brand. Exceptional quality, service and comfort from work to heritage casual boots. This are tanks! I leave in Texas and feel fortunate to found this great brand. The leather it's thick and the soles are very durable. I'm a General Contractor and I can wear them all day without a problem. Once they break in the comfort its magnificent. One more thing, 100% made in USA.
3 months ago Gene Mortensen
My nick's Americana in dark brown waxed flesh ...LOVELY!!! And RUGGED AS HELL ???????????????????? Thank you Nick's For making such a great American boot
2 months ago Michelle Wilson
I can't begin to say how thankful I am to Grant, Lucas, and the rest of the team at Nicks! I own three pairs of nicks boots, builder pros, travelers, and Charlie's, and couldn't be happier with my pairs. One thing that I really want to hit on is the service from the team in Spokane... Lucas sized me up and really took the time to get me properly fit. Funny enough he brought me down from a 9.5 to a 7.5F! Grant and the rest of the team also answered all of the questions that I had about coming in to get fit, for my first pair, and coming down to pick up my boots when they were/are ready. One thing that people will always complain about when it comes to Nicks is how long that it takes for you to actually receive your boots... honestly that is just the name of the game when it comes to custom handmade boots. What it really boils down to is a company that has values, cares about their customers, and who tries day in and day out to produce the best handmade work and heritage boots on earth. Nicks for days!
4 months ago Lin Lyn
Waited around six months for these, i was told by the vendor and nicks that the delay was because they were "making them for me" Six months later, i get a pair marked display. Attached are photos, these boots are used and abused. What Makes me upset and frustrated, is i waited six months for a pair of used boots, i didn't mind paying 500+ dollars because i thought they would be new and made well. I didn't even mind the wait. What's worse part of the ordeal? Below are transcripts from emails. Where Nicks tells me they NEVER EVER send display models to fill orders. The second line is where they tell the vendor i purchased from that they are indeed display models, that pass their QC expectations. So not only, did they attempt to give me used boots, they lied to me about not using display models. I highly recommend you stay away from Nicks. the fact that they attempted to blame the vendor is appalling. Now they tell me to send them back and they will make another pair? I should have had a pair made in the first place. Wait six more months totaling a year wait? No thanks. The GM below describes its a Predator Orange Boot. I had the black domaine. So they lied again claiming they only sent one display model. Six months, only to get a display model and be lied to over and over. How would you write the review. Find Email copys below from the GM and nicks customer service. Conversations were forwarded by the vendor after nicks tried to dump the problem at their door. (GM)As for the display boot, this was a showroom display boot in new condition. We ran out of Predator Orange fulfilling your order, so we looked in stock for new-in-box boots that met order requirements. (NicksCustomer Service) We have sent the vendor display boots to fit customers in store with but never to fulfill a customer order. We always build new boots to fulfill orders for our dealers. What kind of boots were they, what size, and when did you place the order?
6 months ago simran multani
I ordered a pair of boots for my husband not knowing anything about the process. Nicks Boots was extremely helpful in walking us through. They are upfront and honest about delivery time. Customer for life and thanks for everything. Worth every penny!
3 months ago Jonatan Artola
Nicks is the real deal. Made in the Pacific Northwest by hand in a single facility. If you are nearby, it is worth stopping in the store to see. The line of pickups in the parking lot and the guys paying cash for boots inside told me these were boots made for working. I was able to get the exact boot I wanted which was shipped to me prior to the date promised. There is no comparison to the Red Wings I had worn previously and replaced every couple years. Given average daily wear, I am confident these will last for the next 10 years.
3 months ago Jacob Harrahill
This place is great. All of the staff were professional and accommodating. I came in today unannounced from Florida to get fitted for boots. Lucas, my fitter, was a huge help and made me feel at home. These people are dedicated to their craft and it shows. This place exudes integrity and commitment. Yes I will have to wait but it's totally worth it. I'm confused by the few bad reviews this place gets and I feel it's unjustified. These people feel like family to me now. THANK YOU Nick's!!! I am a customer for LIFE!!!
6 months ago paul hill
I've purchased a few pairs of boots, custom made from nicks boots over the last couple years. Overall my initial satisfaction was very good with the quality… But with my last pair after being rebuilt, I was less than impressed with the rebuild quality. Stitching was coming out in the side of the leather, some elastic wasn't fixed even though that was supposed to be included in the rebuild... just disappointed I guess. Now I'm told they can't be rebuilt again because the person who designed them is no longer with the company. I guess perhaps I should go find a new local company to buy boots from? Update - adding photos per your reply and request to my review. 2nd Update - from three stars… Down to one star. It took me a little bit a time to update this review, but Nicks did reach out through email (screen shot of the reply in the photo's)... but mostly to confirm that they cannot rebuild these boots…. But wait… I just got them back from nicks where they slapped a new shoe sole on the bottom and called it good? All of that and they charge me full price for the rebuild! "We DO a lot of repairs on those, and only made a handful of them". Seriously!!!!!!!!.... So Disappointed. If they really are having those issues… Why not offer to replace? Seems like a defective product and or design. At this point they're not stand behind the product or reputation. They did offer to fix the stitching with the leather, but what's the point if the other parts can't be repaired. At this point I guess I'll go find another local boot company in Spokane and give them a shot.
4 months ago Rauaf Khan
Best boots. Great service.
2 months ago John Vandersall
My Husband waited for several months for his boots. He's been saving for quite sometime. To our disappointment the part you walk on was seperating some when we had them arrive. Thinking nothing of it he started to wear them for work only to have them separate entirely a week into work and before they were even comfortable. Needless to say, we will never do business here again. Customer service has not responded to our emails and it has been over a month. He's going to try Whites Boots, hopefully a better result?
3 months ago James Dollarhide
They told me it'd work better to just go home and use their online process to try on boots. They didn't have more than a pair of shoes to try on in store. They were really nice and I'm sure they do good work, but there doesn't seem to be a point in visiting the store.
5 months ago Cr Fisher
As Electrician wearing this boots all day, I can tell you this brand it's the best around. Very comfortable boots.
3 months ago Team Mula
This boots had save me from great fatigue in my feet. I highly recommend the Honey Vibram and Builders Pro for Construction.
3 months ago Israel V
*EDIT* I have a email from grant showing you have my boots on backlog order for leather. Why are you guys lying? Very dishonest. Ive attached a screen shot from the owner of the dealer. I want my boots. Still waiting on my boots. I ordered through Northern Republic. Nobody is getting back to me or the supplier. You guys offered all these orders for free and did not fill them. Please call me. I want my boots. Its been almost 9 months
3 months ago Margaret Walkerq
Great boots and expert leather craftsmanship. All USA made products from quality materials.
3 months ago Danielle Outlaw
Excellent company. High craftmanship. Worth every penny.
3 months ago Becky Miller
I EXTREMELY recommend these boots. I've owned several pairs of Danners and absolutely love them but they don't have the lateral support I need in steep and loose terrain. I've heard of Whites and a couple others but never owned a pair. It wasn't until my local cobbler recommended Nick's Boots that I found out about them. Which I'm glad he did. After picking out the model and color tone I wanted online, I was fortunate enough to be able to stop in their showroom to be fitted while passing through on vacation. The fitting too almost 2.5 hours and was EXTREMELY thorough. I ended up selecting the Builder Pro with a smooth black upper and a rough out walnut lower with NFPA rating. I was a bit disappointed with I found out it was going to be a 10 month lead time. But that was my fault for waiting until the beginning of fire season. Great things take time. Once they arrived I was blown away by the quality and craftsmanship. I was very surprised about the break-in time and immediate fit. From the things I heard from Nicks and others, I was worried that it was going to be brutal to get these things to fit great. It took hardly any time at all to fit and feel like a glove. They have quickly turned into my absolute go-to boot for anything during the dry season. They feel like slippers already. I'm very excited to see how they perform in the steep stuff. Will definitely be buying more in the future and would highly recommend to anyone.
2 months ago Steve Hullcranz
Awesome place to get cobbled boots. They get you fitted to one of their 200 or so stock sizes and build the boots in the same building. Staff was super knowledgeable and helpful and obviously has a passion for good footwear.
6 months ago Meg Fr
I've been a whites customer for years. The fitting at Nick's was far greater in depth while focusing on every key deatil. Gary, the fitter; was extremely helpful and knowledgeable.
3 months ago Ron Martin
Staff and customer service were phenomenal! The store is also really cool to visit and see all the different models and leathers available.
10 months ago Jean jones
Very friendly staff. They let you know all the boot customizations finding what works for you.
4 months ago Mohamed Alneyadi
The staff was very helpful and answered all mt questions. Highly recommend buying from from Nicks.
8 months ago Diwakar Mokadam
Was very happy with service. Great place to buy boots.
8 months ago RaeLyn Brummell
Six months two weeks just to put new soles on my boots. I was told when I got them back that theirs no money in resoles just new boots by the Kid at the cashier desk. Over 30 year's of good service down the drain.
8 months ago Keboo Thomas
I spoke with a friend and we concluded that it wasn't fair of me to judge the boot given how often I walk on asphalt and concrete. These wild land boots weren't meant for this surface. The stitching still isn't perfect, but it isn't any worse than any other boots after a year I suppose. Still a good boot.
2 months ago Az Solutions
Nicks Boots is a place i will continue to support. A good local boot maker that is honest and offers a high quality product. Thank you Nicks Boots.
2 months ago Ann Mabry
Great customer service & fit. Spokane made and second to none. Thank you Nick's boots!
11 months ago Patrick Condon
Tremendous! Arch support is incredible.. my back pain is slowly starting to go away. Can't stress enough how important a proper fitted boot is for you back.
5 months ago Bryan Cruz
I have been extremely impressed with my Nicks 55AK10 boots. I work for the Forest Service and bought them for wildland fire fighting. I have not yet used them on a fire but wear them every day when I am in the mountains. They are exceptional at handling the rough terrain and provide very good ankle support and traction. I love the rough out lowers because they do not scuff or scratch easily. I should note they are not designed to wear indoors and the soles are slick on wet linoleum. I heard about Nick's first from the Wranglerstar YouTube channel so shout out to them; great review. I bought these from a retailer and they are not custom. Even though I did not buy them directly from Nick's I can tell the effort they put in these boots. I have enjoyed the YouTube videos they post. They are very personable and have taught me a lot about the process, quality and care required for these boots. I was very nervous buying these boots because I always seem to have bad luck with boots. The break in was rough but after a month or two they became very comfortable and fit nicely. I have had them for 6 months now. I definitely plan on buying my next lace ups custom from Nick's.
4 months ago Claudia Carrandy
Great boots. I wore White's for 35 years, but switched to Nicks this year. Very happy with my Nick's. Both the service and the quality of the boots are as good as it gets. Edit: after several months, I just wanted to say that I am even happier than before. Nick's superior quality is even more apparent. Can't recommend them enough.
5 months ago Myra Mansoor
Well made handmade all leather boots, but very difficult to break-in. If you don't have the time to walk a mile or two in your new boots to break them in, then honestly, these are not the boot for you. But if you do... wow, what a boot.
4 months ago Gwen Barron
Had issues with the boots but had excellent customer service and the issue was resolved fairly.
2 months ago Juan Soto
Save your time and money. I give 0 stars: I ordered a pair of "Nicks Handmade Boots" online, and mailed all of the required foot measurements on July 31, 2016. After waiting for 8 weeks and not hearing anything back from Nicks at all in this time period, I presumed that my $400 pair of boots should have arrived. So I called Nicks and asked when I could be expecting them, their very poor, but friendly, customer service told me that I Had to try on a pair of their boots that they would send to me. After the first pair try on boots arrived and apparently didn't fit well enough for them to know my sizing, they insisted they needed to send another pair to me to try to get a closer fit, when the next pair arrived and they didn't fit either, the customer service rep told me I needed to speak to their top tier shoe fitter and told me I would have to call back one more time when he would be available, this would be the 3rd time I had to leave work an hour and half early to do their require boot fitting, only costing me lots of $$$$$. Just a note, I never was able to speak to their "top tier" shoe fitter, but the 3rd person I spoke to had me measure everything over a 3rd time (as though my foot were going to change), he had me take several pictures of the boot on my feet and email them the pictures. Be $400+ for the boots I paid $65.00 more for their so call fitting boots. I thought I was finally going to be getting my boots, after I waited for another 9 weeks and hearing absolutely nothing from the company I decided to call again to find out when my boots would be arriving, once again I got to deal with their incompetent, but friendly, customer service, the lady that answered was trying to look for my order and when she couldn't find it, she put me on hold for about 10 or 15 minutes, never returning to tell me what was going on, then a different person picked up laughing and joking about not being able to find my order and trying to convince me that they were waiting on me for fit info. I was so frustrated at this point that I cancelled my order. Interesting side note, the customer service rep., stopped joking and told me I would be refunded and hung up abruptly. I was told I would be refunded on Oct. 16, 2017 on Jan. 17, 2018 I had to once again call Nick's Boots incompetent, but friendly, customer service, because they had still not refunded my $400+ they told me it had in fact been refunded back in Oct., and when I assured them I hadn't been, they told me I had to talk to accounting, I never did get to speak with accounting. In the end, Nicks is extremely unprofessional in every way, they try to cover their incompetence by telling things that aren't true. If you are going to spend this kind of money on boots, I would recommend White's Boots, I measured my foot, (pretty much the same measurements as I sent to Nicks) mailed it in to them, they made one call to me for color, toe, and soul that I wanted and 6 weeks later I was wearing an amazing pair of boots. Nick's didn't call me one time in the entire mess.
8 months ago Richard Owens
Service was excellent, received my custom made boots ahead of schedule, it's my first pair and I hope they break in and fit as well as they claim! Happy so far with my purchase!
3 months ago Basargin Anton
Would recommend over anything! They were quick and helpful in getting me sized and fitted correctly. When I had a problem they were quick to jump to fix it and actually tell me why and how to fix it. As a firefighter I won't go to anyone else for a boot anymore they completely changed my buying experience.
6 months ago Robin Furnish
Went in to buy work boots, I have money so that wasn't an issue. I told them I run up and down ramps all day and have to kick up pallets. The boots I have now work but I have really wide feet so their not comfortable. They said because I kick things with my boot that they wouldn't make them. Basically if you want an expensive boot that looks pretty than go here . If you need a work boot go somewhere else.. Re: owner's response Kick up pallets... it means sometimes I use my foot to lift up pallets so I can grab them.. I do this in tennis shoes.. they said it would ruin the boots so they wouldn't make them... so like I said, pretty boots haha
5 months ago David Marlatt
After struggling to find comfortable footwear following extensive foot surgery my Nicks are my everyday go anywhere boot. After break in they fit like a glove and I am in no hurry to take them off when I arrive home. Years ago in operating heavy equipment in forest road construction I always wore Whites which served me well. Now in our present day, Nicks Handmades are a higher quality boot than Whites. Gary took good care of me in a showroom measurement and explanation of Nicks. Great experience so ordered a pair of custom boots with black uppers and brown lowers. Arrived in the promised 6 to 8 weeks. I would have given 5-stars but the black dye of the uppers continues to stain my socks. Not a big deal but wish the dye didn't bleed. Great boots! Thanks to the Nicks crew. Highly recommend. -G. Nock
5 months ago John Lovetere
I have only had my Rangers for 3 weeks and they are amazing. The break in had me a little concerned but they got better every time I put them on! The boots feel like they are taking care of my feet!
5 months ago Jay Homes
The only place I will buy my handmade boots! 5 Stars
6 months ago James Sipes
Professional service. Top quality boots. Staff really takes the time to make sure the customer gets everything they both need and ask for from a book build, a rebuild, or simply looking for information on leather care and maintenance.
4 months ago Yari Torres
First off I want to say I own a pair of Nicks boots and love them, that is why I went back. In mid December I went in and ordered some boots. I was getting two pairs but they want to build first pair to make sure was good before starting the second pair in case they needed to make adjustments. I was told they weren't too backed up at this time and should be ready in a few weeks and they would be put in production on Monday morning. It's been two months and still no boots. I've called and talked to a lady twice - she told me she would get back to me right away and let me know what's going on. I have never heard back from her. I even went to the store again to find out what was up and they told me my boots where getting started today and would be done for sure in 7-10 days. That's been over two weeks ago. Very frustrating. Seems like they don't care, don't call back, and don't honor timeline. I don't usually post reviews but I'm very disappointed.
7 months ago Sherehan Atif
Customer service is top notch,, i own two pair and they are the only boots I'll wear for work.. i got a pair rebuilt and they got a little small for me so I brought them back in there they stretched them out and didnt charge me dime for that.. thanks guys..
5 months ago Chris Setterholm
Very impressed with how he measured for boots, listened to my husband's concerns and paid attention to us. Unfortunate that we are still waiting for the note, estimated 6-8 weeks.
2 months ago jonathan Pollard
These were TOUGH to break in! Having said that, after probs 20 miles of walking and wearing them around the house they are broken in. They feel like a sneaker at this point. No squeaking like the White's I own and they get lots of compliments too. I'd order them with composite toe and toe stitch if I had to do over.
5 months ago lulu lemonade
Looks good
8 months ago Nicole McCann
Great store with excellent customer service. Unfortunately they were out of my price range. I will return when I can afford it They are very good at what they do.
4 months ago Anel Casillas
Worth every penny, best boots I've ever owned. Andrew went above and beyond to help me out and it was greatly appreciated. I've never owned a pair of boots that fit so well. If you spend long hours in your work boots, I would definitely recommend.
10 months ago Mirza Hussain
I am now on to my third pair of Nicks Boots. Purchased a pair of in stock Hotshots last year my first time visiting their shop. Put in an order for a pair of custom Roberts a few weeks later and am now waiting for a second pair of custom Hotshots for duty use with a uniform. Fantastic service from the very beginning dealing with Junior. He fit me perfectly on day one and everything has been perfect ever since. Yes, the wait times can vary but be aware you are dealing with a CUSTOM bootmaker. They probably have several hundred boots on the go at any one time, so you must have a little patience. Rest assured the wait is worth it. Thanks again Junior.
2 months ago KaTyra Martin
I wore Nick's Hot Shots for the last 30 years of my firefighting career (having switched from another well known Spokane boot maker). I decided to buy a pair of Classic Packers in Walnut once I retired. They're gorgeous, fit great, and just plain make me feel good when I have them on. Sound silly? You've probably never had a pair of boots like this on your feet then. (I'm wearing them in the tiny picture accompanying this review if you can see them). They are 3 years old now and are holding up fine. I always work with Gary when I need anything from Nick's- he certainly knows his way around a pair of boots. I have no hesitation in making this recommendation. My original pair of Hotshots have been rebuilt and are still going strong. My next pair will be Cowboy Packers- why not?
11 months ago
Popular places from the category Boot store