Tobacco Leaf
Cigar shop Tobacco Leaf, 215 Broadway E, Seattle, WA 98102, United States:
31 review
of users and employees, detailed information about the address, opening hours, location on the map, attendance, photos, menus, phone number and a huge amount of other detailed and useful information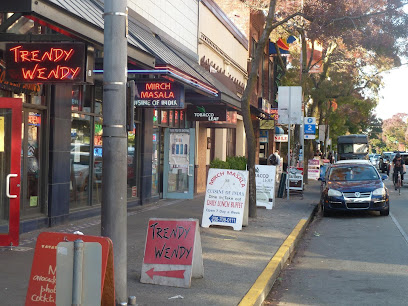 Address:
215 Broadway E, Seattle, WA 98102, United States
Website:
tobaccoleaf.business.site
GPS coordinates
Latitude:
47.6203545
Longitude:
-122.3212477
Location on the map
Reviews patrick wilson
Good selection of cigars! Prices are fair, but the humidor was not treated properly. Way to high causing some older stock to mold. Lots of dust too.
1 month ago C K
The person was rude who works there and did not remember me when I was super nice to him.
10 months ago TheKeishaf
Store is clean and staff is friendly and knowledgeable of their product.
8 months ago Rowena Zylali
Very aesthetically pleasing environment. Great customer service.
6 months ago Kaushik Solanki
Good selection great prices In the middle of lots of places to see and do
8 months ago Debbie Calvin
I go to Tobacco Leaf for Kratom. The employees there are super knowledgeable and treat you with respect. Great Shop with Great Products!
3 weeks ago estelle blair
it was great
7 months ago David Moore
Along with Market Tobacco Patch, same owners, this place is one of the best places to buy cigars in the city. A nice little hidden gem. Great place, Friendly staff, 5 Stars
10 months ago Rilriia Kilurden
It is the best Smoke shop in the area. Very neat and clean indeed. If you are looking for Cigars, you must not wait to go to this place. It has a very good collections. A couple of days ago, i bought Pax 2, the latest version one, it is really awesome and i got discount on it too.
10 months ago Ciera Colvin
Excellent cigar selection, and open late!
6 months ago Allie Hillary
Went there on Wednesday to check it out. Great shop and very clean. Great selection of cigars. The owner was in and he told me about the cigar card program they have. I've dealt with the owner before. He also happens to be one of the partners at the Tobacco Patch at the Pike Market. He told me to check out this location. Will continue to go here.
11 months ago Heather Chapman
Nice place, didn't have the portable stealth containers I was seeking. Service person took three minutes to get off a business call to help me and she was not talking to a customer. Decent selection.
4 months ago eagle eye
Nice little shop, great staff, good selection of whatever you may need or want.
7 months ago Dmytro Dunets
Great spot. Nothing but selection, helpful staff, and impeccably clean. By far one of the nicest shops in the area. I will definitely be back next time I'm in Seattle.
3 weeks ago Gladys Leal
Stand up place to buy cigars and accessories. Super nice staff willing to be patient and accommodating.
9 months ago Navdeep Kaur
Pretty decent place. Great selection. Clean and friendly.
4 months ago Amanda Harris
There is a photo in the description that shows they have a variety of tube and pipe tobacco. The picture shows 100's tubes. There are no 100's and The shop keeper didn't even know what we were talking about. Picture needs to be updated. It's Misleading. I would have taken a current photo, but I broke the camera on my phone.
8 months ago Lisa B
Amazing selection of cigars lots to choose from. Only quality cigar shop on Capitol Hill. Friendly staff and affordable prices!
11 months ago Leslie Josue
Came to the Tobacco Leaf, Ren a stand up guy helped me go to the next level in vaping. Knowledgeable about each system, not to mentioned he was concerned about my menthol intake on the 6milly on the new system. All in at The Tobacco Leaf!
8 months ago Jon Shum
Great shop and prices! Awesome selection of cigars! Picked up a couple of my new favorites, New World by A.J. Fernandez and one of my go to smokes, a La Gloria Cubana Series R!
3 weeks ago George Steptoe
I just happened upon Tobacco Leaf while out for a walk along my old stomping grounds yesterday. While there are now a number of smoke shops along Broadway, Tobacco Leaf was the only one I really wanted to go into. The store is immaculately clean and bright. It was very inviting to say the least. I made my way directly to the large Walk-In Humidor at the back of the store. The selection was amazing. My Father, Fuente, Padron, Tatuaje, Miami Cigar, Aging Room and many other brands line the shelves. I was quickly able to find a couple old favorites and a couple "wish list" items. With selection in hand, I couldn't help but want to linger in the Walk-In longer. Even my wife was impressed and she doesn't care for anything having to do with cigars. After having visited several other cigar shops in the Seattle area the last couple days, I was tired of seeing moldy and over priced cigars. Tobacco Leaf showed me that Cigars are alive and well in Seattle. I will be back the next time I'm in town.
6 months ago Patrick Busby
oooo its hella good
8 months ago Hadley Corporon
great shop. very clean, great variety, and helpful / knowledgeable employees!
10 months ago cornel c
Good selection.
8 months ago Kasun Fernando
Nice selection of cigars
10 months ago Vickie Buccini
Absolutely wonderful shop with very helpful employees! My new smoke shop of choice!!
1 week ago calvin walls
You are close Right now 9:10 pm Why you showed open till midnight Lier
4 weeks ago Aeolus Meltem
Good selections.
4 months ago Bikram Bajaj
Can't seem to keep desired product (romeo&juliet red) in stock seems they are supposed to open at 9am. 9:24 not open, not the first time either.....
9 months ago HUI ZHAO
Good customer service,
4 months ago Ruth Herisse
They have an excellent selection of cigars, but they over humidify their humidor. I've seen their humidor up to 78%! As soon as that's fixed, I could call it a good place to buy cigars.
3 days ago
Popular places from the category Cigar shop