Neste Kontiomäki
Gas station Neste Kontiomäki, Viitostie 2, 88470 Kontiomäki, Finland:
220 reviews
of users and employees, detailed information about the address, opening hours, location on the map, attendance, photos, menus, phone number and a huge amount of other detailed and useful information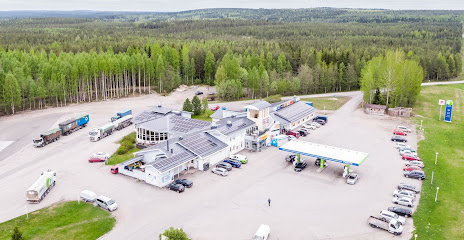 Address:
Viitostie 2, 88470 Kontiomäki, Finland
GPS coordinates
Latitude:
64.3196108
Longitude:
28.0445749
reviews Phil Hoffman
verry good thet we have local store here
1 month ago Luke Lee
Very good food. We are here already the second time. Both times the food is tasty. First time we took salmon soup, now it is buffet style lunch. Thanks
1 month ago Sherrie Rigby
Gas station with decent lunch buffet and a small shop.
5 months ago Larry Armstrong
Ok
11 months ago Sean Monahan
Ok
2 weeks ago Ana Ramirez
A little worn by time but very comfortable roadside stop. Breakfast was a great bargain, with very simple offering (porridge, bread and toppings, scrambled eggs, bacon and sausages) but everything was spot on.
2 months ago Michael Glover
Great place for coffee break
5 months ago Destyne Jenkins
Ok
3 months ago Richard Amaro
Good food and cheap. Easy to fill up your tank. Easy access.
1 month ago Fred King
It is ok. A fishing shop, food and local shop. Could be cleaner. Could have more food hygiene. A big supermarket there.
2 months ago Darcey McQuaid
A petrol station with a good shop and local products.
1 month ago Cathie Reyes
Ok
5 months ago Naturally Me
All good. Kitchen, WC, big parking for trucks
2 months ago William Wallace
Very good and big gas station where you can relax after long-long wau because it has cafe, shop and toilets.
11 months ago Rahul DEV
Ok
10 months ago Tariq Alkhayyat
The price of the buffet is quite high when comparing to the food quality.
2 months ago Carolyn Stepp
Nestle is always nice on the road.
7 months ago nanette spatafore
Ok
11 months ago Steven Brook
Expensive. Plum jam in Finnish donut. They should have warned about it.
2 months ago Pat Mccullough
Excellent lunch when I visited.
11 months ago Matthew Schroeck
Basic service station with small shop
2 months ago Diane Ngo
Location is great, but the place is messy.
11 months ago Henny Soni
Gasoline
1 month ago Carlos Alfaro
Ok
1 month ago Sylvia Zebrowski
Ok
1 month ago Mahmoud Helwe
Ok
2 months ago Susan Campbell
Ok
1 month ago Jane Young
Ok
4 months ago DEV VAGH
Good food
9 months ago Tori Rudd
Ok
3 months ago Julio Lovera
Täällä kun otat vitriinistä jotain lämmitettävää evästä niin kun pyydät lämmittämään niin myyjä näyttää Missä on mikroaaltouuni jossa voit lämmityksen tehdä itse. Itsepalvelu viety siten uudelle tasolle. Paikka on muuten siisti ja mukava pysähtyä levähtämään. Tilava parkkipaikka.
11 months ago patty clark
Neste Kontiomäeltä saa Neste MY uusiutuvaa dieseliä. Hinta on hieman yli 20 senttiä litralta enemmän kuin perusdiesel. Jos kukkaro kestää, eikä mielessä ole ekovihamielisyyttä niin sitä saa täältä. Sähköautonkin saa ladattua tällä asemalla. Ainakin latauspiste on. Siitä sitten vain hurruuttelemaan eteenpäin ja nopeasti pois täältä Kainuusta tukkimasta teitä ja ryöstöostamasta kauppoja tyhjiksi.
11 months ago Olivia Johannes
Tampereelta Puolangalle matkaajan PARAS lounaspaikka. Siisti. Hyvä ruoka.
11 months ago Andrea Roque
Puiki vieta poilsiui. Didelė parduotuvė, puikus restoranas, sauna, žvejybos reikmenų parduotuvė. Didelė aikštė automobiliams. Puiku!
3 days ago Edwin A
Sekoilua hampurilaisten kanssa. 50 hampparin ennakkotilaus ja lapset saivat viimeisenä. Pitkän odottelun jälkeen.
5 days ago ab ba
Mahtavan maukas ruoka paikka ja ihana henkilökunta..
11 months ago Stephanie Kingery
Oiva tauko paikka matkaajalle.
1 month ago james thomas
Hyvä paikka pysähtyä vaikka kahville.
11 months ago Syed Abdi
Erillainen kuin monet muut neste asemat. On erä myymälää ylhäällä, matkamuisto myymälää alhaalla. Kavi / ruoka paikka mikä oli avara. Pysähdyimme ekaa kertaa ja poikkeamme toistekkin kun on kulkua sinne suuntaan.
3 weeks ago chris smtih
Noutopöytä ei nyt oikein tätä päivää: Kuivaa lohta ja suolaa ylettömästi lohen lisäksi myös riistassa. Aika ankea kattaus, ei voi suositella.
3 weeks ago Prabha Jeyapaul
Hyvä ja asiallinen lounaspaikka. Otetaan huomioon lastenkin toiveet kassalla. Kannattaa poiketa.
1 week ago Doreida Flores
Hyvä pysäkki pitkälle matkalle! Hyvä lounas ja tuore salaatti oli iso plussa.
2 weeks ago Serge Pache
Listalta tilattu ruoka oli maittava ja just oikeen kokoinen. Tuli hämmästyttävän nopeasti verrattuna muihin tienvarsipaikkoihin. Siisti paikka ja väljää oli.
1 month ago Kimberlei Carter
Aamumme alkoi hitaasti, mutta tämän Nesteen henkilökunta toi hymyn huulille. Matkaa kun jatkoimme juttelimme mitä tunsimme ja peukutimme ???????????? Kiitos
3 weeks ago Lillian Childress
Hyvä ja joustava palvelu. Hyvin tankkauspisteitä ja wc tosi siisti
4 weeks ago Kaybee Easse
Todella siisti paikka. Ruokakauppa huoltoasemalla plussaa. Siistit vessat. Tuoretta kahvia ja tuoretta pullaa.
1 month ago Robert Orth
Aina hyvä paikka pysähtyä tauolle ja ruoatkin on hyviä varsinkin aamupala joka on tullut useasti otettua
4 weeks ago Wes Ashworth
Viihtyisä paikka. Kannattaa pysähtyä!
3 weeks ago Mark Cydrus
Huoltoaseman palvelut on hyvät. Parkkipaikan reuna oli epäsiisti/roskainen☹️. Ehdotus - olisi hyvä jos huoltoaseman takana olisi koirien ulkoiluttamiseen sopiva paikka (kuten esim. Sukevan huoltsikalla) ja roskis. Kiitos.
2 months ago
Popular places from the category Gas station