The Place
Cultural center The Place, Constantinou Kanari 56, Paphos, Cyprus:
48 reviews
of users and employees, detailed information about the address, opening hours, location on the map, attendance, photos, menus, phone number and a huge amount of other detailed and useful information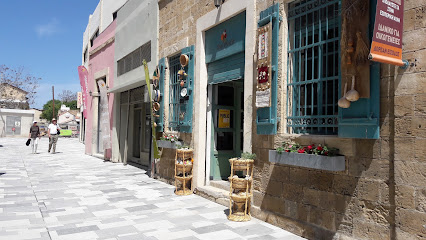 Address:
Constantinou Kanari 56, Paphos, Cyprus
GPS coordinates
Latitude:
34.7790978
Longitude:
32.4197608
Location on the map
Reviews Bettina Dunn
Fantastic arts and crafts with creative things that the kids can do (pottery/ mosaic making etc.) Small indoor cinema. Local wines , pottery and artists work . Well worth a trip .
7 months ago Lori Droste
You have to visit this place! It's amazing. Friendly stuff, a lot of cyprus herbs, wines , sweets and handmade things. If you want to buy a souvenir, really from Cyprus , come here!
10 months ago Noe Garcia
Unfortunately completely closed at least for 2020 ????
3 months ago Joseph K
Great place to buy your souvenirs from Cyprus. Everything is hand made by local artists right in front of you. Also you can make some master classes. Very recommend at least to visit and you will never sorry about it.
10 months ago Mona O
the place, its is the place, be careful, the place does not treat strangers nicly
4 months ago Fareed Rabbani
Beautiful unique items for sale at very reasonable prices. Staff very friendly and helpful. Well worth a visit.
7 months ago Doug Smet
Nice and friendly pottery class, highly recommend
7 months ago Sarah Owens
Loads of souvenirs and the man who runs the shop has a few tails to say if you ask
3 months ago Kamesh K
Real artists shop. Pottery, glass painting, textiles. If you're lucky you'll see the artists at work. Excellent quality and cheaper than the tat in the covered market.
8 months ago Pamela Lewack
Beautiful hand made products from Cyprus. Really friendly service. And you can even have a coffee there and take some pottery classes. My favourite place in Paphos :)
7 months ago Steve Schrems
Best-handmade gifts, local wines,spirits,friendly staff! Thank you!
8 months ago Morgan Hunter
it a beautiful place in the old town.We brought the kids where they did some manual arts best activity for kids. We sat aside had a beer.The staff is very friendly .They make handmade leather sandals and lot of ceramics, pottery, necklaces.Nice place to visit.
8 months ago michael graber
Definitely worth a visit. A very helpful lady works there who was only to happy to impart her knowledge. Some very interesting works to see. Loved the glass. ????
6 months ago Marketing Branding
Great experience, hearing stories from Kostas and Andreas, definitely worth a visit if you go to Old Town.
7 months ago Ezra Lange
Local products. Very well exhibited. Very nice people. Artistic vibes.
8 months ago Sally Griffin
Really nice place, but it's to bad that we didn't know that the craftsmen only actually show their work process during morning hours. We came in early afternoon hours, and by that time it was just like any ordinary shop.
10 months ago Blesson George
Little great shop Nice workshop
7 months ago Philipp Bock
Cool place with unique stuff to buy. Friendly hosts
2 months ago Robert Hill
Great athosmpehre, local arts and pottery making classes - highly recommended
6 months ago Paula Young
This is s cultural heaven amongst the "name/level shops" we will definitely return to this place. Enjoy.
6 months ago Saeed
Superb fusion glassware, and lovely pottery too..
7 months ago Andrew Oneal
Traditional local crafts and arts. Highly recommend to visit.
8 months ago cymone henry
Beautiful place with nice people! Pottery classes highly recommended!
2 days ago Sean Larusse
This place has a beautiful ambiente, like as someone has made a life dream come true. Very quiet, good Cyprian coffee, very friendly owner. Craftsmen ship happens in the shop. For me a highlight in the old town of Pafos.
8 months ago Michael V
Wonderful display of art and pottery making experience
6 months ago Ayla Garcia
Excellent very diffrent handmade crafts
10 months ago Ray Day
A great place to visit, lots to see and try your hand at. Traditional crafts, local produce and friendly staff
10 months ago April Tarwater
Interesting local crafts and produce.
2 months ago Jimmy Johnson
Very good hotel.
2 months ago Lil Sister
very nice ????
11 months ago Marguerite Tilton
Nice market
8 months ago Chris Showalter
Crafts products locally are sold here.
10 months ago Rosie Ramirez
Great
9 months ago Niquita Patterson
Brilliant local crafts
2 days ago Muhtadi Elasmar
The Place non è solo un negozio ma è anche un centro culturale. I prodotti in vendita sono tutti fatti da artigiani locali che lavorano vetro, pelle, ceramica e prodotti tessili e gioielleria fatta con il bozzolo del baco da seta, davvero molto interessante. Negozio ampio e con molta varietà, vi sono in vendita anche dolci locali, vino ed erbe aromatiche. In aggiunta un servizio impeccabile da parte della commessa e della proprietaria. Se volete fare regali curiosi e comunque artigianali, The Place è il posto giusto!
9 months ago Ebony Bernard
Стоит посетить. Не самые низкие цены, но есть интересные ремесленные поделки. Для детей (и не только) проводятся мастер-классы гончарного мастерства, есть возможность собрать свою мозаику (4 €). Есть персонал, говорящий на русском языке.
2 days ago Carty Zandra
Ωραίες χειροποιητες δημιουργιες και τοπικα προιοντα .
8 months ago Christina Hoertz
Mainio paikka ostaa paikallisia käsitöitä.
7 months ago Jeff Bettez
Vriendelijke dame. Mooie en handgemaakte dingen. Lekker wijntje op een rustige binnenterras, als je niet houdt van de commerciële en toeristische haven
10 months ago David Schulze
Tolle regionale Produkte und Souvenirs, viel authentischer als die Markthalle davor.
9 months ago Daniel Schm
Sher toll,man kann auch Kaffee trinken.
10 months ago Jim Brockhohn
Wir haben eine Fotografie auf Holz gekauft. Tolle Motive aus Zypern
8 months ago Joshua Kidwell
Très joli magasin d'artisans. À recommander
10 months ago Vinod Shankar
tatsächlich einen Besuch Wert! zauberhafter Laden
2 months ago AJBT
הכי טוב שיש
10 months ago Helen Prouty
מעניין
2 months ago Steve Allen
Ou trouver d'excellents produits du terroir
9 months ago Shana Lee
Очень интересное место!!!
6 months ago
Popular places from the category Cultural center