Jaffar Pharmacy
Pharmacy Jaffar Pharmacy, Rd No 1911, Manama, Bahrain:
220 reviews
of users and employees, detailed information about the address, opening hours, location on the map, attendance, photos, menus, phone number and a huge amount of other detailed and useful information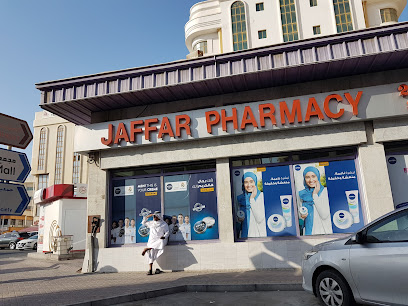 Address:
Rd No 1911, Manama, Bahrain
GPS coordinates
Latitude:
26.2341341
Longitude:
50.5960073
reviews Vicki Stevens
I love that they're open 24/7. They house a variety of medical, health and lifestyle solutions.
6 months ago Reginald Howell
Best and spacious new shop, all in one, open 24 hrs, Car parking facilities, Disables entrance, ATM facilityand..
4 months ago Thomas Pate
Looks better after the renovation. Still its not Walgreens. It would be nice if you felt the staff were a little more trained. If you don't find something there you won't find anywhere else
9 months ago HAIDER King
Good pharmacy you can find almost all medicines
7 months ago Nelson Basden
When I enter the pharmacy there wasn't anyone to check if I'm vaccinated or not and to check my temperature
4 months ago Sherry Shen
only one good thing is that it's open for 24/7 otherwise it's bit expensive then any other pharmacy or store
4 months ago Toni Merritt
Almost every type of medicine is available
3 months ago Tony Lubbers
Never answer the landline !
5 months ago Anil Patel
Best place to get medicine. 24hrs open
11 months ago Matthew Langston
Big pharmacy more medicines..
8 months ago Jagdeep Benipal
Good place
6 months ago Julius Moore
All kinds of medicine
5 months ago joseph crowley
Its a relatively big pharmacy. It has a wide collection of cosmetics. Parking can be problem during rush hours but still its possible to find a tiny space here and there.
9 months ago James Houston
Good
5 months ago Georgette chin
Small pharmacy. Cant get all items
1 month ago Steve Schaefer
Indian doctors only . Pharmacy is big , you can find most of medicines . They have incentive program so they will try to up sell some specific medicines .
6 months ago MrSteal YoGirl
Most of all medicines are available hear
1 month ago Jennifer Jolicoeur
Very good pharmacy with friendly doctors and excellent availability of medicine
11 months ago zakaria aazri
One of the best in Bahrain and it's the same group of Ruyan Commercial Group, basically its Ruyan but this was the first name of the group before they developed the whole group.
7 months ago Chuck House
My first choice of pharmacies in Bahrain
2 months ago Scott Flatten
Large pharmacy that stocks pretty much all you need. Open 24 hours which is rather useful. Plenty of parking nearby.
9 months ago Tiffani Huynh
Excellent, multipurpose, well organised pharmacy with market average prices and helpful staff. Some medicines are only sold here as it is the agent of some pharmaceutical companies.
8 months ago kenneth kinsey
This is one of the largest pharmacies in Bahrain. Most of the time, if a medicine is not available in any other pharmacy, the reference is given to Jaffar Pharmacy to look for it. The location is always congested with traffic and difficult to find parking.
11 months ago William Harmon
24/7 nice and good location
9 months ago Wendy Lott
A good pharmacy. Insurance claims are also accepted here as far as I know.
8 months ago Mark Kelley
When it comes to medicines every thing is there staffs are very helpful n kind
3 months ago Craig Couty
They almost have all medicines. Open 24hrs
3 months ago Dustin Hollingsworth
Big enough to have all you needs, prices are more expensive than nearby countries but this is reqular for bahrain
8 months ago d nash
Medicine Not available
7 months ago Barrett Burns
Grat Pharmasy, quite big. Limited car parking
10 months ago Brian Kile
Big and very renowned pharmacy.
7 months ago Rafael Martinez
very good and opening 24/7
7 months ago David Carvajal
One of the oldest pharmacies in Bahrain
9 months ago Cathy Murphy
Open 24 hours. Highly recommended.
3 months ago Shain Wooldridge
If you are unable to find medicine from anywhere else.. then jaffar pharmacy is the place you should be looking in... But avoid going there on holidyas..
3 months ago Joanna Majka
I'm a patient and they are the agents of Bayer they refuse to bring in my medication. I so desperately need. I have a medical certificate.
7 months ago Gavin Wu
Good selection, always open!
8 months ago John Hess
I must say they almost have every medicine I asked for! it's a life saver.
1 month ago Emma Lauren
its pretty good
7 months ago Tendai C
Nice
3 months ago Kristy Biddix
Crowded
6 months ago Joe Pusta
24 hour
6 months ago najmul hossain
Nice
8 months ago Jesse B
Good
9 months ago Krista Parsons
It is a pharmacy after all
9 months ago Jim Bowser
One of the Biggest pharmacy in Bahrain
9 months ago Sheila Hawkins
Helpfully
9 months ago jay siee
Old pharmacy in juffair
8 months ago Randolph Bletl
24 hour pharmacy shop
9 months ago Robert Ellis
24 hrs Pharmacy
7 months ago
Popular places from the category Pharmacy