Zen Leaf - Las Vegas
Cannabis store Zen Leaf - Las Vegas, 9120 W Post Rd #103, Las Vegas, NV 89148, United States:
220 reviews
of users and employees, detailed information about the address, opening hours, location on the map, attendance, photos, menus, phone number and a huge amount of other detailed and useful information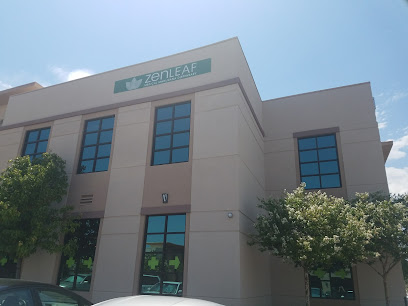 Address:
9120 W Post Rd #103, Las Vegas, NV 89148, United States
Website:
zenleafdispensaries.com
GPS coordinates
Latitude:
36.0745682
Longitude:
-115.2910839
Location on the map
Reviews Mendel Tenenbaum
I would like this opportunity to express how upset and disappointed with this dispensary! Basically I feel if you choose a flower and you get dirt you should get a refund or another That is what happened to me on our last purchase. Yes we received a sugar coated apology. It was discouraging. These items are costly. Senioe are on a fixed income I don't know what they gave us. It was not in a brand name jar
5 months ago Eric Mann
First Visit...... Awesome place for herb in the valley! Definitely stop by and see Axl for some good tending ???? Second Visit..... i Ordered an eighth of OG Kosher online from Zen Leaf (meaning its packed and ready to go). On my way I got a call from Zen Leaf to let me know the OG Kosher was shake. I told the woman i was ok with it and id look at it when I'd get there. I got there and the jar was packed, so I looked at it and smelt it. It smelt good, and looked good at the moment so I bought it and left. Now when I got home, I dumped it all out and came across a good amount of stems. I called Zen Leaf to speak to a manager. Conner (if that's how you spell his name) was the manager at the time and answered. All I called for was to let them be aware of the situation. I didn't care for them to do a refund, hell I drove 30 minutes to get there and 40 the way back (don't you love Vegas traffic lol). He began to tell me that they get those complaints a lot and that's why they called me to let me know it was shake. So I guess shake means shake and stems. I mean that's pretty neat haha.. Anyways he then tells me that I had time to look at it and determine if I really wanted it. I then explain That is true, but it was already packed tight in the jar. These bud tenders get to pack the jars for you, unlike other dispensaries around town, which is nice because it reminds me of back home ( Long Beach, CA). The manager continues to try and tell me it's my fault because I could've looked at it. He also asked me what he could do to resolve the problem so I explained to him that if he can have his bud tenders take an extra minute or even seconds to look at what they're putting the jars (it probably doesn't happen all the time im sure) it might change the "on going" complaints..... So my point of this review is that apparently I now have to go in to this dispensary and cautiously look at what they put in the jar so that I'm a happy customer! #thankyouConner
4 months ago Michelle T
Be Careful they will show you photos buds, but in small print at checkout say it's just shake. Apparently this happens a lot, but it is there way of keeping your money. Or why else would they not update the site to be more transparent. As far as the product goes.. I'll sum it up as. Cheap quality, Cheap price, and Cheap customer service. - So if money over Quilty is you this place is great.
8 months ago Katie Cofer
Best dispensary in town Great staff and prices never any wait times
5 months ago Trina Luebbe
This is by far my favorite dispensary in Las Vegas hands down. It is the only dispensary that jars your flower right in front of you. This makes for an incredible aroma as soon as you walk in the door. The staff is always very friendly and helpful. I have tried so many different products from here from flower to disposable CBD pens. I have never been let down. Thanks guys and gals for always making it a great experience.
7 months ago Anthony Livingston
Driest herb in my neighborhood and over priced for old bud. I literally have to freshen every batch with a citrus peel. They'll tell you it's fresh knowing it's not. Also they hide the scales, you're about 8 feet from the person weighing it out and I swear it looks so short sometimes. Not always. I know density is different but I know better.
9 months ago ramy Antunez
Kayla, she is amazing, she was very kind, welcoming me . And made sure I got what I needed she is truly the best.. I appreciate her! Thanks Kayla .
7 months ago john markham
All I can say is amazing! The only non prepackaged dispensary I've seen! They are extremely friendly, helpful and not afraid to work around your budget of money is tight! Just because of the service I was given, this is now my primary go-to dispensary! Thank you Zen Leaf, you guys are AWESOME!!!
1 week ago Daniel Freeman
The best staff in Vegas. I should have been shopping here a while ago. Thanks guys!
8 months ago Jeremy Farmer
Thank you for everything bro!! Christian was a great help!!! 5 star service!
6 months ago Jose Roman
Best shop in vegas !! The closest strains to the California strains that I'm used to!! love it. Literally the only dispensary I shop at. Great prices and daily deals. Never unsatisfied
1 month ago Kath Streb
I Had a talk with Alie The manger, I hope I spelled her name right Very nice Friendly conversation sometimes you just can't go by the ratings you have too actually speak to the employees or mangers directly to see if they're the ones that make the business the best they can possibly make it and she passed my test ????
1 month ago Joshua Figg
Greatest shop in Vegas. Worst location in Vegas. Lol wish it was more centrally located. Only bud shop in Nevada that serves out of jars no pre packaged weed preserved with C02 thats been sitting in a warehouse for a year or 2.. Good prices great deals all week.. Bless
11 months ago Ian Cooper
Well just called to get validation on a text and clear up a question. Lady was very dull on the phone, sounds like theres a whole party going on in there and she kept telling me she couldn't her my question asking why the text that was sent didn't make any sense, but now its only curbside so i don't get why there was so much disturbance that she couldn't hear me, kinda rude to keep yelling at a potential client instead of having the employees be quiet especially if your the receptionist. Sad i used to go here often, to see the level of maturity decrease due to pandemic is a absolute shame.
3 months ago grsmonkey
Best shop In Vegas.. Worst location lol. Wish it was more centrally located. Only shop in Vegas that serves out of jars no pre packaged bud thats been sitting for a year in a warehouse.. Bless I go here atleast 2 or 3 times a week.
4 months ago Mohamed Hassan
We have been using Zen Leaf Las Vegas since January 2020 after being introduced by a friend. The selection, prices, & promotions are very reasonable and the staff members are very polite & knowledgeable. Since the pandemic closed the shop and the only way to purchase is on-line with next-day delivery, we still feel we are a valued customer and are happy with our experience. Keep up the great work and stay healthy & safe!
6 months ago Barry Cunnings
MUST WEAR MASK INSIDE YOUR CAR ???? I ordered curbside pick up, they came to get my money, the guy went to get the product, and they didn't want to give it to me unless I had a MASK INSIDE MY CAR!! Unbelievable. I guess it is ok to get the money from me without a mask but not to give me the product ???????? DO NOT BUY FROM THIS PLACE. They are a joke!
3 months ago Cheyenne Cormier
Great for locals! Super friendly and they weigh on site!
4 months ago Paula Anderson
This place has the best deals on half ounces!????????
10 months ago Kayla Alise
Real communication issues... No discount for locals instore today so I went home and ordered delivery... Msg said order confirmed and they would be TEXTING me when confirmed. Minutes later, my phone RANG...I did what I always do, and did not answer. If they had texted me as they communicated, we would have been fine. But instead, they said TEXT and then CALLED. Your words have meaning... There deals are all vague because of the way they word their promos.... Example: 20% off. Curbside or delivery only....but then I go in on Sat and get the discount anyway... Wouldn't anyone assume they prob do it that way everyday. Tried to buy weed twice from you guys and YOU f'ed it up twice. Good news... I still have my money
1 month ago Maria B
I love this place it's my favorite place i always come here and get treated the best
1 month ago Lisa Gibson
I always receive quick and friendly service from this location. The only downfall is often times the items listed online are not in stock.
2 months ago robert housden
Super friendly service great prices, never too busy when I come in and it's right next to me house. Highly recommend!
3 months ago Xia Reyes
This is my spot I love this weed I only smoke zen leaf they got the best
2 months ago Pinki Arora
Love this place but needs better directions from online site I wanted to use points that I was solicited via text I can use just have to spend 10 bucks. I make that order on top of what I wanted to use my points for drove 45 mins for them to tell me I have to spend 35 to use curbside... with no solutions on to help the situation but a sorry... may have to chose another spot.
6 months ago MJ
I really like the location of Zen Leaf and it's not too loud. My only complaint is as a recreation customer I shouldn't have to wait so long just to be helped, especially when I'm in the front of the line. I realize you offer that perk for online and medical but you don't have enough budtenders as it is. You should at least have a person dedicated to each guest.
7 months ago Dhiyaa Alshalyand
Scammers, bud not true online from what you get in store. Budtender is useless, no help at all. Go to Curaleaf instead, they take care of loyal customers
3 months ago Kyrie Davis
Great little spot, nice bud tenders. Would visit again. Jordan was awesome. Good dude. Would like the line set up to be a little better. Seems to always be busy in here but only 3 budtenders on and 2 security officers? Makes more sense to add a bud tender and let the officer go?
6 months ago Kathy Schneider
Over all a great place they have random special and knowledgeable about the trees.
2 months ago Cheryl Ann
Looking forward to new strains. But again this place is Always a fav go to.. Great budtenders and definitely the best options!
4 months ago Mateo Fowler
Would leave 0 stars if possible, HIGHEST price at, WORST customer service. Did my mom wrong when she ordered online and they sold us $200 worth of baking weed as smokable weed! Not willing to even offer discount on future purchase. Save your time and money go to The Dispensary where they take care of you!
4 months ago shannon gore
Pretty nice place, with a even nicer selection, whether you like flower, wax, or edibles. They have a great rewards system when you can earn free stuff or even money off your total. I love how they message me every morning with the daily specials. Not to mention I love how they always have verano shatter in stock. I will be coming here from now on.
8 months ago Chris Horner
I bought the trees at this shop,and there are seeds in it. Go back to return. They can't return the trees. Because had seeds is normal.
1 week ago Jeff Turner
Z Best Place In Town!
9 months ago luca corucci
Best place in Vegas! Plus this new delivery service is top notch! All the staff are amazing. I will get my stuff from nowhere else! ❤????????
6 months ago licy doll
My new favorite dispensary
7 months ago Reshoo Patel
I love the customer service and how nice and friendly and helpful they are. And they are very educated on their products. To me this is one of the best dispensaries I've been to in Las Vegas. I even like the prices as well
8 months ago Ar Si
They offer good deals and have curbside pickup or delivery available. Friendly staff, decent selection.
6 months ago Bev Sherman
Hottest dispensary in Las Vegas. Great Staff
1 month ago Patricia VanDyke
Fantastic experience! What else can one say? I strayed from my regular dispo, found ZEN it's a bit small on inside; I can see there being a wait. The tender, security were all respectful and interacted.
7 months ago Annabel Uwaemenyi
Going to Zen Leaf is always a great experience. Great buds, really good prices and the budtenders are great. Highly recommend!
7 months ago Alana Trowbridge
Ordered delivery at noon. They said they would be here at 4. Changed it to 6 once it was 4. Continued to change it to 9pm. Ended up dropping off my purchase at 10:13pm, 10 HOURS after my original order time. Was stuck at my house all day unable to leave in case they came while I was gone.
6 months ago Sadichchha Dallakoti
Last time going to this place, how hard is it to let someone know if it's shake online. Spent $40 for a jar of shake, waste of time and money.
2 months ago Laurie Buchtmann
Great place haven't been in month due to the covid-19 glad they're reopened
7 months ago Bryan Brady
Nic was very helpful with all the many questions we had. He was very pleasant and very informative to us. Thanks for all your help. I enjoyed my first time.
6 months ago Steven Booth
Zenleaf was very "Impersonal" with their counters blocked with metals stands connecting black tape all around!!! You see, they are trying to keep customers from seeing the SCALE!!! Yeah, Zenleaf is still "Old School" weighing OUT the BUDS and NOT LETTING customers see the SCALE, therefore point blank "RIPPING" US OFF!!!!!
4 months ago Furrero Apparels
This is the only dispensary in town that doesn't sell their flower already pre packaged. That makes for an incredible aroma as soon as you walk in the door. If you want a real dispensary experience, this is the place.
9 months ago Keyshanda King
I go to Zen Leaf a few times a month. The service is second to none. I have NEVER been unhappy after enjoying an employee recommended product. The only issue I have had was that I never get an opportunity to complain about the service. I felt like a longtime, repeat customer the first time I was there. No pressure and never a hint of feeling rushed. I will be opening a new business in the near future and I will aggressively try to steal your awesome customer relationship managers. If you want a great place to purchase your MJ needs, Zen Leaf will make you feel comfortable in an environment that is new to many people.
6 months ago Tim Sowell
Amazing bud tenders top tier for expensive taste and quality for long trips
2 months ago Anne Schmelzle
Will send you away in you dont have a mask but wont have disposable ones to provide if you forget it. If it's a you requirement then why not have some available for your loyal guests.
6 months ago
Popular places from the category Cannabis store