Advance Auto Parts
Auto parts store Advance Auto Parts, 6225 University Pkwy, Winston-Salem, NC 27105, United States:
89 reviews
of users and employees, detailed information about the address, opening hours, location on the map, attendance, photos, menus, phone number and a huge amount of other detailed and useful information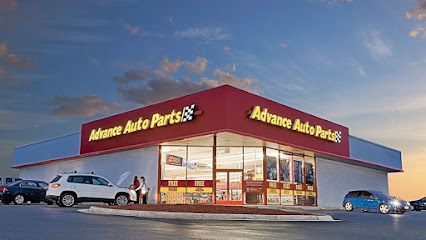 Address:
6225 University Pkwy, Winston-Salem, NC 27105, United States
GPS coordinates
Latitude:
36.1971929
Longitude:
-80.2783153
Location on the map
Reviews Melodie Willoughby
Jerry is the best! He is very knowledgeable and always willing to help. We find him for all of our car problems.
10 months ago kalpna singh
Always helpful and has what i need..., thank you, i will forever be a loyal customer.
8 months ago Andrew Hall
Bought a new battery for my riding mower and got a great deal. Would recommend this place to all who need lawn mower parts and auto parts.
10 months ago Hans Rudin
Great places Engine light came on they let me use their tester Nice friendly people
2 weeks ago Freida Relphs
I give this post only for today's experience as my previous visits with this Advance Auto Parts store have been quite excellent. That being said, today they missed the mark on service. My online order was in stock and ready for pickup but upon arrival I waited too long to be served after being recognized upon entry. There were no other customers there at the time and seemed everyone just took off to the back stockroom. This was even after I mentioned why I was there for a return and the pickup. It probably would have been okay until the employee handling my return and pick up took a phone call as I was trying to complete my business. It was almost as if my business wasn't that important. This concerns me as I will contemplate other options even though I've used Advance Auto Parts extensively in the past. I do suggest everyone to have their own experience and only offer this for today's experience. Safe travels.
7 months ago Scott L
Quick visit. In and out. Good customer service
1 week ago Brenton Thomas
Friendly staff, talked to them about a few things not car related. They have a good variety of merchandise.
1 month ago Shariece Womack
Love the employees most are very knowledgeable
10 months ago Fret Fanatic
Was having some issues with my car battery and went to get my battery checked. Cliff was extremely helpful and accommodating. I truly appreciate your help and kind personality. The woman working with him was extremely sweet as well. Both very down to earth sweet people. So glad this location is nearby my home. Will definitely return for future car needs. Thank you!
9 months ago Brad Johnson
Good people who are willing to help you and save you some money.
4 months ago Jill Kleinman
I really enjoy coming here to purchase my parts. I've only experienced 1 mishap and that lady is no longer the manager of this location. This store is kept clean & the current management/staff is very friendly and always willing to help myself & customers. The prices are very competitive with other car part stores as well. I've found Advance to be inexpensive. Thank you. Champion Carlette "The Truth" Ewell World Heavyweight Boxing Champion
9 months ago Jeffrey Hudspeth
Let me charge my battery for free that save me some money. ???? Every little bit helps.
3 weeks ago Shawn Hill
Fast, Friendly Service
8 months ago Carlos Arredondo
Good price very helpful & friendly.
6 months ago Seth Dunn
Very friendly and helpful
11 months ago Rodney Stanhope
Great team at this store. Always so helpful and pretty knowledgeable if you have questions.
9 months ago Satafir Bassam
They always give me great service at this location.
8 months ago Janet Treece
Customer Service was great!
9 months ago Justin Kurtz
Hakim and his staff especially Anthony went above and beyond to help with everything. It was much appreciated!
7 months ago Jon P
Great service and willingness to answer my questions. Extremely friendly. Especially Jamie.
9 months ago Maureen Welch
I went in to buy wiper blades, and the guy, don't know his name, but he was great, sold me some, and installed them. He was super personable and adept at what he was doing. As a woman, I liked that. He wasn't threatening or creepy. Thanks, Advance!
7 months ago Kayla Perez
Good service. They will help you in any way that they can. They also have extra services like tool rental.
2 weeks ago Alyshah Mohammed
Helpful. You can tell them at the counter what you need and they'll help you find it.
10 months ago K M
I had a good experience with the flexible pipe for my Durango yesterday. I had a great service provider & the price was okay as well. Not so much a good experience with the window visors they were not in stock & $60 dollars seam's outrageous for plastic!!!!!!!!.
11 months ago MARK WILLIAMS
Was helpful and knowledgeable about thw parts i needed.
9 months ago BJ DRAWH
Great service and very professional
3 months ago Tydiz Hye
Very helpful! Great service.
7 months ago Charles Robbins
Very helpful
1 month ago Pinki Arora
You can always fine what you're looking for and they are very helpful too. Their pricing is reasonable
10 months ago Dexter Thompson
Friendly and helpful!
6 months ago lily chavis
They have fair prices reasonable parking friendly cashier
1 month ago Tonya Miller
Excellent as always when i deal with Dale
9 months ago Marilyn Lupo
awes9me place with knowlegable staff
9 months ago mattdre tv
Friendly and helpful staff
6 months ago LUIS TORREZ
They were very friendly and fast at installing my new battery so I could make it to work ok time
7 months ago Marianthi Daphni
Cool
1 week ago Jennifer weller
The gentleman at the counter was really nice but I thought they put the battery in for you. I think he was new and not real sure of things.
3 months ago Annie Blalock
Helpful make sure you get the right parts and give you a choice between the che cheapest to the highest , meaning if the cheapest work just as good maybe not as long.I am never disappointed
1 month ago Doug Dickerson
I work at a car lot close to here. I'm on the phone with Dale almost every day several times a day. Him and the other staff here always get me the RIGHT parts quickly.
1 month ago David Senn
Good fast parts for your car
9 months ago Lydia
Great service quick and to the point.
7 months ago Sebastian Duhm
Price competitively
5 months ago Lola Daroca
Courteous, friendly, knowledgeable and quick. I will go back to them for parts in the future.
11 months ago RANDY KASHAT
Six staffers and no one asked to help me when I first arrived. Only after a second customer came in did a staffer come to assist us. AA, you can do a lot better.
7 months ago Michael Dagastino
Great they were very helpfull
7 months ago Roger Williams
I travel about a 1,000 miles a week, pass many Advance Auto Parts locations in the surrounding 6 states. This location has the best and most helpful employees of any store I've visited!!!
1 month ago paddington matz
Quick accurate friendly service, Everytime!
10 months ago Kenneth
Always good coustomer service. They stand behind what they sell
1 week ago Amber Hall
Great service , guy helped me was Hikeim I think . Great service
7 months ago Chris Fawkes
Knowledge staff. Friendly service
10 months ago
Popular places from the category Auto parts store