Used car dealer Affordable Motors inc
Used car dealer Affordable Motors inc, 3229 Old Lexington Rd, Winston-Salem, NC 27107, United States:
188 reviews
of users and employees, detailed information about the address, opening hours, location on the map, attendance, photos, menus, phone number and a huge amount of other detailed and useful information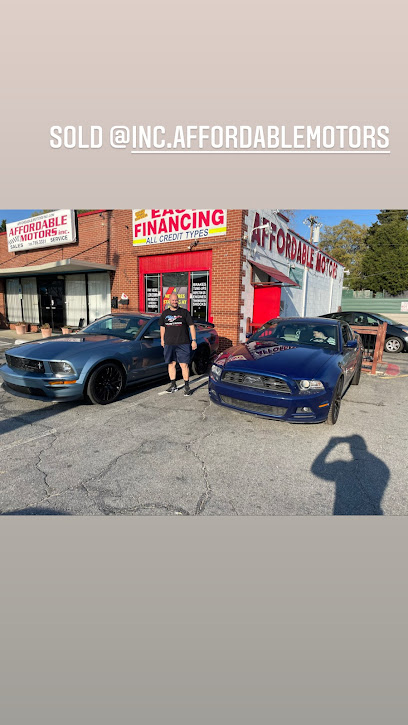 Address:
3229 Old Lexington Rd, Winston-Salem, NC 27107, United States
Website:
affordablemotorsnc.com
GPS coordinates
Latitude:
36.0552740
Longitude:
-80.2251800
Location on the map
Reviews Laura TheHockeyFan
Got my car serviced several times and brakes replaced here. They also conduct car inspections. They are extremely professional, polite, quick and the prices are very affordable. Great people, highly recommend them.
5 months ago Lobster Pound
Great customer service! Staff helped me understand what was wrong with my car for an honest price. Looking forward to coming back in the future.
6 months ago John Mlynczak
Mike is dedicated and definitely the man! Very professional and went the extra mile to help me get in a vehicle. Affordable Motors is A1 all day. I will continue to recommend my people to Mike and Affordable Motors.
8 months ago brady calhoun
Excellent customer care! We purchased a Challenger 2 years ago and still love it!! The price was perfect and these guys made everything smooth for us. They are also very honest, very reasonable, great personalities, very helpful, really trust worthy, professional and respectful. These guys were so great we even came back to purchase a truck for my husband this past weekend, we couldn't go anywhere else after this great experience. Thanks Ali I highly recommend your company for anyone in need or want of their next car!
9 months ago shawn wescott
Took my car in for a inspection, fast and friendly service and affordable. Highly recommend. Looking forward to buying a car from there in January 2020
7 months ago Michelle Rodenburg
Fantastic service. Very friendly and quick. I was very pleased with my NC Inspection experience.
8 months ago Charm D
Very satisfied with my car. The personnel were very helpful
7 months ago Jacqueline Rathke
Amazing customer service! Love my new CR-V!! Will definitely be visiting them again!!
10 months ago CHASE BOONE
Did my application, looked at a few cars and every time I called I was told I would receive a call back and never did. By the grace of God I found a great car in Greensboro, NC. Customer service is about communication and updating in which none of this was done. I was only left to wait and really was needing a car. I got my 2014 Malibu in Greensboro with my sunroof, tinted windows and Bluetooth...I got everything I asked for because this salesman was on it! After my experience I would never recommend affordable motor's at all! Rather the app was approved or rejected, you still communicate that to your customer! No stars if I was able!!!
6 months ago Caroline June
These guys are great. Automotive doctors, an official inspection station . absolutely the best. 10☆☆☆☆☆☆,s
10 months ago Chuck Posey
Got a great car I just hope it stays in good shape for as long as we will have the car
6 months ago margot ouellet
OMG we cant complaint these guys enough. They are amazing we wanted the camero SS and they did everything in their power to make sure we walked off the lot with this car!!! I cant explain how excited we are and how happy we are with the experience we had. All I can say is. GUYS YOu ARE AMAZING!!!! And thank you so much for making my dream come true!a
6 months ago Tarisa Tugun
This is where to go if you need a good car! They have terrific prices and work with you every step of the way and they're incredibly friendly and professional. The buying process was the easiest I've ever been through when buying a car. I would recommend Affordable Motors to anyone who's looking for their next car! 5 stars all around!
8 months ago Riza Cruz
Called to get an inspection, was very very friendly on the phone, was running behind. Called again to reschedule because I would be late, he was extremely nice and waited for me to get there and was very fast and efficient! Will be back, and recommend all services with this company!
6 months ago Leslie Palmer
I went to the car dealership and Pete Davis helped me get a car. I purchased a 2014 chevy cruze and I'm really satisfied with my vehicle.
4 months ago Aletha Mitchell
I've always been uncomfortable shopping from a small dealership until now. The crew at Affordable Motors were so kind and helpful with the buying process. Not to mention they were honest with me which is a big deal! I would highly recommend this dealership to anyone looking to buy.
8 months ago Jareba Henderson
Great service and staff. Thank you.
2 months ago Michael Cushman
Car Repair or Used Car Ownership Affordable has it!
4 months ago Aracelis Espinal
Bought two cars from them. Car runs perfectly fine and no problem. This place is the best!!!! Very helpful and will always try there best to help you with anything. I would always recommend this dealership before anything.
7 months ago Ja Go
I bought a car from Affordable motors 5 years back. The owner Ali is an extremely nice and very honest guy. He was very courteous , gave me a great deal on 2007 Camry , i have used that car for 5 years years now without a single problem. As i am moving out of the US, i came back to him to resell the car and once again he was extremely helpful. I highly recommend this place to everyone who is looking for a good and honest deal. Recommended 100% .
8 months ago Danielle Amar
Mike is a great guy. These people really try to help you get in a vehicle. Finally a dealership that cares
5 months ago Shana Conover
I don't know where to begin to tell you about how great my experience was at Affordable Motors. I was in town visiting a friend all the way from Wisconsin. Some unfortunate luck had me looking for a new car in the area and in a bit of a rush. Ali was there to first great me and show me some vehicles in my price range. I test drove the cars and decided to go shopping around a bit. But at the end of the day I found myself back at Affordable Motors. The prices were hard to beat and the customer service was unmatched. Hungry and tired all day from shopping around, Ali offered me some of his dinner he picked up for himself as I waited for my loan to go through. It did not stop at this, he also helped me wash my new car as I waited. I would highly suggest Affordable Motors to any new car buyer, not just because of the prices but the amazing customer service.
10 months ago Kathi Klawitter
It was great experience working with Ali and His team. They have nice collection of vehicles to choose from. Highly recommend.
7 months ago Hichul Chung
Second visit and inspection. Very professional. Also, friendly personnel. Would recommend to anyone
6 months ago En Esstah
I hate the car buying process with a passion. I've had horrible experiences in the past with shady, pushy dealers who don't care anything about the value of my time. But these gentlemen are WONDERFUL. They were super helpful, flexible with my crazy schedule and not pushy at all. They went out in rain and even snow with me (thanks Andry!) and let my mechanic crawl all over it. We got a great price on a vehicle that we love and the whole process was QUICK, friendly and completely painless. Would definitely recommend and will start there the next time I need a car.
8 months ago David Patrylow
Got a lot of help from andry and everyone in the office to pick the perfect car for me.10/10 will go there again!
7 months ago Cesiah Espinoza
My husband and I looked around for a while to find a car, and I can honestly say I am so glad we chose to purchase from here. Customer service was excellent. Our associate Pete was kind and very knowledgeable. He worked with us and made sure we were happy. I would recommend this place if you are looking for a used car and want a good choice and great customer service.
2 weeks ago Meena Vinodhini
Customer service was super spot on and I was greeted immediately upon entering the establishment. Instead of just telling me what I needed the mechanic,ali, showed me why I eased needed. I didn't feel rushed nor did I feel taken advantage of and the fact that ali was easy on the eyes... it didn't hurt my experience either. I've used other close businesses such as Lopez tires in the past and I wasn't as pleased in comparison. Also instead if trying to sell me the highest priced product, ali took the time to listen and figure out what was best regardless of it was beneficial or not. They are also clean and well organized
6 months ago Lisa Goddard
Excellent at it's best.
6 months ago Matthew Fett
I went to affordable looking for a new car.They were very friendly and everyone was nice . I dealt with Pete Davis. He got me a loan on a nice new car even though my credit is not good. I was treated better here then I was at the "everyone rides" place. I highly recommend Affordable and Pete for your next vehicle purchase. Once again thanks a lot you guys.
1 month ago Anthony Cortigiano
Great experience! Very nice and helpful, great patience. I love their customer service. Pete was very helpful and patient and extremely nice over all service. Now I have a new car which looks almost new great price I love it! I would recommend this to anyone!
10 months ago Tiffany Barnes
One of the best experiences I've had buying a car! Pete was so courteous & professional. My parents & I was treated like family, not just a sale.. I would recommend Affordable Motors to anybody looking to buy a car. The process was easy & Pete was able to get me approved for the car I wanted.. I love my Chrysler 300C!!! Pete & Ali, just all around great people!!! Thanks Guys!!
10 months ago Jack Sytsma
Just purchased a 2013 VW Passat from Affordable Motors. I was pleased with the service and negotiations for the vehicle. They were no nonsense and upfront with answering questions about the car. Pete was genuine and really made the buying process seamless. Keep doing what you do. It was a pleasure and my niece is very excited about her new car. Thanks Affordable Motors!!
4 months ago Yogesh Sharma
I would recommend this place to anyone who wants to be treated with respect and be taken care of.. Ali and his team took such great care of us they were patient and very honest with us.. great hospitality while we were there and they genuinely cared about us being able to find something that accommodated our budget and our family size..Wonderful humble people and the prices are great..Thank you affordable motors!! We appreciate you..
9 months ago T McLean
I have the best car i have ever had and its all thanks to Affordable Motors. This is really a great company. The customer service is excellent too. They have great mechanics that will help you with anything. Very caring. I will give this company a 100 on a scale from 0 to 100. Never disappointed.
1 month ago James Rickrode
I have now bought 3 vehicles from Affordable Motors and I always have a great experience. They really work with you and want to help you get the car you need. I have found the cars to be great quality and only have had to do normal maintenance and work that you would expect on a used vehicle. I keep going back to them because I believe they only sell good quality vehicles and I trust them.
9 months ago Meagan McMillen
Great people and a great vehicle! Definitely reccomend!
6 months ago Britni Russell
Always get my car inspected here. Quick and professional team.
6 months ago Rashanda Alexander
My experience with Affordable Motors was fabulous. Ali helped me choose my first car and was very fair with the prices. The employees at Affordable Motors are down to earth, respectful and very helpful. If there is a problem with one of the cars they are trying to sale, they will be up front with you and tell you about it right away. They don't sugar coat things because they want to narrow down the best car for YOU. Love this place and would definitely buy another car from them in a heartbeat. Thanks again Ali!!
10 months ago Pravesh Rijal
Great service and best prices in town. I shopped around for new tires at a couple places and these guys have me the best deal. Also got an oil change while they did my tires. Highly recommend them - you will not be disappointed!
2 weeks ago Dennis Karl
I recieved very good service here and I will be back.
5 months ago Boorisky
I had a great car buying experience at Affordable Motors, I bought an 06 mustang and absolutely love the car. Pete helped me through the car buying experience and made everything hassle free. He was honest about the car and did everything in his power to make the experience as easy as possible. I would definitely recommend Affordable Motors to anyone and would definitely do business with them again. Ali has a good team who are very knowledgeable, friendly and honest.
11 months ago Danny Dale
It's a small shop but the quality and customer service are outstanding. Exactly what you would describe a friendly neighbor business. I had transmission problem in my car - they fixed it and they really took care of me. Highly recommend.
4 months ago Ru Nataraj
Very nice this dude will help you out when you are. Looking for something nice to drive
7 months ago Fred C
Ali was wonderful! Very honest and went out of his way to help us. I would recommend them 100% - Very nice, quality cars at GREAT prices! We could not have asked for more!!
10 months ago Lindsay Spradlin
Amazing staff
10 months ago Ruth Movido
Affordable Motors Inc is the best tire shop in Winston Salem. Went looking for some used tires and for the price most of these tire shop are selling it was ridiculous especially the one next door from them. Got new tires and inspection done for a great affordable price. I could guarantee you that I would of paid the same for "used ones" . I would highly recommend them. - Fernando
1 month ago D Hernandez
I was looking for a car to get my daughter (her first car), and I was looking online on different websites and we have been to three different dealerships and while my daughter was looking online she found the car she wanted at Affordable Motors. So went there to check the vehicle out, Ali and Pete was very very friendly and very trustworthy. I usually don't trust car salesmen, but I trusted them. I would recommend them to anybody who wants a good quality car at a good price.
4 months ago carl barta
I had a wonderful car buying experience with Ali and his crew. My family and I travel great distances just to get our cars from Affordable Motors and it's totally worth it. Everyone there is knowledgeable and very helpful. Definitely recommend!!
2 weeks ago Sandra Little
I came in for an inspection. The receptionist and all of the staff were nice and professional!
7 months ago
Popular places from the category Used car dealer