Used car dealer Affordable Motors inc
Used car dealer Affordable Motors inc, 3229 Old Lexington Rd, Winston-Salem, NC 27107, United States:
188 reviews
of users and employees, detailed information about the address, opening hours, location on the map, attendance, photos, menus, phone number and a huge amount of other detailed and useful information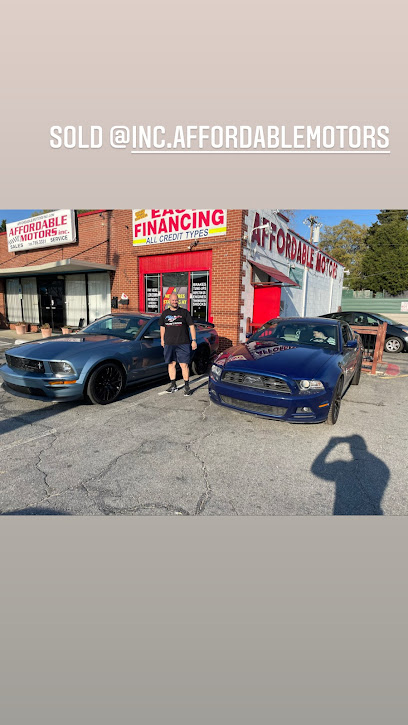 Address:
3229 Old Lexington Rd, Winston-Salem, NC 27107, United States
Website:
affordablemotorsnc.com
GPS coordinates
Latitude:
36.0552740
Longitude:
-80.2251800
Location on the map
Reviews Kate Crossgrove
Mike is an awesome guy and super helpful, they didn't try and play any games. Good people and good prices.
4 months ago Thomas Baltes
Very friendly and does nice work they do all my inspection work that's guys
10 months ago Stephanie Frank
They said they will call me and I never heard from them i have a great car now 3 days later
7 months ago Jason Davis
I had been looking for a new truck for sometime at a decent price without a million miles on the odometer. I happened on their website and found a truck at a great price with low mileage. I'm an hour and a half away, and I own a garage, so I'm naturally skeptical. I made a call and talked to Pete, who answered all my questions. I made a drive to the lot and it was exactly as advertised. I got a great deal and am very happy with my purchase. If I need another vehicle I'll be sure to check them out and would highly recommend them. Ask for Pete!
4 months ago Steve Gehring
I spoke with 3 of the salesman during the process of buying my new truck through them. Everybody there is really nice and very helpful. I got a great price on a nice 1 owner Tacoma. One of my best purchases ever. I would recommend them to anyone.
11 months ago malu melo
Mike worked a miracle for me, when er'body said no, he made it happen for me. Thanks Affordable Motors! Shout out to Ali. Good business.
10 months ago shama brown
Sweetest most helpful & affordale ppl I hvmave ever worked with.....reccomend 100%
7 months ago Joshua Bergeron
I just bought a car here and its awesome. I recommend this dealership to anyone looking to buy a car. The cars are excellent they are not over priced and the employees along with the owner are very nice and patient with the customer.
9 months ago lingchuan meng
These guys really helped me out! I was so stressed after my old car stopped working and everyone at affordable motors made the car shopping process a breeze for me. So thankful for them and I love my new car!
8 months ago Patrick Cuff
Staff is friendly, honest and willing to explain in detail what are the issues with your car. I've taken several vehicles of mines over the years and they have always done a great job in timely manner. Overall a great place to visit and resolve your vehicle's needs.
9 months ago Derek Douglass
They were very straight forward and gave me the information I needed. Very helpful and professional!!!
7 months ago Caleb Haney
Very professional and helpful sales person named Mike really made this a great experience. I'd reccomend anyone looking to purchase a used car check this place out!
8 months ago Christian
The staff worked with me on getting a good deal on the car I got from them. No price gouging, lemon cars, or anything bad. They are up front and honest about the cars they sell to you.
10 months ago Kris Y
The place isn't flashy on the outside, but these guys have excellent prices and an honest, low-pressure sales environment. My daughter and I had a great experience buying her first car????.
8 months ago Iquan White
Assisted me right away and placed me in the vehicle I have been dying for! Each employee was very friendly and showed a willingness to satisfy. I am recommending them to everyone I know!
10 months ago Por Shay
Had a great experience with these guys. Great colustomer service. They hook me up with a nice ride with a low price. Go out and check what they have. They have a great selection with low prices.
2 months ago Joy MacCrane
Love my car and loved the staff. Thank you for being so laid back and easy to work with and not pushy at all! Glad to give you my business over a big dealership who could have cared less!
11 months ago adam demarco
Really friendly staff quick service very transparent. I got my Honda Odyssey AC fix
8 months ago Kristin Shenk
I bought mine and all my kids cars from Affordable Motors, they are very polite with great customer service. Their cars are safe and reliable. If I need anything I know exactly where to go, the guys at Affordable Motors take good care of me.
1 month ago Tony Stark
Extremely rude would not let you finish what you where saying before rushing you off the phone....
7 months ago Antonio Jaramillo
Ali and his coworkers at Affordable Motors have a great reputation and strive to consistently keep it that way. I bought a toyota 4runner from them and a month later it is running great with no problems. the price was a great deal.
4 months ago Ryan Doucette
Ali and Pete are Great people to work with when comes to getting a DEPENDABLE CAR! they TOOK VERY GOOD CARE OF ME WHEN I GOT MY infiniti g35.. i LOVE MY NEW CAR and i am very excite i found a dealership that would not get over on me.
2 weeks ago A A
I needed a reliable vehicle at a very affordable cost, and on referral from a friend, I went to Affordable Motors and actually pourchased the car I wanted for much less than I expected. Ali was great. Very friend;lym, attentive and personable staff. Takes good care of their customers. I would highly recommend Affordable Motors as a "first place" to go if you're looking for a good used vehicle.
4 months ago Marile Quintana
Bought a car here and wasn't disappointed as the people were very friendly and help you with everything you need. Didn't leave me waiting outside or anything. Definitely telling others to buy here. :)
2 months ago aanchal panwala
The reviews definitely reflect the service. I found the listing for the car online and was drawn to it for the low price. I was looking for an older Volkswagen Eos that would fit my price range. Most vehicles were 2008's or 2009's but this one was a 2012! I thought it would be too good to be true but Affordable Motors supplied the Carfax and it was in great condition. I called them and spoke with Andry and Ali. They were patient with me and even did a Facetime walk around. They were very informative, knowledgeable and kind. I drove 3.5 hours from Tennessee to look at it. As we were looking at the car, 2 or 3 other staff members came out and greeted us. Even the mechanic came out and was showing us things on the car. The personal and friendly service and staff paired with a no pressure environment created a very pleasant car shopping experience. I know, pleasant car-shopping is a bit of an oxymoron. Car shopping is normally terrible from all the pressure and clinginess of the salesperson but not at Affordable Motors. After I decided to purchase it, the transaction was smooth and quick. Ali even told me to text him after we got home. Now I understand the great reviews. I recommend Affordable Motors! Thanks guys!!!
10 months ago marco novelli
I brought my 2012 Honda Accord one year ago from Affordable Auto I have had absolutely no mechanical problems with my car whatsoever and today was due for a inspection. They got me in and out very quickly and there service is very professional and friendly would highly recommend them.
11 months ago Matthew Schroeck
The salesperson Ali sold me an amazing car and i love it! the service is really great and so is the staff. prices are really not bad either. amazing place,,, 5 Stars!!
5 months ago jason clarke
Affordable Motor's staff is friendly and professional. Recommendations for new tire replacements were great and service was fast and efficient.
7 months ago Dave FR
Great customer service!! Pete is awesome. I would recommend anybody to them.
7 months ago Jessie Harris
Pete was awesome to work with and he got me into my car super fast! Highly recommend Affordable Motors! Shannon
4 months ago Supreet Singh
Staff extremely personable!! Ali is the best!! He went over and beyond to help me purchase a car for my teenage daughter! I definitely recommend this dealership to everyone!
10 months ago Alexandru Barzu
Great service. Big car selection. Very nice good people.
2 weeks ago William Crawford
Cut to the chase --- These guys don't spin your wheels, they get it done! Finance manager worked through some possible problems and got me a great deal. I recommend this place and would buy from them again.
10 months ago zack mardan
I came in needing new tires very friendly staff and the prices were very affordable. Walked out with r new tires and was under budget. These guys were great thanks for the service and hospitality.
8 months ago Sylvia Gonzalez
I had the most delightful experience with Affordable Motors, and the suv I were looking for was right there. Pete beyond amazing, he really took his time and made sure this is what I wanted. The owner very friendly, very good . This has been a great experience, I know where I will be buy the next car from. I have told others about this place. Thank you again. WO
2 weeks ago Brad Palmer
Great customer service, Great prices, Great staff, and quality work, A+++
9 months ago JWT Chef
I came to affordable motors looking for a used tire and they gave me a good price on the tire and it was really for my car. Thank you Affordable Motors.
8 months ago Danny Prewitt
Had an awesome experience! Just bought a car and the service was great. I would totally recomnd it to friends and family. Awesome staff as well. 5*++++
4 months ago Brad Krause
Excellent work done by excellent people ????
8 months ago Pete Rizzo
Amazing customer service. Great cars.
8 months ago Elizabeth Emerson
I bought a car and get my service done regularly. Reasonably priced, honest people. Unlike other auto repair place where they rip you off, affordable motors is honest and I plan on sticking with them. Also $20 for state inspection
4 months ago Anton Kukoba
Great place to buy a car. Very pleased with my experience. Staff was friendly and very helpful.
4 months ago Sheila Hawkins
My Lexus tires costs $469 per tire at the Lexus dealership. After 3 calls with different dealerships I almost gave up due to similar prices. I panicked and affordable motors was next and last on the list! $220!!! Next day delivery and fast service! Omg there's a way if there's a wheel lol
6 months ago Mike Anderson
Nice service, very friendly staff.
7 months ago SherrieK Watson
Great place, great cars with cheap affordable prices, very friendly staff will come back again
1 month ago Jana Gillham
Good customer service and have nice vehicles
9 months ago Hachu Vb
Hey I bought 2008 Infiniti G35x the dealer gave me a good price, they are really good in financing, they are good people and they there to help you and solve your problems
4 months ago Valentin Despa
Great place to be, Great prices, Great staff, and quality work!
4 months ago Dwayne Garrison
Very unprofessional...they need to change their advertisement. If you have bad credit, don't waste your time! Even though I would they have a huge sign out front saying no credit bad credit we will finance. What a joke
8 months ago Megan Ross
I bought 4 new tires for my wife's Honda civic it was a great price and i got an oil change and i did NC. State inspection everything was $220.00 that is a good price for everything
8 months ago
Popular places from the category Used car dealer