SKOR Cash and Carry
Wholesaler SKOR Cash and Carry, 1 Adelaide St N, London, ON N6B 3P4, Canada:
23 reviews
of users and employees, detailed information about the address, opening hours, location on the map, attendance, photos, menus, phone number and a huge amount of other detailed and useful information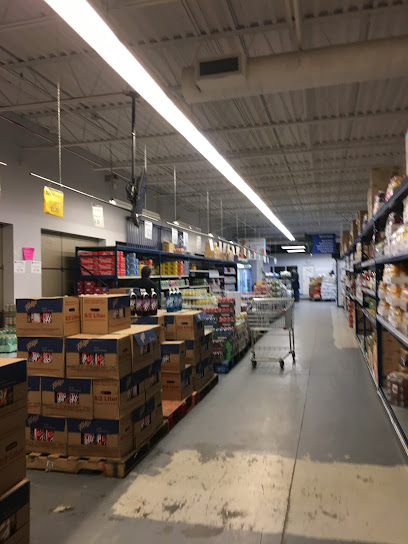 Address:
1 Adelaide St N, London, ON N6B 3P4, Canada
Website:
skor.colabor.com
GPS coordinates
Latitude:
42.9760190
Longitude:
-81.2268952
Location on the map
Reviews Matthew Quint
Great prices and good quality food my favorite cash n carry
5 months ago Ivan Alban
the place is big, it has a great variety of products. frozen food, fresh vegetables, drinks, cleaning products, candy even chef's uniforms. The place is clean and tidy, the staff very friendly. They close at 4 pm. The prices are very good compared to other places. parking near the door easy access.
8 months ago Roque Alvarado
Great place to buy in Bulk quantities and you can find those rare gems and some good deals
8 months ago Jonathan Klate
Very friendly and helpful staff. If they don't have what you're looking for in the floor, you can ask for help to see if they can source it for you. Absolutely amazing service!
2 months ago Kelsey Hart
SiL picked up hotdogs a week and a half ago for a surprise party, didn't check best before dates because one would assume that a food wholesaler rotates their stock. Hot dogs looked and tasted awful, checked package and found out they expired in March. And were still available for purchase in August. One of the kids is complaining of sore tummy, hopefully it's nothing more than uncomfortable. Waiting to see what their proposed resolution will be.
8 months ago Michael Russo
All great people work there.they are very helpful t o me and and a friend.we both are disabled and appreciate the help
10 months ago Jerry Gamble
Its not a bad store I guess. You need a membership, but its cheap to get. May of the products are close to expired though, so be careful. At least the dairy is always fresh...
8 months ago Zoe Koe
Very friendly and helpful staff
10 months ago Steve Martin
excellent. Staff always amazing . I like the new look .
2 months ago Akim Moss
The staff is so friendly and coming from out of town it's usually close to closing time and they are so wonderful about it I am so sad that it is closing I would shop they're not for the prices just for the people thank you
6 months ago Tom Mynes
Pretty good prices on some bulk items
3 months ago Kendrick Webb
The people are nice but strike 4 in a row not only having stock of what I buy $100s of things i get every month but give away what I begged for them to hold . I am done with you guys. Today was not a good day to travel all the way south London ...but they always have 14" pizza boxes in stock. Always. EDIT: turns out if you are nice to them they are AWESOME.
6 months ago Mike K
Great staff , prices are competitive. The only problem most of the time is that lack of stuck. Big problem
8 months ago KING DJ
Very helpful staff
4 months ago Brian Baggott
Great selection and by far the cheapest place to get most of these supplies... I checked EVERYWHERE. I read the one bad review and it is complete fabrication. The staff are very friendly and are only there to help if and when you need them. Absolutely top notch. My only complaint is the very limited hours of operation.
4 months ago Sean Meyer
Great service . Good soup base
4 months ago helen Washington
Best deals in here. Best selection for stuff that are available in other stores
4 months ago Sina Safayi
Staff is great. I come from out of town and often find what I drove 40 minutes for is out of stock. I am trying to call today but the phone doesn't seem to work.
4 months ago Gerald R
Staff are great. Place has a nice selection of things. Prices vary depending on what you're looking for.
4 months ago Herman German
The employees are becoming more friendly with every time my husband and I visit, and finding more selection of products in stocks and prices aren't that bad
9 months ago Chris Stanfield
I've only shopped here once so maybe I went in on a good day but people were friendly and helpful. I didn't have any problems!
4 months ago Trudy Demario
Surprisingly, in many cases it is cheaper to purchase items from the supermarket instead. They do have candy that you will not find sold in Canadian supermarkets. Membership required.
8 months ago Marilyn Mayo
Helpful and friendly people.
11 months ago
Popular places from the category Wholesaler