GEICO Insurance Agent
Insurance agency GEICO Insurance Agent, 7741 Gateway Ln NW Suite 100, Concord, NC 28027, United States:
192 reviews
of users and employees, detailed information about the address, opening hours, location on the map, attendance, photos, menus, phone number and a huge amount of other detailed and useful information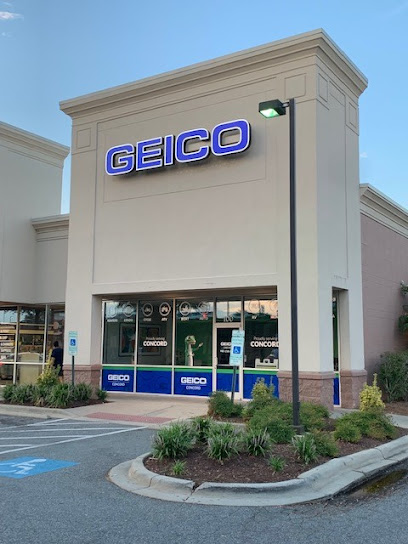 Address:
7741 Gateway Ln NW Suite 100, Concord, NC 28027, United States
GPS coordinates
Latitude:
35.3664708
Longitude:
-80.7093548
reviews John Todtz
I'm very pleased with my service here! Nadia was so thorough and informative of the policies. She answered all my questions and made it all very easy for me to understand. She is very welcoming! Will be referring all my family and friends in need of insurance to Nadia at GEICO! ????
2 months ago Mike Meinders
Alfredo Batista was fantastic! He was quick and efficient. He made getting renters insurance was very simple. I went with geico since I have them for car insurance. He communicated through email when he couldn't reach me on the phone. I'd definitely recommend working with him!
3 months ago Corey Smart
I was very pleased with the service I received from my agent Kourtney. She was knowledgeable and professional at all times. Great experience!
3 weeks ago Tyler Wagner
Lisa was wonderful! She was extremely helpful in assisting me with my insurance plan. Very patient, professional and personable. One of the best customer service experiences I have ever had!
1 month ago James Mcneil
Nadia was amazing. I'm usually not a fan of insurance agents but her customer service was a breath of fresh air. Been using Geico for a while now and was considering switching or entertaining other companies but after the conversation, I'll be insured here for years to come.
3 months ago Reggie Pinkney
I have only great things to say about each representative I've spoken to at this Concord location. Highly recommended for anyone looking for anyone searching for affordable coverage, their customer service is top tier. Definitely a first choice for me.
4 months ago Keisha Pryor
I had the pleasure of speaking with Lisa. She was absolutely my wonderful! She was very patient with all of my questions as well as provided phenomenal guidance in terms of policy updates. I will absolutely be calling this office and requesting to speak with her in the future!
3 months ago maria munoz
Nadia helped me and she was truly awesome!! I had so many questions and she was very knowledgable and answered all of my questions thoroughly. She was also very patient which was awesome because, like i said...i had a lot of questions ????
1 month ago AJ Colton
Nadia Howard was amazing ! Her customer service was phenomenal . She was very personable and made the geico experience greater than I expected. I am usually rushed and left with questions, but not this time. Thank you, Nadia . May you continue to be blessed !!
2 months ago Freda Peters
I worked with Nadia who was really helpful. She was professional and knew the answers to all my questions. Really good experience. Would recommend!
2 months ago Carolyn Maches
The receptionists Nadia was very clear about my options and helped me understand what needed to do. Sometimes people on the phone are stale, she was very chipper and seemed excited to help. Excellent service.
3 months ago Jim Laville
Excellent staff at this location. Got all my needs handled expeditiously and painlessly. Also, Nadia that works here is great!
2 months ago Lamarre jerome
I had a great experience when I visited. Nadia Howard helped me and she was awesome! Impeccable customer service.
2 months ago V L
Great job Kameisha. We really appreciate your customer service ????
2 weeks ago Anisha Pai
Neydi Ramirez was a pleasure to work with. Comparing insurance can be a headache but she answered all my questions and helped me explore all of my options. I like to know exactly what I'm signing especially when it comes to my money and she earned my business without a doubt. She was very knowledgeable and kind! She followed up with me promptly and I was pleased to find out that she's also bilingual, I will be referring her to all of my family and friends. It's very hard finding someone that takes pride in helping the Hispanic community especially when there are language barriers. Geico has the best rates and absolute best customer service.
3 months ago Ksyron Young
Always great doing business with these guys. Young lady by the name of Kameisha, great customer service. Would definitely recommend
3 months ago Eddie Douglass
Had the best experience while speaking with Meisha. She was on point with my questions and concerns. It is rare when you find someone who is polite and with a good attitude.
2 months ago Gloria Freeman
Nadia was very helpful. She went above and beyond to answer all my questions and catch me up to speed on my policy!
2 months ago Beckey Colby
I had the pleasure of working with Alfredo Batista and my entire process was handled in a smooth, quick, and efficient manner. I was on the phone for 15 minutes and I was insured! In addition to that, Alfredo was a big help, responding promptly to my emails and working with me quickly when I needed help.
5 months ago Bryce Kolodziej
Nadia gave me an amazing customer experience! Her attention to detail and care about you as a customer is unmatched. Super professional!
2 months ago Momo
Nadia was a great help. Very professional & made everything easy to understand! Highly recommend!
2 months ago Lindsey M
I've been with geico for years for all my policy needs and they have never let me down. If you want the best then be with geico!!
3 weeks ago Warren Creasy
I usually dread calling my insurance company, even for small things like a change of address. I spoke with Lisa and she couldn't have been sweeter. The whole interaction was pleasant and she answered all of my questions. I wouldn't hesitate to call again if I need anything else!
2 months ago Rocky Roljevic
Lissa was very knowledgeable about the products and services. She was very professional helping me pick the plan that was best for me. I highly recommend her.
3 months ago Joona Schukowski
Kamisha has been an awesome rep. She is very responsive to any questions and has a very positive attitude when she visits!
2 months ago Rita Jenkins
Well I had a awesome experience talking to Nadia Howard about my insurance. She was very professional and helpful
2 months ago James Hubbard
I reached out to Geico and spoke with an agent named Kourtney. She was extremely knowledgeable and patient with all of my questions. I just may be signing up with you guys. Thanks for being so nice over the phone!
1 month ago Stanislav Andreev
Lisa is awesome she listened to what I needed and came up with a perfect policy for me, I highly highly recommend.
1 month ago Bonnie Lo
I had a awesome experience with Nadia Howard. She was very professional and helpful
2 months ago Dean Oliver
I called and spoke with Kourtney, she was very perfesional and helpful with all of my questions and concerns that I had!
2 months ago Rogier Boer
Best insurance company I've had. The agents are awesome!
2 months ago Deb Schommer
Amazing service! Nadia was extremely helpful and she made my frustrating day much better.
2 months ago Gg
Nadia showed compassion while helping me with my auto policy I definitely recommend!
2 months ago Rahul Deshpande
Thanks for your help Kourtney Davis very professional,and kind made me feel like family
2 months ago Krista Datzek
Kaneisha was awesome!! Look forward to her when she comes in!
11 months ago Aaron Larmore
I had an awesome experience at Geico! Neydi was able to give me an amazing rate on my car insurance, as well as great service!!!! Highly recommend!
3 months ago Daryl Linwood
Had the pleasure of running into a nice young lady named Kameisha while trying to wait for my car to get pulled up to test drive. I had my 3 year old with me and she was late for lunch so she was over being at the dealership. Out of nowhere she appeared and offered a healthy snack to me and my baby! She said she was with Geico and passed me her card! I was so thankful to actually see the personal giving to the community part in such a hectic moment. They have my business!
3 months ago Aleks Fefelov
Great customer service and wonderful people all around!!
1 day ago Audrey Summer
Had a great experience with geico such a great team they were able to give me a quote which are awesome rates definitely recommend !
3 months ago Elena Davies
Nadia provided great customer service! Very informative and friendly!
2 months ago Hamza Safi
Kortney was the Geico agent, who helped me. Kortney was very helpful and provided excellent customer service! She answered all of my questions, and sent me a follow-up email.
1 month ago mohamed Bahi
"Great place! Nadia gave me exceptional customer service!"
2 months ago KM Wagner
GIECO IS A GREAT INSURANCE COMPANY AND GOOD RATES. GIVE THEM A TRY.
3 months ago Stanola Williams
Kameisha is so friendly and kind! Great service been with Geico for 7 years!
2 months ago Ed Palmer
I had outstanding service from insurance agent Alfredo. Very good customer service, professional & helpful.
5 months ago Todd Gilbreath
Nadia is such a delight! The best customer service ever!!
2 months ago Joe Filbeck
Nadia Howard provided amazing customer service to me during my call
2 months ago Caroline Higgins
Awesome customer service and great rates! Highly recommend!!
3 months ago Deloria Williams
Thanks for your help, Kourtney Davis. Your expertise and professionalism are very much appreciated
2 months ago Eric Thomas
Nadia was so helpful. Fantastic customer service!
2 months ago
Popular places from the category Insurance agency