Target
Department store Target, 5420 University Pkwy, Winston-Salem, NC 27105, United States:
220 reviews
of users and employees, detailed information about the address, opening hours, location on the map, attendance, photos, menus, phone number and a huge amount of other detailed and useful information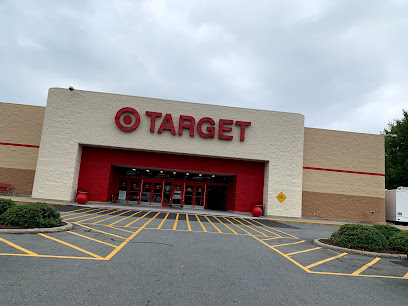 Address:
5420 University Pkwy, Winston-Salem, NC 27105, United States
GPS coordinates
Latitude:
36.1680432
Longitude:
-80.2792151
Location on the map
Reviews Deanna Kersey
I went into this store yesterday evening to look for a pop-it game my daughter has been seeking for several weeks! The website showed that this store had 1 game left in stock! As I was searching for it, I was greeted by a very kind, smiling and caring young man named Ethan! He took the time to listen and help me find the location of this product which was empty. He told me the truck had came in earlier and they may not have had time to get to that pallet SO this young man went into the back, searched through the pallet of merchandise and came out with game we was looking for! I could have cried it warmed my heart so! We drove almost 2 hours (we live in Sparta NC) just to buy this game! I never explained to him how far we had drove until after he came out with the game! Anyone that uses this store to shop at please keep an eye out for this young man and remind him of how great he really is! I honestly think he would be this helpful and willing to help towards anyone! Thank you Ethan! You will always be remembered!
9 months ago Christopher Reynolds
run down. not maintained. no employees on the sales floor.
9 months ago Nancy Haddad
This Target on the other side of Winston isn't as busy as Hanes Mall which I love. Drive Up is always fast here!!! The selection is not quite as good as across town, but they ship everything nowadays. I have always had quick and friendly service and some staff members even remember me and say hello if they see me. I feel safe shopping here and there was a time a cashier walked me to my car at night. Excellent employees and management!
9 months ago G B
Went in for a quick pickup. Young lady was friendly and provided me quick service getting me in and out. Although i had to run back in.
8 months ago vic NY
The selection wasn't as vast as at some of the other Targets I've frequented but I was able to get about 90% of the items on my list, it was clean, well organized and had friendly service.
7 months ago Sarah Vicich
Yesterday I came to this Target for the first time. There's a clothing section right when you walk in, but it's not very pretty it looks like a Ross. But as you continue to enter the store the rest of the place is really pretty. Shelves are organized, everything is super clean. There's a pharmacy, as well as groceries and electronics. Everything looks high quality. As I was using self checkout I had trouble paying because I left my credit card, but I was trying to use my Target Phone app to pay for my products and it'd not let me do that. Use my phone to pay, so they can charge it to my app. The employee at self checkout was very nice and helpful, but we could not do anything about it and I had to find another payment method. Boomer because my credit card gives me cashbacks at Target.
7 months ago dlm fts
Transaction went smoothly, including the curb side service. Just had to drive so far, 2 hours to get the item. No other nearby Target had the item.
8 months ago Ida Hawkins
Person who brought out my products was friendly, polite and personable.....an asset to delivering the best for your customer service experiences
8 months ago the dark
Clean, well organized, many great items! Who doesn't love target
7 months ago Eric DeGroot
Easy to find your way around this store. The Starbuck makes the best Chi tea.
10 months ago Jeff Palm
My 75 year old dad has had a horrible experience purchasing a cell phone at this target location. The at&t third party vendors at this location are horrible and I would for sure tell all buyers beware! DO NOT BUY AN AT&T CELL PHONE FROM THIS STORE!!!!!!
11 months ago Brandy Radford
Clearly no one knows what's going on in this place. Managers, cashiers, stockers, etc a customer who frequented the store had to help me one day. The night manager doesn't have access to specific systems, thus rendering them useless. If not for the convenience of the location, I'd never go here.
9 months ago James Allen
He was quick and efficient with bringing my items out. You guys are always great- THANK YOU!
1 month ago Bianca Beato
Very friendly staff, one of the workers actually put my things in my car
7 months ago Linda Deppen
Every time I've been in the shelves are bare, they haven't had my laundry sent since the beginning of the pandemic (I'm sure people panic bought that...) The employees are rude or just having their own conversations in groups around the store. It's worth going across town to the other store. Today the Starbucks employees let a woman pick up several items out of the fridge and told her because she wasn't wearing a mask she couldn't be served but made the woman put all the items back....
5 months ago Tyler Wrage
I love coming here to buy stuffs for my house and my baby. Everyone seems very nice and patient except for one of the lady at the register. I came to her few times for checkout but she seem very impatient and rude to the point that I think she is being discriminated to me. Like today when checking me out , she was mockingly complaining about me to her coworker and being very disrespectful.
3 months ago Domonique Douglas
Contactless pickup is wonderful & staff is always polite & prompt!
2 weeks ago Todd Neal
Great employees, have a good amount of grocery items now including frozen items. Fast check out. Every one was wearing ????, safe for us all.
1 month ago Sharon Potter
The price and rapid availability of my order were excellent.
2 months ago Brendan Saylor
The store is clean and the people are friendly.
6 months ago Peter Stenger
The entire process is super fast and super easy!
11 months ago Infinity Love
The shelves were empty but my online search showed that this store had the items I was looking for in stock. I used a Target phone in the store to page an employee. Someone immediately came, listened to my concern, looked at her inventory via her mobile device, said the item may have been in the day's delivery. She immediately searched and quickly located the item. It all happened very efficiently and quickly. I was disappointed to arrive at your store and see empty shelves, but I totally understand during these challenging times and the situation was resolved immediately!
10 months ago Hussain Alhasan
Very low percentage of people visiting this store wear masks. The employees all were all wearing maskd and that was great to see. However the number of full families and individuals not wearing them was far greater than other stores in the area. This is one of the least safe places to shop right now.
7 months ago Victoria Kalogerou
Associate brought to car as we pulled up. Great!
2 weeks ago JOSIAH HOWARD
Very easy pickup. Very helpful staff
3 weeks ago Erica Bavarella
The lady I spoke to was extremely nice and working very hard I was pleasantly surprised. it took me all of 5 minutes to walk in there and pick up an item I had ordered earlier in the day. It was ready to go and she was quick and efficient and also very friendly.
8 months ago David Nott
Target is the bomb!!! What great shopping experiences it provides!
1 month ago idris Rehimli
App is easy to use, orders are prepared quickly and items are already outside ready for pickup. Process was amazing!
5 months ago Ravi R
My daughter brought these fans for me because my air conditioning broke down the order wasn't ready for pick up when I went there and I was desperate for air . I'M 75 and the heat was killing me in my house. Two of your worker PUT THERE PERSONAL MONEY TOGATHER to PURCHASE me two FANS so that I wouldn't burn up I'm so thankful for this blessing from UNIVERSITY TARGET in winston Salem NC
5 months ago Jon B
Second week in a row I've used pick up. It's also the second week in a row that items were left out. I can't get an answer on the phone or I probably wouldn't resort to leaving google reviews.
11 months ago Sandra Brower
Target is a wonderful store! It stocks everything, is clean, well organized, with great signage and great prices. Has friendly and helpful associates. Parking is never a problem! Can't ask for more in a shopping experience.
6 hours ago Zenon Chavez
Love the store pick up and drive up options!
5 months ago veronica Taylor
The process was fast, convenient and I was comfortable with the social distancing. The staff used a scanner read the order code on my phone and I did not have to touch anything. Great service!
10 months ago Preethi Sahayaraj
Really disappointed today. I ordered online for pickup. I went inside & someone asked me how can they help? Good 1st impression. Next she asked for my drivers license. As I was getting it out, someone came in behind me & was asking about returns. And not 6' away. The two proceeded to bicker back and forth & finally I asked "can you please help me 1st as I was here 1st ????????‍♀️" she said ok... but really? So unnecessary... and the fact that she actually had to touch my driver's license, that was unnecessary as well.
7 months ago Dayvid Brooks
The customer service is great!
3 weeks ago Gergana Kireva
It was so easy and convenient! Really enjoyed my first pick up experience!! Would highly recommend.
10 months ago Deb Borwig
Favorite place to shop. Huge selection from clothes, electronics to food. The grocery department is as big as one at a super target. They also have self checkout which I love. I hardly have ti wait long in line. My only thing with them is that the only friendly associates are the ones who work up front at the registers.
9 months ago Molly Glaser
i love Target, I come weekly to stock up, mainly on dog food. I enjoy saving 5% with my Target debit card which makes some items cheaper than anywhere else like PS4 games.
9 months ago Jeff Borowski
Everything was ready and exactly what I ordered.
2 months ago Jeff flores
nice clean store friendly employees
5 months ago Lorenzo Rubel
The associate that assisted me (her name is Jessica) was very nice and explained some information about your rewards programs that I was not aware of and she went the extra mile to make sure that my photos did not get ruined.
7 months ago Chad Sell
Good service. I forgot to use my app for a 20%discount on shoes, I used the self check-out desk. Lady at service desk was very helpfull and friendly and I got my 20% back quick and easy.
7 months ago Glenn Smith
The young lady who helped me around 6:15pm on 4/9/2020 was absolutely wonderful!
8 months ago andrew luther
Why aren't you enforcing the statewide mask mandate at your store? Why is an employee telling other employees not to say anything to anyone without a mask? Do your job and enforce the mandate thats been put in order!!! Your own employees don't wear mask correctly because the manager is useless and refuses to acknowledge that this is MANDATORY!!
1 day ago Iam Knocks
Great costumer service
10 months ago Cyprian Alexzander
Great Target location with a Starbucks cafe in the front of the building. They also have some of the best seasonal items from candy to clothing and decor. They also have a discount section at the beginning of the store that is perfect for small gifts or kids. Friendly staff and great deals.
10 months ago benny brown
On May 24, 2019 I visited the University Pkwy's Target. Boy, was I impressed with the personal attention I received from Ivy. She not only did everything to help me get the products I wanted and take me to checkout but also enlisted Devonian, her coworker, to help load the shelves into my car. Both were very kind and helpful and deserve to be commended.
10 months ago Sarahis Campos
When Martha spends more time talking about her hours and the hours of the fellow employee she is checking out, you get ONE star. Some of us have other things to do today than stand in line while these two employees discuss the number of hours they are scheduled to work and their back issues. Come on management! MANAGE!
7 months ago medley morgan
Easy ordering experience!
1 month ago Helen Smith
I Didn't Have To Wait For My Order! It Was Ready For Pick Up And Was Notified When My Order Was Ready For Pick Up! And The Employees Were Very Polite!! And I Will Always Come And Shop At This Location,,,,
2 months ago
Popular places from the category Department store