Grocery store Orote Commissary
Grocery store Orote Commissary, Santa Rita, Guam:
78 reviews
of users and employees, detailed information about the address, opening hours, location on the map, attendance, photos, menus, phone number and a huge amount of other detailed and useful information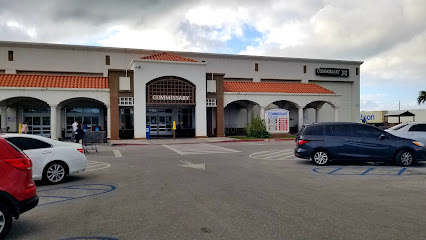 Address:
Santa Rita, Guam
Website:
commissaries.com
GPS coordinates
Latitude:
13.4142401
Longitude:
144.6618448
Location on the map
Reviews Estelle Jardin
Haven't been in Navy Commissary for months. They do self bagging now. We laughed as my too older kids tried to bag our purchases. This was a first for our family. Something pleasantly different.
5 months ago NaoTarro
Our commissary does pretty good. Just need to make sure all self checkout registers operate....2 out of 4 operating slows things down a bit.
5 months ago Anneliese Kelch
Courteous staff. Nice to shop there
5 months ago Marquis Eberhart
wonderful staff + cashiers, very safe and careful regarding social distancing and just covid preventing in general. although they run out of some things fast, they always put signs to show when their next expected shipment of it will be coming in.
6 months ago Bre Banks
Fantastic store, good prices, great selection. Exactly what you'd expect from a Commissary. Best place for groceries on island!
7 months ago T W
Good commissary. Good selection overall. Friendly staff. Some excellent on-island prices.
6 months ago Chris K
Always out of chicken nuggets ???? but prices are nice
5 months ago Dzhon Cherkez
Shelves were better stocked than the last time we went. Cashier was great! She greeted us with a smile. Bagger worked quickly and was very friendly, as well.
11 months ago Jingjing Ling
If you can get on base, this is the spot to get food at reasonable prices. If you decide to buy fresh vegetables be mindful of the shortened shelf life when you get them home.
1 day ago Ruben Hernadez
Customer service is always nice with the staff. Location is always clean!
9 months ago Dayle Armstrong
Would have given more stars if all the staff members were on the same page on friendliness
10 months ago Gretchen Fisher
Great customer service & well displayed items. However, with the pandemic, items are priced much higher.
9 months ago Cary Vachon
Great place to shop. Affordable price & friendly staffs . Just need to watch for expired goods and their Purina dog food. Other than that everything is good.
5 months ago Sylvan Knight
You have to get there early they tend to be low on vegatanles and some meats.
7 months ago Lily H
Lines moved pretty fast, still low on certain items.
3 months ago Brenda Nash
Great value for all who visit.
11 months ago Jay Lynn
Pretty good selection of items. The meat dept. Is unpredictable. We're at the mercy of what's on the ship. Overall it's well stocked.
7 months ago Tracy Garner
Always As Awesome As Ever...& Then Some...
1 month ago Rachel Ruck
This place has a lot of pet stuff and out doors equipment, gardening equipment..I like this place
9 months ago Arana
Its the commissary. Cheap with pretty good stock. About the same as every base
8 months ago yashira rosado
Decent stock of items, but i agree with the other reviews, not as good as the ones on other military installations. I like this commissary more than the one in Andersen. There are no wipes near the entrance to wipe the shopping carts before use, so just a heads up for you germaphobes !
7 months ago Rosalind Powell
Best place on the island for your commissary needs ????
3 months ago atef khurshan
Great place to shop. Employees are super great and welcoming.
8 months ago jason trundy
Cheap prices
4 months ago Mr Hall
Even though we are under quarantine situation....the NBG DECA Team pulled thru with sticking the needed supplies for everyone.
3 months ago Wade Barrett
Great place to shop with very affordable prices
6 months ago Hari Guduru
It is a lot better than other local places the prices are better as well more selection witch also makes it better. The only thing that is bad is that there are signs that say "there are some items here that are past the expiration date this is ok though " but this is understandable concreting the location of Guam.
6 months ago Traci Fryauf
Always fresh produce, great prices, ease of checkout, available parking, and friendly employees.
6 months ago Kasun Fernando
Has everything you need in groceries. Friendly staff.
1 day ago Opoku Sampson
Pretty good. Berries and other produce will last longer if you go buy at the farmers market or Happy Mart.
4 months ago David Camp
Decent set-up but lacked variety of items. Let's just say this location is not on par with stateside commissaries.
5 months ago Todd Ford
Line to park, line to enter, line to pay. Getting better.
9 months ago John Carneiro
CHEAP compare to the rest of the island always open early. They run out of food but so does everyone else on island.. Meat is your best deal, fruit is about the same as Cost u less
9 months ago Larry Cartlidge
It's honestly way better than the Andersen commissary. It feels older but it makes up for that in a great layout and freshness. Lines are usually short. Wish they had Tombstone pepperoni pizzas though.
7 months ago Robert Stoner
Nice and friendly staff. Warm greetings from them.
5 months ago Paige Yvette
Almost always wiped out of everything. Vegetables and fruit will rot within a few days of purchase. Usually the meat is picked clean with only a few choices. If something goes on sale you won't be able to buy any for at least 2 weeks post sale.
4 months ago B Schmal
this is the BEST commisary! I feel so fortunate to be able to shop here on base. I coulnd not afford to retire on Guam without this privelge...thx to this base Commander for letting us Vets in on the weekends during this really crazy time....
8 months ago Lani Perez
Great staff..
3 months ago Rowland Bagnall
Very little variety always running out of everything. If you can buy locally.
4 months ago Devan Lee
Some front end staff are awesome, like 20%. The rest really make for a poor experience.
6 months ago Jordan Hatten
Very reasonable Grocery Store
6 months ago Kris JGM
Clean, but you must double check expiration dates on items carefully. Many products on shelves are expired or close to expiring. Sorry no photos allowed to be taken on U.S. military bases.
10 months ago JOE OWENS
Always amazing
5 months ago Cindy Griffith
Very professional practicing social distancing inside and outside,everyone wearing mask to include little kids and washing hands before entry to store HUAH!!!
4 months ago Esther Duquette
Love the Orote Commisary friendly staff!????????
7 months ago Oscar Urrutia
Great Place to Shop
4 months ago Margie Brown
Refrigerators are STILL down! So mo dairy products at all! No meat!
8 months ago Monin Toronja
It has most of the things you need. Not a one stop shop place.
6 months ago Lisa Lackman
If your new to the island and in the military or have base access to enter the commissary. There are only two commissaries on Guam. One in Orote and the other in Yigo, Andersen AFB. The commissaries here on Guam are cheapest for getting stateside products on island. Retirees, employees of DECA, military, 100% veterans and stateside hires (civil service) are allowed to shop. Both stores are clean, prices on most products are cheaper than outside, good customer service.????
4 months ago Mary Brown
Went in got what I needed & left.
4 months ago