Building Materials Outlet Midwest Inc.
Building materials store Building Materials Outlet Midwest Inc., 3045 Sibley Memorial Hwy, Eagan, MN 55121, United States:
220 reviews
of users and employees, detailed information about the address, opening hours, location on the map, attendance, photos, menus, phone number and a huge amount of other detailed and useful information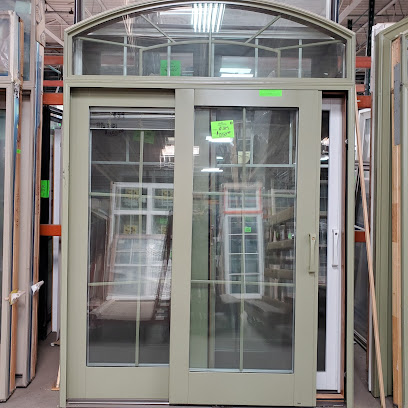 Address:
3045 Sibley Memorial Hwy, Eagan, MN 55121, United States
GPS coordinates
Latitude:
44.8461332
Longitude:
-93.1849664
Location on the map
Reviews Angela Cooper
They seem to have lots of items. One must have precise measurements of parts/materials needed before going and have someone who knows what they're doing with the install. Prices seemed good.
8 months ago Kimberly Meyer
Odds and ends building materials. Bring your measurements, tape measure so you're ready for the deals.
5 months ago Loretta Lonigan
This place could have lots of potential other then the fact that everything is proxe gouging. Yes it's a building material outlet, pricing doesn't mean anything, especially when it's already through the roof at the moment and they hardly budge on the price. Their on the higher end of the so called outlet pricing. They'd move alot more product if they just their prices under control and manage it wisely. Lower your prices, more volume of people, more money being spent.
9 months ago Gary Robison
We are building a new house and bought our kitchen cabinets and bathroom vanities and some doors. Received excellent assistance from a one of the employees, unfortunately I do not know is name but he has assisted us on 2 different visits. He is petite but he has a great personality, very friendly, extremely helpful and knowledgeable. The person that's works at the front desk is always very friendly too. Love the quality of the products.
11 months ago Kara Barrow
Really interesting business. They sell some used, some new, some overstock building materials. Doors, millwork, kitchen cabinets, flooring and more. Perfect for a project without boundaries.
5 months ago Mark Brown
A great place to look around. Bring your shopping list and a tape measure. Lots of good deals if you know what you are looking for. The check out was exhausting. Cashier was rude; mad at me for pointing out the price. So, she grabbed her tape measure and stomped over to the display to find that she was wrong. Then she was irritated that she had to issue a refund. UGH. The person behind me had a similar experience. with an item that she found. So, if a business is going to throw things in a box and mark down the price, they should let the cashier know.
11 months ago Barry Gingrich
Builders Material Outlet has a wide selection of interior and exterior doors, random sized high end windows, kitchen cabinets, flooring, siding, vanity tops, butcher blocks and trim. They offer an auction feature or you can purchase in-house but be prepared to pay an ADDITIONAL 12% on top of the price plus sales tax. The strength is in their selection of in-stock midgrade kitchen cabinets and vanities, butcher block, 3/8" slab granite, wood trim, and high end windows and doors. The downside is their lack of inventory organization or customer service. It is a great place to piece meal together a rehab but overall if you are savy you can get equal, or better pricing from using Home Depot Bid room or the 11% rebate from Menards or a local supplier.
9 months ago Lisa Buckson
I feel like many prices are a bit high for slightly damaged or not new condition items. Would like to see better deals. Lots to look at. Still enjoy visiting and looking for good deals.
2 months ago Nathaniel Mitchell
A lot of different things, from cabinets ready to install, unfinished wood countertops, appliances, doors and windows, they have it all. Make the drive out to see them, its worth it
7 months ago Bobby Mangum
Use to be a good place to if your a contractor. Pretty much all they have now are 2 kinds of cabinets and windows. They also upped their prices since moving to new location.
7 months ago Kenneth Bonilla
Cheap but good supplies, and very friendly and helpful staff
11 months ago JustAfterSunset MonnettWasChecking
Great place for discount materials...a handyman's candy store
8 months ago Shantel Hughes
Love this place bought a lot of things from here. Built a new house and found all my windows and doors here for a fraction of the price.
3 months ago Ruwimbo Malianga
Cool stuff here if they have what you are looking for. A lot of raw cut wood.
1 week ago Gary Thompson
This place is bigger than the convention center absolutely amazing selection great prices blah blah blah it's awesome!!!
1 week ago Yeimy Tamez
Great service. Remy and Hennesy were the best. These guys work hard! Thank you!
3 months ago Scott Laffoon
Alot of great inventory
7 months ago Petra Lafferma
Lots of hunting and picking through items. Staff aren't eager to help until check out. We did find some great deals. Plan on spending a few hours searching for materials.
3 months ago Kaiden Vlogs
Great prices and service. We picked up a butcher block from their huge selection. Biggest issue was trying to decide from all the options.
4 months ago Diana Diana
I like this place. The prices are reasonable. Things are fairly easy to locate. Don't like the no return policy, and I wish they just stated the price on the item instead of adding 12% fee plus tax... I love the selections available for cabinets. I have always found the staff to be pleasant and helpful as well. If they offered returns on defective items my four stars would have been five.
11 months ago Mandi G
They have alot of products for home improvement!
8 months ago tofan khan
Great place to find treasures to help with remodels!
11 months ago Charo Willis
The prices are great, and they have some unique pieces. The warehouse could use more people to give direction, but if you're willing to do your own research and light digging in the warehouse, you will appreciate this place. Do not go here if you are afraid of doing your own work or expect everything to be perfect.
9 months ago Corey Smart
Great place to find cabinets, doors, flooring, countertops, vanities, windows and doors.
11 months ago Anthony Fleet
Supurb customer service! Its a huge warehouse of materials and staff is very knowledgeable. Helped load items without of being asked.
6 months ago Victor Pagan
Since I'm high risk for getting Covid I nicely asked if I could send them a list of cabinets we need on their order form and give them my credit card and them come pick them up outside when they were ready. The owner repeatedly told me to "just come inside" even though I'm not comfortable she was totally unwilling to make any accommodations during the virus. I suggested many solutions, like someone quickly grabbing our card outside and running it, which didn't require us coming in, giving the card over the phone, etc and she just said no that's not how they do things and I have to go in. Very rude — don't expect any accommodations to keep their customers safe.
7 months ago jomon vincent
Don't be fooled by their unfinished Maple cabinets. I bought 2 of them and the rest that I needed were out of stock. Waited and waited to be in stock so I started looking around. If you pull the green label off the cabinet you will see its the brand QualityOne. This is sold at menards for a cheaper price per cabinet and you are also not paying their 12% buyers fee. I bought 2 cabinets from BMO and the same 2 cabinets is a total of 105 dollars cheaper at Menards. This glad I figured this out and got the remaining 6 matching cabinets for a savings of about 300 bucks. Tricky tricky BMO. I see you
4 months ago Alex Barnwell
Great prices helpful
11 months ago Andreea Oprea
I do not think I can give Building Materials Outlet the praise that it truly deserves, but I will try. Because of BMO I have been able to renovate my home for a fraction of the price. I've purchased everything from flooring, cabinets, doors, lighting, Plumbing fixtures, and even mirrors from BMO. All for a fraction of the price I would have paid at a big box store. This establishment definitely caters to the DIY Weekender! But be prepared to do some digging and picking. If you are okay with a little bit of scratch and dent, as well as a little compromise in style; this is definitely the store for you. Every visit is like a new adventure, and it is worth taking a look at their online auctions as well. I was able to purchase over 800 square feet of unfinished Hickory flooring via their auctions system for under $800, which was well over what I needed and well under my budget. And, I even sold the leftover material and recouped some of my cost. It is worth stopping in to peruse their inventory, but be prepared to lose a few hours because this place is massive. And make sure to bring a large vehicle because you are bound to find material you didn't even know you needed. Enjoy and happy Hunting!
2 weeks ago Kurt Affhauser
Many items to choose from with most at great pricing. Employees are very helpful. My only problem with the place is that many items are leaned up tightly against others sideways and frontwards making it impossible to see all (ie, sliding glass doors, windows, etc).
3 months ago Oudious Lee
Great location for countertops, cabinetry, trim and materials. The added 12% charge for commission is a little unexpected but great prices nonetheless.
5 months ago Shirley Saenz
If you are in the market for discounted windows, doors, cabinets, granite bathroom cabinet tops, tile or wood flooring, just to name some of the many items, this is the place for you! Staff is friendly and helpful.
10 months ago James Pryor
Lots of building materials. Just make sure you know what the retail price is before you go.
11 months ago JK EMAIL
Great prices on stuff for your house
9 months ago Abhay Chaurasiya
Good prices BUT be aware that a 10% fee is added at check out. The fee made our purchase comparable to a big box store however the item we purchased would have been special order at a big box store so it was a bonus to bring the item home that day.
4 months ago Gary Stacy
Deals are amazing! Occasionally difficult to see inventory because of spacing between items. Obviously not easy to find 2 matching items, but that is to be expected. Staff very helpful. Saved a lot of money!
11 months ago Alexandre Tundela
Best place to find what you need for your home!
3 months ago Michael McDermot
The guys there very helpful took time to pick right stuff for me go back 1000 times.
6 months ago Treanna Scholer
Prices are ridiculously high on cabinets!
10 months ago tom su
Astonishing the amount of building products in this massive warehouse! You'll save thousands on a remodel or build! Cabinets, windows, doors, flooring, vanities, trim and much, much more!
6 months ago Bornali Hazarika
Huge selections of product. Prices seem to climb up over the years though. Still huge savings can be accomplished on doors and windows.
8 months ago Richard Otten
Love this place but the service is meh..
1 month ago Robert Park
Building materials at reasonable price
8 months ago Brittany Nelms
Great place to find building materials parts to cabinets, carpet squares and flooring.
5 months ago Amber Mehmood
I would give five stars but hours a strange.
5 months ago Gunter A
Always have had success with doors and windows here, for far less than new. But they are new! Staff is helpful as well.
11 months ago Sarah Waters
It is definitely an outlet. Hit or miss if you're looking for something specific, but great opportunities if you're flexible in what you seek.
9 months ago Ashley Hill
This place is amazing because of how much materials there is inside to choose from at a very affordable price.
8 months ago Alex Iliev
Gotta know what you are looking for, but really good prices if you can find it
3 months ago Erik
Great resource! Really helpful staff with hands on help from owners. Lots of options for just about anything you need for building. Love this place!!!
9 months ago
Popular places from the category Building materials store