Harvester Christian Church
Christian church Harvester Christian Church, 2950 Kings Crossing, St Charles, MO 63303, United States:
55 reviews
of users and employees, detailed information about the address, opening hours, location on the map, attendance, photos, menus, phone number and a huge amount of other detailed and useful information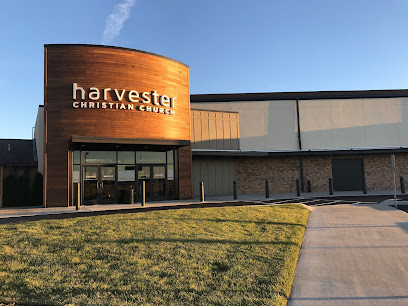 Address:
2950 Kings Crossing, St Charles, MO 63303, United States
GPS coordinates
Latitude:
38.7505137
Longitude:
-90.5596469
Location on the map
Reviews Nalini Mohan
My husband and I have attended Harvester for 8 years now. While technically a "big" church, it has a small, family feeling. I'm having a hard time quickly summing up why you should join us here, but I'll try my best! What is taught here is directly and carefully delivered from God's word. Loving and serving God and His people are front and center. The community outreach is beyond anything my husband and I had ever seen before attending here! The church pours into children and youth, with absolutely amazing programs for both. Our leaders are some of the most humble, Christ seeking individuals you could ever meet — on and off stage. My husband and I felt the presence of the Lord here the first time we visited and every time we've entered Harvester's doors in the 8 years after... now that's saying something!
6 months ago Darius Alvis
As a pastor at another church, let me tell that you will be cared for at Harvester-- from the greeters to the pastors, there is a genuine love for Jesus. Pastor Doyle and Pastor Nikomas are humble and caring servant leaders -- who faithfully share God's Word in a relevant way. You will be blessed.
7 months ago Patrick McAlinden
Haven't been to their journey to Bethlehem in 10 years but decided to go this year a d bring someone who has never been, needless to say we were very disappointed especially the beginning part in the auditorium. They used to have a play going on to help give you an idea and educate you a bit about what's going on and what to look forward to on your journey which was great, especially giving the kids some insight on the birth of Jesus. Now they just have a live band playing jazz Xmas music and a reindeer video game on the big screen. Really? You can't take your kids away from games and music for one night and instill some traditional Christmas spirit and religion into them?? We were just in awe at this change. At least the journey was still decent and the people were all nice but wish they would bring back the play and teach the children especially a little more about Jesus.
8 hours ago Edward Darby
They love Jesus. 5 stars for that. They also make parents extremely comfortable dropping their kids off in childcare, makes sense from a church that just loves Jesus this much!
7 months ago Lynn Allinson
Best Church ever, I am home at Harvester. Love our pastors and the worship team. ????
6 months ago L Ward
I have only been to the church once. The worship was amazing as well as the preaching. The lead pastor welcomed my friend and I which really felt good. I want to be involved in the church. Am 25 and looking for suitable group that way am more involved. I struggle whenever it comes to faith but this time I desire to know Jesus more and To trust His will as well as serve Him.
1 day ago Holyoke Hummus
I have just started going to church here. I want to start off by saying wow, what an amazing experience. My whole life i never went to church and am sad what ive been missing. I 100percent will be joining this church once i figure out how to do that. The people here are so kind. Im a single guy and don't have many friends so i went alone. I had mote people than i can count come say hi to me and introduce themselves. I felt at home. The service was simply amazing. I actually cried twice from the joy and amazing feeling i got during service. The church itself is beautiful. You wont be disappointed. The best part for me was after service ended a nice young lady took my hand and shared some kind words and motivating thoughts and prayed for me. She could tell im at rock bottom and wanted me to know im never alone. The point is the people here care and it seems like a big happy caring family. I wish i could go everyday. Please check out harvester. You will not be disappointed.
7 months ago Joanna Pennypacker
Not the church for me. I've attended a number of times over several months. I've never felt welcomed. No one talks to me. I feel invisible in the crowd. The music seems more like a performance than true Spirit-filled worship. And recently the music that is played during communion is so loud that it's utterly disturbing. How is someone supposed to confess and get right with God when the music is blaring? The sermons are geared toward the seeker and rarely go deeper than the surface. I understand the need to meet people where they're at, but it's important not to leave them there. I've never felt challenged to move beyond the first steps of faith. Unfortunately this is what I've found at most churches I've visited.
9 months ago Shanth Kumar
Honestly take a minute to appreciate how the Lord works.. Thank you Harvester Christian Church!!
7 months ago stephannie vasquez
While I've never been to this church, I empathize with those who are looking for truth that's not watered down (Jesus), the healing & presence of Jesus, and a place where people truly and genuinely love God and others. How long will the masses of Evangelicals put up with the lukewarm church in our area? Oh Lord, please raise up godly pastors and leaders, congregations, ministries, and communities all for the sake of Jesus Christ!
8 months ago Richard Futrell
This has been my home church for the past several years now. My wife and I instantly fell in love with everything about this church! Great place for our kids, music is great, preaching/ teaching is even better. We enjoy our small group and truly take pride in a church that goes outside the walls to reach others! Even pastor knows our names... Which, in a larger church, is a HUGE deal. Proud to serve on the team and can't wait to see where else they go and do! Thanks!
6 months ago art esmeralda
This is the greatest church I've ever experienced in the entire Country. This is the greatest group of caring people you will ever find. Every single experience has been of great positively and from truly caring people. If you live close this should be your church if you live far then I would still travel there. Just come once and you will see what I mean. Best thing I ever did was join HCC!
6 months ago dave selby
Been attending Harvester for a few years and this is great place for families and individuals. Great sermons, awesome for kids of all ages and a very welcoming.
10 months ago Roger Epperson
Fantastic church
9 months ago Ginger Lau
We have gone here for two years and it's an awesome church! The messages are relevant and challenging... the church is very involved in giving back to the community... and joining a life group is a great way to start more intentional relationships with other believers!
6 months ago George T
Absolutely love this church. They do so much every service to make sure that each persons heart is touched in some way! We have a very gifted Pastor who always brings home the word of God????
10 months ago Robert Glickler
Look I love my campus in Troy but was awestruck by the awesomeness and simplicity, of certain aspects while being able to also grow and adapt to modern needs and worship. The campus is amazing and I'm greatful to call harvester my church. We are doing some amazing things to glorify our Lord at both campuses.
10 months ago Darcia Armstrong
I needed to find a new Church. Harvester Christian Church I knew was it as soon as I walked in. They have gluten free communion. The people are incredibly nice. Handicapped and wheelchair accessible. The early service interprets for the deaf. They have child care and children's ministry. I can come to church and feel like I am here for God and I don't have to prove myself to other people. I come as I am. They focus on family and the Bible very heavily..but nothing is wrong with that. Give this Church a chance....it's the best hour on a Sunday you will ever have.
12 hours ago Cristina Thurston
Our church home for almost 10 years. Love Harvester's heart for Jesus.
7 months ago Linda Gillis
Such a wonderful family at harvester come as you are. ....worship teams are amazing. ...there's something for everone
2 months ago Diana Beveridge
I am so excited that Dole Roth is the new Pastor. He is real and genuine and best of all he strives to have this church follow what Jesus says about his ideas of church not the pastor. . My granddaughter loves the children's church and is so excited to go and learn who Jesus is and talks about him already at 4 years old. I found my home church after searching for 12 years. Looking forward to being a part of it:)))
2 months ago Josh Keyes
We love our church. It's a bigger church but the team keeps it friendly enough you can still get connected easily.
9 hours ago Jake VanHorn
I think this church is "HOLY SPIRIT FILLED" & IM sure GOD agrees. I was fortunate to attend here once & I am looking forward to calling this church my place TO PRAISE OUR FATHER, ELOHIM !!! Anyone that is looking for the same, please, at least give this place a chance..I am sure you will agree...
6 months ago Paul D
A real church that thrives on community outreach. This is a judgement free church, using the come as as you are credo. Excellent church, great preachers, realistic people all seeking to find a closer relationship to God.
3 months ago Timothy Price
My family and I have been going to HCC for a few years now and we absolutely love it! It's true when they say the more involved you are, the more you get out of it. We've made amazing friends who are like family now through Celebrate Recovery, MoPS and other small groups. There is something for everyone here!
9 months ago Aneke Pomeroy
In my opinion, it's a social club more than a church, but many churches are like that today. I wouldn't say dynamic Holy Spirit filled preaching takes place at Harvester, but, instead, usually boring lectures with a bit of humor thrown in at times. The worship band does good, but some in the congregation appear more interested in not spilling their lattes or tripping over their Smartphones than putting any attention on their Creator in worship. Harvester has Celebrate Recovery on Monday nights in their chapel for individuals looking for healing and recovery from a variety of issues. I believe Celebrate Recovery's a good program, but I just happened to have had bad experiences at this particular one. At times I witnessed little Christ-like attitude among some of the attendees, and, in fact, I actually experienced harsh words exhibited by a couple of those who attended, one of whom exhibited violent behavior toward me which I reported to staff. For about the past year, I've attended HA meetings, offering support and resources to heroin addicts in this community, mingling with them before and after the meetings, even though I've never had a drug problem. I know my calling is to do what I can for these individuals, including praying for them, showing them the love of Jesus and declaring my faith. I've reached out to City and County Council as well as Teen Challenge Corporate about the increased number of drug overdoses in this County and throughout Missouri, according to 2016 statistics, suggesting that a Teen Challenge or similar Christian Recovery Center be built in this County and have received some positive feedback. At the HA meetings, I never know whether someone will return to the next meeting or end up on an obituary page(which has happened). Something needs to be done ASAP, and hopefully churches, including Harvester, will do everything possible, starting with prayer, to combat this problem, even though it comes down to the addict's decision of whether he/she wants a new life for him or herself.
1 day ago Carlos Gonzales
Very pretty church.
15 hours ago Jennifer Hardin
Feel so uplifted and happy with the service. The people here are amazing and proud to call this my church.
9 months ago HAIFENG LU
I went to a reenactment of the birth of Jesus here this winter (2015) and it was very well done. There were thousands of people that went there for the event and they handled the flow well. The only thing that left a wierd taste for me was all of the advertisement to go back to the church in the future.
5 months ago Jay Bacon
Worship was good. Sermon was even better.
8 months ago Judy Ousley
I have been a member of Harvester for around 10 years +. I have always felt welcome. I have always felt there is a place for me. My family and I have had rough times and this church practices what the Bible teaches, help those in need. It is a very large church and that can be intimidating. However, I assure anyone that if you just talk to someone standing around before, during, or after service - they will connect you to where you will feel welcome despite the size. If you are looking for wonderful worship, Bible based only teaching, and people who will welcome you-Harvester is your place. blessings
5 months ago Dan Rensel
I go to the food pantry and I have met some of the most wonderful wonderful people volunteers workers just very caring people very loving wonderful people
1 day ago JB P
The straw that finally broke the camels back. Music way to loud! If you like a concert type of worship with bass so hard it can make you nauseous or leave you with a headache... this is your place. The music is usually trendy. They'll invite you to kneel at the stage in front of hidden 1000 watt speakers that will literally blow your mind. I cannot worship like that. I just haven't felt the Spirit in in the new sanctuary, or scene Brian Jobe left. The kids ministry is weak in my opinion with video games, other distractions and cheap take home toys. When asked by me, "what did you learn today"? an innocent child's voice replied "nothing dad, I decorated this boomerang." I'm sure that my children have learned some, but I believe it could've be more with a better program. The adult ministry here is good, I've seen the pastor on his knees many times and that say's a lot. Brian Jobe if your listening... your preaching helped us decide to join Havester and we really miss you brother!
8 months ago TJ Adams
I don't know if I can express how much last Sunday meant to me. I am pretty sure that I have found our new church home!
13 hours ago Kevin Bush
Come as you are! Ask questions, get nourished & join in our global and local outreach. We love St. Charles!
2 months ago Kyle Moline
Been attending this church for 2 years now. I have fallen in love with everything they have to offer and how they get the word of God out! Thanks Harvester!!
1 month ago Sancy Womack
Very friendly people and pastors. I love how anyone can volunteer and help out in the kids ministry or cafe.
8 months ago leigh rohan
Theatre seating, contemporary music, programs for all ages, many outreach opportunities into the community, home groups and Bible studies. Ministry focus on knowing and following Jesus.
3 months ago Marianne Craig
Seder dinner is nearly finished. It's been interesting to say the least, and very enjoyable.
9 months ago Any Kim
The people that go here are nothing but rude and backward thinking.
10 months ago Meggie Wacheke
Nice church, good inspirational music, pastor seems genuine.
9 months ago Barry Dutton
Too loud of music. Otherwise, good organization.
11 hours ago Kelly Noyes
I really love this church. They preach the Bible and help everyone. What more do you need in a church??!!!
5 months ago Jennifer Martinez
Our family's church. Great family-focused Christian church.
5 hours ago Jake Bales
I was here to visit and see what it was all about. Great service, great pastor, friendly volunteers.
6 months ago Taylor Sweely
Energetic Sincere message Heartfelt
6 months ago Michele Bragg
Great service
10 months ago Tina Circelli
Very nice people
5 hours ago Tay Novak
Amazing! ????
5 months ago Shannon Starks
Come as you are!
5 months ago
Popular places from the category Christian church