Кондитерская «Тройка»
Dessert restaurant Кондитерская «Тройка», Zagorodnyy Prospekt, 27, St Petersburg, 191180:
220 reviews
of users and employees, detailed information about the address, opening hours, location on the map, attendance, photos, menus, phone number and a huge amount of other detailed and useful information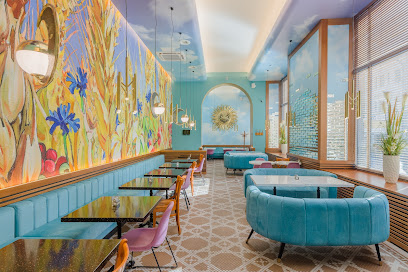 Address:
Zagorodnyy Prospekt, 27, St Petersburg, 191180
GPS coordinates
Latitude:
59.9242179
Longitude:
30.3370363
Location on the map
Reviews kasie Kremenak
We visited on the 27.6.18. We enjoyed the show very much. The show was very nice and the dancers were professional. The food was great and the service was excellent. We recommend visiting this place when there are shows.
11 months ago Ivelys Hilario
Wonderful place. Loved the service and Russian cuisines. Plus they put on great musical shows.
11 months ago Brandi Baker
Very nice restaurant. The show is beautiful and wasn't boring, it contains different kinds of songs and dances performed by very talented and professional dancers and singers, dressed with different stunning designed costumes for each …
10 months ago TJ R
best place in S.peterburg ..for Cream pies & sweets...prices normal after 8 at evening ..discounts!
11 months ago Robert Williamson
Cool place! The food is good and the program is very nice. We really enjoyed it.
7 months ago Connie Davis
Perfect place to visit in Saint Petersburg. You should make reservation few days before because place is very popular and might be full - especially on weekends. Good is delicious and serving permission is great. Everyday at half past eight …
11 months ago Zantrice Young
Must-have touristic experience. For the price of 500 rubles/person is possible to watch a 2 hours performance of both singers and dancers. Plus you can eat and drink in front of the stage (the hall is not big). The food is ok, but not delicious. The service is fast.
7 months ago Federico Meade
One star is for the friendly door host and the man in the clockroom. The other is for the design and furniture which looks very pretty. All the rest was not worth any star. Our waiter did not make any effort to help us since we did not …
10 months ago nancy pamnani
Fun and interesting show, but the food is sub-par and expensive and the hall is overcrowded. Overall disappointed.
11 months ago Mohammad S
Go there for a cabaret diner, you won't regret it! Better to reserve in advance if possible!
1 month ago Sylderon
Here is a nice restaurant with delicious supper and awesome vodka! Also there is a performance that is nice.
1 month ago Patricia Raburn
Simply put, best folk(ish) show restaurant in the city, very good food and very professional. Want a "Russian" experience, get it here.
7 months ago Derick Schanck
Fantastic
7 months ago Anna Stanley
Athmosphere and show was good, main dishes was a little disappointment
3 months ago Team Chevy
Great sea buckthorn eclairs
10 months ago Charlie P
Nice place
10 months ago Megan B
Best cakes ever
9 months ago Calvin Custard
Very strange place
9 months ago James Smith
Always great!
9 months ago Alex Calderon
Very special
7 months ago Robert
show is nice, foods are delicious
11 months ago Steven Leon
5 stars experience
11 months ago faudjie marina
Great local food!
1 month ago Jorge Gomez
Вы пока ещё одна из лучших кондитерских СПб, но верните нормальный крем в Наполеон. Пожалуйста! И Вы же часть Ресторана. А стало быть десертная вилка это правило, а не баловство.
7 months ago Vernon Martin
Об …
8 months ago Kari Bradley
(Translated by Google) I met this pastry shop many, many years ago. The products are great. I really love such cakes as Three Ants, Mom's cake. Delicious cake Surprise. Poppy seed buns are above all praise. Soft, juicy, covered with …
11 months ago Lisa Morrill
(Translated by Google) You know, I liked it. Made an order with delivery. A couple of salads (the salad with the yaschyk is great, the herring is good, but a little salty), not a bad student. The hot dishes are quite decent. Eclairs with …
1 month ago Freida Relphs
(Translated by Google) The trio is as always on top, delicious pies, lovingly made cakes and desserts, all the ingredients are natural. Here you can buy light snacks and desserts, drink coffee, ... You can order a birthday cake or pie of …
6 months ago Michelle Torres
(Translated by Google) We ordered a cake here, because it attracted the composition. The cake (strawberry) is really not bad, the cream is quite natural, inside it is just a soufflé instead of cream, which I didn't like so much. In general, …
11 months ago Shawn Graff
Хотели заказать торт и каравай на свадьбу. Даже трубку не взяли. Ништяк у вас клиентоориентированность.
9 months ago Pete L
Прекрасно. Рулет "Нежность" также хорош, как и раньше. Прекрасная подача кофе, большой ассортимент тортов и пирожных. Вкусные пироги.
2 months ago Kyle Kruse
(Translated by Google) They came on the advice of a St. Petersburg friend who often visited this cafe as a child. Incredibly atmospheric place, polite staff, cleanliness and tidiness, good toilet. Desserts are of good quality, but not worth …
4 months ago Lindsey Peterson
(Translated by Google) It seems that I have already spoken about this mouth-watering place. The eternal confusion of the confectionery ,, Troika ,, and the restaurants ,, Troika ,, ... and my review disappeared somewhere ... The restaurant …
1 month ago Sharif Salehi
(Translated by Google) Delicious cakes: Tenderness, cream rolls, lovely little eclairs. The Anthill cake is the pride of the establishment. The coffee for my taste is the most delicious in the city, Americano with a taste of prunes, nowhere …
1 month ago Luke Gervais
(Translated by Google) Confectionery with a C grade: good interior, pleasant colors, cozy. But the products got stuck at the level of the USSR: only butter cakes and pastries, everything is very fatty - whipped cream and butter cream in …
5 months ago Hayley Manhire
Кондитерская очень нравится своими изделиями. Всегда большоц выбор на любой вкус.Вежливый обслуживающий персонал.
9 months ago Yasmine Crooks
(Translated by Google) The updated Troika admires! Beautiful bright interior, from the old cafes - canteens nothing left .. In the range of cakes, patties, cakes, salads ... Previously, the choice of dishes was more. It is unpleasantly …
2 weeks ago Simon Willmon
Очень жирная пища, вкусно, но жирно. Интерьер классный. Туалет зеркальное 3D, понравился)
10 months ago Rhonda Lunsford
(Translated by Google) After the pandemic, for the first time, they took the cakes home to take out. Made a small rearrangement, "more interesting" corner with two cash desks. Before that, they also took home cakes. A couple of times before …
3 months ago Renu Adhikari
Красивый интерьер, а уже во вторую очередь вкусный кофе и пирожные.
9 months ago Cliff Plummer
Если хочется вкусный необычный торт на праздник - это сюда, всем запомнится, гарантирую!
10 months ago Tom Scott
Очень красивый интерьер! Есть детский уголок. Уборная выполнена в стиле башни замка???? И да, очень вкусная выпечка!
3 weeks ago Terry Wildman
(Translated by Google) The sweets are the best in St. Petersburg !!!) ???? The staff, of course, is not always happy, perhaps fatigue affects the service, especially the older lady ( The assortment pleases and everything is always fresh !!! …
8 months ago Kaitlin Giuglianotti
Отличные десерты и вкусный кофе.
11 months ago riaz hameed
(Translated by Google) Favorite pastry shop! And their New Year's mini-cakes are just lovely, they have not seen such beautiful anywhere else! A great decoration for the New Year's table and a beautifully designed gift! Thank you so much! …
2 months ago Morgan Gordon
Одна из лучших кондитерских города, вкусные десерты. Фирменный торт муравейник бесподобен. Также пекут отличные пирожки
6 days ago Lefteris
Уютно. Вкусный тортик 3 муравья
8 months ago Debbie Billings
(Translated by Google) Perfect place. I have been visiting it since childhood. The taste is unchanged and original. Legendary Cake - Three, three ants, a bun with cream. Recommend everyone to visit and try it. The prices are humane, in …
3 months ago Ron Hess
Неоднократно покупал пирожные и кулинарию тут. В последний раз пожарские котлеты были сырые внутри
9 months ago Tony Knowles
Вкусно! И красиво в зале.
9 months ago
Popular places from the category Dessert restaurant