Superior Seafood & Oyster Bar
Seafood restaurant Superior Seafood & Oyster Bar, 4338 St Charles Ave, New Orleans, LA 70115, United States:
220 reviews
of users and employees, detailed information about the address, opening hours, location on the map, attendance, photos, menus, phone number and a huge amount of other detailed and useful information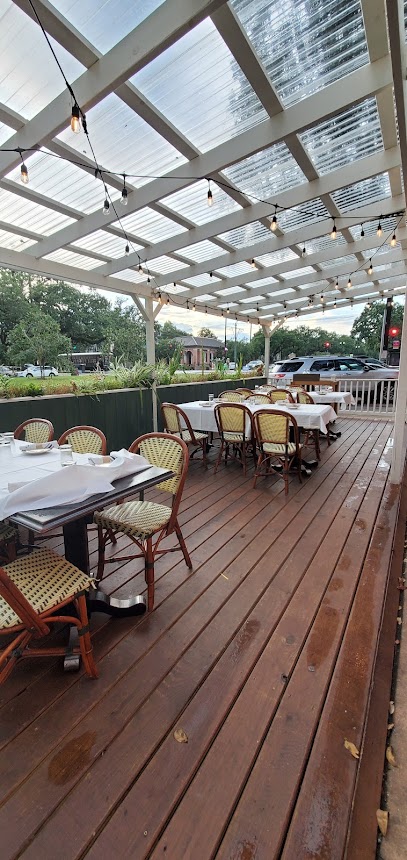 Address:
4338 St Charles Ave, New Orleans, LA 70115, United States
GPS coordinates
Latitude:
29.9263065
Longitude:
-90.1017384
reviews Ila Mitra
This is the best place we are at on our trip to New Orleans! We've been to a handful of well known restaurants but this place won our hearts! Service was quick, drinks were refreshing and every meal is just superb. We had the oyster …
5 months ago greg jones
We had been a couple times before (because of the GREAT Food). What's causing me to post the review this time is the excellent service. Not only was our waiter great but Joe (Front House Manager) was super personable and awesome to talk to. …
4 months ago Robin Parady
Superior restaurant just like the name SUPERIOR in New Orleans. Enjoy the happy hour 4pm-6.30pm every day. Good service here. Everyone has good smile to treating customers.
4 months ago Joe Butch
Great experience! Very good cocktails. The Oyster Happy Hour with $0.75 cent raw oysters was great. We also got an order of the chargrilled which was also very good. I ordered the crusted flounder which was a nice portion of fish …
5 months ago Donna Mann
Food is always 10/10. The Pecan Crusted Black Drum is out of this world. Also tried the Crusted Flounder recently and was very satisfied. Oysters Raw/Charbroiled are Great. Good environment. This weekend (6/5/2021)I made reservations for …
4 months ago Basel Hanieh
Great chargrilled oysters- definitely some of the best in New Orleans. I sat at the bar and the bartender was excellent. He recommended different places around NOLA for me to try while I am in town for work.
4 months ago Hank Hodes
The whole experience was so amazing...love the ambiance with continued social distancing between tables. Kevin our wait staff was on top of everything and made our dinner extra special. His recommendations were flavorful, fresh, and perfectly prepared.
6 months ago Stephanie Borman
Lively fun place popular with the local residents. A wee big pricey for budget travelers. Good place, I'd go back.
4 months ago Aries
Superior Seafood is my favorite seafood restaurant in New Orleans. Great ambiance, fantastic food, and service! Not being a huge seafood fan, this means a lot. We made reservations for a Tuesday night. We tried to go over the weekend, and …
10 months ago Mette Green
Food has gone downhill considerably in the last year. Used to come here regularly for happy hour but service and food quality isn't even worth the cheap price. In a city of amazing food - I don't waste my money here anymore. It's great if …
5 months ago Larkin Garbee
Hostess was unnecessarily rude. We called made a reservation and they said our names weren't down. When we had asked for them to look it up they refused saying it wasn't anywhere. Both hostesses said they didn't answer the phone and then …
4 months ago Nicki
My recommendation is to make a reservation as early as possible, The table can be filled up very quick. The raw oyster is the best, And make sure you try some house cocktail. It's a perfect combination.
4 months ago Lexxis Bosslady
Call ahead and make a reservation! This joint was hoppin'! The seafood was fresh, the service was superb. Kitchen staff got a bit overwhelmed during the dinner rush, but the food was top quality and worth the wait. $.75 for fresh oysters seems like a steal.
5 months ago Max Hap
This was a stop on our "green line" trolley and it looked like a popular place, so we decided to stop in and check it out. This is more upscale restaurant and their selections make this very obvious. They have offerings such as herb …
5 months ago monsieur leboncoin
Welcome to on if the best restaurants in the garden district. The crawfish macaroni and cheese is to die for as well as, the fried gator. The service is wonderful and the entrees were served fresh and hot. I had the brunch spinach, mushroom …
4 months ago Lily Borghi
Wonderful atmosphere, especially during jazz brunch. Delicious food, roasted oysters, shrimp and grits with just enough heat and broiled fish! A little slow on the kitchen but was entertained by the music and view.
7 months ago Vicky Rogers
Food was great but... I'm not sure if was good enough to warrant the time spent waiting. As a former chef I know that good food isn't everything. To have a 30-45 minute wait in a Monday turn into over an hour to be seated and then another …
4 months ago Kayla Bray
The fried Alligator was delicious and the restaurant had great atmosphere and was very lively. The grilled oysters were so delicious and I don't even like oysters like that lol. I ordered the Filet and it was good but not fabulous. I actually liked the double baked potato better than my steak.
5 months ago Daniel Lizarazu
Well, tonight was heart breaking!! We were so excited to eat here for our daughter's HS graduation. Our Server Nathan is the only reason I'm giving 2 stars. Our drinks took FOREVER, food was EVEN LONGER. My husband and I frequent here and …
5 months ago water bed
Our first time there and we weren't disappointed. The grilled oysters are delicious! Trout Almondine, crab bisque, bbq shrimp....yum! Cookie was our awesome server. She was so much fun! Great place, great food and great service.
4 months ago Daisy Flores
Highly recommend. Food was amazing. Staff were very friendly. Live music. I had a very pleasant experience.
5 months ago George Gregs
The food portions were half the size they should have been for the price. My salad was 18 dollars and had burnt steak on it and it was on a very small salad plate. The waitstaff however was exceptional. Need some work on the kitchen.
4 months ago James Allen
Overall good but not amazing seafood. If you're just in town for a trip and only interested in food, I'd probably go somewhere else. The sazerac was excellent. Lovely atmosphere.
4 months ago Trey Rice
The food was delicious, but the service was a little slow. Not like the normal take your time dining slow, like needed refills on the water and took a while to take our order slow. However, everyone was very nice and the food was excellent!
4 months ago Packer Nation
Excellent food! I was there on a very, very busy evening, service was top notch despite how crazy it was. Everything on the menu is marked if it's gluten free or able to be made gluten free, and there's a good selection of GF options. I ordered the Pomegranate Mojito and the Filet Salad, both were very good!
4 months ago clara daniels
Very good! Great food and great wait staff. Our waiter was patient with us as first time visitors and very helpful. I went out on a limb and tried char-grilled oysters and they we the best food that I ate in entire time in New Orleans!
6 months ago Danica Boyd
We could not be more disappointed in this place. It was recommended for it's oysters and that's all my man wanted since we got here. We had reservations, it took over an hour and we left. I had to get up and have our drinks refilled. Only …
5 months ago Gabriel Bedient
The two dishes were absolutely fantastic. From two Coloradons visiting your wonderful city. *****
4 months ago Keith Johnson
SERIOUSLY WORTH IT!!! Amazing food, great atmosphere, and friendly service. Our waitress Rebecca was SUPER NICE and made great recommendations. It was a little on the pricey side but still not to bad! The Oysters AMAZING. Shrimp Po Boy AMAZING. Drinks Amazing! 10/10 would go again! ????????????????
6 months ago Andrew Lara
The food was excellent when we finally got it. We had reservations for 6:30pm and left the restaurant at 9:30pm. Took over an hour to get 6 oysters for an appetizer. When we finally got them they took the order for our dinner. Server told …
4 months ago Daniel Yang
We're from NY and NJ. We had the pleasure of being taken care by Jay. She was extremely kind,attentive and gave excellent recommendations to newcomers. I recommend a visit to this establishment. Excellent food,atmosphere and service!
4 months ago Michael Murphy
I ran across this restaurant by accident and I'm very happy I did. The staff was very nice and professional. The atmosphere was great and the food was good. Thumbs up
5 months ago Liam Gatt
Very elegant. Beyond excellent service. Ambience to die for. Old world attentiveness by the staff. The grilled oysters were transcendent. The entire meal was very very delicious.
5 months ago Montia Sanford
Amazing patio and last night was the perfect night. The waitstaff was great! Really liked the Frozen Pomegranate Mojito, it was the perfect cool down after a walk there. Our two favorite items were appetizers. The crawfish beignets and the oysters superior. Highly recommend.
5 months ago Christi Henry
Very delicious food with very adorable and friendly staff!! The quality of the service and tastiness of foods are remarkable for this restaurant. We got a salmon which was grilled and came with a mushroom sauce. I can say I have never had …
10 months ago Nick mucaj
The food was decent, didnt blow my mind. I had the stuffed shrimp and they were good, the mashed potatoes were cooked correctly and seasoned well. I tried the superior oysters but definitely had better especially that char grilled …
4 months ago Joni Traylor
The bisque and oysters where to die for. Although my salad was wilted it still had lots of flavor. My only real let down was no sausage in the red beans but, in their defense. N.O. red beans recipes don't actually call for sausage. So that …
4 months ago matthew howell
A wonderful place to eat. Really enjoyed my Birthday dinner.
5 months ago Rob D
Saw this place from streetcar while seeing city On way back decided to hop off and have lunch there. I'm glad we did, they have a lot of seating both outside and in. We sat in the airy patio area and had a delightful server and wonderful …
7 months ago Christian Witt
Ask for Hunter, you will not be disappointed in the service. He is an excellent server and the food was Excellent.
5 months ago andrew golota
Great service, great food, great atmosphere! Our waiter Kevin was so nice.
5 months ago Iolanda Iandolo
The shrimp and grits were absolutely phenomenal! Service was good and the atmosphere was super relaxed. Worth checking out!
5 months ago Its Navii
I can't say enough about this place. Wine was great, service phenomenal, outstanding oysters and to die for grouper. I ate until I almost popped. If I lived locally I'd come once a week.
4 months ago Frank Simmons
Decided to drive down to Nola for the week and of course great food was on my mind. Randomly made reservations to this place as I wanted to enjoy a nice seafood dinner. I was not disappointed. The crawfish beignets were to die for! For my …
5 months ago Sam Sykes
This place is on Saint Charles which was close by our hotel. Ate lunch here. It wasn't really busy & our server was very knowledgeable. Oysters were flavorful & I had the brisket sandwich which is more like a pressed cuban. Really good …
2 months ago Nathan Bailey
As always, Superior Seafood was amazing tonight. Their charbroiled oysters are what we keep coming back for, but everything is wonderful. We loved the amazing happy hour deals!
6 months ago Travis Kennedy
Outstanding service tonight with Ethan! He was so attentive, fun, interesting, informative, energetic. For such a packed house, service was surprisingly fast. Appetizers were divine. HIGHLY recommend the bruchetta (go here just for this), …
4 months ago Hannah Hampton
JUST ONE WORD, EXCELENT SERVICE WITH PHU IN THE SEATING BAR????
5 months ago Dawn Haws
Noisiest restaurant I've ever been to. Insist on dining outside if you want to hear your fellow guests. Food okay. Shrimp and grits really disappointing - soupy grits and very few shrimp all of which were small in size. Extremely long wait on our food. Staff very pleasant and good location would be the upsides.
5 months ago Joshua Grooms
It was Superior. We had oysters and crab bisque soup and hot french bread and butter. Then, the burger was huge and juicy with an incredible sauce and another had the sandwich with brisket and ham and cheese that was grilled and the best …
10 months ago
Popular places from the category Seafood restaurant