Oklahoma
Gift shop Oklahoma, 74-76 High St, Manchester M4 1ES, United Kingdom:
220 reviews
of users and employees, detailed information about the address, opening hours, location on the map, attendance, photos, menus, phone number and a huge amount of other detailed and useful information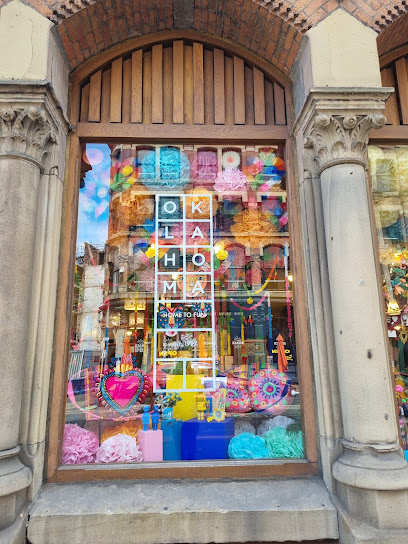 Address:
74-76 High St, Manchester M4 1ES, United Kingdom
GPS coordinates
Latitude:
53.4840740
Longitude:
-2.2379870
Location on the map
Reviews Federico Nannini
Great little shop with some quirky and colourful items. Really friendly staff as well. All covid secure with a nice 1 way system. I'll be going back when in the area to pick out some other bits.
8 months ago Billy Keener
Cute shop with various small gifts and ideas. They offer gift wrapping and packing. We were drawn because of the name but left with a great present for our friend.
8 months ago Geneva Parrish
Funky and different. If you want a quirky or unusual gift/item for the home, then this is the place to go! Lots of colour!
9 months ago Betty H
Such a delightful shop. I bought a beautiful cushion, made in India. I could spend hours in here.
8 months ago Joe Deren
This shop really does have it all ... i could have spent all my wages in here ....art art art ...really nice jewelry ornaments towels toys gifts cushions and many more ...fantastic shop !
11 months ago Lalita Pawar
Gorgeous items inside and fantastic for browsing or for inspiration, but it's a little bit on the pricy side for me. Definitely somewhere I'd go if I had the cash though!
8 months ago Yanemi Sarabia
Very lovely and colourful shop. Do visit if you wanna support local artists, or buy tiny gifts.
9 months ago Shirley Thomason
Wonderful colourful shop full of fun bright homewares
8 months ago kenny wilson
Super quirky store with lovely staff!
7 months ago Patrick Theroux
Love, love, love this shop. A must.
8 months ago Rudramyah Trade
Fabulous place. Too busy looking at everything to take a snap. The staff are so warm and friendly. A pleasure to shop there
4 months ago Marah Bowie
Fantastic shop full of amazing things you never knew you needed. Happy , pleasant staff. I saw lots of things I'd love and will be back when my partner isn't looking over my shoulder policing all my purchases. Christmas is coming and I have earmarked lots of unusual gifts.
5 months ago Bryguy Flyguy
Awesome shop with friendly, helpful staff
11 months ago Joyce Jemerson
Fab and quirky - super friendly staff. Some unique gifts with a dab of weird and wonderful here and there
2 months ago White John
Great place for interesting gifts. Can be a bit quirky.
2 months ago Eddie Belaval
Wonderful, quirky selection of items. Lovely, friendly staff. Good Covid measures in place.
11 months ago Mike O
Great eco friendly shop and very reasonably priced.
2 months ago maurice pomerlee
On a dull winter's day walk into this shop and suddenly everything is technicolor !! Great range of fun things to treat yourself or to buy a gift. Wacky and fabulous !!
10 months ago Andre Roman
It is very nice place ❤️ there are lots of beautiful and cute stuff .. in my opinion it is not that expensive. You will love it from the moment that you enter to it .. Lovely and warm ❤️
1 week ago Kyle Ferguson
Oklahoma is perfect for quirky gifts, treats for yourself and never fails to make you smile. Best shop in Manchester!
6 months ago ronald abangan
Rarely buy anything but really love this shop. It's just full of stuff we really want but don't necessarily need at a time when we are trying to be frugal. Nonetheless the staff are always really happy and friendly to us.
7 months ago Norman Bellina
Very nice products perfect for making presents or buying something to yourself. You have things for the house like furniture, books, jewellery, clothes among other everything colourful, unique and affordable bprices
6 months ago Jackie Bebenroth
Great selection of homeware, staff are always friendly!
5 months ago Dorthy Felton
Beautifully curated shop not too far from Piccadilly.. quirky keepsakes and gifts, unusual and guaranteed to please! Gorgeous wrapping paper so your gifts will look amazing..lots of ethical and recycled products. Definitely one to visit if you have someone hard to please in your life!
9 months ago Shari Harris
The shop assistants were lovely! This store is so unique and has a wide variety of quirky bits and Bob's. Bought of the pom pom decorations that I saw in the window. Their gorgeous!
2 weeks ago Jim Paul
Our fave shop, an explosion of colour, everything you didn't know you needed but now must have!! it you need to get someone a present, you don't know what they want, it's in here! Xx
1 month ago Anna Kostiuk
Like it, plenty of bright and quirky gifts
2 months ago Crystal Emily
Great shop to visit for whimsical gifts, housewarming present, and knick-knacks. A blend of novelty and genuinely functional and useful items with a little bit of character to them. It's a little Aladdin's cave of stuff you don't need but can find a use for because it's cute and fun.
9 months ago Jeff Mote
Always find something different here, brilliant shop
5 months ago Gisel Rivera
Loved this place and wished I had longer to browse. Lots of quirky gift ideas for yourself or friends/family.
9 months ago Dorthy Felton
So much plastic disposal nonsense. It's incredibly irresponsible for any retailer to sell this kind of throw away junk when we should all be thinking about reducing the amount if plastic in circulation.
9 months ago Gary Dalton
Made beautiful things from wastes. I liked this part of their shop.
9 months ago Svyatoslav Voskov
Really interesting ideas for gifts and novelty items. Friendly staff
5 months ago Shree Pooja
They sell very cute gifts and funny stuff as well. It's fun to have a look around. Really nice staff.
2 months ago Idalia Munguia
Great range of quirky products? Girlfriend bought some sensory toys for the school she works in
5 months ago Bety
All manner of fantastic items. Go in there sometimes just to laugh at their cards.
5 months ago Manideep Kumar
Quirky shop with some really interesting items.
6 months ago Rocky F
Beautiful ????
8 months ago Marisa Osman
I always love coming in here! There's so much to see and I want buy everything. If you're looking for quirky or unusual gifts for someone, or yourself and have a few moments to spare in the Northern Quarter, you have to pop in to Oklahoma!
11 months ago Peter Stowe
Really cute, quirky shop. The shop has lots of items you wouldn't usually see on the high street. Well worth a visit.
1 month ago Beth Roney
Love this store. Full of quirky, unique and different little gems. Perfect for finding that secret santa gift or just something a little different from smaller businesses. Plus the staff are super friendly and always smiling.
9 months ago kim gyuen
Quirky and cool shop! Always go here to find nice quirky gifts for birthdays and Christmas. Staff are always smiling and happy to help.
7 months ago Lisa Kelley
Great shop for interesting items and gift ideas. There are loads of quirky things in there and some really nice stationery and gift cards too. I also love the cabinet of jewellery they have as there's some really nice items from independent designers.
2 weeks ago Dennis Greany
Friendly staff and loads of funny gift and trinkets.
1 month ago Austin Alexander
Great selection of cool and interesting things...I wanted a lot of things that I couldn't afford. Lovely, friendly staff. Definitely slightly over priced, one could easily find their stock online for cheaper...just saying.
9 months ago Eileen Radzwion
Great store with lots of cool bits and pieces. A little on the pricey side though. Would recommend taking a look.
9 months ago keith edwards
Always stock great pieces for gifts or homewear. Staff are always so helpful too
9 months ago fedrico chrisnanda
Great place to pick up presents or some unique treats!! ???? Here is my new plant pot in action, he's settling in well.
9 months ago michelle valdes
Just the best. Lovely staff and so many great items. Be prepared to spend more than you intended.
9 months ago Coni Gomez
This isn't just a shop it's an experience. You can truly feel lost in this emporium of uniqueness. Great place to get gifts, homeware and decor.
9 months ago
Popular places from the category Gift shop