Carrolls Irish Gifts
Gift shop Carrolls Irish Gifts, Ballast House, Aston Quay, Temple Bar, Dublin 2, D02 PT85, Ireland:
220 reviews
of users and employees, detailed information about the address, opening hours, location on the map, attendance, photos, menus, phone number and a huge amount of other detailed and useful information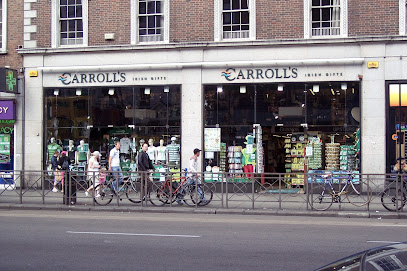 Address:
Ballast House, Aston Quay, Temple Bar, Dublin 2, D02 PT85, Ireland
GPS coordinates
Latitude:
53.3466893
Longitude:
-6.2593475
Location on the map
Reviews denise Hughes
Products are great, it's good to get a memory gift from Ireland. Kind of expensive though Team is good as well.
8 months ago Yanick Daoust
This is definitely the place to be for souvenirs. You will find several shops all across the City Centre. They do really have everything you can imagine: from simple mugs and t-shirts, to exclusive jewellery. The prices are also affordable and often even cheaper than in other shops. The staff is absolutely brilliant. They can tell you exactly where you can find everything and most of them speak several languages.
7 months ago Peter Duckett
Very Large Store! Very Large Selection of Irish gifts! Offered free delivery if purchase was over a certain amount.
11 months ago Gene Kosoy
Ordered a pewter watch for my brother for Christmas, he loved it! Unfortunately the minute hand on the watch was broken upon arrival, probably something that happened during shipping plus it was the holiday season so retailers and postmen are very overworked and, understandably, mistakes happen we're all just human. I've ordered from Carroll's many times before and this was the first time someone arrived broken. After I told them about the watch, Carroll's replied quickly to my email and agreed to issue my brother a new one for free. Great customer service and great products, highly recommended!
1 month ago Vladimir Sher
Quite a big branch offering a variety of Irish crafted items. Top floor is especially good as it is a department full of Irish wool made products
11 months ago Farzana Drepaul
i must inside, want back. i am loving cig! prizes ok, offers ok and good sales
9 months ago Silly Samm
The face masks are really good, we've had people stop us and ask where we bought them from.
7 months ago Danielle Falcon
The best place to get souvenirs from Ireland! The staff was really friendly and helpful.
4 months ago Ryan Fottral
Love this Irish gift shop, quite good quality for few euro items. Great value, funny, or useful items. Helpful cheerful staff ???? Recommend them!! ????????????????
10 months ago Mckinley Jenkins
The best place in Dublin for gifts and knitwear! Fantastic service! Well done
7 months ago Petr Martinec
Lovely shop, great souvenirs. Staff friendly and helpful. Reasonably priced and lots of choice. Would recommend
9 months ago David Katz
best place to find big and small gifts from all around the Ireland :)
7 months ago Steve Goodson
Staff are friendly and nice even to non-locals. They proactively assists you when they feel you need help about the stuff they're selling. The have all kinds of irish souvenirs of good quality and affordable prices.
11 months ago Robert Mirabella
We are disappointed with the quality of the supposed silver gladdagh rings. We have send well over 200 euro on various Silver rings for our grand daughters in Ocober last year. Some of the rings are no longer shining and the silver looks like to have watn off and are metal underneath. We expect (but we are no experts) that they were just silver coated and not solid silver. For the price paid we expected them to be solid silver. In total we bought 6 rings (as we have 6 grand children). The rings were meant to be a long life memory for them to look back on our trip to Ireland where we showed them where Grandma and great grandma grew up. We went to see the graves of great great Grandma and great great Grandad. We had an Irish themed night with story telling, Irish food and live music. We wanted the rings to be a constant reminder to the children of the times that we had together during the week in Ireland and for them to be reminded that they are Iriah blood. We expected Carrols to have a quality product as they have so many shops where many people buy their products and who have established for many years. We are sad that this is not the case and as we do not visit homeland very often we do not have the opportunity to complain, get an exchange or a refund. Anybody buying and jewellery, please ask if the items are solid and if they come with some form of guarantee. Our rings were bought in Octrober and are only about 6 months old and that is a great disappointment.
10 months ago Laura Reed
Carrolls has some nice products that you won't find elsewhere. Prices are ok.
11 months ago mickael lecot
I love the items selling here .. actually bought çouple shirt ,????
9 months ago Ayan Sengupta
My wife had nice warm wool hat and scarf now. She loves them.
9 months ago Shane Farley
A mighty place, you could spend hour looking at beautiful Irish products
9 months ago Nora Rentschler
The best place for picking up souvenirs. They have everything you could think of !
9 months ago Yaroslav Taraskin
How could you leave Dublin without a visit to Carrolls.... A great selection of souvenirs for all. Present all over the center city.
10 months ago Abby Krei
You can find everything in one place here. Or else you may walk around the city and buy things you get here at 20 different places.
9 months ago Jennifer Polk
If green isn't your colour keep away from here. What a brilliant place to spend all your money. Great music playing, staff are friendly and helpful. Fantastic place to visit, full of everything Irish.
4 months ago TeAnn King
Large selection and very reasonable prices. There was a souvenir for everyone on my list!
8 months ago Mike Jackson
Fantastic store. Loads to buy at good prices
10 months ago Lucas Miller
It is a typical gift shop and there are a little too much of them all over the city center, but the gifts are from good quality and come in a lot of different variants. So everybody will find something to bring home and rember a very nice time in Dublin. Doesen't matter if it is a nice shirt for the sister, a towel for the mom or a nice flask for the dad. The price are fair in my opinion.
7 months ago Behzad Lavian
Absolutely loved getting my Ireland top from here!
7 months ago Luke Hill
If you want to bring a souvenir from Ireland for a relative or a frien, this is the place to buy it.
10 months ago Yamileth Gonzalez
Realy nice gifts for all ages, good quality, 100% recommending
7 months ago Jessicca Goff
Good place for souvenirs but some stuff isn't well made. It could be alot cheaper, a scam to the American tourist
7 months ago Lucy Oswald
Large gift shop with high quality gifts at a reasonable price. Can always find something for everyone.
10 months ago Katelyn Morgan
A good place to muy souvenirs.
9 months ago Hard Mix
The greatest selection of Irish themed gifts at reasonable prices in Dublin. And this is not the only location in the City, there are at least 20 for what I could see
7 months ago Josh ODonnell
When visiting Ireland this is the best gift shop good value and a great selection
10 months ago Mehul Chhayani
Don't bother using them for the Planet Tax Free returns...talked to 2 different people within 30 minutes and both of them told me different things. One even admitted that no one really knows what they're doing! What a waste of time.
1 month ago Devin Dixon
For all the Irish souvenirs you might want, Carroll's is the place to go. There are many locations, all offering the same items. Definitely worth a visit.
7 months ago Worthy Blee
Great place to check out & buy irish made & designed sort've clothing, i go in here all the time. Not to buy something each day over the last 12 years, but to check out anything of interest which they always do. Why don't i buy sonething? Cause i'm skint on money most of the time i visit hahahaha.
11 months ago thomas gabriel
I got a magnet and postcard. There is a huge selection of all kinds of gifts, anything that anyone could want!
9 months ago Margaret Walkerq
Great variety of gifts, most of them with fair price for dublin.
9 months ago Michael Keefer
Lots of these gift shops in Dublin but some interesting items and souvenirs to purchase. Well worth a visit to browse the merchandise ☺????????????✈
11 months ago Virginia Allen
Awesome Gift Shop! There are plenty of gifts for everyone and for a wide range of prices!
1 month ago Todd Foster
I love this place...always find something nice to give to my friends...staff is helpful...
7 months ago Lacey Sheridan
Lots of Irish souvenirs, some nice things, some quite commercial, worth going to the bigger stores as you're more likely to find something you like
7 months ago Keyshawn Leffall
It is a very good place to get some souvenirs from Dublin as well as for Ireland, there are just too many options and you'll feel that you need a bigger luggage cause there are too many things you would like to bring with you at home, in case you don't find what you were looking for in one of the stores, there another stores with more options near.
1 month ago Supply Expert
Some workers are nice and help you, others like Ms Federica, are really complicate workers, even if it's just to give you a second paper bag for you to take the items you bought, she make it difficult and complicated. You have to beg for an additional paper bag even when you spend over 200 euros in that store. That's really stupid!
2 months ago Jerry Cieslik
Got me new hat here ????. Great place for gifts
1 month ago sunny day
It's a nice shop. Lots of gifts and souvenirs with good prices.
10 months ago Talitha Alissa
Typical tourist shop
8 months ago joe bruce
I've found the best gifts form my family
1 month ago mariappan ravichandran
Probably the tourists most loved place in Dublin. They offer almost everything tourists need in term of souvenir
1 month ago John Tu
Got what I wanted. Good location.
9 months ago
Popular places from the category Gift shop