Cell Guru
Cell phone store Cell Guru, 298-A Chiswick High Rd, Chiswick, London W4 1PA, United Kingdom:
81 review
of users and employees, detailed information about the address, opening hours, location on the map, attendance, photos, menus, phone number and a huge amount of other detailed and useful information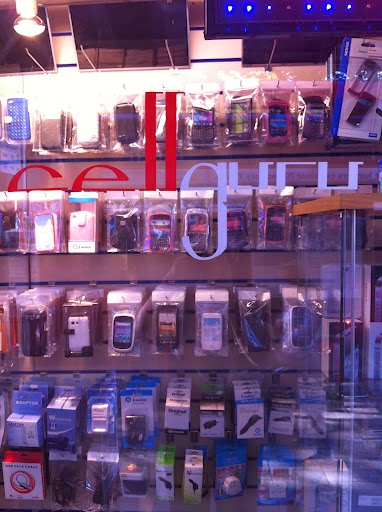 Address:
298-A Chiswick High Rd, Chiswick, London W4 1PA, United Kingdom
GPS coordinates
Latitude:
51.4926172
Longitude:
-0.2604072
Location on the map
Reviews Jacob Buchanan
Great service. A replacement screen for my phone was received the next day and installed quickly at a fair price.
6 months ago Diana Spahia
Honest people in mobile phone repairing business where everyone love to rip off but these guys are amazing. 10/10
8 months ago Vicky Backus
Fantastic service. Did a brilliant job in less than an hour. I thought my phone was a write off and it now is good as new.
2 months ago Leland Fleming
great job on fixing my iphone. ismash told me its not possible to fix then i asked around everyone told me this is the place to go thank you Cell Guru for saving my £700 iphone. will Definitely recommend
5 months ago Scott Fulton
Lovely guy and honest service. They are not trying to lie to you and rip you off. I thought I had my microphone broken and went there prepared to give the phone spend a few days without it and get charged for a new mic+ labour. Instead I was shown that I had a sticker that was covering the mic, he took it off, tested it and it works perfectly for 0 charge. I would definitely recommend.
7 months ago Isaias Santiago
Excellent service help me setup upyour new phone and install my apps. They really do know what they doing and it's great job. Highly recommended
7 months ago Julie Dunahugh
I was VERY satisfied with this friendly and fast service!!! I dropped my phone the other day and the screen needed to be replaced. I took it here having read good reviews and I was not at all disappointed. Alvi had my phone fixed and ready to go in only 30 minutes and he threw in a free screen protector as well. The price was reasonable and he was super nice and helpful. I highly recommend this store!
15 hours ago Prakruti Patel
very reasonable price fully satisfied can't ask for more. thank you for helping A+++++++++++
9 months ago NESHA GANG
Great job done. The setup my new phone with a smile and charge peanut. Very helpful always. Use them so often and never disappointed.
8 months ago Eleanor Waters
I went to the apple store and was quoted silly money to fix a broken screen. Came to cell guru, and not only was it over half the price, they were able to fix my screen within 15 minutes while I waited. Great service - would strongly recommend!
7 months ago Jake Lozzo
He put the wrong bezel around the phone on, looks wierd, then called me silly and childish to be annoyed at the wrong colour when I'm paying £200 for a new screen. Rude, and made mistakes ????
7 months ago Brent Davis
Shocked asked to have new battery inserted. Was charged £30 yes 30 pounds. Disgraceful
4 months ago Anna Boese
The guys were extremely helpful, professional and honest. They did the repair in quick time, kept me informed, and offered useful advice. When I overpaid by mistake, they immediately returned the extra money. All in all a great service by knowledgeable gentlemen. I recommend them wholeheartedly.
2 months ago Sharon Ripley
Hidden in a tobacconist cell guru was so helpful and spent ages trying to get my waterlogged phone going. When he didn't succeed he refused any payment. My partner also got a brilliant repair and pleasant service. Couldn't better, this is well worth seeking out.
9 months ago Milayo C
Sohail and Amir were both very careful And attentive to my needs in retrieving data including photos from my damaged phone. Would highly recommend them.
10 months ago Carol Trudeau
My iPhone got stolen. Not happy at all. Purchased an S9 and needed to transfer 20g of information. Tried EE store 2 hours later no joy. Went back to seller of phone another 1.5 hours wasted. Driving down the Chiswick High Road saw this store Went in can you transfer this data from apple to android. The answer was YES but it might take a little while. All I can say is that a superb job was carried out and the constant stream of people asking for repairs to their mobile items was tremendous Outstanding Service 10 stars if it were possible. .
9 months ago Jim Smith
I have used these guys to repair my phone twice - excellent, swift, well priced service. Definitely honest because he could have charged more 'if it was water damage' but later it turned out not to be, so charged significantly less for 'pressure damage' (I wouldn't have known either way). Top notch!
9 months ago Kelly Pease
very helpful and friendly service we got. My email was suddenly stop working while i was on trip to UK. guys helped me out of the way and spend a lot time to resolve the issue and charged me little. thanks guys
10 months ago Holly Snyder
Best shop around for phones and all things electrical.
7 months ago Anna Lane
I took my phone to these guys to get the screen fixed. My phone is old and it wasn't a straightforward job, with one of the sensors apparently being on its last legs and in fact giving up the ghost once the screen was changed. Rather than kick up a fuss, they worked diligently over several days to get the issue fixed and absorbed all the costs themselves. Very happy to recommend as they won't let you down.
8 months ago John Markowski
IPhone repairs and macbook they are good at what they do. And I find they understand the business very well. Any problems with Yr phone or pc do visit them I highly recommend cell Guru Chiswick
9 months ago Lisa Meleney
i have been to Cell Guru few time and they are brilliant. just bought my 2nd phone from them and they moved everything across to the new phone. no headache for me. very pleased.
6 months ago Patrick Miller
They fixed my broken glass while waiting. Amazing service.
6 months ago Carlos Rios
Laptop broke whilst l was on a trip away for work. Cell Guru allowed me to take his own laptop to work on, despite me not even being from the area and let me keep it to work on until mine was fixed for absolutely no extra charge. I would recommend his services to anyone. An absolutely lovely man with a heart of gold. Can't rate him highly enough!!
1 month ago Beth Roney
I would like everyone, particularly in Chiswick, to know that this is the best shop ever, such a charming, helpful and VERY capable man, and VERY patient with Old OAP's who come from abroad and are late starters in the world of technology. MOST HIGHLY RECCOMENDED
6 months ago John Wenworth
These guys have been operating in Chiswick for several years now. Whatever your phone, or particular issue, they have always been able to find a solution at a decent price, and turn around the fix quickly.... They are also willing to have a giggle, which helps if you have no phone, no numbers and no life...... would defo recommend them
11 months ago nnamdi igwiloh
I have taken my phone on several occasions to cell guru and they have always provided me with first class service. On my first visit they they fixed my screen and exceeded my expectations and therefore I came back. On the second visit I upgraded my phone and they set everything up hassle free. I have travelled here from Ruislip because I wouldn't trust anybody else.
11 months ago Kurt Philip
Very impressed by the problem solving on my Galaxy S7 Edge.
9 months ago Timothy Weaver
Alvi has provided an excellent service! He was prompt and very efficient.
8 months ago stef ness
Not easy to find but worth looking for. Good prices and very friendly helpful staff. Problems are dealt with quickly.
11 months ago William Martin
Excellent and friendly service. Always service with a smile. I always come here for any of my gadgets problems. Strongly recommended. They even not charge me for small jobs and always help me according to my needs.
11 months ago bruhwhat
Couldn't remember PIN for new phone, Vodafone in Chiswick High Road, where I brought phone from couldn't help me, said they only sell phones, they don't mend them. Hence I ended up in here, they tried to mend it for me but couldn't, but charged me £20 anyway. I think he spent about 15/20 minutes fiddling about with it. I'm not sure if he meant it as a joke but he kept asking me "how much money did I have in my bank account?", and also wanted my email password (which I didn't tell him). I didn't find him very funny. 26/09 In response to Cell Guru's reply, I think it would be inadvisable for anyone to disclose their bank account details or email passwords to complete strangers for any reason. To get facts straight, I did not forget my email password, but whilst in that shop the phone wouldn't accept it!! I declined their offer to change my email password on their computer and said "never mind, I don't want to risk it, something else might go wrong, I'll just take the phone and leave". One of the employees in there said "don't you trust us?", and that's when I made my remark about trust, (I think most people would say the same). I thought it very unprofessional of them to ask such questions in the first place.
8 months ago Katie Edwards
Lovely man very helpful excellent service. Recommended
6 months ago Julian Streete
They transfer my data from my old to new phone within no time. Great work.
8 months ago irish popeye
My phone wasn't working well. These guys find out the problem ando recommend best possible solution. Charges was minimum for all hassle. Thanks Guru.
5 months ago Patricia Lad
Amazing work and done so quickly! Out of no where my phone would not turn on and Apple said there was nothing to be done. Cell Guru identified the issue and fixed the phone within a matter of hours and all data was restored. The staff was extremely knowledgeable, friendly, and helpful and kept me updated throughout the process.
1 month ago Amaya Singh
Unbelievable Service and fast turnaround !! iPhone 5 screen repaired at half the cost of O2 and they did it in 1 hour as opposed O2 saying they needed a 5 day turnaround. Not only that, I discovered they are able to help with all sorts of tech/ lap top issues and when I went back the day after they fixed an ongoing gmail issue on the spot. The gentleman I saw was dealing with lots of different things at once but somehow they still managed to have a laugh and a joke. What a find !! I will definitely be a regular here, cannot recommend highly enough. Thank you Cell Guru !!
5 months ago Mergita
I always buy my phones from these guys. Trusted and genius. Thanks Gurus
8 months ago Megan Alissa
Really helpful chap replaced my iphone screen in about an hour ... delighted :)
10 months ago Sarah M
Excellent they are the guru in mobile field. And vaping e cigarette good collection of devices and liquids Highly recommended.
1 month ago Clay Hervey
Highly recommended. They fixed my bricked phone Samsung S4. Very professional and they know what they doing. They saved my precious data on my phone. They are Champs.
11 months ago Tina French
Specialised services for all type of gadgets. Another happy customer. Thanks for doing so quick.
11 months ago Terri Waite
Gud work done by setting up new phone. Another happy customer.
8 months ago Chris Landry
Cool guys who are decent and efficient at getting your phone fixed, usually sorting the problem immediately or telling you to come back in half an hour or so (depending on the problem). No fuss, they know their stuff about all types of phones, up for a laugh and also I'm always impressed with their entrepreneurial side with their side gigs of vaping and fidget spinners...these guys know the market.
9 months ago Virgil Naveda
Great experience third time again as usual. Fixed my fone hassle free within no time.
5 months ago Hilary Sarbutt
Great job on my S6 edge changing port.
9 months ago Williamson Joelle
had a problem with unlocking from vodafone. for 3 weeks they fixed it in a day. and on 2nd visit they fixed my dead phone very pleased.
11 months ago Veena Swamy
Knowledgeable and experienced. They know what they doing. Impressed.
10 months ago Alexey Semenkov
Whatsapp wasn't working. Helped me to work like charm. So helpfull.
11 months ago Dorothy Richardson
Repaired my Samsung J3 screen. Professional work done with quick turnaround. Will go back for other services.
10 months ago
Popular places from the category Cell phone store