Any Transmission Ltd.
Transmission shop Any Transmission Ltd., 333 Green Rd #2, Stoney Creek, ON L8E 2B1, Canada:
22 reviews
of users and employees, detailed information about the address, opening hours, location on the map, attendance, photos, menus, phone number and a huge amount of other detailed and useful information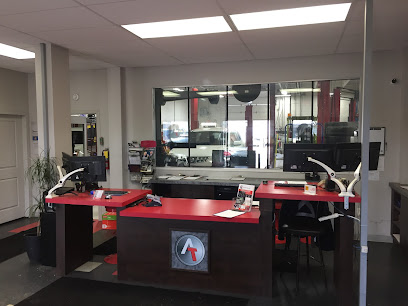 Address:
333 Green Rd #2, Stoney Creek, ON L8E 2B1, Canada
Website:
anytransmission.ca
GPS coordinates
Latitude:
43.2312453
Longitude:
-79.7293480
Location on the map
Reviews Ryan Koontz
At Any transmission these guys will go above and beyond to make sure you have a safe and reliable car. Never met a more friendly and knowledgeable mechanic than Alvin and Sean. These guys are trustworthy and do excellent work!
8 months ago Andra Williams
Any Transmission has serviced all of my vehicles for more than 5 years. From my everyday driver to a restored classic car they cover all aspects of maintaining the vehicles for me. They are professional, knowledgeable and take the time to help me understand what my car needs in the short term and what needs are coming up so that I am prepared for future expenses. A service they provide that I appreciate is they track and monitor the manufacturers warranties of parts they have installed saving me money if parts fail. I do not doubt the reliability and safety of my vehicles for my family and I because Any Transmission are taking excellent care of them for me.
5 months ago Andy Sorenson
Professional, polite and efficient, would recommend !
8 months ago Dotty Pitchell
These guys at Any Transmission are by far the most honest and genuine people to deal with. This is the only shop I will trust servicing my vehicles going forward. I have had multiple issues with my Ford Escape but Sean and the guys were on top of all of them and made sure it was safe and reliable before returning it to me. They really do care about the customers coming through their doors.
4 months ago Ganesh Mohan
amazing people great service over the top and best place in Hamilton to get a transmission repaired . Sean and al are great. They rebuilt my transmission 6 months ago on my town and country. for an unknown reason it keeps malfunctioning .. thy keep repairing it at no cost To me.. thy always are very informative and make me feel like thy really care about the tough time i am having . I could not ask for a better mechanic.. keep up the great work And thanks for every thing
7 months ago John Campbell
What a great team! Always available, never too busy for us. Highly recommend!
5 months ago THEEEZO
It's difficult not to give Any Transmission a positive review. They went over and beyond and ensuring my comfort and taking care of my vehicle. The cost of the fix was significant, but it was a major job, and I really have no reference as to how much it should cost else where.
6 months ago Lindsay Babiarz
Sean and his team were a pleasure to deal with! They provided me with a loaner vehicle while my car was undergoing repairs. Sean updated me on the progress regularly and asked for consent prior to making any alterations or repairs. Upon pick up, Sean went through my invoice providing me with the reasons for the repairs and what to expect in the future. It is rare to find this sort of customer service and honesty in a mechanic shop. I felt like he had my best interests at hand and there was never a feeling of being up sold or charged. A truly remarkable experience!
7 months ago Joseph Burrell
Amazing service! My breaks went and thankfully Sean and the guys got me in right away and fixed my car by that evening so I had a safe ride for work the next day. Highly recommend and will def be back!!!!!
5 months ago Siki miller
Their consistency in providing a high quality of service is top notch. It's reassuring that my vehicle is always in good hands.
10 months ago sebastian ghising
I took my van to Any transmission had problem with transmission they checked my van and explane me after diagnoses give me estimate and gave me option if i want to get 2nd opinion .I decide to stay with them .I am glad i chosen right place to get my van fixed.everthing was done in timely manner .its one stop work shop they took care everything.transmission hub tie rod alaingment .they are well equipped and very professional.almost after 2 month van running well no problem.
5 months ago Taylor Bradley
We have a small fleet of 8 delivery trucks. Since we went to Any Transmission 1 1/2 yrs ago for regular maintenance we have not had a problem with our trucks. They keep on top of regular maintenance intervals and advise us in advance of any issues that may arise in the near future. Their customer service is second to none in the industry as they will pick up and deliver our trucks to and from our location as needed. Their staff are always polite and informative. I would highly recommend them.
9 months ago Judy Glathar
Took my car here for a clutch position sensor and a soft pedal. They had my car for a week, and called me every day with some other issue they had found. Most of which had nothing to do with the job I took it in for. They told me they had to change my ECU due to codes, dispute the car never having a CEL on in its life. And I got little to no explanation as to why. And when I picked my car up, it had a big dent in the side, and multiple broken clips and interior panels. Now less than a month later I'm having additional issues with the work that was done, and they refuse to honor their warranty. I found Sean to be rude, condescending and ignorant to everything I asked him. Will not be bringing it back, nor will I recommend this shop again And it took him 2 and a half hours to change my headlight bulbs...
7 months ago Daniel Lesser
Any transmission provides customers with a first class experience. Customer service is their number one priority. Drop off and pickups while your car is being serviced is always an added convenience. The service coordinator and reps always try to meet your schedule needs promptly. A job well done at Any Transmission!
11 months ago Tina skeeterz
This shop is truly incredible. They go above and beyond to help their customers. I would never hesitate to recommend them, both for their customer service and mechanical expertise. Thank you to Sean, Al and team for helping me out in a tough situation with my Volkswagen. Your kindness will not be forgotten!
2 weeks ago Noelle Kaliloa
Did major work on my older truck and then stood by their work. The peace of mind I travel with is priceless. Professional personal service every step of the way. Would recommend to anyone for any type of work.
2 weeks ago Artem Kosonogov
By far the best mechanic shop I have ever dealt with, Sean and Al go out of their way to make you feel like you're more then just a customer. Absolutely nothing these guys can't do or fix. I cannot recommend this place enough, customer for life.
10 months ago Margaret Chesnutt
A team of people who care about you and your vehicle. A trustworthy very respectful bunch of people. They find the problem then fix the problem no B.S. love these people. Highly recommended!!!
9 months ago VIKASH KUMAR
Sean took care of my car and worked with me on on finding the best and most cost effective solution. It is a genuinely good business that I trust.
4 months ago J W
Sean and the team are awesome. Informative, honest, friendly and experts in their field. I highly recommend them.
9 months ago shirley lowe
I have been a customer of AnyTrans for years and would not trust any of my 5 cars to another shop. They have helped me after hours and are always ready to explain what needs to be done. Service with a smile, combined with fair prices and quality workmanship. It's not just AnyTransmission, it's anytime.
11 months ago beth martin
The most honest crew with decades of knowledge and a very modern touch to the atmosphere.
6 months ago
Popular places from the category Transmission shop