Crafted The Art of the Taco
Taco restaurant Crafted The Art of the Taco, 527 N Liberty St, Winston-Salem, NC 27101, United States:
220 reviews
of users and employees, detailed information about the address, opening hours, location on the map, attendance, photos, menus, phone number and a huge amount of other detailed and useful information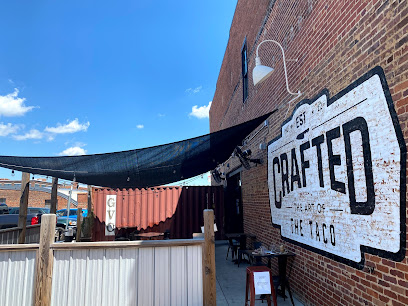 Address:
527 N Liberty St, Winston-Salem, NC 27101, United States
GPS coordinates
Latitude:
36.1009294
Longitude:
-80.2451640
Location on the map
Reviews Stephanie white
Delicious tacos with a twist. This is not a Mexican restaurant, it's a taco joint. Outdoor seating has sunshade and is dog friendly. Stopped here on our way back to Durham from the mountains, that's how much we love this place!
6 months ago Johnny Gutierrez
Stopped by at lunchtime on a Saturday to grab a quick bite and was pleasantly surprised. We were able to grab a table right away. We loved the more laid back vibe and enjoyed the outdoor seating. Grabbed a few drinks and some tacos and they did not disappoint. We both left with a full stomach and a smile on our faces.
6 months ago Amanda Stanfill
This place is awesome. The food is delicious and the combos are very reasonably priced. They accidentally messed up my friends order and instead of taking the wrong taco back, they just gave him another! Really impressed by the food and …
7 months ago Dennis Hennessey
The food here is really good, which is why I'm so disappointed with their apparent contempt for takeout orders. As a warning to homebodies, they've decided to play some kind of cruel game in which the players who do not want to spend time …
6 months ago Cathy Carrington
Can't go wrong here. Tacos are great, bulgogi taco was my favorite, the white fish taco was great also. Collard greens for the side is a must.
7 months ago Micah Littlefield
Wanted to leave a review for this place because my family and I really loved it. Loved our server Monica, she was knowledgeable of the menu and made our experience wonderful. Food was amazing and if we lived in NC it would be a regular …
9 months ago Kurt Bulicek
Crafted honestly does not live up to its name. It's technically tacos but with no soul. Nothing authentic to point to, and just not artistic or thoughtful enough to pull me from the many amazing real taco spots in the city. Ambience is fast casual.
7 months ago Joseph Bachmann
The service and people behind the food were great. I didn't have time to order from the main menu with the tacos or salads, but I tried the stuffed avocados appetizer. It was good, I just wish they gave you a bigger bowl for the price. It was like the small ramekins for condiments. Two scoops with the chips and you're done ????????????
9 months ago Alexis Bowles
Our first experience with Crafted was takeout and it did not disappoint -- husband had a burger and I had the tacos. It is hard to cater to takeout and the ordering and pickup processes were easy and the food was great! We have since been …
9 months ago Serenity TV
I see why Crafted came up on Goodle as one of the restaurants that you must go to while in Winston-Salem. Omg, every bite of guacamole, avocado dip, Mac and cheese, and beefiness in my taco was delicious. My friend and I could not stop …
7 months ago Jacqueline Sullivan
Impressive. I've yet to find a taco spot comparable to South, Florida. Here we go! Baja style w/ shrimp. Battered fish. Sweet p. FF. ???? Great environment. Friendly, helpful staff. I will 100% return for more mouth watering food! Thank you.
8 months ago Debbie Wall
I have been here once before and loved the food, but the second time we went, we didn't ever get seated. We were told by the hostess that the wait would be an hour. She then qualified that timeframe and said it would probably be less …
6 months ago Daniel Reynolds
Street tacos with a twist. Start with the eloté appetizer, it's mouth watering delicious. Cool place, staff and atmosphere in DTWS.
7 months ago Thomas Whitney
The waits are generally long but that's because the food is so good! I used to get the Tacos but their bowls are awesome! I have been getting them the last few times I have been. The atmosphere is really nice and they have outdoor seating for warm weather. Highly recommend!
9 months ago Thairy Cornelio
The food, beer selections, and atmosphere are all amazing. For real their tacos are delicious. My issue with Crafted is that the portion sizes are way to small for the price tag, I would give them only one star over this if their tacos …
8 months ago steffi morillo
Ordered the basic tacos with the vegan chicken and vegan beef. THE best vegan meat I have ever tasted. Some of the best food I've ever had. 6 stars.
7 months ago Katrina Henderson
Beef and pineapple tacos very good. Tuna ones were a little too unusual for me, but the tuna itself seemed to be very fresh and high quality. We didn't like the chips that came with the salsa. However, the fries were just outstanding. The …
2 months ago Cheng Xu
Horrible service they sat us next to the downstairs door which employees kept slamming took my drink order and walked away not asking my husband or son. After we received our drinks took 20 minutes to take our order. You can tell the …
8 months ago kostadin ivanov
My sister had the basil drink which was very refreshing also with great flavor. To eat had the wayfarer and Oxford taco with the 1/2 elotes as my side. The Oxford was great, the chicken was tender and flavorful and the pineapple added a …
11 months ago tremayne mcintyre
Came here with my boyfriend on a whim since we drove by it on our way to our tattoo appointments. Absolutely fell in love with the food, the atmosphere, and the staff. Our server was an absolute ray of sunshine who was really helpful! She …
7 months ago jessie misk
Went for lunch today...want to go back for dinner tonight! Fantastic! We had the Avocado appetizer which was splendid. I had the Fixie Tacos and needed a third, and probably would have eaten a 4th and 5th if I was on my own dime. Amazing food. Will be back.
8 months ago Kartick Shirur
Tacos were fine, but we tried ordering again, and they were unable to take online orders or unable to take an order by phone for pickup. We went elsewhere. You actually had to come into the restaurant to order. Seems irresponsible in a …
8 months ago michelle tracy
I absolutely love the baja tacos with vegan chicken or vegan beef. I can down 4 baja tacos. A lot of the menu can be made vegan or vegetarian friendly. The food is fresh and doesn't take a long time to come out. And the foods quality does …
9 months ago Gabe Garcia
I've eaten here often and generally enjoy the food and atmosphere. I will say that my order has been wrong on numerous occasions, whether it's the wrong side, a missing item, or a completely different order. It has happened so often that I …
9 months ago Sabrina Schoor
The food and experience was good. The service took a bit longer than I would have liked and the food seems to be better in the greensboro location.
7 months ago Holly Dobney
Disappointed by the service. Was sat by the host at the bar at 8:50pm because their website indicated they close at 10pm on Sundays. After sitting for 10 minutes, the bartender/server came over and said that the restaurant was closed and …
6 months ago Miss Kat
Had the Bowtie tacos. The vegan fish is amazing, and the taco itself was possibly the most well-crafted and delicious mess-in-a-tortilla (I make a mess with tacos, it's a problem) I've ever had. The pimento mac n' cheese is also some of the …
9 months ago Adrian Perez
Place is dope. Anything the owner puts on the menu is A-1. Beer selection is stellar. Ry and Kim are very friendly and accommodating.
8 months ago Exodus MKE
First time here and I was pleased! Ahi tuna tacos were so good! They also have burgers on the menu, however I will try next time. Urban spot with a splash of of hipster, not overkill. Delicious!
6 days ago Kelly Moon
If you want a spot with some delicious tacos this is the jam!
7 months ago Jonathan Klate
Great vegan and vegetarian options. Good toppings for tacos and very friendly staff
8 months ago Sharon Joag
Amazing food! Great atmosphere! I live 45 minutes away and I will be making a trip back ????
9 months ago Tara Meziere
Excellent food! Went with friends last weekend for Sunday lunch and loved the food. Since it is downtown parking can be limited but they have a small parking lot next to the building and there is a good amount of free street parking so for …
9 months ago Matt Fleming
Really good food if you are into the taco scene. Nice place for sure, and worth a visit. Service was really nice, but the servers all looked like hippies. Kind of not so professional there, but I have to admit, they did their jobs.
5 months ago Doreida Flores
Long wait. Food was not for me. It was ok but not my type. And it is waaaay overpriced.
7 months ago Justin Coleman
The food is amazing! Cool and innovative taco flavors. Although definitely American-ized tacos, nothing authentic and served on flour tortillas but definitely some delicious down home flavors like pulled pork, mac n cheese, fried chicken, …
2 months ago Steven Nguyen
Very unique taco joint to check out when you are in Winston-Salem NC. While waiting for table, we all decided to grab some drinks (local beers); this place definitely have a good selection of local beer and very very reasonable price. Once …
10 months ago Dean Hill
Food is good but hosted and customer service is terrible is a shame
6 months ago Amber Pool
A wonderful place for crafty tacos! Excellent atmosphere for large and small groups, dates and solo adventures. Hefty draft menu! Wine too! Friendly staff! Enjoyed finding this place on our way through North Carolina!
4 months ago Kee
Spectacular food. Quick and delicious. Staff was very friendly and attentive. Great experience.
10 months ago Lali Sanchez
Great food and service. Wish food portions were a bit larger for the price. So if you're looking for a trendy downtown spot to get craft tacos this is the place. Okay selection local craft beers and the usual domestics, also has a full bar for mixed drinks. Would be a good date night spot as not too loud and relaxed environment.
3 months ago Donna Sakaske
The Oxford taco was one or the best tacos I've ever had in my life. Highly recommend !!
5 months ago oPhilip
Good food and great service. Despite being busy on a Friday night, the host was able to seat a single individual at the bar. Emily the bartender/server promptly brought me a menu, got me liqueured up, and put my order in. Food is …
4 months ago Tommy Smith
Interesting flavors that we experienced! In a good way! Fresh and unique. Plan on coming back to try some different things.
1 month ago Okcana Michayleva
Unique and sooo tasty recipes! The duck fat collards are awesome too!
9 months ago Brenda Charles
The food quality was great. Why I gave it 3 stars is around what seems to be the wrong expectations for the restaurant. I was expecting tacos like a Hispanic food truck would have but stepped up. My wife and I pick 4 different tacos with …
5 months ago Madonna Malek
Let me start by saying this place is fantastic in Greensboro NC. This Winston Salem location is garbage and puts the place to shame. To start there are a bunch of young people working with no supervision and they have their friends in the …
2 weeks ago Tony Barker
A top spot for tasty tacos. Food was super flavorful. Had a friend come into town and she asked me to take her here again. This place has a great design.
3 months ago Philip Lundh
Very disappointed with the last visit. Used to brag about how great and unique crafted was but so much has changed recently. The service has been subpar the last 3-4 visits but that didn't stop me from going. However, their food was …
4 months ago Renee Banek
Me and my girlfriend tried this place a few weeks ago. The inside is really nice and clean. She tried the baja tacos and loved them and I tried the 10pc wings (dry rub) and they were some of the best wings I've had in a long time. Our waitress was super nice to. Definitely recommend!
1 month ago
Popular places from the category Taco restaurant