Sweet Potatoes
Southern restaurant (US) Sweet Potatoes, 607 Trade St NW, Winston-Salem, NC 27101, United States:
220 reviews
of users and employees, detailed information about the address, opening hours, location on the map, attendance, photos, menus, phone number and a huge amount of other detailed and useful information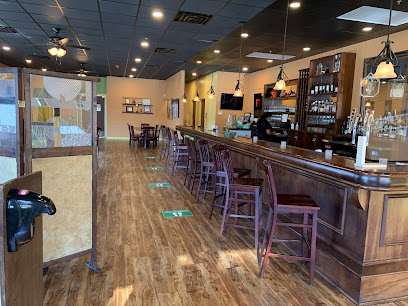 Address:
607 Trade St NW, Winston-Salem, NC 27101, United States
GPS coordinates
Latitude:
36.1017922
Longitude:
-80.2461840
Location on the map
Reviews cody miller
First time stopping here in downtown Winston Salem. Didn't call ahead or have a reservation and it was a Saturday night, recommend call ahead. Got there and although it was likely a long wait we took our chances with a party of 2 we would …
6 months ago Nitin Tate
The food was delicious and we really enjoyed it to the highest. We are the ladies who inquire who the manager was. We'll be back soon! Thanks
6 months ago MAURICIO PAZTOR
this place has top-notch food and top-notch service. Our waitress was amazing, and had great recommendations & a wonderful personality. The biscuits at this place are to die for— the best I've ever had… EVER! i'm pretty sure the owner came …
6 months ago Matthew Schroeck
Three words: sweet potato cornbread. I haven't cleaned my plate of an entire meal in a long time, and I almost embarrassed myself by licking it clean. I got the yard bird smothered in gravy and those greens were to DIE FOR. Sorry for no picture of that plate - I finished it before I had the thought to document.
8 months ago Ross Martin
The entire experience was phenomenal from start to finish. The wait staff were all friendly and very hospitable. The food came out promptly. It was a nostalgic experience. It took me back to being at a Black Family Reunion. The restaurant …
8 months ago John Johnson
I absolutely love this place the food is amazing. My waiter James was outstanding the best waiter ever. James made sure everything was correct very friendly from the time we walked in the door. The staff was amazing as well. We had to wait …
7 months ago Murillo Family
Our meal was just as ordered and delicious as always. Our appetizer was amazing! Our server, Danielle, recommend it, the chicken & waffles! We could eat it 3 times a day! If you ever start serving breakfast, it should be at The Top of the …
8 months ago Cherrise Gaster
They don't allow you inside without a mask even though the mask mandate has been released. Although we informed the hostess we had our vaccinations (even papers to prove it) that was not acceptable. Unfortunately we didn't get the opportunity to eat here. Decided to eat somewhere else due to this.
6 months ago Patrick Hollingsworth
This place is so cool, yet the menu is boring. The atmosphere was great. Perfect for an evening meal. However, the menu wasn't extensive at all. It seemed that the wait staff was stretched beyond their capacity. I would've loved to have …
7 months ago Shanna Charles
Food was pretty good. 5/21/2. The mask mandate is over but so we didn't have a mask. We had to go buy one to get in. They wouldn't let us in without one and said they wouldn't provide one ???? customer service really isn't great. I had …
7 months ago Thomas Bennett
Great atmosphere and beyond delicious food. I had the pan fried chicken and it was amazing. My daughter had the spaghetti in a drawl and even I wanted to eat along with my dinner. Definitely coming back.
7 months ago Uriya Tenenbaum
The food was terrific but the customer service was horrific. The first experience I had with this restaurant the customer service was horrible. I should've learned my lesson then. I went back thinking the guy who answers the phone and my …
8 months ago Angel Cubero
First-timer......I was thoroughly impressed. All the food was delicious and the service was fantastic. The food portions were great and the food was very tasty. I will be back for sure.
7 months ago Marion Taylor
1st time customer. Interesting menu. Being Friday, we had the fish, delicious!! Definitely will go back to try some other dishes. T was a great server at the bar where we sat, fairly busy at lunchtime.
9 months ago Tynesia Thomas
I was NOT disappointed! The spicy collard greens were delicious! We ordered the lunch box, with a side of fried okra and pork rinds(yes homemade pork rinds)! The staff was nice and Covid 19 precautions were enforced! Best restaurant of the trip! Sweet Potatoes never disappoints!
9 months ago Jacquelyn Pillsbury
This restaurant is a gem! The food is outstanding. The atmosphere compliments the great service we received. The chef was also nice enough to sign the book we purchased that included plenty of great recipes. I especially loved the Mambo Chicken!
9 months ago Brenda Wright
Food and service was very good. James took good care of us. The ribs were tasty. The smothered yard bird were a notch lower than the ribs yet good. I would recommend some hot sauce for the ribs to add just a little bit of flavor.
10 months ago Cara Richards
Fantastic southern food!! The sweet potato cornbread was amazing as an appetizer (the place is called Sweet Potatoes so you gotta try it!) and then my meal was very nice! Great food that was very filling but also fancy. Went here for a nice dinner before going out around downtown and it made for the start of a great night!
4 months ago Mark Briggs
We ordered the Fresh Pork Rinds, Fried Green Tomato & Okra Basket, Fried Chicken & Waffles and Sweet Potato Biscuits. The service was very slow and needs improvement but the food was Delicious. I will definitely be back for more Chicken & Waffles.
10 months ago Laura Wilson
Delicious! My salmon nicoise was so good and unusual - more like a New Orleans muffuletta style take on the dish. My friend was completely taken with her fried chicken and sweet potato biscuit. We are definitely returning. Service was outstanding as was the cool atmosphere.
9 months ago Steve Lawrece
Excellent fried okra, and some of the best fried chicken in town. Always have the best service. One of our favorite places to eat.
7 months ago Damien Butler
Terrific friend chicken and super tasty sides. Large portion sizes for the price made it so we had leftovers for the next day too! Seriously some of the best fries chicken in the area. Staff was all wearing masks and the restaurant was set up well.
3 months ago Simi Valsala
This place is always packed! A line down the street and its worth every minute waiting! Order your dessert first because they will run out before the end of the day! You'll be dreaming about it later! The food is absolutely incredible...the fried chicken is soooo good and the fried pork skins come crackling to the table!
10 months ago Bari Richter
Third time in less than a week. Had the catfish and grits with a side order of grilled shrimp, grilled onions, spicy greens and Chuckies special (alcohol included) punch. Of course I had to take majority of this home. That slice of Sweet …
11 months ago Jeremy Traweek
Food is AMAZING. You can see/taste that the chef here has a love for what they do, and cares about making great dishes each time. The dining room and bar has a classy, relaxing & warm vibe to go with the super friendly staff. Hardly ever …
2 months ago Massdojo
Was good the first time but they over fry the chicken and fries were old and the staff is not friendly at all..its almost like they don't want to be there..and its kind of expensive
8 months ago Cassandra Denslow
Great cuisine. Wait staff attentive and gracious. Followed safely standards. Loved sitting outside.
8 months ago farhad farzbod
Visiting from San Diego and went out for a date night. The ambiance was warm and welcoming. People were laughing, smiling, and focused on the food in front of them. Staff were friendly; offering jokes, compliments, and and the occasional …
11 months ago Ruby Noe
Everything we ordered here was amazing!!!!! I enjoyed our whole dining experience, from the time we walked in till the time we left. My mom and I were visiting my uncle in Durham and we traveled to Winston-Salem to do some sightseeing. My uncle highly recommended that we go to dinner at this restaurant.
11 months ago Melvin Eves
Delicious!!!! I ordered the BLT with fried green tomatoes and a garden salad. The food was well seasoned and fresh.
7 months ago Craig Stokowski
Absolutely delightful. The staff is incredibly friendly and all the food is delicious. Highly recommend the chicken and waffle starter.
11 months ago smokey robinson
To say I am underwhelmed is definitely an understatement. Upon entering the restaurant, I witnessed an altercation between a customer and a hostess. (Most unprofessional and unsavory.) After being given a 20 minute wait time and told to go …
11 months ago Ibrahim Koroma
wonderfully different food and the staff is super friendly. :) I did the spaghetti with a drawl, i should say im not a huge spaghetti fan but this is so different and so good it needs a whole new name other than spaghetti.
9 months ago chris griste
Food is amazing. Great collards, fried chicken, and fried green tomatoes. Hip atmosphere right downtown. One of the best restaurants in WS!
1 month ago Alan Rabinowitz
First time dining there, throughly enjoyed the food and service.
7 months ago Rich Toth
Sweet potato Sangria, veggie burger, and sweet potato fries were delicious. Relaxed with a positive atmosphere ♥️
11 months ago Mike McNally
You know it's a great restaurant when you always have to wait for seats to open up, and the wait is worth it. True southern dishes with great flavors. I especially enjoy the Shrimp & Grits as well as their Chicken & Waffles. They also have a full bar with an awesome selection. Parking can be a challenge and waiting area is small.
11 months ago Michelle Knapp
My wife and I spent the day visiting Winston Salem and found this gem. The food and service was great. James was our server and he was very friendly and provided us with great menu suggestions. They have a large, covered outdoor seating …
5 months ago Joshua Levitt
The food was realy good the service was lacking had to wait for everything other than that was a good night out.
2 weeks ago larry Mondelo
This place was amazing! The dining room is cozy and the staff was friendly. Charles, our waiter, was courteous and took time to chat us up. Their menu had combinations or ingredients that I never could have imagined going so well together. …
6 months ago Atinuke Ajayi
A great place to experience Food for the Soul southern dishes. Yes it's soul food but when executed in a high level it's Food for the Soul. The location is in the art district of Winston Salem, parking is limited beside the restaurant but …
11 months ago Brandon Rockwell
Omg the best ribs I have ever had in my life! Ypu will not regret it! Cornbread appetizer is the bomb! Just go eat there you won't regret it.
11 months ago Fredericks Productions
Everything I had was made with love . The food was like eating your Mother and Grandma cooking . If you wants some down home greens you order that. It was worth the drive.????????????
10 months ago Liam Fitzgerald
Overall: Great Place for Southern Foodies The Food: Super High quality ingredients; thoughtfully prepared. Sweet potato cornbread skillet is a MUST! The only negative is that they are pretty snobby about substitutions, such as changing out …
7 months ago Fabliha Khurshan
Staff were friendly and followed proper contagious disease guidelines. Food arrived quickly and was quite tasty. The one drawback and it's not a biggie were the flame tables (not sure what you call them). It was cold and the one near us …
2 months ago Manolis Vitsaxakis
Where do I begin? My husband and I decided to stop in just to grab a quick bite to eat to-go. It was between bojangles and sweet potatoes ,Thank God we decided on sweet potatoes. When we got our food it was unreal we were like food …
9 months ago Justin Conacher
This restaurant have great parking especially amazing service and great food. Also they had amazingly clean bathrooms, I highly recommend this place.
10 months ago Cliff Davis
I love it the food was so good the server was great too I will definitely come back!
8 months ago Crissy Bordenca
The food was ok. Nothing to do flips over. Wasn't a terrible experience but it wasn't the best either. Our server Deneen was good. The burger was not prepared as requested. Therefore, the person in my party who ordered it had to wait a good minute for it to be prepared as requested.
9 months ago Joseph Goodwin
Limited menu that was not posted on website. Sweet potatoe stuffing was extremely dry. Pork chop was OK. 3 cheese Mac and cheese only had the cheese on top. If made right could have been excellent. Bartender was excellent. Male waiter was not. Female waitress was great as well.
3 months ago
Popular places from the category Southern restaurant (US)