Great Clips
Hair salon Great Clips, 124-E 5 Forks St Ste 124-E, King, NC 27021, United States:
121 review
of users and employees, detailed information about the address, opening hours, location on the map, attendance, photos, menus, phone number and a huge amount of other detailed and useful information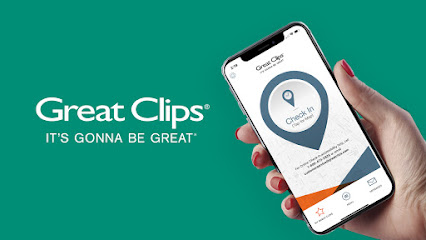 Address:
124-E 5 Forks St Ste 124-E, King, NC 27021, United States
GPS coordinates
Latitude:
36.2647773
Longitude:
-80.3633790
Location on the map
Reviews Linda Jones
Ive went here my entire life. And i love the place. But the employee turn over is insane. ???? Wish i was able to bond more than i currently am
7 months ago Mark sunder
Rhonda was extremely patient with my squirmy almost 2 yr old and did an amazing job. His haircut came out adorable! Highly recommend this salon!
10 months ago Brooke Cosby
Great place and fast service. The woman cutting my hair didn't act like she really wanted to be there. She was very fast and didn't put a lot of time in to a fade. My hair is all messed up and I will not be going back. It's not that hard to do a fade.
1 month ago Natasha Brown
I love this place. Everyone is so friendly. They actually listen when I tell them what I want done to my hair and then do a great.job!
8 months ago nate ouellette
WHO GAVE THIS LADY A LICENSE??? I think her name is Kathy and she cut my hair DRY when I had just brushed it and I have wavy and frizzy hair.. I told her I wanted a straight cut and she couldn't manage to do that. It looks terrible, I could've cut it myself. It's a shame that people have to go through this when all they want is a haircut.
8 months ago Shirley Collica
I had a haircut from Rhonda, she did an excellent job!
6 months ago Delia Viljoen
Good hair cuts and good prices. The staff are very nice and friendly too.
8 months ago Bree Leon
Great a great place to get a hair cut .price is right for seniors!!
7 months ago Pilar Delaplane
The lady that was going to cut my hair wanted to argue with me when I told her how I wanted my hair cut. I thought I was paying for the hair cut not her so I walked out and will not be back or any of my family.
10 months ago John Cervantez
Tara is very personable efficient and gave me a GREAT haircut!
11 months ago Dustin Fox
Great people great place thanks.
7 months ago Xon Howard
I went to get my curtain bangs shortened and they didn't listen at all to what I wanted and now I've got regular bangs even though I said the length I wanted them shortened. Now they're constantly in my face and they look horrible. I will never be going back here.
8 months ago Sharon Penix
Customer service was great from the manager and the receptionist
8 months ago Jenna Olson
Julie did a great cut and very helpful with products I purchased and I'll go back in 8 to 10 weeks . Thank you Julie !
7 months ago Amr Shennawi
Great haircut. Fast and affordable.
9 months ago Tramaine Woods
Everyone here is super nice and friendly!
1 month ago Lydia Pickett
Great Clips is really a great salon. With the quality of staff they have it's always been wonderful to visit them. Got my hair cut from here almost 3 times and everytime I was satisfied. Waiting time is short and price is reasonable. Thanks guys.
8 months ago Jessica Beck
I didn't have to wait long and the beauticians were nice. My hair was cut a little shorter than I wanted. It's growing back now.
5 months ago Joshua Spears
Staff was great. There was not a long wait even w a lot of customers. They worked well with my daughter and did exactly what was asked. Price is even better.
8 months ago Gavin Moran
My two boys and I went to the Great Clips in King, NC. We arrived about 25 minutes before they were supposed to close. The open light was still on and the the door was still unlocked. We came in and asked the lady at the desk if we could get our hair cut. Not only did she turn us away with 25 minutes still left before closing time but she was very rude as she turned us away. I think me and my boys need to just stay with King Town Barber Shop. I think this place needs to respect the people of this town or leave. We were doing just fine without them.
8 months ago Ashlie Odonnell
My three year old loved his haircut! They had so much patience with him and he did amazing ❣️.
8 months ago randy wood
Great staff! They do a wonderful job cutting our hair.
8 months ago cassandra curry
Never had a bad haircut at Great Clips! Always a great experience.
8 months ago Jonathan Wozniak
My wife loves this location! Friendly caring staff.
7 months ago Melissa Torres
Very friendly and canal atmosphere. I was a walk in and they took me right away. After she filled out a computer information sheet on me I begin telling her how I would like my hair cut. She cut it just like I asked and it turned out even better than I expected. I loved it!! When I paid her she filled in the information about how she cut my hair for a reference. Very professional and attentive. They do perms also. Couldn't have been more pleased if I had paid $50.00 for my haircut.
5 months ago Scott Carroll
My son and I got our hair cut by Brandy about a week ago, and I'm beyond happy. Nobody ever listens to what I ask for when it comes to my sons hair. They cut up too high or try to talk me into something else. She didnt. She listened and did it exactly how we wanted. As for me, I can honestly say I've never left after a haircut and not cried, until now. Again, she listened. She made sure I was happy, and took the time to make sure I was sure before doing anything. She will be the ONLY person touching our hair again!
2 months ago Myrna Renteria
They didn't do a good job on my sons hair but did a good cut on mine
7 months ago Regla Garcia
My grandsons love their hair cuts the lady's are nice and they feel good about the way they cut their hair
6 months ago Habib Nasiri
I have always had a positive experience here. The staff are knowledgeable, efficient, very polite, and personable.
8 months ago Sarah McCauley
Love Love my beautician I have the app on my phone so you can get in and get out quickly friendly staff do not shove products in your face but welling to help suggest what might help keep your hair healthier
7 months ago Jake Thomas
They can't cut curly hair without turning it into a field of frizz. Which they didn't fix when I asked them too. I thought I'd give great clips another chance because no one at any great clips can seem to properly cut my hair. Nope I'm done.
6 months ago Lauren Pauley
Great place to get a haircut but was disappointed that the Manager did not honor a coupon I had located on line stating it needed "something for him to scan". What ever happened to Manual Entry as he could plainly see the coupon was valid and that I met all the requirements. I was still charged full price without even an apology. To be fair, it was a great haircut exactly as I was wanting.
1 month ago Stacey Kothe
I and my family have gotten our hair cut here for the last two years. We have never even come close to having a bad experience. I am super picky about my hair and the ladies at this location are always super sweet about it. I love this place.
9 months ago quetzali rojas
Friendly atmosphere, quick cut exactly the way I wanted.
7 months ago Ronnie B
I love this place! I alwayys get a great cut annd the girls there are super friendly.
7 months ago Anna
Awesome ???? cut from Julie ???? in King super job....... love it.... love it !!!!!
7 months ago Andrew Grundy
If you go in good looking with thick hair , you'll be good looking after the haircut. If you need a haircut to feel like you look good it's a toss up.
8 months ago Syed Ahsan
It's ok there but they aren't to open if you want something different than your "usual"
7 months ago Ivan Pillot
I came here today sceptical because of the awful reviews left on here. I get my hair cut every 3 months and have tried 9 different salons before coming here. I want to say Hannah is the greatest. She talked to me, listened to what I wanted, made suggestions and did exactly what I asked! This was by far the best experience I have had getting a haircut. I will definitely recommend and be coming back. Thank you so much Hannah for the wonderful experience and new hair!
10 months ago Jerald Hicks
Very quick service ,only waited 10 min, And my hair cut was perfect !
8 months ago Nitin Tate
They do a really good job with my young children and hair cuts. The workers are great, and over all it's a pretty good experience.
8 months ago Ignas Varkala
They've cut my hair, my grandma's hair, and my mom's hair once. We were all satisfied. Staff was friendly and salon was clean.
9 months ago Brad Szczesniak
I went in to get my hair trimmed and thinned out cause i have really thick hair. Well i got uneven layers in both sides of my head and half my hair was 1 1/2 inches shorter on one side when she was done with me. I should have just stayed at just fabulous where i went to get it fixed and was my regular hair dressers. Great clips is about the quantity of people they get coming thru there doors not the quality!
2 months ago Jack Jewell
Stacy was "great". Highly recommended
8 months ago Grazel ABSALON
Really nice and friendly staff and love my new hair cut
10 months ago Annette Huerta
It's great as long as you get Kathy or Georgia!
8 months ago Brenda Ramsey
Always gives great clips.but I was actually at the Discount Tobacco products store next door.
8 months ago Anatoliy Prodan
First time at this location. My son and I walked in without an appointment and were out with in 20 minutes! Staff are very nice!
9 months ago Stephanie Wells
Easily completed the haircut I requested, easy to get the same haircut again as they put in the system what they did
5 months ago Beka Kavtaradze
Georgia is awesome. I request her every time I go
9 months ago
Popular places from the category Hair salon