Fence Outlet
Fence contractor Fence Outlet, 12984 S Tamiami Trail, North Port, FL 34287, United States:
220 reviews
of users and employees, detailed information about the address, opening hours, location on the map, attendance, photos, menus, phone number and a huge amount of other detailed and useful information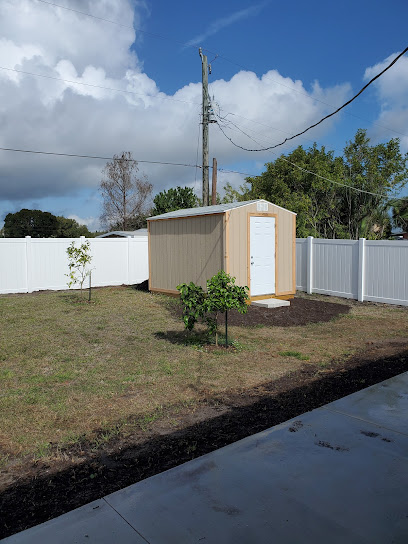 Address:
12984 S Tamiami Trail, North Port, FL 34287, United States
GPS coordinates
Latitude:
27.0458802
Longitude:
-82.2556145
reviews D Kenney
Met Mike Vagedes on short notice and he gave me a great price on site. The fencing quality is top notch. Also good to know they manufacture their own product here in Florida. Will definitely use them in the future.
4 months ago George Clay
I highly recommend Fence Outlet. They installed almost 200' of vinyl fence and a 10' gate in just a day and a half. Fence looks great.
7 months ago Jeffrey Bolognani
Got some vinyl fencing done early June 2021, seems good quality. I will update my review if anything changes. Josh was my point man on this job, gave a really good price and promised a 3 week turn around and he was able to deliver. It was a …
4 months ago Chandrahas Naphade
Thanks fence outlet for a great job with our fence. Fast service and the dogs love their new backyard.
7 months ago Josh Lauer
They were reasonably priced for fencing in our backyard. We love the new fence! They arrived on the day they said they'd be there, removed the old wooden fence, and had the new vinyl fence installed and completed on the same day! I highly …
6 months ago Amanda Taylor
They were great. They showed up when they said they would. They worked with us on correct placement for the fence and were very patient as we discussed several scenarios. It took only about two weeks from estimate to completion. The crew …
5 months ago Sandeep Daniel
The installers where great. They had good attitudes and worked very hard in the very hot sun. Another man come out when I had a question; his attitude was good also. The experience was professional.
5 months ago Wayne Libby
I had called an inquired about pricing for my new build so I could get on the schedule once my home was completed (still waiting and will update my review further at that time) and fence outlet was by far the most responsive and I spoke …
7 months ago Shana Lee
Very professional from beginning to end. Mike was very honest and fair with his pricing. The installation crew was very efficient and courteous. Raked around the fence and cleaned the fence when they finished. Very courteous with my wife, and they worked their butts off. Would recommend to anyone looking to have a fence installed.
8 months ago Tammy Schoettmer
I had my initial visit to get a quote. Butch arrived on time. He was professional and courteous. I really liked the fact that he was able to give me my quote on the spot! Best of all he beat the other two quotes. Cant wait for my new fence to be installed
6 months ago Renee Clark
Noel and the other person that worked on our fence we phenomenal. They were polite and professional. They cleaned after they were finished and made sure there was nothing in our yard that could hurt our dogs. Our fence is beautiful. I highly recommend Fence Outlet and happily gave them 5 stars.
10 months ago Vito Hall
Beautiful fence!!! The workers are great, the complimentary estimate was on spot, and the results are amazing! I am enjoying my privacy. Thank you so much.
6 months ago S
Mike was a great person to work with. I also needed sections removed and put back for a pool. They were very helpful with that. Lester was great and did an awesome job getting my posts back in time.
8 months ago charisse filteau
From the first call for the estimate through final installation, the Fence Outlet staff were phenomenal! Mike, our estimator, was top notch. He knew what he was doing, and brought to light a possible encroachment issue with a neighbor, that …
8 months ago Ms Chell
I had a chain link fence recently installed. Matt and his crew were professional and reflected true teamwork by working together well. The job was completed faster than expected. My dogs are extremely happy. Thank you
10 months ago Celena Johnson
I called Fence Outlet... my salesman Josh was great... he gave me a good price on my vinyl fence. The fence was installed in a timely manner during these COVID times... i have already referred Josh to a friend... I know he'll do good for him too.
10 months ago Jamar Campbell
Excellent job on the install 2 years ago and an even more excellent job on their warranty work this past week on my PVC fence. They came out very quickly to repair a few items, called before they came and was very professional during the process, thank you Fence Outlet
6 months ago iAmLegendanny
I found Kara the inside sale representative very knowledgeable and informative. I am building a custom wood fence and needed parts and fittings to complete the job. I recommend this business. My search ended with success at the Fence Outlet.
10 months ago Sharon Gaines
Matt and his partner Maurice built a fenced in area for my outdoor shower privacy. They did an excellent job, were pleasant, efficient and paid attention to detail. I wouldn't hesitate to call them again for any fencing project.
6 months ago Khanh Mai
You guys did a great job. Very responsive and friendly from the sales person, customer service contact to the install team. It was a smooth and easy process. We love it and couldn't be happier. You came highly recommended from our neighbor and didn't disappoint. Thanks again!
9 months ago Derek Fowler
So happy with our new fence! Josh was fantastic and made the entire process so simple. As an added bonus, fence was installed weeks before expected! Would highly recommend.
9 months ago Beck
Although I had to wait over three weeks to get on their schedule, they were responsive and Lester did the repair in an hour (they replaced one fence section and two posts). Heather was great with scheduling and follow up.
5 months ago Alain Germon
The young lady that took care of me was very nice and informative.
4 months ago Aditya Choudhury
Matt and his team did a great job. Very professional, organized, and friendly. I highly recommend them to anyone in the market for a new fence.
8 months ago Tina Warnock
Staff at front desk was very rude and treated me like a second class citizen because I did not wear a mask. I spent $9K with your company a few years ago and was very happy with your service and product. I will no longer be using fence …
8 months ago Karen Wright
Josh with Fence Outlet came out to give us a free quote on a privacy fence and was very upfront and honest with pricing and job completion date! Very reasonable price and time in which the job will be complete. Very friendly and professional.
8 months ago Scarlett Kleinow
Everything has gone well with my purchase of a vinyl fence for my yard. Josh, my salesman, was helpful and the crew worked quickly and professionally. Definitely recommend!
7 months ago Dave Seamans
LETS TRY THIS AGAIN SHALL WE? Do not use this place. End of discussion. Long, upsetting, and miserable road. Please take every bad review and believe it. Go look at the better business bureau as well. If there is another company you are …
9 months ago Thomas Smalley
Mike and Wes did a great job installing my fence. They called ahead to let me know they were coming. Immediately upon arriving began working. Fence looks great thanks to them. I appreciate their hard work. Jimmy Duggan
9 months ago Kristina Warth
We contacted several companies in our area and found Fence Outlet to provide better quality for the price. We were not disappointed with our choice. Thank you for a great product and excellent customer service.
9 months ago Allegretto
Purchased some very nice vinyl 4ft picket fencing. We did the installation, but it was very easy to put it all together. Looked way more professional than purchasing from home depot or lowes and it cost less as well.
9 months ago mosquitojoyride
Fence Outlet is a very reliable organization. The work is professionally completed. This was our second experience with them and we highly recommend them.
7 months ago ali aabed
Nice selection of fencing here. Customer service was great. They called with the estimates for fencing and installation within an hour. Thank you Kara for your help!
7 months ago Adam Pusey
We had a very good experience with Fence Outlet from the time we visited the showroom all the way through the installation. They have their own installation crew, not a subcontractor. The crew of 3 were courteous, polite, hard working and …
9 months ago Tekno Lojistik
Erika Banegas is such an amazing person by helping us get the best price in town! Highly recommended Great value. Great price! Awesome showroom
9 months ago Alena Deynega
Salesman Mike came to my house , very professional and explained the permit process, took care of everything. Installers came this morning, very friendly and no nonsense. Took them 4 hours to transform my property. I would use them again, in a heartbeat.
7 months ago Amanda K
Mallory with customer service was great! She coordinated with the installers and everything worked out great! Thank you guys!
8 months ago Muhammad Ali
I purchased fencing on my property almost two years ago. I had Fence Outlet install it. Had a great experience and had no problems. Now I am going to put a pool in my back yard and need part of my fence taken down so a backhoe can get in …
1 month ago Travis Vannotesr
Everything went seamlessly throughout the whole job. The company was very professional and easy to work with. The fencing was put in within the timeframe given. I would use them again without hesitation.
9 months ago Spencer Christie
The guys showed up early, work was completed in one day. Very nice and reliable. Happy with the outcome!
8 months ago Thomas Green
We were very happy with the fence but especially happy with the installers. Matt and his assistant were professional, neat and quick. Jennie & Tony
9 months ago KurogamiMG
Free estimate/contract by Josh Pifer, Contractor arranged all permits, etc. Upon approval by Charlotte County, FL, they had a crew out the following Tuesday. I am a retired MCPO - watched those 3 installers work with virtually NO wasted …
10 months ago Kim Rahebi
Please pay close attention to what they tell you before you you decide to put your fence,I ended with a fence with two open access in my backyard!!!! It was pointless to have a fence at this point.too expensive for what I had.
5 months ago Riny HJ
We are happy with our fence and it's installation. There was a digging accident resulting in a water leak in our supply line however, Fence Outlet got a plumber to repair it promptly and at no cost to us. They were easy to contact and very responsive. I would recommend Fence Outlet to anyone interested in vinyl fencing.
11 months ago Dee Farnham
Beautiful fence installed 2 years ago for $5300.00 . A shame company had no Accountability when plumbing issue recently determined pipe was broke when fence installed. I gave full trust in company. Unfortunate corona came about and i never …
8 months ago G Sidera
This was my second time using Fence Outlet and it was another great experience from start to finish. Easy to get an appointment, sales rep showed up on time, and pricing was fair. They looked after all the paperwork, kept me updated …
1 month ago Praveena s
Fence Outlet Salesman Michael Vagedes came out to give me a quote on exteding my fence. He went above and beyond to make sure my gate was fixed. I appreciate Michael for doing that. Thank you so much. Be safe in your travels.
11 months ago Joanie Totani
Fence Outlet was professional from the very first contact. The process was smooth, timely and their work crew was like a well-oiled machine. They even worked with us to beat our previous two quotes from competitors. We have recommended …
1 month ago ASH
We had Mike V. come out and give us estimate and ordered our fence today. He did my neighbors new fence a month ago. It looks great, great quality. He showed up when he said he would and very personable nice guy. I have know doubt our fence will just as great!
2 months ago Kendall Pedersen
Update: I have thought about this update for a while, but we had a couple of issues with the installation team. 1) Our fence was crooked and had to be straightened after we insisted on it. 2) They punched a hole in our rain gutter without …
6 days ago
Popular places from the category Fence contractor