Plato's Closet Winston-Salem
Clothing store Plato's Closet Winston-Salem, 552 Hanes Mall Blvd, Winston-Salem, NC 27103, United States:
83 reviews
of users and employees, detailed information about the address, opening hours, location on the map, attendance, photos, menus, phone number and a huge amount of other detailed and useful information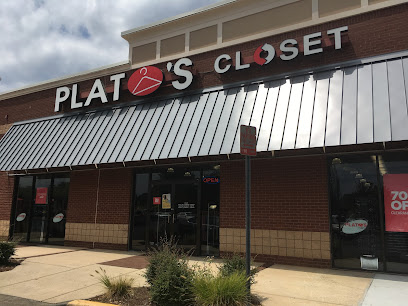 Address:
552 Hanes Mall Blvd, Winston-Salem, NC 27103, United States
GPS coordinates
Latitude:
36.0639705
Longitude:
-80.3025474
Location on the map
Reviews Sandy Bowersock
Went to look for boots, saw boots that were in my opinion, not appropriate for sale; cracked and peeling material, or run down heels, etc. Not the first time I have encountered boots/shoes that I have wondered why are they trying to sell this in this condition? Or I see clothing with stains on them. Again not appropriate for sale. Can find good deals, but generally not big girl friendly.
3 days ago Narda Miller
I find it funny how I went in with a bag of clothes that included brands like American eagle & Tommy Hilfiger IN GOOD CONDITION & they only took a few items and gave me 14 (they took some boots) & some guy next to me was offered 43 dooollaaaarrsss for a couple of clothessss. Not even my friend that brought in a new pair of high top Jordan 1s was offered that much, she was offered FIVE DOLLARS. The people there also always have such a bad attitude like I understand I'm not saying y'all have to have Chick-fil-A service but at least be nice.
10 months ago Kevin Readman
Great selection for great prices.
5 months ago Noor Elastal
The store was very clean and organized. Thanks
9 months ago Carl Mclaughlin
A little more pricey than a regular thrift store where I do most of clothes shopping but staff is usually very helpful and their selection is usually top notch. I like shopping platos
2 days ago evando sousa
Everything's organized and you can find things you need for a great deal and still look somewhat new.
3 weeks ago Lori Weitzell
Good store, good clothes, but this one girl working named Megan gave me bad vibes. she just kept looking at me weird and making me uncomfortable.
11 months ago rachel sockbeson
Honestly i love the place. Even thoigh its second hand items. You can find really good stuff. The staff are not so great because i always wait to get in the dressing room for awhile even though no one is around me. Mever answer my questions on Instagram when i try to order something. People also there dont seem very professional nor friendly.
2 months ago Erma Shack
The staff here have always been rude. I have never been greeted entering this establishment, but the person who comes in behind me does. Every. Single. Time. I have tried to sell name brand items in PERFECT condition and have been turned away, but yet I see them selling articles of clothing that have holes or stains on them. This place needs to hire new staff and offer better training.
4 months ago Glepht
They have good Clothes at a good price that I saw, I have been on two separate occasions both selling clothes. To anyone who has talked about their low ball prices, obviously they are not going to offer you quarter price off the new value. this is a business on selling used clothing. They explain to you when you bring your items in how they price them. And they will not take all your stuff at one time or they would be over loaded with product. From my experience I got decent money for my items I brought in, I just hated their attitude. The customer service is very poor and needs strong improvement. I would look into re-training, or just hiring new management or staff all together.
11 months ago Roger Burgess
Has tons of gently used clothes in all different sizes and styles. A 1 stop shop, you can find clothes for all the seasons, shoes, purses, belts, jewelry, hats and more!! Even has a men's section, but store is mostly filled with women's items!
5 months ago JARED CATES
That was my first time in there today. I will be coming back ????
11 months ago John Bishop
Yeah... don't recommend trying to sell here anything. I went in their with brand clothing (MK, Fila, etc.) and with a whole tote bag of clothing. Out of it they picked out a fila sweatshirt (worn once and basically new) and a penguin sweatshirt with the tag on it showing the original price tag of $70. They offered only $8 for both items. Don't bother trying to sell, they'll try to scam you
4 months ago Sarah B
I had very nice clothes that still had tags and/or never worn. Out of over 50 pieces they chose 3 and paid me $3.25. This place is an absolute joke.
7 months ago Aisha Montgomery
I don't recommend going here for selling clothes they have 0 taste I even bought stuff that they wanted . This store is just a scam I recommend just selling online instead of here . Every time I come into plato's closet they have ugly clothes and wore out clothes also I only gave 2 stars because they girl was nice but other wise don't waste your time shopping here .
2 months ago Spike Jones
The store is very clean, organized and well run. Their items run at better prices than most consignment stores in the city. Their clearance sales, inventory level, and variety of items to buy are huge bonuses. The staff has always been courteous and helpful and their selling system is convenient. I have sold to them twice and always received a surprisingly fair amount in spite of them turning down many of my items (most of which may have even been sold from there and I didn't remember, hence why they wouldn't take it). They'll kindly explain what they're looking for each season and what is the hottest or easiest stuff for them to sell. They take sells up until close, which is incredibly convenient and appointments are not necessary. This is a gem for anyone looking to catch a great deal on trendy clothes or anyone who needs to clean out their closet.
1 month ago Kathryn Mancil
Sometimes I can find nice things here, but this last experience was not good. I had to wear earplugs because the music was so loud and honestly just... not any good, and many items I looked at were a.) in bad condition (holes, dirty, well worn), b.) overpriced (I'm not paying 25 for a pair of well worn, dirty shoes at a used clothing store, idc what the brand is). I read a lot of bad reviews about the customer service. It wasn't terrible, everyone just seemed to be bored and kinda stuck up. I work in customer service, and this is... not a good thing to portray if you want customers to feel welcome or to want to come back, like, at all. I bought a nice pair of shoes for 16$, some pants for 10$, and a dress for 14$. Got home and immediately found out the dress had a huge hole in it. So, a word of advice to Plato's closet. Make your store inviting/welcoming. Greeting customers is not something above you or to roll your eyes at. Check your products more thoroughly. Too many things were in bad condition and priced the exact same as the things in good condition. And please, please, if you can't find a better taste in music, at least turn it down so I don't want to walk out as soon as I walk in. Oh, and they did not ask for my phone number so I could get rewards for my business like usually, but I just left without asking because I was so annoyed Edit: gave the place one last chance. Walked in and walked out when I saw the first few things I looked at were in terrible condition and priced as though they weren't.
7 months ago J Essig
So I've read reviews about this place and never sold before I did however go in there with my bestfriend and she sold clothing. She got a pretty decent amount of cash for a few items she brought in and was content with it. I love their selection of clothing and the prices are good too. I'm surprised a lot of the reviews mention employees being rude , because if anything they're hardworking, and have a lot going on at all times. I felt bad because we came on a Saturday and it was already hectic as it is. We should all be nice/patient to people providing a service no matter what it is. So being said I don't really care what the reviews say, Platos is a good store to be at.
7 months ago Lila Nadelmann
Nice variety of clothes on hand in great condition, but was trying to sell and was asked to bring denim specifically, yet they did not buy any of the denim I took. ???? If you are trying to decide between this store and the (unmentioned) store down the road, definitely choose Plato's Closet. The other store takes over an hour and will barely offer you anything. Plato's has you in and out in 25 minutes.
8 months ago Mike Johnson
Great store with a variety of clothes but the checkout process was super long and annoying. I will still shop here again.
4 months ago Mike Julvezan
Love, love, love this place!!! You can get your kids name brand clothes for cheep. They are used clothes but you can't even tell it. And if you're like me I can't afford to get the name brand stuff but here I can.
9 months ago Cecelia Cook
I love the new location, BUT management plus the workers there are not so nice. I entered the store while on the phone and instead of being greeted, I was yelled at from across the store because I came through the wrong side of the line but it wasn't busy at the moment and its not like i was deliberately cutting in line. I made a honest mistake. I did not mean anything by it. The whole situation was snappy and rude; I had to cut my conversation short cause I felt like they would interrupt my phone call. Not a friendly environment to be on the phone apparently.
7 months ago John Supple
Absolutely awful experience. Every item I brought in to sell (two bags worth) was dismissed because it was "old". In fact most of those clothes were purchased within the last two months, they were outfits I've worn once during the summer and didn't wear again. They didn't even open the second bag as it was still tied the way I tied it. Not shopping here again.
7 months ago Tarunay Roy
Would give this place zero stars if I could. Assistant manager has HORRIBLE attitude. She checked me out a couple days ago, rolled her eyes that I was wanting to check out, yanked the clothes from my hands, throws hangers so loudly my son was scared to death. Her and an employee were chatting rudely about another employee. This girl has the nastiest attitude every time I come in this store and since my last encounter was with her, I will NEVER be back and will warn everyone I know.
3 months ago Eduardo Portas
Love Shopping at Plato's Closet! Everything is always so organized and clean which makes it easier to shop. Its a great way to completely change up your style while keeping a budget. The staff are always friendly and more than happy to help put outfits together. I was able to sell many of my clothes and I turned the money into store credit so I could receive a 25% bonus, I then restocked up on new clothes! You can never go wrong with this store, I highly recommend it!
2 weeks ago turah dodit
Employees have absolutely terrible attitudes, not helpful what so ever and tell me they won't take my brand new clothes. $60 shoes never worn and I was told they would give me $4
7 months ago Randall Norton
Most Plato's Closet stores are hit and miss with their selection and what they will or won't buy. Unfortunately, this particular store continues to get worse over time. The last few times I've been in the staff has seemed stuck up and bored. Not a very friendly shopping environment. They also are not taking time to inspect clothing. Most recently, drop off to pick up of my clothes was 4 minutes. I am not exaggerating...how can someone even start to look at clothes in that amount of time. I don't think I'll be back.
7 months ago Mandy Townsend
THE GAMESTOP OF CLOTHING! Will give you a dollar and resell for $200. This place is a joke. I guess you can find some good things about once a year, but not often. Their men's section is literally a dark corner of the store and they only have sizes for 36 waist and under in most cases. I've also try to sell stuff with them before and they will cheat you out of a lot of money. Once I had a designer messenger bag (I use to work for the company) and they offered me $10 for it. I laughed and decided to list it on ebay and I got $200 for it. The bag was in brand new condition and had all its certificates and such. It was originally sold in store for $498. Just beware they may rip you off. f
5 months ago Igor Volk
We weren't able to find exactly what we were looking for. However, we did find some cute and comfy t-shirts. The sales staff was very friendly. We always have a good experience at Plato's Closet.
9 months ago Stephanie Burt
I would give it no stars if that was an option. I brought in a pair of shoes which run for about 60$ they offered me 4.90. Which 9/10 they would probably turn around and sell it for the original price... this store is a scam ! I would not purchase clothing from this store nor will I every try to sell to them again..
7 months ago Melyis Cabrero
I love Plato's! I took a pretty big bag up there and although they didn't buy much from me the girl who checked me out explained exactly why they didn't take my stuff and gave me a flyer with the styles they wanted and she suggested other items they were wanting. So I will definitely give them another try now that I know! Plus I was able to find a bunch of cute clothes while I waited!
11 months ago TGO
???? Love this place ????????
4 months ago Leslie Bland
Poor customer service and confusing point system!! If your employees don't know how the Five Star system works then the store shouldn't use it. Went in to use a birthday coupon, and was embarrassed when employees couldn't help me. The manager dismissed me and wouldn't even apologize for the inconvenience. The cashier stood there as I tried to figure it out on my own, ended up paying full price...very disappointed. Won't be returning anytime soon!
5 months ago Joey Rivest
The staff are unfriendly. Would not go here again.
7 months ago Cheryl Homersham
Poor customer service. Terrible selection of clothes for men
11 months ago Debbie Schneider
What a joke. I called last weekend and specifically asked if they were buying before I drove 45 minutes. When I got there, they took my bags while I waited. When I went to collect, they told me that they had too much inventory. This from the girl I had spoken to earlier. I WILL NEVER GO THERE AGAIN. I have dealt with this chain for years and have never been treated so rudely.
9 months ago Krystal Craig
A great place for the entire family to shop. Staff is helpful and friendly.
8 months ago Amanda Fransen
The deals are good, but the service is not! All the workers there always seem so unhappy. They never smile and seem miserable.
5 months ago Suzzette Blackmon
Great place to buy and sell your gently used items! They have a great selection of trendy clothing for both men and women. The store is very organized and the staff is extremely professional and helpful! They put up mannikins around the store that are great for inspiration. They buy all seasons all the time which is so convenient. Love shopping here! I haven't shopped at the mall ever since I've discovered Platos closet. Would highly recommend it!
1 month ago Patty cisneros
A lot of great options to choose from. I love this place highly suggest going there.
8 months ago Bill Sanchez
I take 9 big garbage bags in and get $12.58 in cash. Do you think I got took. I think that they seen me coming I rated them a 1but should be a-1
7 months ago Wyatt Marshall
They have great deals on clothing and accessories! There buying policies are the only thing I don't like. Would recommend only for shopping.
9 months ago paddington matz
They closed an hour early. I was coming to pick my my money and clothes that i dropped off and they clearly saw me.
8 months ago Mighty Mug
Folks here are kind, but the music is unbearably loud and extremely inappropriate. I won't bring my kids here for that very reason. They have a nice selection over all, but definitely over prices for used cloths.
10 months ago Christopher Atchison
Rude and unfriendly staff. Took the clothes I had set down next to me and put them all back, then denied doing so (I watched her do it) when I asked if she could help me find what she put back. Made me feel so wrong for even speaking to her. Extremely unhappy experience and I discourage anyone from going here
5 months ago Nimish Salvi
It's not all what it is cracked up to be. I would rather thrift shop at Goodwill. Turned in named brand jeans and all items were dismissed with no valid reason.
9 months ago Suzanne Edington
Customer service is okay. They seem a little upset but I just feel it would make things go a lot smoother if they smiled and were more welcoming. Maybe it was just too early?
9 months ago alberto salinas
The brand and the ppl just always want to seem to make u feel poor or no style what so ever! I love the cheap prices I do. But im not rich so even shopping there is rare. But every time I've tried selling to them over the years its always your things are out dated or not what they want. Like im not 70 and wear bags! This store is just all about brands! Basically if its from Wal-Mart they won't take it. If it's something they wear then yes! Because they can afford labels. So this brand basically personaly makes me feel if if i didn't get it from the mall and it doesn't have a designer name label. Yet the pieces are very well taken care of or in style then my business is no good. I mean I brought in 3 huge bags today. Alot of shoes odds n ends of clothes . a used Michael kors purse. High top zip dress boots. Baby doll heels. And they go for the $1 pair of flip flops but not the Michael kors purse??? I will not be doing business there. Then i leave they give me a guide if i have any of these to bring in. And all have name brand expensive labels If i had that I would It's not i won't do business there because they only bought a few items out of my 100. I got 20 Ok But it how They make u feel LIKE U HAVE NO STYLE UR OUT DATED AND TO CHEAP Ps you ask for denim I bring brand new jeans but you wont tske them because its not the style your looking for...okay!
5 months ago Amesha Dunkins
Very surprised to see so many items with holes and stains. Expected a little higher quality. If items have holes or stains, perhaps price to match?
8 months ago Justin VanNoy
I would give this place zero stars. The staff is very rude and unfriendly. Dont waste your time or money. They took forever on looking over my stuff to sell and i only had one bag. When i got my stuff back they broke my shoe box and didnt bother folding my clothes back up and placing them in my bag. I then had a coupon i received in my email i wanted to use for a purchase that the employee told me i couldnt use because my phone number wasnt in the system for the rewards when clearly it was or i wouldnt have gotten an email. She was very rude and nasty. I will not be going back!
8 months ago
Popular places from the category Clothing store