Krispy Kreme
Donut shop Krispy Kreme, 259 S Stratford Rd, Winston-Salem, NC 27103, United States:
220 reviews
of users and employees, detailed information about the address, opening hours, location on the map, attendance, photos, menus, phone number and a huge amount of other detailed and useful information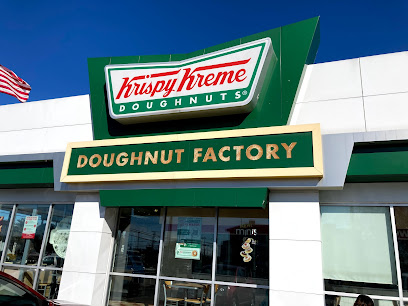 Address:
259 S Stratford Rd, Winston-Salem, NC 27103, United States
GPS coordinates
Latitude:
36.0920300
Longitude:
-80.2805673
Location on the map
Reviews Cody Whorley
World's best doughnuts made even better at the original location. When the "Hot Ones" sign is illuminated, hustle inside.
6 months ago Amy Carolus
This location always has any donuts advertised we tried the island donuts and the plain iced keylime. These donuts were good but not my favorite cream filled chocolate iced. They did have a cappuccino one I liked but it never stayed and they never brought it back either. Sorry to a good thing.
7 months ago Becky Shelton
Excellent service!!! I was hungry for a quick treat and the young at the window was very pleasant and efficient. She told me about the survey on the receipt! Her name was Aniyah, I'll definitely be back. Especially for my free dozen!
7 months ago Snehdeepsinh Borasiya
Wish there was more variety today but what they do have is a good start. Staff was friendly. We always come to this location since they have a variety of fresh doughnuts.
7 months ago Emy Kalmanchey
A very cute and quite area to walk through not much was open sadly maybe covid idk the bridge isn't where I expected but still fun to stroll on. The old buildings are pretty to look at too! Not sure where to park tho
7 months ago Mrs Grown
Who doesn't like doughnuts? I sure love them! I think this is like the Krispy Kreme designated doughnut spot for Winston Salem.
6 months ago Shane DeRossett
Light and fluffy little fat tires!! Quick drive Thur service and convenient location off 421.
7 months ago Joshua Raymond
Love it! The donuts were nice and warm, fresh and delicious. Very nice lady at the drive thru!
6 months ago Laura Doi
Quick friendly service. Hot delicious donuts. I don't go often as I live in another city. But I'm never disappointed
8 months ago Jamie Williams
Still delicious but Duck Donuts are nipping at KK heals.
7 months ago Dylan Johnson
They take a while answering the phone but in person service was good and this time doughnuts were fresh and warm so guess that red light was on
8 months ago Heather Ginger
They were super busy but moved us through drive thru quickly! Very polite employees.
8 months ago Nina Star
Great donuts! Hot and ready!!!! The best ever when they are warm. It was Mars donut day this day. The theme donuts are awesome. No line to wait at all.
10 months ago Daniel Bouzas
Always good, they were extremely busy. But moved the line quickly.
6 months ago ItsStephyy Babyy
Great donuts. Good service.
6 months ago Jeff Moberg
Sad that the hot light wasn't on but still the best doughnuts ever
6 months ago shiwanda crawford
Hott hott hott hott sign is on
7 months ago Jeff Mayer
Haven't had but one complaint about KK in last 63yrs. When they sold out the original building & moved further down Battleground they didn't post an historical marker. Someone slacked off terribly. Other than that I hope angels will have a KK up there ????
7 months ago Shmily Feder
Krispy Kreme is keeping up! I recently planned to bring yummy KK doughnuts to the nursing staff taking care of my mother. On a time constraint and many errands to complete, it was tremendously helpful to order online in advance AND select the time of pick up. Thank you Krispy Kreme!
9 months ago Katie Kopp
Excellent service great customer service and the best donuts hot off the belt love them!!!
7 months ago Michael Rigby
Love this location. Always very friendly, greeted as soon as you walk in the door. Prompt service, clean facility, and of course who doesn't like hot fresh donuts???
10 months ago Bernardo Robles
Very good customer service Reps, clean shop, very good selection of items wheelchair acceptable
8 months ago Nikita Udod
Clean. Nice selection. Fresh. Friendly and very helpful employees. Got my free Birthday Dozen! Plus bought another dozen to give to my son and his family. Who's not ready to eat a fresh doughnut from Kristy Kreme?!?!?
5 months ago James K
Very good Krispy donuts and very good service
6 months ago David Nott
The wait wasn't too long in the drive thru and of course they are delicious. Original glazed was perfectly soft sweet and melty in my mouth..one glazed didn't make it to the office lol
2 weeks ago Martin Lau
Awesome as always fresh and hot right out of the oven
6 months ago Michael Sanchez
Found out 50+ gets a Senior discount whoooo hoooo...lol save enough to buy a donut!!!
8 months ago Jayme Martin
Donuts were delicious. Service, not so good. My son and his friends had coupons. The staff seemed irritated that they were all using a coupon. Poor customer service to teens!
11 months ago Tyson Harris
Good service. Large dozen boxes sometimes bend in the middle.
7 months ago Benjamin Earnhart
The Krispy Kreme Experience (Drive-thru Edition). If you go to this location when the HOT sign is on, you may wait. But when you have their original glazed doughnut, it is like your eating pieces of goodness. Before you know it, you will …
8 months ago Jacqueline Rathke
Hot and fresh and always good! The app helps with coupons and we go everytime we get a coupon it seems.
9 months ago Serge Papillon
Got a dozen donuts. Were really good. 13 dollars. But when you get your receipt you get an offer for free dozen glazee donuts. So thats pretty cool. Customer service was good.
11 months ago David Pair
Really great and friendly service and a cool bonus, you get to watch the donut making process.
9 months ago Monica Garcia
This is the very first Krispy Kreme doughnut shop ever opened. Vernon Rudolph opened this store on July 13, 1937. Now they are all over the world. If you've never had a " Hot N Now " Krispy Kreme doughnut you are missing out on one of the greatest simple pleasures you've ever experienced.
9 months ago qfive
The HOT light was on. Folks here are always very nice !!!
8 months ago Todd Beckman
And since I wore green and it's my birthday I got 2 free!
9 months ago steve fry
The staff is very friendly especially (keisha)! The app is awesome I used it to order this time for the first time, and when I arrived sadly there was no raspberry donuts that I ordered, but I was compensated for the issue. Overall I am satisfied and I will be going back to visit this donut shop.
5 months ago Susan G
Amazing glazed donuts here. I pick them up 3 times a week. It's a neat experience watching the whole donut making machinized process.
2 weeks ago Jim Smith
Don't bother trying to order a latte at this location. Consistently bad. I think they just don't know how to make them or bother to learn. Went in to order inside one night and watched the confused lady making mine mess around with the …
4 months ago Adam McKenzie
Had the Hot-n-Now sign on, but they were not serving hot doughnuts.
8 months ago haydenpontdulac
Better than the Clemmons location, but loses a star for so-so customer service!
8 months ago Lynn Berens
At 6am every morning the hot and fresh light comes on and the doughnuts are amazing then. If you haven't had a hot Krispy Kreme doughnut before you are missing out on one on living your life to the fullest
11 months ago Fahriddin Tursunmurodov
Go when the HOT light is on.I have never met anyone in the world,who doesn't like Krispy kreme doughnuts.if you agree go to Krispy Kreme upon reading this review
9 months ago Ortwin Schmidt
Came here to get my free Mars donut and purchased a dozen as well. Customer service was good and the donuts are delicious.
11 months ago Steve Tomek
Delicious donuts! Quick drive thru service
9 months ago Megan Liechty
Good quick counter service.
6 months ago peter james
Best donuts ever. But no apple fritters until after Valentine's day.
11 months ago Ghenadie Lihonin
We stopped here as part of our planned brief tour of W-S. Such a friendly staff! The lady who helped us might as well have been our aunt! So patient and accommodating as our little ones made their choices!
3 months ago Brad Krause
Krispy Kreme is our favorite donut. The employees were very friendly. We purchased some of their seasonal donuts. The pumpkin cake was the favorite. Their hot light was not on, but the glazed were so fresh and they still melted in your …
4 months ago Damien Vigil
I love Krispy Kreme ????, and the night staff is amazing. Shout out to the manager JP, Aryanna, Will, Fency, Jayden,Jessica, Aniyah. Keep up the good work!
11 months ago
Popular places from the category Donut shop