Inside Out
Gift shop Inside Out, 2819 Williamson Rd, Roanoke, VA 24012, United States:
220 reviews
of users and employees, detailed information about the address, opening hours, location on the map, attendance, photos, menus, phone number and a huge amount of other detailed and useful information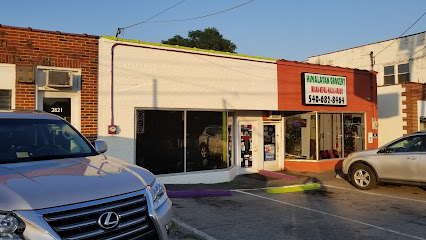 Address:
2819 Williamson Rd, Roanoke, VA 24012, United States
GPS coordinates
Latitude:
37.2975773
Longitude:
-79.9384376
Location on the map
Reviews Candice Marty
My first time visiting the store was June 19, 2021. I was looking to check out the store's selection of products and the overall vibe. Sarah warmly greeted me within a few steps in, and within a short amount of time we were deep in conversation. I must say I was delighted with the store's positive vibe and Sarah's knowledge. I will most definitely be back when I shop for the products that I need. Highly recommended shop for the Roanoke Valley. Gotta love supporting local homegrown shops!
8 months ago Trevor C
Was looking for places in the area that sell incense and perfume oils, and came across this place! The owner was very nice! If you like perfume oils and incense, check this place out! The prices are pretty great as well! I would definitely recommend this place.
4 months ago Nkechi Iloabachie
Greetings, what a great shop. The wife and I, ventured there, and to our fascination, the knowledge of the staff is incomparable! Great service, great quality, outstanding products! For service, I would recommend anyone to go there...especially if interested in speaking to someone knowledgeable about certain aspects, of the new world endeavors.
8 months ago Gabryel Jackson
Came to Inside Out for the first time today and glad I did! Sarah was super helpful and very knowledgeable about Kratom selections, I loved talking to her! I'll definitely be back here
8 months ago Kevin Haralson
The customer service was awesome! The cashier was extremely knowledgeable and help me find what I needed quickly. I will definitely visit this place again.
8 months ago Elaine Flynn
Went in looking for a dugout and a grinder, but had no idea there would be so many options, most of which were quite affordable without sacrificing quality. They also had a great selection of rolling papers and glass pieces. I'll definitely be back!
10 months ago Betty Chavez
I stopped in with little knowledge of what I was doing but I knew (thought I did anyway)what I wanted to do. Sara is the bomb! Not only did I get educated she searched the shop over for what I was looking for, showing me many other options and educated me as she went, I went a completely different direction due to her knowledge of vape products. Thank you Sara for your knowledge you shared and most importantly your patients with me! See you soon.
10 months ago Dave Kelly
Awesome place. Good selection. Super nice staff. I try to hit them up whenever I'm in the area
9 months ago Tylinda Lawrence
Great store! The staff is outstanding! They have a lot of products, with a big selection!
8 months ago Rob Lewis
Sara knew her stuff! (Hope I got the name right..) Great store, nice selection, great service. Good stuff all the way around.
10 months ago stephen shaffer
Extremely friendly and helpful!! Amazing staff! Love the selection and the atmosphere! Will definitely come back! ????
10 months ago Shawn Domer
Really enjoy always shopping at inside out. Staff is always helpful and friendly. Always come here for my smoking needs
10 months ago Pallavi Sood
I love this place! Im here every week and they always make me feel like family.
9 months ago Adrienne Jurewicz
What a great shop. Sarah is fantastic. Great prices, greater service.
11 months ago Daphne Hosinski
Such a wonderful experience here! Sarah was well researched on everything in the shop and made sure we left with exactly what we needed. The quality products, amazing customer service and atmosphere can't be beat.
1 month ago Vallonda Head
Great store with amazing selections of products. Employees are super friendly and knowledgeable of the products. Definitely recommend!!
10 months ago Matt Fleming
Very friendly and helpful. Wonderful shop. Thank you.
8 months ago Marc Christensen
First of all the staff is AMAZING and helpful... I love supporting local business and this is my favorite local business in Roanoke... They have everything, and if they don't have what you're looking for, they'll order it in... wry knowledgeable staff... 100% recommend!!! Thanks you guys!!!
1 month ago Kate Donovan
Love this place so much! Every time I go on, the sales woman is always incredibly friendly and knowledgeable, customer for life!
8 months ago Moses Hidary
Sarah is amazing walked me through and fully explained just about every item in the store. Really appreciate it, awesome experience.
11 months ago Samantha Brooks
Great experience every time I've visited, expertise about items and recommendations are out of this world. 10/10 my first choice (and stop) for the variety and selection of items.
10 months ago jake hovarter
This is the number one place to go for all your self help needs. I've have visited other such shops in South Carolina North Carolina and Clearwater Florida and their is no comparison to this place. If I didn't live in this area I would still make the trip to this place because the products and employees above fantastic. Just saying...
11 months ago Ed Frost
This place is amazing!!! They have everything and the employees are great! Def recommend this shop!! ❤️
10 months ago Robert Blade
The woman I spoke to was AMAZING! My experience was amazing and I can't wait to spend more money there!
11 months ago sivakumar komirishetty
I have been coming to Inside out for over a year. Sarah is the reason I continue to come back. She is honest, intelligent and very knowledgeable. Her attitude is always eager and friendly. I wish their were more like her. I do not comment on social media but great service should be recognized. She is the best !!!
9 months ago Audrea Allen
QUALITY is the gem of Inside Out. I can count on products to be genuine without a jacked-up price. And the selection is phenomenal! QUALITY in it's heart, Inside Out makes me feel like I'm part of an awesome community. The caliber of this shop is top-notch and reminds me that my counter-culture is not defined as the world sees us, but is special, unique, classy and legit.
4 months ago Ahmed Mohamud
Absolutely fantastic!!! The people are always so friendly and helpful, and they have an incredible array of products!!!
10 months ago Atikur Rahman
Love this place! Best kratom selection in town, and a wide variety of everything else. Staff are very personable
1 month ago Tom Rowell
I was treated with the utmost respect and kindness! I was helped by a young lady named Sarah. She made me feel like she truly wanted to help me. She listened to what I had to say and helped me find everything I needed. She was very educated on the products and even wrote down some websites where I could learn more. Sarah is definitely an asset to this store and her boss should be proud to know what an amazing employee he has! I will definitely be back often and can't reiterate enough how impressed I was with my experience. Thank you Sarah and thank you Inside Out for hiring such amazing people to represent your business!
4 months ago Devin Ornelas
I have been coming to inside out for a few years now. I highly recommend Inside out for all of your head shop needs. They are my favorite shop in Roanoke. Sarah is very helpful!! The owner is also a very kind person.
4 months ago Lesya Dryn
I visited Inside Out for the first time yesterday, and was really impressed! As soon as I walked in I was greeted. The store is clean, laid out very well, and is stocked with a lot of really nice merchandise. Sarah was working when I visited and she was really great. I was mostly browsing at the time, but she still took the time to offer advice and help with all of my questions. I will definitely be going back. As a matter of fact Inside Out is now my first choice of all the local shops. Highly recommended!
8 months ago Candace L
This place came up on google as a gift shop, so I stopped by to get some incense because that is what was displayed on their website. When I got there I was hassled immediately about if I had an id card and if I was over 21 very rudely. I then said you can look at it but I prefer to not let you hold it. She got an attitude and was still persistent about me handing it to her even during the social distance measures we are to use for safety at these times. Then she starts hollering about me not pulling it out because it could be fake. Then from there I couldn't understand the rest of what she was hollering. But long story short, this is not a gift shop at all, as listed on google. Also I wasn't even going to purchase any tobacco at all. She seem to be going through something personal and kept referring to her manager making these crazy guidelines. Hopefully the owner accepts business and at least isn't as rude about things as his or her employees. So have your id ready or get screamed at.
3 months ago mike viens
This place is unbelievable! Everyone should experience Inside Out. . High quality doesn't come with a big price tag here. And with every purchase you get a chance in a monthly gift card drawing. I'm impressed with all aspects and will be back. Frequently.
4 months ago Mohammad Hasan
Best spot for all your tobacco needs in Roanoke. We will definitely be coming back for more.
1 month ago Anna Bowman
Great shop! All questions were answered and would definitely recommend to anyone in the area
1 month ago Chris Mccoy
Really great place, have alot of AMAZING glass selections. Also very helpful and informative staff.
2 months ago Lea
Great place to buy a bong! Sarah was knowledgeable in the products and helped me with my selection. Thanks! Joan
3 months ago Richard Luebbert
Sarah was extremely helpful definitely cashed out!
11 months ago Khoi Le
The woman is so sweet and helpful great place
11 months ago Shamar Gibbons
I love this place. They always have in stock what I'm looking for. The employees are very helpful and knowledgeable, and I love going in and just talking to Sarah. She's so smart and friendly. Only place I got for Kratom.
4 months ago Rob Lewis
They have the best selection of incense to choose from!
11 months ago j bedoya
I've been a customer for several years now. The staff has always been friendly and professional. I really appreciate Sarah's eagerness to receive feedback on their products to ensure top quality.
3 months ago Mike Wood
Awesome products and really good prices.
9 months ago Shelly Cohen
We stopped in to look for something specific and we were very impressed with what we found! The staff is so nice and helpful. The selection is out of this world!!
7 months ago Peter Hicks
Inside Out remains my favorite place to shop. I love the selection, atmosphere, quality, and customer service-the whole experience is awesome every time I go. Knowledgeable, friendly staff and sense of community is unmatched.
5 months ago Tiffany Oda
Great time shopping with Sara. She seems to know her stuff and was extremely helpful and patient with us. Have always had a good experience here.
6 months ago Kevin Kloepfer
Inside Out is a prime example of what a business should be, not only within its counter-culture industry, but in the entire scope of retail sales. Their ethical practices, unmatched customer service, vast product selection (all authentic, no "knock-offs" or "synthetics") are unwavering and represents a higher standard in all things.
3 months ago Chris Moss
Friendly, knowledgeable staff. Great selection of kratom and glass pieces. This place has a really cool vibe.
4 months ago Dorothy Cote
Great place an the nicest people always ready an willing to help an very good supply of kratom an Cbd plus more !!!....
2 months ago Haylee Denise
I love this place. Customer service is excellent and all of their products are primo! I didnt know they existed as their shop can be a bit obscure if you dont pay attention to their sign near the street( I can be a bit unobservant lol).I was going to another in the area that shall remain nameless but their selections and quality were not nearly as good. If you want a great shop that has friendly and helpful customer service with great selections and prices, this is the place for you!
2 months ago
Popular places from the category Gift shop