North Bay Cadillac
Cadillac dealer North Bay Cadillac, 720 Northern Blvd, Great Neck, NY 11021, United States:
220 reviews
of users and employees, detailed information about the address, opening hours, location on the map, attendance, photos, menus, phone number and a huge amount of other detailed and useful information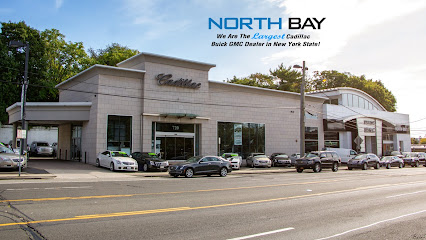 Address:
720 Northern Blvd, Great Neck, NY 11021, United States
Website:
northbaycadillac.com
GPS coordinates
Latitude:
40.7827610
Longitude:
-73.7144453
Location on the map
Reviews Infinity Love
I recently leased a vehicle from North Bay Cadillac and had the best experience. Joey was exceptional, he was friendly, kind, and cared for his customer. I felt welcomed and catered to during the whole process. North Bay Cadillac is the best dealer in town. Great customer service.
2 months ago Sasha M
The experience my husband and I had at North Bay Cadillac was superb. Dan Cunningham was amazing and is extremely knowledgeable all around! Dan made our purchase very easy…North Bay Cadillac is quite far from where we live, but well worth the trip…I highly recommend Dan Cunningham and North Bay!
4 months ago Joachim Rod
We had an excellent experience at the North Bay Cadillac Dealer. Gene, from the sales and John Campanelli, the sales manager, were very attentive on helping us on the purchase of our car. Jennifer, from the service department and all the …
4 months ago Kartika Sari
John Tehrani was the best salesman I have encountered. FIVE 5 STARS are not enough. I give him TEN 10 STARS. We also had the best experience with the Finance Manager Joanna Chang. I Highly recommend this dealership.
4 months ago Jay Jacobs
This place and these guys are awesome!! I read the reviews prior to calling and one stood out particularly about Alfonso (Carlino) Sales Consultant. I decided to call Alfonso. I was in search of a specific (CPO) Escalade ESV which they …
6 months ago Jacob Kenney
They have a good selection of inventory, and they try to find a car that you are interested from other locations if they don't have it in heir own inventory
4 months ago Michelle Hatcher
Thank you Mitch Goldstein! Mitch and the entire staff were very friendly and attentive. My vehicle was ready and delivered same day! Great experience all around. Thank you.
4 months ago Ann Peterson
Thank you John Tehrani! We appreciate your personal attention and time you took to assisting us in finding the right car for us. We also want to thank you for explaining all of the functions and operations of our beautiful new CT5! John …
5 months ago April Wagner
Executive Summary: Sales Rep- LAURA SODANO is the most professional, efficient and honest auto sales representative in all my experiences. With little free time and even less tolerance for deceptive sales practices, I extremely dislike …
4 months ago Linkye West
Gene is a wizard! Easy to chat, easy digital communication, easy and QUICK delivery. He understood the challenges of multiple signers in multiple states and made the process EASY. Getting a Caddy? Go see Gene @North Bay
5 months ago petro humaun
Wonderful service. It was a pleasant environment to be there with my family. I really appreciate Mr. Armando for his professional & positive attitude....
6 months ago Freddy Rodriguez
A great experience! Alfonso, Chris and Peter at North Bay Pre-Owned made my purchase smooth and hassle free! Great to experience an unhurried and unpressured sale. Thank you for all your help guys!
6 months ago Diana B
COVID has changed the car buying experience, but North Bay made the process seamless. Laura could not have been nicer, or more efficient. She took paperwork electronically, was both pleasant and patient in explaining how everything …
9 months ago carol elam
I was referred to Dan Cunningham from a friend and he was great from start to finish . Thanks Dan for helping me find the perfect truck! .
5 months ago Ethan
Dan Cunningham made the leasing process easy. He was honest and I got a great car! Dan took his time showing me all the car features and I left North Bay paying the price I was quoted. First time ever that a car dealer didn't try the bait and switch. Thank you, Dan! It was a pleasure.
11 months ago CK B
Had a wonderful experience with Joey at North Bay Cadillac. He was thorough, responsive even outside of his work day and delivered the car to us. Thank you Joey. We love our new SUV!
8 months ago Kathy Carse
My wife and I had a wonderful experience with North Bay Cadillac. Our Sales Associate Laura Sadano was the best of the best. She made everything so comfortable and easy.
6 months ago Cliff Johnson
An overall pleasurable sales experience. No high pressure tactics or 'games' played. Worked with me throughout the process offering me the best pricing possible. It was quite refreshing to find a dealer like this.
8 hours ago Elizabeth Thompson
John Tehrani was great. Did the whole purchase over the phone, he delivered my car totally setup. Signed a few papers. Zero hassle. Incredible experience
7 months ago Marc Dougherty
I just left the lot with my new Escalade. Laura, John and Joanna made the entire process easy, accommodating and transparent. Anyone in the market for a Cadillac- this the team you want to work with!!
6 months ago Bryan Rice
Dan Cunningham made my recent purchase of a2021 Cadillac Escalade ESV the best car buying experience I have had in my over 50 years. In this extremely tough time for SUVs he made my Escalade purchase absolutely effortless, listened exactly …
6 months ago Thomas Kenney
Great sales team and quality cars. Liz in BDC is amazing along with Gene and the gm. Thanks for hooking me up!
9 months ago Heather Anderson
Shopped from Nj to to NY Laura was the best at Northbay Cadillac, see Laura .
5 months ago Angela Carsley
I bought a car with my fiancé last month and had a great experience: Experience - We were greeted at the door by the manager who asked what we were looking for and I mentioned a basic model car for the 2 of us. We were quickly referred to …
5 months ago William Crawford
Great service, found my wife's color choice when no one else could. Ask for Laura S. if you visit them.
5 months ago Robert Tillman
I go to North Bay for convenience probably my 4th time there with 2 escalades, but this last time, was told one price, but ended up being charged another price. It is a insignificant amount, but the precedent saying one price, and charging …
7 months ago Amal Kithsiri
Laura Sodano, who helped us process our lease and turn in our last car, was terrific. She was so thorough and responsive. We were able to complete most of the paperwork remotely (because of Covid and a snowstorm) and had our new car ready to be picked up in just a couple of days. Great experience overall.
9 months ago Iana Zhovnovska
Just want to say that we just picked up our Brand new XT4 and finally met Laura (our sales rep) She was very professional and she went beyond her reach to help us. Very Lovely place and would recommend to anyone looking for a new Cadillac
6 months ago Jennifer Upegui
I have been dealing with North Bay for a number of years and have acquired both Cadillac and Buick models. I continue to buy GM vehicles because of the quality and value. I continue to buy from North Bay because of the professional service …
2 months ago David Paige
Great service , love the customer service and the sales team is fantastic...I truly recommend it to everyone
5 months ago Keri Hardage
Wonderful to work with. I was buying my daughter her first car, and he was a pleasure to work with and I will definitely go back to him to buy my other 2 kids their cars. Not only did he explain everything in detail, he did not pressure me …
2 months ago MINNIE JIMERSON
Spoke with John Campanelli all explained and was a pleasure would recommended dealing with John in the future
6 months ago maru rvr
Nice people to work with best deal, best price
5 months ago Steve Shield
Good service. They are friendly and kind. Explanations are very reasonable and acceptible. Also they accept my request if it is reasonable. Overall we are satisied their service even there was a little bit delay. Great customer service.
8 months ago Helen Kedigh
Laura S was amazing delivered exactly as promised. Thank you so much. Call her for anything you may need!
10 months ago Eric Roy
My mother recently purchased a Buick Regal from North Bay Cadillac and she is absolutely thrilled with the service and the car. She usually dreads looking for cars because of how pushy and dishonest car salesmen tend to be, but it was NOT …
1 month ago Hernan Salgado
Laura Sodano was amazing to deal with from start to finish. She went above and beyond to get us the car we wanted (XT4 Sport) to the exact specifications. She kept us regularly abreast of the cars production, ensuring the car arrived timely …
1 month ago Jeremy Pinkham
This was by far the easiest and most enjoyable process of buying a car. This was truly a hassle free Car buying process. I was in and out within an hour and The staff could not be any more accommodating. Highly highly recommend
6 months ago Taha Ekinci
I recently bought a XT4 from North Bay. Laura Sodano was my salesperson and was absolutely fantastic!! I highly recommend you ask for her when you go there. She's excellent and so informative. I had a great experience getting a new car!!
10 months ago Pam Carvalho
Leasing experience was efficient and painless. Gene Sotirios was a very helpful.
7 months ago Patty Cochran
First time buying a car and I couldn't of had a better experience! Every employee was very helpful and informative. All my questions and concerns were answered and explained to me thoroughly! I had such a fantastic experience I am coming back here with my parents to get them a new car too!!
2 months ago Ruby Riggs
I wish I discovered this dealership sooner! My Sales Consultant, Eugene Sotirios, was straightforward, helpful, and pleasant from start to finish. He put considerable effort into making the lease terms favorable which led to a successful …
3 weeks ago chris gottfried
In October 2018 I purchased a Cadillac XT4 from John Campanelli. He was very knowledgeable about helping me pick out the right car. Since I had to trade in my car for another car I was entitled to a refund for the unused warranties. When …
3 months ago Shiva Bongu
Salesman Joey Yadgar was very easy to work with and provided great communication. He worked around my schedule and got me in and out with no surprises. Thanks Joey!
2 months ago JP Keyser
Laura S. Made a very enjoyable purchase even easier. I first went to Sun Gmc dealer in wantagh and the owner was very arrogant so I left and went to North Bay. No hidden tricks and all the staff were very helpful. Great car buying experience and best price I could find on the car I recently purchased. Thank you again.
3 months ago Hallie Glancy
Impossible to get in touch with salespeople. They do not return phone calls. No follow ups.
8 months ago Valara Keesey
I had the pleasure of working with John Campanelli and Jack Weidinger on leasing of a 2020 XT5. John made the process simple, east & fast with NO B.S.. I called them after speaking to other dealerships this past Monday. They gave me the …
4 months ago Albert Mak
Just picked up our car at North Bay. Laura Sodano was so friendly and thorough. She got us the hard to find car we were looking for! Everything went smoothly. Had a great experience.
2 weeks ago Rodger Eagle
Absolutely superb experience with North Bay Cadillac. From John the manager, to our salesperson Gene and Ashley in Finance. All were phenomenal and made the whole experience effortless and enjoyable. Highly, highly recommend this dealership.
4 months ago Willam Field
Laura Sodano is an amazing representative of your dealership. She was very patient and committed throughout the process in us finding the right vehicle for our family. John Campanelli also was a big help in securing the right product. This is the second time we have purchased from this dealership, and won't be the last.
11 months ago
Popular places from the category Cadillac dealer