Frank's Tire
Tire shop Frank's Tire, 3890 Boston Rd, Bronx, NY 10475, United States:
46 reviews
of users and employees, detailed information about the address, opening hours, location on the map, attendance, photos, menus, phone number and a huge amount of other detailed and useful information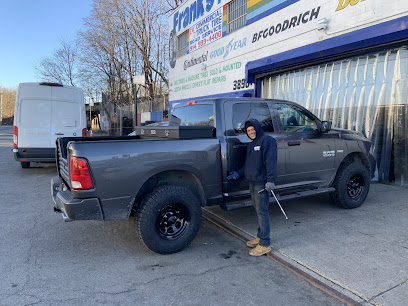 Address:
3890 Boston Rd, Bronx, NY 10475, United States
Website:
frankstirebronx.com
GPS coordinates
Latitude:
40.8830963
Longitude:
-73.8351494
Location on the map
Reviews Porter
The best service you can ever get when it comes to getting your tires fixed replace and good on the prices
5 months ago Jason Rock
Go get your tires rotated
2 months ago Nora Rentschler
I just need a nail taking out and they said l Need a tire because I was driving on tread.
4 months ago Stephen Esposito
The owner and his workers were very professional nice to me. I need my tire fix right before their closing and they took the time to help me. Thnks guys
10 months ago tatu lappalainen
awesome service, great prices. very friendly environment
1 month ago christopher potter
Dave and the staff was good people and help me get ba on the road
5 months ago Olga Kalnickaya
Awesome work! Best around
3 weeks ago Rhonda Brown
I bent my rim on a pot hole (more like a warp hole) and they were able to fix it! Others pitch a new rim. They were open and honest and the prices are great. Oh did I forget to mention, they were able to save my tire too! I was so happy I didn't have to buy a new tire. Also their team is very professional and courtesy. They answered all my questions. I will definitely be back for sure! Thank you!
6 months ago Bridget Coolick
Very honest and quick service. Blew front tire of my f 450 in mount vernon. They installed a new tire on my truck on road and they were there in 15 minutes to help. You guys are awesome. ????????
10 months ago tasha oldina
I have never been so happy at a tire shop this is the best tire shop in town in the city and maybe the state. It took 15 min and 20 bucks to get a tire fixed here as opposed to the Costco next to me which took 3 hrs and didn't get my tire fixed.I have always gone to a shop that used to be in my town (independent tire) and apparently they moved here. I love these people. I love this shop. Get tires here get repairs here this is the place it's the best service it's the best quality. The people are friendly service is the best. Just go here try it. You will be thankful you did
10 months ago Laconya George
These guys are crooks. I used to use Frank's tire for years. Until I finally caught on that these guys are thieves. I only used to use them if my truck tires needed a patch. For that and only that, they're good. But as soon as I started buying tires from them, they screwed me every time. They sold me Blems ( stands for blemished) as if they were regular tires. Because I noticed dents in the sidewalls and investigated it. They also would sell me cheaper speed ratings for my car (told me it was a z rated tire when they sold me an h rated tire) and charged me for the z rated tires. It's a huge difference in price. Over $100 per tire. I'd never ever go there again.
6 months ago Trisha Sewall
Friendly service, helpful and courteous. Fair prices. Jake and Dave know their business.
7 months ago Ramagopal Poduval
The service here was extremely professional and kind. Hard to find that type of service nowadays. My new totes are great, I will be recommending.
4 months ago Jill Halkin
Great service, affordable prices and friendly employees.
5 months ago Joe Petrakovich
Very professional excellent service
5 months ago Jillian Canarr
Very customer centered. Efficient, professional, reasonable, courteous without being phony. A refreshing experience. Five stars!!!!!
4 months ago Travis Bart
Quick and efficient.
8 months ago Justin Lavigne
The best
5 months ago Tammy Tranten
They do very good work. You don't have to wait long. Very good prices on tires
9 months ago abood inaya
Frank's Tire is always wonderful. They are the best. 5Star
4 months ago MJI
Very professional , and fair prices with quality
8 months ago Cal Brooks
Service is horrible. Waited 40 minutes just to check tires. Only thing good is the hours of operation open 24 hours
7 months ago Mona Gentry
Frank's tire is a good place for new & tire repair staff are friendly
9 months ago Kristen Rose
They provided me with great, honest, and quick service. I will definitely be going back.
4 months ago Charlie Wright
Great prices and great products Employee are very nice and quick
4 months ago Susan Shoemaker
The Bronx best in sales of all kinds of New tires for most motor vehicle, and the services are very good.
4 months ago Monin Toronja
The best tire shop period, I recommend this shop to everyone I know. Best prices also.
10 months ago Seth Somerville
Called these guys for drive tires for my husbands Peterbuilt, 8 tires on the truck in 45 min!!!! Volume prices, proffesional treatment and inventory of truck tires out the door! We'll be back.
4 months ago alimi eyitayo
These guys are like a nascar pit crew.....fast...and good prices...dont forget to tipp em...
11 months ago Dennis Fricke
It's a good place to make a bad flat go away.... flare tire repairs are quick and inexpensive.
10 months ago Nick Howard
Great people to deal with. Only place i bring my business to.
4 months ago Sean Terkildsen
Good service and prices.
10 months ago Joseph Heath
Fast service and a good price. Very professional.
10 months ago RACHAEL KEREKES
Good service and friendly
6 months ago Stephen Parish
Very quick. 18$ patch job.
4 months ago wyatt fedora
Great Service
4 months ago Tina Dunham
Excellent Service
7 months ago Jeezy Gillazinoo
Quick and efficient
4 months ago Bunny Carey
Excellent service and prices
8 months ago Laura Dunn
Good..nice service
10 months ago Kortney J
I have been going there for service for almost 40 years only if I had an emergency far away would I go to anyone else
8 months ago tyqueshajenkins
Great service
1 month ago Eric Pratch
Fast and affordable .
11 months ago Zane
The "Bomb" for over 38 years in the Bronx, my same Italian Friend !!
4 months ago lakkana manditha
Great services
4 months ago Divers Divers
Great price and service.
4 months ago
Popular places from the category Tire shop