Sunrise Fence, LLC
Fence contractor Sunrise Fence, LLC, 921 Airport Rd, Monroe, NC 28110, United States:
220 reviews
of users and employees, detailed information about the address, opening hours, location on the map, attendance, photos, menus, phone number and a huge amount of other detailed and useful information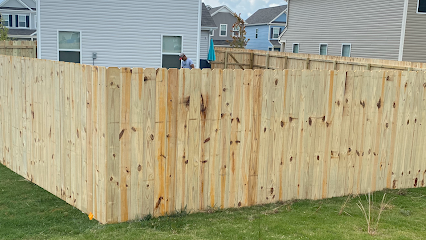 Address:
921 Airport Rd, Monroe, NC 28110, United States
GPS coordinates
Latitude:
35.0120588
Longitude:
-80.6338233
reviews Roberto Fonseca
My experience with Sunrise Fence was amazing. Their crew was professional and did quality work quickly. My family owned a fence contracting business, and I grew up building fences myself. I've never seen such an efficient crew, who also show attention to detail. Now, I have a beautiful, secure backyard for my two dogs. All that is left is landscaping and staining the fence in a few months. Thanks for a great, quality build at a reasonable price.
3 months ago Mary Smith
We LOVE our new fence! It has put my mind at ease having a safe and secluded haven for my kids to play outside. Sunrise Fence was professional, helpful, and efficient! The workers were done in 2 days! I was so impressed with how quickly they finished our large yard. They even catered to a last-minute change request with no problems by doing a 3-board fence along our back line. Great communication with us. A fantastic price. Thank you!
3 months ago Amy Hall
Sunrise completed our fence for us and we couldn't be happier. We had and old privacy fence up that had seen better days. Our new fence looks great and we have enjoyed having 2 gates. The contractors did great was here early and finished early the 2nd day. They also left no mess at all! I would highly recommend. Sunrise is also offer very good pricing. If you are looking to get a fence done call them. They were good from the estimate to the project completion. Thanks so much for our new fence!
3 months ago Lily Ameling
I am beyond excited about my new fence from Sunrise Fence! They were by far the best value around, I received several quotes. Everyone from their office staff to the estimator to the installers were great to work with and I felt valued. Also, my dogs are excited now that they can run around their big backyard!
3 months ago Robert Bryan
We absolutely loved this company. They were extremely responsive, best priced and great finish. They provided great customer service and answered all our questions. Our fence looks great and we are so thankful to finally have some privacy in our backyard!
3 months ago william basye
Installation was delayed and communication was poor throughout the process in terms of addressing issues and setting expectations. Job was left incomplete without communication on why or next steps. Also discovered internet cable was cut during installation which was a significant inconvenience that I had to resolve! I was charged for a complete job though and it's still not done (missing another piece after the replacement gate was delivered)! I called and left messages to speak to a manager and never received a return call or email. Very poor experience as I continue to wait for resolution after several months.
3 months ago Otis Hoof
The Sunrise team did a very professional job & was very thorough. I took 4 bids and this company was the most professional by far. All the bids came in very close, so the decision was based on service not just only by the price. Luis & crew came out & did a very very nice job on the fence. Needed a little tweaking to make sure my Yorkie could not get out under the new gates. The guy did an outstanding job to make corrections to make sure I was fully satisfied before leaving. I would recommend the Sunrise Fence to anyone!
3 months ago alexia kelly
The folks at Sunrise Fence aren't just fence and gate experts, they've got customer service nailed. William, who I spoke with first, was knowledgeable and helpful. Jose, who managed the project, couldn't have been more professional, quick to respond, and easy to work with. And Manuel, who was the builder, did exceptional, detailed, high quality work. I'm thrilled with the outcome! I'll call Sunrise Fence Company for my next fence and gate job—and you should too!
3 months ago Ronald Hagen
Install crew was awesome. Started and finished on time just like they said. I highly recommend Sunrise Fence. Can't be their pricing.
3 months ago bo schrewe
I would recommend sunrise fence to anyone for your fencing needs. This company was very professional, punctual, informative and just all out great people. I'm so pleased with their work and really enjoying my fence every day. I also like that they check in every once in a while to see how things are going with the fence and if there are any other services you may need. I recommend sunrise fence to anyone.
3 months ago Vagando PorElMundo
Great work Sunrise Fence! Job well done. The fence was done in just one day and the installers worked very hard and well on the project. They had a few challenges that came up but handled it very well. We are beyond pleased with the finished outcome, it looks great. Our neighbors have come by and also provided some compliments on the work too. If anyone needs a fence in the Charlotte market, I would highly recommend Sunrise Fence, they did a great job.
3 months ago J Massey
What a great experience with sunrise fence. The moment we decided to go with them they was on it. Gave us a install date but had to push it up because of rain. The people that put the gate up was so nice and answered a lot of questions we had about caring for the fence. Very nice colored natural fence. Plans is to keep the natural wood look. Thank you again .
3 months ago Lila Roberts
I was really pleased with how my fence came out.. level of work and details put into the fence was fantastic. We hired them to design and construct our backyard fence, which was falling down and leaning into my neighbors yard. They came out right away and were extremely knowledgeable and answered all our questions. We knew we were in good hands from start to finish, and most of all we love our new wood fence. We would recommend Sunrise Fence to anyone looking to add a fence to their home. They are quick, easy and affordable! Thanks again guys!
8 months ago super tuang
My experience with Sunrise has been exceptional. From the day they came out to estimate the work, during install, to yesterday when they completed the sealant. I highly recommend their service.
3 months ago Aaron Baidel
I used Sunrise Fence to install a split rail fence in our back yard about a month ago. The quality, price, professionalism and response time were outstanding. The two gentleman that installed the fence were courteous, skilled and there was no trace of anything left behind. .
3 months ago Juan Ruiz
We had a wonderful experience with Sunrise Fence. Manuel and his partner knocked out our 310 feet of 6ft dog ear wooden privacy fence in only two days. They were on time and professional. While contacting different fencing companies, the reason we chose Sunrise is how quickly they were able to get us an estimate. They were able to look at my emailed land survey and provide me with a same day email estimate while other companies needed to schedule an on-site estimate 3-5 weeks later. This alone enabled an install date a month earlier than the other fence companies. We could not be happier with how it turned out. We have already recommended Sunrise to friends and family. 5-stars!
3 months ago art hazell
We are very pleased with our new fence installed by Sunrise Fence! From quoting to installation, a very professional experience. I would (and have) recommend these folks to anyone needing fencing services!
3 months ago Directory Websites
Sunrise did a complete wood fence in my backyard, and did aluminum fencing as well. They were super professional and such nice people to work with! The quality of the work was terrific, they were on time. Outstanding communication which is really important to me. Can't recommend them highly enough.
3 months ago Justin Mohr
We are so happy with our new wooden privacy fence. I am so happy that we found Sunrise to do our wooden fence. We would highly recommend everyone to use this company. The results are beautiful! Jose and his crew completed a 222 square foot fence in just two days. The crew were on time ,professional and they all worked very hard to make us happy . They explained everything and answered all of our questions before they started! Thank you and in the future, they will be the ones we will be contacting for all of our future projects!!
5 months ago Bogdan Bondarenko
Sunrise was the most affordable of the quotes we received to install an aluminum fence, and were by far the most professional. The customer service team was quick to respond to any questions and kept regular communication. The installation was done on schedule and finished same day. I have already recommended numerous people to use Sunrise for their fence installation and will continue to do so.
3 months ago Bre Banks
I can't say enough good things about Sunrise Fence! When we needed a wooden privacy fence across the backyard I saw rave reviews on Nextdoor for Sunrise Fence so I emailed them. I got an immediate (and enthusiastic) response which impressed me. The estimator who came out was knowledgeable and had lots of advice. When I wanted to tweak the plans it took one quick phone call. The installers were punctual, polite and skilled. They even cut a notch in a slat for a branch to go through rather than cutting off the branch! I plan to have them construct and install new driveway gates soon. Great company.
3 months ago Kayla Alise
The company was great and got a very nice 6' wooden privacy fence up in about 6 hours 1 week ahead of schedule! I wish I could give a 4.9 star instead of just 5 or 4 - the only problem was they almost placed some posts in the wrong spot . As soon as I mentioned it though, they double-checked the plans and promptly relocated the post hole with their apologies. We all make mistakes! :) Have recommended Sunrise to my neighbors as well.
3 months ago Lu Divine
Sunrise fence came out, removed the back run of our fence and extended our fence to the back of our property line. Punctual, professional, good value and great customer service.
3 months ago Mark Pine
We are very happy with our new fence and the service we received. The office was very responsive, the employees professional and courteous, making the whole process from estimation to installation pleasant and easy. Highly recommend! ????
7 months ago Chris Hawk
Sunrise Fence is my only go to for fencing needs! This is my second fence installed by them. Its quick, affordable and they got it done in ONE DAY! They are so efficient. The fence looks amazing.
3 months ago Sd Wis
We had their somewhat new style fence installed on our home. It is called top cap picket. My surrounding neighbors and I love the fence and were surprised how quickly Sunrise's crew was able to do such great quality work. We would highly recommend their service!
3 months ago brandi pasternack
We had an 8 foot privacy fence with a top cap installed in our backyard. They did a fantastic job. They have been so responsive and organized from the get go and always email me back right away. Two days before fence install was scheduled we decided to add 60 more feet of fencing, and they quickly reworked their schedule, and made it happen for us even earlier than planned with no issues. They were a pleasure to work with. We are in the middle of some construction on our property and this fence company has been the most responsive, kind, and easy to work with out of everyone so far. Highly recommend.
7 months ago Louis Hartman
My experience with this company was exceptional. Not only did they do a great and efficient job, but they were very professional and thorough. I wanted a very specific style fence and they went above and beyond to obtain that for me. It required a great deal of research, material shopping and planning. I would highly recommend Sunrise Fencing for all of your fencing needs.
6 months ago David Huffstutler
Very responsive, professional and competitively priced! The fence looks beautiful and I still have an amazing view in my backyard due to the picket-style fence across the back. Luis went over and above to help me through the process instead on phone. Much appreciated! The installers were all friendly, professional and efficient
8 months ago Johnny Forgey
I am so happy with my incredibly beautiful fence. I wanted a privacy fence for functional purposes: privacy (obviously) and to keep my dog in, but now my fence is also an attractive addition to my yard. I've never actually had a fence built before, but I've seen plenty of fences. Jose is wonderful to work with. He is very friendly, knowledgeable about his work, ready to offer suggestions, great with communication (And friendly), and responsive to feedback during the work.
5 months ago Eric Godwin
We were thoroughly impressed with our fence project. Sunrise fencing removed an existing fence and installed a new PVC fence for us and from the beginning they were punctual, communicative, and professional. William even came out on a Sunday to give us our initial quote. They paid attention to detail and the job went smoothly. We highly recommend Sunrise fencing, they exceeded our expectations and we will be using their services again. Thank you!
6 months ago Noelle Kaliloa
We were quoted a date of install and they installed it 3 weeks earlier than that! Took three days because our hard ground broke multiple tools, but they did an amazing job!! So happy with the finished product!
3 months ago barbara couto
I was very pleased with the servics provided by sunrise fence. It was second time we hired them and everything went so smoothly. Their pricing is great and they finised their work in just two days. The fence they built for our whole house is beyond our expectations, the design, color and everything I loved it. Its for sure, I am gonna hire them next time whenever we need any fencing work. Highly recommended. .
4 months ago gehu gonzalez
Great service! We had an emergency and needed a chain link fence repaired ASAP on a Friday. We called every fence company and none of them could come in a timely manner. I had called this company and they respond to me immediately. William asked for some pictures and an address and and within 10 minutes had a quote and time ready for repair SAME DAY. The guy Jose who came out for repair was incredibly nice and professional. I like everything with this company and they had amazing price.
6 months ago Winfred Wallace
We absolutely love our fence! From the customer service to the installation, everyone was very friendly. The install was very quick and painless!! I cannot wait to get it stained!
3 months ago marcus bryson
I called Sunrise Fencing in need of a fence ASAP. Manuel showed up in an hour and gave me a good price. William was very personable & informative when he came out for an estimate. I had 2 other estimates & his price was comparable. I chose this company for more than the price, I read reviews, looked at pictures and thoroughly enjoyed the fact that they're very professional and friendly and always returned a text or phone call within minutes. I am so glad I went with my gut and chose them. I will DEFINITELY brag for many years to come. I LOVE my new fence! Thank you Sunrise!!
6 months ago Justin Rogers
We have been putting off upgrading our fence for years and finally decided we would do so this month. They provided a fair estimate timely and arrived early for the appointment. Jose and crew installed chain link fencing to make a large dog park like setting for my dogs. They worked around stormy weather and wrapped things up timely. They cleaned up after themselves and I am very appreciative. Would love to recommend these guys.
7 months ago Denny Noonan
The team was very professional and polite. They helped us with fence installation and finished the job in time. We couldn't be happier with the work they have done. The whole team did a terrific job on our fence this week. I like the fact that they were willing to consider our ideas as to the design and that it was meticulously assembled and installed. Real pros who know what they are doing! We are very happy and glad to recommend this company to others.
7 months ago Ron Lee
My fence is beautiful. I had no issues with the installers that came out, however had a misunderstanding about the gate left on the side of my home. I thought installers left that equipment. After about 20 back and forth emails and I sent a picture I was informed it was the gate. That made it better as I know now that the installers would not be that sloppy. Once my gate is installed and the mess cleaned my review can change.
5 months ago M Keeff
Beth/Carlos and the team did a great job on our fence project. We could not be happier with the outcome. Very quick and professional. I have had a very positive experience and would recommend them for your next fence project. They also had very reasonable prices
3 months ago Pauline Naqvi
We absolutely love our fence! I would recommend them to everyone! Very friendly, great value and quality!
3 months ago Andrew torres
Sunrise Fence has always been responsive and a great choice for getting fencing done right at a great price in a timely manner. Very helpful!
3 months ago Michael Hoehn
Very competitive pricing, good communication throughout the process. The crew showed up right on time and did a great job on the teardown and install.
3 months ago TINA GALLOWAY
Great job! Quick turnaround. I'm very satisfied with the results.
3 months ago Elisha Shamblin
I reached out to over 10 companies to get a fence installed. They were by far the cheapest company an very professional. Fence came out awesome !!!! William was my contact person very professional !!!
3 months ago Brandon Ledbetter
Sunrise fencing did an mazing job on my fence privacy just as I asked. They showed up in the moning and was done within 6 hours. No hassle they just got the job done.
3 months ago Stephanie Jimenez
Nice fence, installation messy. after installation I had to clean up nails level dirt, clean up wood pieces, and those green spacer things out of my driveway. I feel, especially for the cost, there should be a little more attention to detail and commitment to quality. I don't think a customer should have to clean up after a service. Also some of the nails missed the mounting boards so they were just put straight through. Leaving nails exposed on the other side. Not a big deal since I found it before someone cut themselves, but once again a quick walk and attention to detail that would have been seen. All things considered I think they could improve there attention to detail and commitment to quality. Due to me having to clean up after and re set some nails I wouldn't consider this 5 star work. Fence looks great though.
11 months ago Emily Milam
The crew provide a unique experience. They are very punctual, have great communication skills and do a terrific work without taking shortcuts at reasonable prices. They're all about great customer service. They just installed a new fence for me in a very difficult setting where posts had to be sunk through concrete. They completed the job as promised and it looks great! A great company, you won't regret working with!
11 months ago Rebecca Burnside
Beth goes above and beyond for her clients! Luis and his team are quick, efficient, and truly gifted with their fence artistry. You will not be disappointed with their services. They are so friendly, answer all of your messages in a timely manner and exceed all expectations. I was amazed at how quick they got our fence up! Go with Sunrise Fence, you will love them!
10 months ago Mary Miranda
WONDERFUL COMPANY!!!! We built a garage this year and had to take out 90+ trees on one side of the house which was SHOCKING after living in relative privacy for so long. We also have had some unsightly neighbors move in on the other side of the property and frankly don't want to look at their clutter and mess. We had 700ft of fence installed over rough terrain and in the woods. Sunrise did an AMAZING job at a very fair price. They showed up when they said they would, finished a day early and were even open to a last minute change we made during install. I could not be more impressed with their service and workmanship. We actually have a little $$ left in our budget and have decided we want them to come back out to put in another piece along the back of the property. I HIGHLY recommend this company. And I'm a pretty picky person so that says a lot.
6 months ago
Popular places from the category Fence contractor