Mad One Jacks
Hair salon Mad One Jacks, 92 Madison St, Hoboken, NJ 07030, United States:
44 reviews
of users and employees, detailed information about the address, opening hours, location on the map, attendance, photos, menus, phone number and a huge amount of other detailed and useful information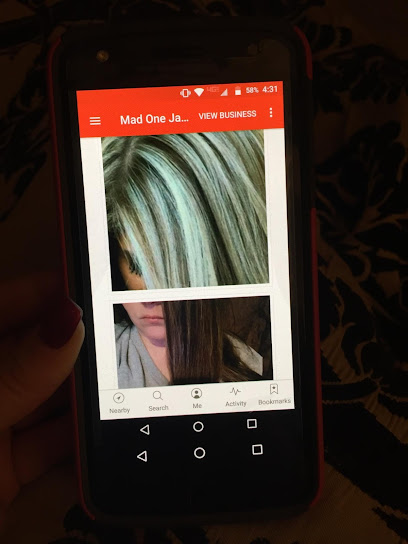 Address:
92 Madison St, Hoboken, NJ 07030, United States
GPS coordinates
Latitude:
40.7388589
Longitude:
-74.0395179
Location on the map
Reviews Kyu Lee
This place gave me the most amazing hair cut and also walked me through what would be the best way to take of my hair until next time. SEE PAM..
6 months ago Cory Cheyne
Let me start off by saying that I hadn't had my haircut in over a year due to the pandemic so I was really nervous going in and seeing what could still be saved from my hair. I had an appointment with Pam and she was incredible!! She took almost a whole 15 minutes at the beginning of our visit to talk over what I wanted and discuss what could realistically be done considering how long it had been since my last cut. She did such an incredible job and gave life back into my hair! I HIGHLY recommend this salon!!!
11 months ago Justin Lockwood
It's not easy to find a good men's haircut, but Jack keeps my hair looking better than ever. I now look forward to every appointment!
7 months ago Holly Ball
My usual go to, been going there for 8 yrs. Great service and they'll never push products or services you don't need.
5 months ago Jennifer Walker
Since my review magically disappeared, please read pics underneath to see my HORRIBLE EXPERIENCE!!!!!!!!!!!!!!! Also, how my hair should have looked, looked before they touched it ....and how I walked out of there crying. Walked in with platinum blonde hair (pic below) wanted to add lowlights for a chunky look instead of a one color look and ended up with black witch hair!!!!
9 months ago Richard McFee
I have been going to Jack for 25 years. Never disappoints . Thank you Jack for another great haircut!!
1 month ago Shavona Boyd
Booked a last minute appointment online today after reading all the reviews since it's down the street from me and I was looking for a new place for color. Jack was amazing. Listened to what I wanted, explained his vision and it was exactly what we both wanted. This is my new spot and has a cool vibe.
8 months ago Gabriel Carrigan
Been going here on and off for a few years. Welcoming staff, fun decor and open late. I typically go to the stylist Agata, she's great at doing color and always very attentive and friendly. I went today to get full blonde highlights from her and they look very natural. Would recommend this salon.
7 months ago Joshua Davis
I usually go to Jack, who has always done an amazing job with my hair (thick and curly). Last night I had Amy cut my hair and she was awesome, too! Love that I can finally go someplace where they know how to not mess up my hair.
3 weeks ago Craig Kirouac
I have been going to this salon since 2008 and I think I've had my hair done by everyone except the newbies. I've been going to see Brittni for awhile now. She's amazing. She listens to what I want, adds her expertise and I leave feeling pretty! They take care of you here at Mad One Jacks with a complimentary beer or wine, head & shoulders massage and coat check! I wouldn't go anywhere else!
8 months ago Ekaterina Androsova
Great salon in Southwest Hoboken! I've been here about 3 times so far and have been happy with my cut every time. Ask for Agata!
6 months ago Karna R
Absolutely love this salon! Everyone is extremely kind, and they truly anticipate your needs. I worked with Paige, and she, as always, is amazing! She works with your hair type, and explains everything she is doing and why she is doing it. Mad One Jacks is a perfect spot!
3 weeks ago Tupac Santoyo
I got another calligraphy haircut from salon owner Jack, and I am again very happy with it.Jack is one of those rare hair stylists who really listens to want you want, and combined with his expertise, this leads to a great cut for me. Thank you, Jack
7 months ago Jose Matamoros
I love my haircut and the blowout! This place is so accommodating because they have late hours and the stylists know what they're doing. My usual girl was out so I was nervous about seeing someone else for a haircut. She listened to exactly what I wanted and it turned out beautifully. I appreciate stylists who listen!
19 hours ago Carol Rand
There service is amazing. Very professional and they are all very friendly. Amy did my hair and I loved how my hair came out. She exceeded my expectation as far as what I though my hair was going to look at the end. I will most definitely go back to use their service.
7 months ago Eugene Slutsky
Absolutely great service, and hair cut. The prices are so reasonable you won't believe it! I wish I got my haircut more often. The stylists are all so sweet and kind. I decided to switch my style back to short after having long hair for a few years. The stylist made sure I was ready and understood how much hair we would be cutting off before we started. That really means a lot to me. Agatha really took the time to help me figure out what I wanted and what was best for my face shape. Not every salon does that, some just sit you down and charge 100$ for a look you never wanted. I really highly recommend this salon and my stylist Agatha. I don't believe I'm going to go anywhere else for a long time.
10 months ago Kay McClary
5 stars for Sarah. She's incredible, and does the best color/highlighting ever. If it wasn't for her I'd lower to 3 stars because their payment policy is horrible. They charge an extra 5% for using a credit card, which is RIDICULOUS considering their prices. But the stylists are so good I keep going back.
9 months ago Chris Whitwhall
Love it there! Meredith is terrific with my short cut and Jack is a sweetheart.
7 months ago Amiee Crosby
Meredith ruined my hair. Asked for a blonde balayage and walked out with my hair completely orange -- no blonde. She said it's what I asked for / salon lights were warm toned so it will look less orange in other light / I just don't like the way it looks on me... all instead of taking ownership of her mistake. It was clear from the start she was concerned about doing this dye job and had to ask other girls in the salon for help. This should have been my sign to leave. Can't really comment on her cutting skills as she barely trimmed my hair - said she would finish when my hair was dry but didn't do anything further. I refused to pay for color but upset that I still paid $70 for a half-a***d hair cut... Now have to go to another salon to get everything fixed. Will never be returning to this salon.
7 months ago Len Cranston
I have been going to Mad One Jack's on and off for about 10 years. When I returned to Hoboken after living elsewhere, I was nervous about maintaining the same cut and color I had living elsewhere. My stylist, Meredith gave a great consultation. She really listened to what I was asking for, and I left the salon feeling great. I have been going to MOJ ever since, and trust my stylist enough to have creative license with my cut and color. I always get lots of compliments on my 'dos! The owner is also great. It is a fun atmosphere that showcases local artists, and offers wine, beer, water or coffee for a nice treat. Jack clearly looks to ensure a great customer experience. I have recommended several friends and they have all been happy.
8 months ago Erika Bissonette
BEWARE DO NOT GO TO THIS PLACE. All the girls are extremely young and inexperienced. They use their clients to test/experiment on. The owner is a creep. I live around the corner and needed to go somewhere last minute as I normally go to TONI & GUY - what a MISTAKE. I just needed my roots touched up and when the foils came off my hair was WHITE AND RED streaks. Another young stylist tried to tell me that what had happened was it was "lost in translation" as the first stylish was Polish (????). She then tried to fix it and my hair turned GREY AND BLUE! No one in there has ANY idea what they are doing and the owner acted like it was my fault for not liking my hair. I walked out hysterical and without paying. I looked like an absolute clown and spent 4 hours and over $400 dollars at Fekkai the next day having it fixed - THAT IS NOT AN EXAGGERATION. It looks OK now but have to wait another month to do anything more to make it look normal and my hair is absolutely friend to a crisp. If I could sue this place I would.
8 months ago rvagourmet
I have been using Mad One Jacks for 5 years. My stylist is Malinda and she is amazing. She knows how to cut my thick wavy hair so I can dry it straight or wear it curly with minimal effort. Everyone is very friendly and helpful. Jack is always there to ensure everyone has a good experience. As for the price, you are getting what you are paying for. I do not find them any more expensive than other salons and the service is exceptional.
4 months ago M Keeff
LOVED everything about it- I went in not knowing what to expect and not knowing how I wanted my hair styled and Jack was amazing and styled my hair perfectly! Will be going back
10 months ago Tim Schmoke
Despite all the great little extra feature they have, the best thing about Mad One Jacks is their staff and the way they cut/style hair. Not only that but I went months after my first visit and they remembered everything about me. I love how they dont treat their customers like just another sale. And if you think the price is too high, judge after you see their work. Simply the best :)
8 months ago Kasi
Great place! Fair prices!
7 months ago Whitney Cross
Nice people, great service (cut and color) and fair prices.
6 months ago Steven Douglas
This is a well run salon, the hair colorist I use (Kristy) is very good with hair color, one of the best I've ever been to; people constantly compliment me on my color. Yanni cuts my hair and she gives really good hair cuts, I can go for 3 months without a hair cut and it still looks good. The salon is well run, friendly staff, good service.
3 weeks ago Becky Sarbach
I had an amazing experience at Mad One Jacks and would recommend it to everyone. Yanni was my stylist and she did a great job selecting a color to correct my mistakenly red hair back to a natural brown, and gave me an incredibly cut that requires minimal maintenance and still looks great. Their customer service is awesome, and I look forward to my next appointment!
4 months ago John Mulvaney
Great experience and haircut exactly what I wanted, friendly service, but website has been hacked! DO NOT go to their website, I have a virus from it which took several hours to clear out. If you are this business please take care of this!
11 months ago ThinThuThu Aung
Been going here for a few years now and I love my cut and & color every time.
7 months ago Susanna F
Worst service i have ever received! I walked in for my appointment and asked if they had a place to hang my jacket, they said they would take it a minute. 30 minutes later no one took my jacket or told me that Jack was running late for my appointment. I finally saw Jack and he was on his phone looking at pictures. I asked him if he was still going to cut my hair since it was 30 minutes after my scheduled appointment, he ignored me and didn't answer. 5 minutes later he came over to me and brought me to his chair. I nicely said wow it was quite a long wait, is there a reason why you ignored me? Jack then said he wouldn't cut my hair I should leave! I had been going to Jack for many years, this is NOT the way you treat a client. I do not recommend anyone to go here!
3 weeks ago Jena E
Best experience by far at a hair salon ! Everyone was so nice ! My hair looks amazing ! Definetly will be staying here !
8 months ago ann nicio
Amy was extremely friendly and gave me a great cut and blow out! Thank you!
7 months ago Zack Garland
Agata is AWESOME- excellent color and the perfect haircut!
10 months ago Mackenzie Butler
Great place. Great people. Only place I can go that is opened late.
7 months ago Nuna Yerbiz
princessa is the best! i get complimented on my color ALL THE TIME. there is no one better.
3 weeks ago sissilena romack
Bad customer experience before you even get in the door
8 months ago Angela DeLeonibus
Standard wise better than the most parlours in Hoboken, however, it depends who is your hair dresser. The service is subjective and you could have a variance of treatment depending on who is attending you.
4 months ago Cara Pearlman
Stellar customer service and attention to detail.
4 months ago WG Studios
This review is for Stephanie Diaz, who is relatively new to the salon, and whom I am really excited to have working closer to my hometown of North Bergen!! (woot woot!) I have been working with her for a few years now and I absolutely love what she does to my hair. In terms of creativity, she just blows it out of the park. You can come in with an idea of what you want, and she will bring your idea into a reality. I recently had my wedding this past June, and Steph did everyone's hair masterfully, and in record time (I'm talking about 5 Bridesmaids, 2 Mothers and the Bride herself done in 6 hours!). I should also add, the wedding was Great Gatsby/1920s theme, and she had those finger waves and pin curls done to the "T". Just everything was perfect and all my bridesmaids couldn't believe how amazing their hair came out. My own mother, the MOB, looked in the mirror and exclaimed, "OMG, I don't look like myself!" Since then, she's been a die hard Stephanie Diaz Hair fan as well. You really can never go wrong when you book an appointment with Stephanie. Make sure you a book a hot date the night of your appt with Steph, because you're guaranteed stepping out of her chair looking fabulous!!
4 months ago Sara Wilder
Open late, free alcohol, and great service.
1 week ago Don Darkox
Talented team!
8 months ago Terry Flemons
Great stylists
8 months ago Dave Worsham
I was charged although I have cancelled the visit....
3 weeks ago
Popular places from the category Hair salon