Eric Comfort Shoes
Shoe store Eric Comfort Shoes, 426 Hillside Avenue, Williston Park, NY 11596, United States:
75 reviews
of users and employees, detailed information about the address, opening hours, location on the map, attendance, photos, menus, phone number and a huge amount of other detailed and useful information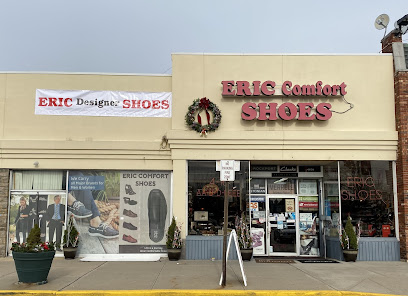 Address:
426 Hillside Avenue, Williston Park, NY 11596, United States
GPS coordinates
Latitude:
40.7541607
Longitude:
-73.6566771
Location on the map
Reviews Ellen Alexander
I have been scouring the internet for a pair of discontinued Hoka Arahi's. It took me weeks to find a site/store that had them in stock before finding Eric Comfort Shoes. Albeit I was sketched out by the negative/mixed reviews from both Yelp and Google, but it's a small business so I took a leap of faith— GIRL. I????????am????????so????????glad????????I????????did????????. Here's the thing: I knew EXACTLY what I was looking for (since I tried on the specific style in another mom&pop shop in town, they just didn't have the exact color&series I wanted). So here's how things went down: -I called in and asked if they had the shoe I wanted in stock in their store, the associate confirmed they had one left in my size (6.5D) -I said I wanted to place the order online, the associate told me it would be easier to continue the order through phone, but I didn't listen ????????‍♀️ -Placed the order online, only to find out the next morning that the order was cancelled because it was sold out (I was heartbroken) -I decided to call again to ask why it was canceled when I confirmed they had one left in stock, and to see if there was an error -The associate informed me that their online orders are based solely on supplies in the warehouses. He confirmed he did have the last one still in the store and that I can place the order with him— so I did (I was back to being a happy camper who felt like she just struck GOLD!) -BUT, I was still skeptical and tbh a bit worried about fraud since I'm allllll the way in Arizona and this is a small shop in NY. Unfortunately, I have trust issues with buying online but hey, it's not like I haven't had terrible experiences buying from Macy's or other big-name department stores just the same. So I tried to keep my faith in this small business. -I was, however, pretty adamant that I wanted confirmation of my shipment with a tracking number as soon as they send it out. The associate said he will call me as soon as they get it. Nice! -The next morning I received a call, and he gave me the tracking #, and said it should arrive within 4-6 business days. I was SO relieved I had some sort of physical confirmation to reduce my doubts. Well... lemme tell you. It arrived not 2 DAYS later. Again— all the way from NY to AZ. (THANK YOU USPS!!????????) And here are my beauties. Fresh out of the box! Yes, it looks like the were very gently tried on in the store, but I'm not complaining. I LOVE them. And I am so glad I put my trust in their business!
9 months ago Josh Harber
Bought a Mephisto shoe from them, they have the best collection and very friendly staff. It's hard to find Mephisto in my size but eric shoes has a very good collection in my size. Saved my life, highly recommended ????
5 months ago Julian Mejia
Always great service. I have a brace on my right foot. The young salesmen really helped me figure out the appropriate size and style sneakers and they where on sale. I always go thier because of thier personal service
7 months ago Ernest How
It's like going back in time. Interesting to have actual salesmen for shoes, but wouldn't buy from there as their prices are about 30 - 40% higher than brand sites.
6 months ago Kerri Palmesano
Always helpful at finding comfortable shoes, sandals, house slippers, sneakers, and lifestyle shoes. Would recommend.
6 months ago Jay Mellinger
Expensive, but excellent service and great for larger sizes.
6 months ago Grace Yoder
Excellent quality shoes. Thank you Jason for your assistance. My mother has told me countless times to go here and it was only this last August that I did. The most comfortable shoes I've ever worn.
11 months ago mahima k
Wow what a store! Excellent, knowledgeable service. Expensive, but top of the line shoes that make problem feet feel heavenly and look stylish. Great boots too! Lots of parking in shopping center. I have been buying there for many years.
1 month ago Marion Clark
Very helpful worker, cordial and pleasant, very knowledgeable about the shoes. I will go back again. Great place to go if you need wide width shoes.
11 months ago Dave Grebetz
I would love to share my experience at this Eric Comfort shoe store . I've been coming here to the store in the Williston Park shopping center for the past 7 years. The staff is always courteous and accessible and the selection is up to date..I've bought shoes for my entire family here. I would highly recommend this store for all your foot wear needs.
2 months ago Trista Jernigan
Love coming to the Hillside store. Very friendly and professional staff.
7 months ago George Frazier
They have a good assortment of wide shoes. So $$$.
9 months ago Fran schiefer
I accompanied my husband to Eric's Comfort Shoes today, to help him find some supportive shoes for his low arches. He was fitted for and then purchased two pairs of very comfortably fitting New Balance shoes...and I found this attractive wedge for me! Great service and very attentive to our needs! We were extra lucky to get some sale prices, too!
1 month ago Lola Dog
Perfect for finding difficult sizes and widths. If the shoe doesn't fit exactly how it should they are happy to arrange padding, take soles in or out or order something they don't have in the store at the time a customer is in need of a special order.
2 months ago Leighann Elder
Great store! Finally a place for EE and EEE sizes! Michael was very welcoming and personable. He brought out at least 3 options for ExWide Black wing tips. Left with a comfort pair from Florshiem. Thank you! We will be back.
3 weeks ago Imre S
Great service!!! Will come back for sure.!!!
5 months ago jack ginther
Rarely is it possible to find a store like Eric Comfort Shoes. Dedicated customer service combined with quality shoes are a winning combination. Since I suffer from an inner ear disorder, I was unable to go to the store to try on shoes in person. Harvey, the outstanding manager, allowed my amazing husband to bring home a variety of shoes for me to try. How rare and wonderful is that? I just wish there were more managers like Harvey in the world but for the time being, Eric's is the only place I'll ever shop for shoes.
6 months ago Deyvid Camilo
They sell only the best quality shoes and boots.
3 months ago Aly Tromer
Good, friendly help. And they had what we were looking for!
4 weeks ago akhil raheja
My mom had such a great experience with Eric's Shoes! They offer such a great selection of everyday and evening wear options. The staff was personable and friendly and offer to measure your feet and even place the shoes on for you. A real authentic service that has been lost at most stores these days. Eric's Shoes comes highly recommend.
7 months ago JOE RAM
A wide variety of shoes.
5 months ago Trista Jernigan
Always find shoes that fit. Great service
4 months ago Michael Reilly
Every type of comfort shoe you could imagine. At fair prices.
6 months ago Anita Thomas
Great variety. Very helpful sales people. Especially good if you have foot issues (diabetes, wearing a cast, etc). Prices are Very High but i guess when you need specialty shoes you have to pay for it.
5 months ago Bobby Baden
Huge parking lot. Store sits between Rite Aid, H Mart Grocery, Capital One Bank', Chinese Restaurant. So, you can grab a bite, take care of banking needs or, shop before or after you purchase shoes. Eric Shoe's had a wheelchair accessible entrance. But, once inside, due to the spacing of the aisles and size of floor, there really isn't enough room to move around, you're blocking people and you can't get close to shoes, this is with someone assisting you, they or someone will have to hand you a sample shoe. This store has a great selection of shoes. But, the two things I love the most about the store, 1) great selection of high end practical shoes 2) problem feet like mine, I'm flat footed and have big wide feet, so it's hard to find shoes that are comfortable, and look good on my feet , this store has shoes for me. They also have shoes for seniors that are dressy, sensible with practical prices. Eric Shoes, carries all the name brand shoes. So, you will pay over $100 for most shoes in the store. But, that shoe is made with quality material and will last you along time. Before it's tome for a new one. My recommendation, buy 3 sets of shoes, every day wear, dressy and for business. and you will have them for a long time. One thing to keep in mind, the salesman taught me, sometimes the shoes are cheaper on their website, it's worth asking them to match the price. Also, Eric Shoes in Littleneck, can be a tad cheaper because they work on commission so there's wiggle room.
11 months ago Toni Six
This is a sort of dingy looking shop in a small strip mall with a parking lot. You would never believe the amazing variety of shoes inside. The staff although a little overeager, is very friendly and helpful. The shoes are a little higher priced but the brands are better brands. Sales people tend to pressure you to buy more than one pair of shoes. They measure your feet both sitting and standing to fit you exactly. They bring out several different varieties of shoes for you to try on in different colors. I wound up buying more pairs of shoes than I wanted to.
7 months ago Diana Conley
Great place and friendly staff.
2 weeks ago Bill Casale
This is a very very good store and has a very nice and helpful staff. I have never seen the collection like this. I highly recommend visiting this store.
6 months ago Julio Lovera
Brought dad for shoes and sneakers was very satisfied with the quality and service
2 months ago Tina Spring
Top notch service and fair prices in a local shop. It doesn't get any better!
11 months ago Travares Armstrong
Good classic shoe store, I buy my work dress shoes here. The shoe salesman are attentive hard working and helpful. I had a great shoe buying experience with Harvey today. I will come back as I always do. They have plenty of parking and it's usually a quick in and out. Good stuff Eric's Comfort Shoes.
4 months ago kata vikas
As my dad recently passed away and I was going thru his things and I came across an Eric Comfort Shoes shopping bag in his closet. it reminded me of our visit Eric Comfort shoes in Williston Park, not too long ago. My dad had been having mobility issues and was in need of a good, comfortable pair of shoes that would give him good support. Harvey helped us and he was wonderful ! ! It was very refreshing to find a store with such a great variety of sizes and styles with extremely knowledgeable, helpful and patient salespeople. Harvey became our "go to" salesperson as he always seemed to engage my dad & settle him into the issues at hand, choosing the best, properly fit shoe for him. My Dad wore 8-1/2 EEE and he chose multiple pairs that were comfortable and looked good on him. Great selection of "comfort" shoes plus a deep inventory of New Balance sneakers, my dad's favorite brand of sneakers. Dad always brought a coupon from Pennysaver giving the luxury of saving additional money on his purchase. Eric Comfort Shoes brought back memories of time spent with my Dad, how precious ! ! I highly recommend Eric Comfort Shoes in Williston Park.
6 months ago Israel Silva
Best shoe store ever. If your feet hurt, go there.
8 months ago chris pyon
I went to this store with my friend because I have a wide foot. The selection they have is great. The salespersons are knowledgeable and friendly. They helped me to find the right shoes that are good for my feet and also gave me lots of suggestions. They have all kinds of shoes and are priced right. I was really happy with the service. This is a real shoe store like back in the days. I will surely recommend it to all my friends and family. Lots of parking and good food nearby.
11 months ago Billy Leigh
While there are two locations: Queens Village and Williston Park I do travel to the Williston Park retail location. I travel out of my way to come to this location, I live on the south shore Nassau county. I have found that the sales staff has always been helpful and the desire to make sure you are completely satisfied keeps me wanting to come back. The selection of shoes and sizes covers a large buying customer, I buy myself Cole Han and Johnston Murphy's dress shoes and their selections are current and price competitive. Check out this location I believe you will be satisfied.
4 months ago Adam Sierota
Place has a ton of shoes, staff is very friendly and accommodating. Prices are a little over the top, but if you want the service and knowledge......
7 months ago Darell Gholston
The staff is friendly and knowledgeable. The prices are fair. The quality is great. Shop local.....you get to try it on, you get a shoe or sneaker that's right for you.
7 months ago todd aron
I was in need for a comfortable pair of flats for work. I was shocked to find such a huge selection of shoes. The staff was very helpful and I managed to buy 2 pairs of very comfortable flats. I highly recommend this store to everyone!
11 months ago Michelle Gayne
Eric Shoes is the most comfortable and reliable shoes I ever came across. The workers alway has the best recommendation/ choices on what shoes to wear for any occasion. Frank
11 months ago kathy kennedy
Michael at Eric's on Hillside Ave in Williston Park was super knowlegable, helpful and pleasant. The inventory of dress boots was quite substantial and I left very satified.
6 months ago Blanca Castaneda
Everyone was extremely pleasant and friendly michael was ver sweet and kind with my mom
11 months ago Jeffrey Harvey
They are very helpful, had many choices in wide widths and were incredibly kind and helpful
11 months ago Charles Hardy
Very good place.The guy Mike working over there is the best.you have many many choice at same place.
11 months ago Anesa
Saved on Johnston & Murphy Melton shoes. Melton are the best. Excellent product. Excellent sales person plus had a coupon. Couldn't beat the price. Thank you Eric's Comfort Shoes.
10 months ago Shneki Minsky
Disappointing service in this location . I more often visit the Queens Village store but I went to the Williston shop because they have a wider selection . I was never greeted when I entered and I had to ask for assistance twice before being acknowledged . It's difficult to find dressy comfort shoes so I persisted. I found the perfect pair of shoes for an upcoming event but I walked out kicking myself for accepting less than satisfactory service.
9 months ago dele amyson
I am a chef, I was suffering with heel Spurs pain for over 4 Years, my friend recommended me to visit Eric Shoes they have very nice and knowledgeable staff who recommended me SAS shoes I am really enjoying working with my shoes from Eric Shoes
6 months ago Olga Mucha
Eric Shoes is a great store with a friendly sales staff who are very helpful. they have a huge selection of shoes that are very comfortable and reasonably priced. I needed a special pair of shoes for a party and couldn't get to the store so they shipped them to me. I recommend this store to all of my friends.
4 months ago Virginia Gumaer
The sales force are all very helpful and very patient. They will work with you till you find the exact shoe that you need. The quality of shoes is great and the prices are reasonable.
5 months ago madhavi naredla
I visited Eric Comfort shoes in Williston Park with my Dad recently. He has been having mobility issues and was in need of a good, comfortable pair of shoes that would give him good support. Harvey helped us and he was wonderful ! ! It has always been refreshing to find a store with such a great variety of sizes and styles with extremely knowledgeable, helpful and patient salespeople. Harvey is our "go to" salesperson as he always seems to engage my dad & settle him into the issues at hand, choosing the best, properly fit shoe for him. My Dad wears 8-1/2 EEE and he chose 2 pair that were comfortable and looked good on him. Great selection of "comfort" shoes plus a deep inventory of New Balance sneakers. They always seem to have coupons in the local Pennysaver giving the feeling of saving some additional money on my purchase. I highly recommend Eric Comfort Shoes in Williston Park ! !
6 months ago Aizh U
Everyone was very helpful, they had a wonderful stock of difficult to fit sizes, special thanks to Steven!
5 months ago
Popular places from the category Shoe store