K & C Fence Company
Fence supply store K & C Fence Company, 2503 Hart St, Nashville, TN 37207, United States:
220 reviews
of users and employees, detailed information about the address, opening hours, location on the map, attendance, photos, menus, phone number and a huge amount of other detailed and useful information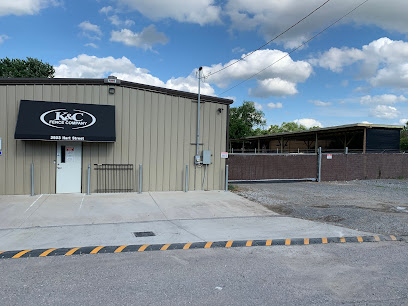 Address:
2503 Hart St, Nashville, TN 37207, United States
GPS coordinates
Latitude:
36.2129397
Longitude:
-86.7679769
reviews Benjamin Caradine
Completely happy with the installation of my wood privacy fence. It was a small job but makes such a huge difference to my tiny yard! Everything, from the initial setup to the 2 workers who installed it, was an painless experience. The workers were in-and-out within 3 hours - there's nothing I dislike more than lingering projects and people and they were super quick. Not that they needed to be, but they were also really quiet somehow, I was working during this time and I don't think I heard them at all. The site was cleaned up with nothing left behind and the placement was exactly as needed, along with the gate. Overall great job and would recommend. Dog appreciates it too.
2 months ago Charles Snorton
K and C were super professional all the way from the initial quote, to working with us to revise our initial plan per HOA guidelines, to scheduling, to the actual build. They showed up on time and finished the entire fence by the end of the day- even with having to jack hammer for most of the day. Very very please with our fence and I think our dogs love it even more
8 months ago Jennifer Elliott
Sent via form submission from Nashville Fence Contractor | K & C Fence Company Name That Is On The Contract.: James Fullerton Are you pleased with the workmanship performed on your fence and gates?: Yes Is The Job The Job Site Cleaned Up From Trash And Debris?: Yes Please Rate Your Overall Experience with K & C Below.: 5 (Best) Leave Positive or Negative Feedback Below.: We are very pleased with Our fence. The crew that built it were skilled craftsman who had an eye for detail. They were responsive to our specific needs that we had discussed with Jerry in the estimate phase of the project. Thank you. Would be glad to recommend your services.
3 months ago Reid Schindler
Every point of contact with y'alls team was an easy experience. The salesman was terrific, Macayla was super helpful and professional, and the team that built the fence was so nice. I will certainly be recommending K&C to any friends that need a fence.
1 month ago Alucard Legacy
I wish I could give 0 stars. This was the worst customer experience I have experienced. They confirmed with me. Then wrote my number wrong. Then left me a random note in my mailbox to call them. I did and confirmed the day before. They were 45 minutes late to the appointment so I called and they had no idea where their contractor was. They told me to just call him. I did and he was the rudest person to encounter. Told me he never got my number so he just DIDNT COME. He said he has to go home and change and couldn't come for over an hour. DO NOT use this company. What a horrible experience
1 month ago Atul C
K&C was great all around. From our initial interactions with Todd to Brad stepping in and helping get us to the finish line, our fence looks great and the price performance is elite. It turned out exactly how we envisioned it which is about all we could ask for really. The team was efficient, friendly, and worked super hard. I think they took one ridiculously short lunch break, otherwise they were grinding from 8 am to 6 pm and got our job done in 1 day.
4 months ago AXL
Our fence looks incredible! Josh Justice was our initial point of contact and was extremely helpful walking us through what our options were, cost, materials, etc. It made the process so much easier because this was our first time replacing/upgrading our fence. The crew was professional, fast, and did quality work. We also loved the fact that it took only 1 day, while our neighbors used a different fencing company and it took them 2.5 days to complete. We're so glad we went with K&C and are customers for life now!
3 months ago Benjamin Cleaver
We are extremely pleased with the outcome of our fence. Everyone that we came into contact with at K&C were professional, transparent, and attentive. Our yard was full of rock which makes the job that more difficult. My husband and I witnessed and were impressed by the amount of thought, effort, and dedication that went into the job by both men. They worked diligently despite the weather until our fence was completed. We would highly recommend this company. Thank you all again!
3 months ago Raj Inani
Adam Giles was incredibly helpful. I very much appreciated his quick response time to all my emails. He answered all my questions and made me feel confident in our decision. The on site team arrived within the window Adam said they would. Miguel and his team were on it and seemed to be a well oiled machine. I was shocked to see our job be completed in one day. Miguel worked with us on a few small issues we had and explained our options. Everyone was very polite. It all worked out and we absolutely love it. It seems like a great quality. I can't wait to see it weathered and stained!
3 months ago Cj Mann
Very impressed with K&C. The quality of the fence and installation is excellent. I requested the fence be installed by the end of May because I had family coming in June and you were able to fit me in the schedule. Everyone was friendly and communicated well, with quick replies to calls, texts, or emails. I would recommend K&C to anyone needing a fence
3 months ago Jordan Creed
The folks at K&C were great to work with. From planning to material selection to install they were great every step of the way. Would highly recommend to anyone with fencing needs.
2 months ago Mac Strong
Yall have a great crew doing your installs. They showed up and worked very quickly and efficiently. Great quality in the materials used. Overall an outstanding job and I will definitely be recommending you to all my neighbors. They have all contacted me and really like the fence. Thank you for a job well done.
3 months ago El Bastardo
Recently had a privacy fence completed by K&C. The communication and expertise from start to finish was excellent. Truly a job well done. I appreciated the efficiency of the team and very pleased with the end product!
2 months ago Karla Mckinley
A truly wonderful experience. Tony and his team were on time, efficient, professional, and kind. It's clear that Tony is a craftsman; he spent extra time/attention to make sure the lines were just right and we're so happy with the result. Many neighbors have stopped by, too, to compliment the fencing. Give that team a bonus!
7 months ago delia viader
Very pleased with the fence in general. Crew was prompt and polite and the whole job was completed in about 4-5 hours. Both Jerry and the crew leader, Tony, were helpful in answering questions I had on fence maintenance/treatment. Also noticed a few days later that a board on the gate was heavily cracking and chipped. The crew was out the next day to replace. Will definitely be recommending K&C.
4 months ago Mitch Caza
Josh was quick and responsive with the estimate and getting the job moving, Brad was flexible and responsive on setting the appointment. I had some last minute scheduling changes (due to survey delays) and also a quick change at the site on gate placement - the whole team was flexible and really great to work with. The installers were fast and capable, overall this was a great experience and I will definitely use you guys again and also recommend you to anyone with fence needs in the area. I wish all my contractors were as reasonable, efficient, capable and communicative. Thanks so much!
9 months ago Caley Cavanaugh
Ruben from K&C Fence Company did an excellent job installing the fence around the recently discovered cemetery in the Fredericksburg (Brentwood) subdivision. Ruben and his wife worked diligently to install the fence. Their adorable little 4 year-old daughter was with them to "supervise". The management team was also great to work with from getting the quote and scheduling the installation. I highly recommend K&C Fence Company. Thank you.
10 months ago Betty Jackson
The install crew arrived a little earlier than originally planned which I thought was great. The leader of the crew reviewed what they were planning to do, asked if I had questions, went over a couple little changes to make sure we stayed within our property line, and then went to work. I thought they kept the yard as clean as it could be given what they were doing, and they cleaned up nicely before they left. The fence looks really nice and I am very happy with the fence they installed and how they did it. I also appreciate Josh for staying involved and answering my questions as we waited for materials to become available and to get me on your schedule. I rank everything a 5 out of 5 and would happily give a very positive review and or recommendation to anyone who wanted to know
8 months ago Despina Gatanas
We couldn't have asked for more with our fence install. Everyone was friendly and professional, and always on time. We were kept updated on install timeline (and were pleasantly surprised with our job getting bumped up!) The price was also the best bid we received. Thank you so much, we will highly recommend your company to family and friends!
7 months ago Dave Harsh
Josh was great in the estimate process and communication afterwards. Brad was also good in his role pertaining to financials, etc. Marco and the team that came out did an excellent job, were courteous and worked hard and quickly, but in a quality manner. They also listened and fixed any small issues on spot. Incredibly pleased.
6 months ago Anthony Farrer
Very pleased, Terry and his crew did a great job. I have another project that I want you guys to do and I will definitely be inviting you back. Thanks so much!
4 months ago Jacquelyn Farley
I would highly recommend this company. The crew that was led by Mr. Tony was professional, efficient and thorough.
2 months ago Fanny Corona
Awesome experience overall. The people are kind and transparent, their prices are great, and their turnaround is SO fast! 10 out of 10 recommend
5 months ago Haiyun Zhou
I'm very happy with our fence from K&C. Our chain link fence was destroyed in the tornado, and we decided to do an upgrade to the black chain link. It looks great! Adam was amazing to work with and I feel that he went above and beyond to make sure he knew exactly what we wanted. There were a couple of minor issues that needed to be fixed, but they were very responsive and quick about coming back out and making it perfect. I would highly recommend K&C Fencing.
8 months ago Damion Thorn
Thanks everyone at K&C for building such a beautiful fence at my son's house, just in time for their backyard wedding! We really appreciate your excellent and timely communication and the high quality of your work!! I highly recommend K&C!!
4 months ago luca michelotto
K&C did a great job on our fence. Excellent communication from Josh. Mae, and the rest of the team. They made sure that measurements were correct and called to review the plan the day before the crew was on site. We really appreciate that they were able to move us up a week on their schedule. Our experience could not have been better.
8 months ago Shameka
We had K&C build our fence in our front yard and were so happy with the work, we had them do the backyard a few months later replacing the metal fence with a gorgeous 6ft privacy fence. The team was great. Very professional and they worked incredibly hard on the day of installation. The fence looks beautiful, and I was really pleased that they were able to do the bulk of the work in just one day. They have a full list of clients so there was a bit of a wait on installation after we signed the contract. That said, it was well worth going with the company that is in demand! The fence was done right, completed in 1 day once they got started (they did come back the next day for a few last minute touch-ups, but were in and out quickly.) Truly, it looks perfect. Our neighbors a few doors down recently added a fence and it was such an amazing comparison to see theirs go up. It seemed to take days, I could see where the other guys had really done a cut-rate job on aligning the pickets along the bottom (which is terrible if you have a small dog like we do!). It really affirmed that we were smart to go with the professionals at K&C fence. I highly recommend them if you want it done right!
5 months ago Brandon Dyer
We love our new fence. Big thanks to the team who did the hard work! They did a great job at staying within the property line. We even had a neighbor confirm it was perfect!
5 months ago Ken Sullivan
Guys were absolutely wonderful! They stopped to have us check any questionable areas (caused by dips or trees in the path of the fence line) and were incredibly accommodating in fulfilling our anxious requests as pet owners with an escape artist dog! The quality of the work was top notch and I will recommend them without question - THANK YOU!
7 months ago g w
Absolutely wonderful experience from start to finish. Staff were communicative, flexible, and understanding to my needs. I love the finished product, and the installers were friendly and efficient. Note: I added the lattice.
2 months ago Jon Larsen
Everyone at K&C that I interacted, from Scott who did the job site estimate, to Macayla the Executive Assistant to the crew lead that did the actual fence installation, went above and beyond to ensure our project was successful. Thank you.
3 months ago brian turner
Thanks for a job well done. Josh Justice was a professional and responsive rep, and the construction team prompt and efficient in project completion. We are very pleased with your workmanship and our new fence.
5 months ago Ashar khan
Just had these folks install a wood privacy fence around my backyard and I could not be more pleased. Todd came out first and answered all my questions and provided the quote which was quite reasonable. It was just a few days before the work began and the installers did a phenomenal job. I was so impressed with how meticulous they were (I have a sharp eye for things that are lopsided, uneven, etc) and it was clear that they take pride in doing their best work. The company also does not collect any money until the work is complete, which I appreciate. Totally recommend!!
3 months ago Crystal Flores
I interviewed 4 fence companies and so glad that I went with K&C. They did a great job and made a few suggestions that I did not even think about. They were on time, cleaned up and I am HAPPY HAPPY HAPPY!
5 months ago Sirius Don
Updated review: After posting this review the folks at K&C contacted me directly to determine what exactly had happened for my calls and inquiries to go unanswered. It appears that the website form I was directed to complete on-line was no longer in service and my submission had disappeared into cyberspace. They also offered to research why my calls went unanswered and work with me to resolve the fence issues. I was very pleased and they even had someone out within the next week to repair both gate issues. I've updated the photos to include these repairs. Overall, I have to say I am very impressed with K&C's fast response and customer service. You don't often find companies that stand behind their work as these folks have. They have turned me from a disgruntled customer to a satisfied K&C supporter. I can now say with confidence, that I recommend K&C for standing behind their work. --- Original Review Below --- So I wish I could give K&C five stars but my experience has been quite the opposite of most other reviewers. Based on neighborhood recommendations, price, and my interactions with the K&C sales guy, we had them install a 6' privacy fence around our property that included 3 gates. Within one month after the install, one of the gates wouldn't close. The post was leaning. It took me some time to get around to calling them so about 3 months after install I called K&C for them to fix it. They wanted to charge me for it, saying that wood can twist and turn during exposure to the elements. In addition, I had asked for springs to be installed so that the gates would be pulled close if you left the door open. Their installers seemed to have no idea on how to affix the springs to the gates as they were installed incorrectly (upside down and even sideways). After asking to speak with the owner and a bit of pushing they fixed the gate and adjusted the springs without charge. However, after about 6 months, the same gate post began to lean and and once again the gate does not close. In addition, the alley gate post has come loose and I now have to use blocks to keep the fence straight so that gate can latch. One of the "selling points" of K&C when we signed-up was that they do repairs at 1/2 price ($50 per hour or something like that). Well, I called them four times over the summer and spoke to their staff, left a message, etc., but the scheduling/repair guy never returned my call. During one call I was told they were slammed with new installs and promised to get a return call that day. They never called. It appears they are not particularly interested in taking care of existing customers, or honoring their agreements, only getting new business. Our previous fence installations lasted for a decade or more with no issues whatsoever. I'm afraid based on my experience, I can't recommend, and in fact, would advice against, using K&C.
2 months ago Todd Dube
Highly recommend this company! Great communication, great workmanship, and it didn't take them long to get the work done once they started. I'm really happy with the outcome of the services. New gates around my property and they built a great chicken fence. If i ever need any other work done, I'll be calling them.
7 months ago bobbette strauss
Scheduling was fluid with great communication, the entire job was done before noon and looks amazing! I will definitely use you guys again for any future fencing projects!
7 months ago Mary Perez
Jerry was awesome to work with and provided me with a plan and cost promptly. He was very accommodating to me making a couple changes and also followed up on any questions I had. Terry and his install crew were fabulous and did a great job with attention to detail. My experience with K &C Fence company deserves an A++.
9 months ago Nina Nupponen
The fence looks great! Everyone was working hard, would definitely refer my friends to use you guys. Thank you
7 months ago M Ames
We have used K&C Fence Company for two fence projects, and each time we have been impressed with their quality, project management and value. Their installation team is incredibly hard working, and does a meticulous job to ensure the fence was built as we wanted it. I would recommend this company to anyone looking to have a fence installed.
8 months ago Peter Reeve
Thank you so much. Both different types of fence that you installed for us look great. Not only do they look great but the installers that came were on time, very knowledgeable and polite. We would recommend you to anyone that wants a great looking fence. Brad the sales guy walked us through all expectations! Great job everyone involved.
11 months ago kathycleveland
The quality of the fence was excellent. The crew,: estimators, schedulers, and installers were all excellent and easy to work with. Would highly recommend this company for your fencing needs
8 months ago Luis Garcia
I had an electricity problem that coincided with the installation. Thought it was caused by workers and K & C sent someone out to see if he could fix it. Found out it was an NES problem. That was nice that they cared enough to send someone out.
5 months ago Joclyn Richards
A great all around experience! Todd came out and listened to exactly what we wanted and helped us make a good decision. The install crew was pleasant to be around, professional, asked good questions and helped us make good decisions. They did a great job at the cost they quoted. They built fences for me and my neighbor and finished both ON THE SAME DAY!
11 months ago Ivan Vidyakin
From the estimate to installation K&C was fast and reliable. After learning we were moving in and had dogs, Jerry made it a priority to get us installed ASAP. Even with snow on the ground, the crew showed up early ready to get to work. The fence looks amazing and is exactly what we asked for. Thank you to everyone!!
9 months ago Siddharth Rathi
There is a reason so many people leave 5 star reviews. We started out by comparing K & C with a competitor. Right off the bat, K & C was more impressive. Not only were they better able to answer questions, took more time to measure the property and ensure we had our i's dotted and t's crossed, set out flags that showed us where the fence would be, but they also offered a lower quote! Next surprise was that our HOA asked for all kinds of materials to approve the fence (drawings, maps, details about materials, evidence of licensed company etc.). Well, K & C automatically includes all that in their quote (the competitor did not). The install itself was also anything you could wish for. Polite workers who would double check any decision, help us clear the land without upcharge, work hard, long hours during pouring rain. All that and we barely noticed that they were there. They cleaned everything up thoroughly. And the result is a perfectly smooth fence line in bumpy terrain (our neighbors who went with a different company have a much more jagged fence). Online payment was easy, too. Stress-free experience all around.
4 months ago John Mcmullen
K&C installed our fence yesterday and it is gorgeous! Gama and his crew were exceptional!
4 months ago I B
My husband and I were thoroughly impressed with K&C. Their pricing is reasonable and highly competitive for this market. We were pleasantly surprised by the speed and efficiency of the team - everything was finished within two days! Kind and courteous workers! We love our gorgeous new fence. Thank you, K&C!
2 months ago Brooke Cosby
Everything went well - the estimate, the communication, the install...everything. The contract is straightforward and specific, they showed up when they said they would, and the install was quick and efficient. Tony and crew did a great job in miserable weather, and Adam and Brad communicated with me every step of the way. And the fence looks great !
9 months ago jodi snawerdt
Communication with them was easy through email and text. They showed up on time for the estimate. They also quickly made adjustments to our quote as we changed our mind about a couple of things. I would highly recommend them.
2 months ago
Popular places from the category Fence supply store