Collins Price, PLLC
Social security attorney Collins Price, PLLC, 301 N Main St Suite 803, Winston-Salem, NC 27101, United States:
83 reviews
of users and employees, detailed information about the address, opening hours, location on the map, attendance, photos, menus, phone number and a huge amount of other detailed and useful information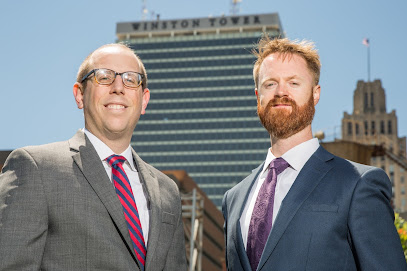 Address:
301 N Main St Suite 803, Winston-Salem, NC 27101, United States
Website:
collinsprice.com
GPS coordinates
Latitude:
36.0990412
Longitude:
-80.2435064
Location on the map
Reviews Elwood Cobb
From the beginning the professionalism of Mr. Collins was outstanding, he truly cared for me and my disability case as if I were family. In the beginning of my case he said I would receive disability benefits and followed through with that, in fact I have received my benefits. If your looking for an outstanding Law firm search no further! I can't thank them enough and will be using them in the future if needed.
4 months ago Steve Mohring
The Collins Price Social Security Disability lawyers in Winston Salem NC are the best. Every person I spoke to in their office was kind and always willing to help. Mr. Price was my key attorney and he was very thorough in explaining the whole process. He was very patient and showed he cared throughout the entire time (English is my second language). I give Mr. Price my highest recommendation. He won my case !!! He is the best attorney I could have asked for. Extremely kind, experienced and knowledgeable. I am forever thankful to Mr. Price.
6 months ago Tashina Bowman
I recommend Brad Collins. In fact if anyone is trying to get their disability get an attorney. I only met Brad once but it was well worth it. We won my case. He and his team are awesome. Good communication and they will try to answer any questions and keep you updated along the way. Good thing is there is no upfront costs. It's taken out of your back pay. Thanks Brad and team.
8 months ago Heather Hewitt
I found Attorney Collins via google and I am very glad that I chose him to be my son's disability lawyer. He and his staff kept me informed about everything pertaining to my son's case. If I had any questions they were always their to answer and made sure that I understood. If you are searching for a disability lawyer Attorney Collins is an excellent choice as he got us the results that we were hoping for!
10 months ago Sharif Parvez
I really enjoyed working with Mr.Collins and his team, they are very professional, reliable and very helpful. I would highly recommend there legal services to anyone!
5 months ago Heather Prideaux
I highly recommend this practice. Any time I called, they were courteous and patient. Mr Collins was able to get me the help I needed and always took the time to listen to my concerns. A great group of professionals.
9 months ago Tyler Trussell
After years of dealing with a prolonged case issues and becoming frustrated, Attorney Andrew Price stepped in and was able to successfully take care of everything while completely restoring our confidence. He provided outstanding service while being professional, communicative, and thorough. We had a brilliant experience and are beyond appreciative. We would confidently recommend Attorney Price!
1 week ago Angela Haule
I really would recommend Collins Price attorney to anyone that needs help with getting their Social Security disability. They are truly there on your behalf. Thank you W. Bradford Collins, your professionalism was greatly appreciated!
11 months ago Joseph Murphy
This firm is an astounding team for your needs. They guided me by answering every question I had. every step of the way. I cannot recommend a better firm to help you!
1 month ago maria crandall
Attorney Andrew Price was able to successfully cut through red tape and did a superb job in navigating my case. He stepped in and handled everything promptly and professionally. I'm thankful for his service and highly recommend him!
1 month ago Lil Wolf
Collins & Price are great. They really care about you and try and help. I highly recommend them.
10 months ago Soner Demirtas
Thanks you Mr. Price and team from the bottom of my heart. Felt and was in good hands through the whole process. Very nice, helpful paralegal. She would leave me messages and email notices. I struggled very hard with mental illness and chronic homelessness. I was constantly change addresses and going in and out of the hospital. It was hard to keep a phone number. They did not judge me at all and was awesome at keeping up with me. Disability services is now giving me relief from agony , distress, and pain. I hope to be recover(ed) from mental illness. I now have hope. Thank you very much again. If you have a willingness to go any length to recover and practice a lifestyle of rigorous honesty with yourself and this team you will have a positive experience, whatever the outcome may be. Two thumbs up, one hundred percent genuine.
1 month ago John Mcmullen
I had mr Collins for my attorney. He is fantastic. I couldn't be more pleased. I got my case settled fast . I had struggled for years trying to get approved for disability. He got me approved in just a few months. I definitely reccomend this law firm and mr Collins. Thank you so much mr. Collins
10 months ago Leah Teitelbaum
Mr. Collins was very professional, honest, transparent and detailed through every step of the process. He and his team encouraged me and kept me informed. Mr. Collins showed great empathy for my health conditions and remained patient thru it all. He has a deep knowledge of disability claims that built up my confidence. I further felt fairness. I would definitely recommend this company when needed.
3 months ago Dishari Mondal
Being of my independent nature..."I will just handle my disability claim myself". I then found out that I needed professional assistance. Folks, please understand that there are small amount of claims that get approved on the initial submission. This is a very indepth and overwhelming process to get your disability claim approved. Please just make an appointment with Attorney Collins to review your case. They don't receive payment unless your case gets approved. There are laws that set their fees as well as capped amount. I have been so thankful that I chose Attorney Collins. All of my concerns were promptly addressed and then some! I never felt like I was a just another client, just an extended family member!
7 months ago Cameron Nagler
Mr. Collins handled my adult daughter's disability case and she won her appeal. Mr. Collins responded quickly to all of our questions. Very professional. Highly recommend!
3 months ago Timmy Chase
Mr. Collins handled my disability case. If I had any questions Mr.Collins or his staff took the time to make sure I understand everything completely. I had a great experience and will definitely recommend him to anyone needing his services..
11 months ago Mark Hamilton
Thanks to the office of Collins Price, my application for Social Security Disability benefits was recently approved along with a large payout. Mr. Price patiently guided me through every step of the process, and I was treated with courtesy and respect by everyone who works in Mr. Price's office. I highly recommend Collins Price to any qualified person who is seeking Social Security benefits.
4 months ago flor fernandez
We highly recommend Bradford Collins and his firm. They have been so helpful in my wife's disability process. Very professional and helpful. Office staff was excellent and very nice! Bradford walked us through each step of the process and made sure we understood what was to come. My wife had a pretty extensive file and the way he spoke to us about doctor visits and dates indicated that he knew her file backward an forward. This absolutely gave us the confidence to keep pushing and we got a fully favorable decision from our ALJ. Thank you so much Bradford it has been a pleasure working with you!
4 months ago Kristen Oswalt
Mr. Collins was a kind, conscientious, and informative lawyer. He was able to guide us adequately on what we needed to do in order to receive disability compensation. There were few lawyers that were willing to take our case, but we are happy to have found Bradley, a confident and hard working attorney. What really struck a cord with me was that he personally took the time to get to know me and my case thoroughly which enabled him to put together a persuasive case. Not only did he promise to do a great job, he executed on his promises and we received a favorable decision. His staff was very kind and approachable as well. I would recommend Mr. Collins to anyone that needs a fantastic, compassionate, knowledgeable attorney that truly gets to know his clients and helps them to finally obtain Social Security Disability.
3 months ago Chris Stanfield
This was my second attempt at disability, Mr. Collins was very practical, straightforward and very personable. He reached out to me personally several times, and his staff was always courteous and helpful. I would recommend Collins-Price even if my case wasn't won, but I am certainly thankful they won!! Thank you Collins-Price!!
6 months ago Tanya Johnson
I am completely and utterly satisfied with this team. I made one telephone call and after talking to Attorney Price all my worries and fears subsided. They really took good care of me. Everything he said would happen did.HE WON MY CASE !!!!!I HAVE NO COMPLAINTS AND HAVE EVEN REFERRED OTHERS TO THEIR OFFICE. YOU COULDN'T ASK FOR ANY BETTER. THANK YOU'LL FOR EVERYTHING.
5 months ago Letitia Swift
Five stars. My disability case was handled by Mr Collins. He did a great job. Either he or a staff member were always available when I had a need or a question. His staff was extremely knowledgeable and always willing to help if he wasn't available. He explained everything in a way I could understand as we went through the process. I would definitely recommend Collins Price.
9 months ago Rachel Dresser
I would highly recommend working with Bradford Collins. He handled everything perfectly. He explained everything throughout the whole process to me in a way I could understand and with compassion. Again I highly recommend looking to him for assistance in the stressful process of applying for disability.
3 months ago Kassie Kilpatrick
Bradford Collins represented me in my Disability case. If I could give him 20 stars I would do so proudly. Both he and his staff ensured that I was completely aware of the entire process every step of the way. He's very professional and compassionate and made either himself or his staff available with any questions I had at any time. He contacted me personally after business hours to inform me that I had been approved. I recommend him to anyone and everyone who's filing a Disability claim. He won't stop fighting for you until you win.
9 months ago Lorena Longo
So moved my case from Virginia, not a problem for this office at all. The whole process took almost 17 months, but everytime i called with some new fear i encountered along the way, Collins and Price answered my questions, reassured that it was a step in the process, and eventuality i recieved a fully favorable disabillity judgement. I recommend them to all......
6 months ago Jon Johnson
If you're truly disabled, call & you'll be happy you did. ???? Thanks again Mr. Collins!
1 month ago Surbi Beluri
They were great to eork with they did all the work less for me to worry about would recommend them nice people
7 months ago daddyzdandi
I highly recommend this law firm for your disability claim. Very fast and courteous service only took less than a year to get me approved. If I could I'd give them 10 stars. Thanks Again for all your help Brad Collins my family and I greatly appreciate your help.
5 months ago Merry Burge
Wonderful experience and very successful outcome. Mr Price was very professional and knowledgeable. He helped me every step of the way! His staff was always available for questions and prompt with answers. Would not recommend anyone else.
3 months ago Sundeep Gatti
They listen and get the job done they follow up they will fight for your rights. They understand our problems and they work hard to get results. Thank you Mr Collins i am deeply appreciated of your hard work and caring.
5 months ago Fergel Amayo
My words would not express what Mr. Collins and his great staff helped to settle my affairs. Everyone was so helpfully. If I called with questions they guided me and were patient and professional. I have since recommended 2 folks to Their firm. I am blessed and greatful to have had an honest person to deal with and he never quit till we got great outcome. I encourage anyone to at least see if the can help you.
11 months ago Beno Btc
First, let me say that the staff is wonderful. Always very helpful and friendly. A few years ago I started dealing with some pretty severe health issues and I filed for disability on my own and was denied. So, I seen a commercial for Collins and Price and I was nervous but I called. It took no time for them to retrieve my medical records and a hearing was scheduled. Mr. Collins made me feel very comfortable and I was approved. I couldn't believe it! I would highly recommend this firm to anyone. Don't do it on your own....call Collins Price!!!!! Thanks so much for all your help!!!
9 months ago Kevin Quek
The firm of Collins Price, PLLC have always been respectful and considerate. They showed diligence in the work ethic. The information of how everything works was easily understood by me. They did not sugar-coat anything. I appreciate the the way I was spoken to by everyone that I had spoken. I will always be glad that I decided to go with Collins Price to go through the disability process. I would highly recommend them for anyone else going through the same thing. I thank them for their due diligence.
6 months ago Storch Pictures
Brad kept me updated on everything that was going on, such as sending me the same documents that he was given, he was very professional when it came to my hearing, Brad called me as soon as he got word about my decision. For that I am very grateful and I would recommend Collins Price, PLLC to anyone that needs it.
9 months ago Kelly Finet
Attorney Collins worked with me throughout the whole process of getting disability. He helped me file, and dealt with all of the appeals as well as getting all the necessary documents that was needed. Although my case should have been easy, it wasn't and he fought hard until we finally won. I would recommend him to anyone needing disability.
7 months ago Ben Hammond
I have fought to get approved for my disability for over a year. So I made the decision to get Collins Price on my case. This firm worked hard on my case, and got things moving along quickly. Thanks to them, I've been found fully favorable and have been approved my disability. Couldn't have did it without them. They always answered every question that I had. And made me feel very comfortable. I would highly recommend them to anyone.
6 months ago Jacilyn Clark
I filed for Social Security Disability 2 times before and was turned down. This time I called Collins and Price. After almost 2 years I received a Favorable decision .Thank You Collins and Price for all your hard work ! Jerrie E.
6 months ago DreamShore Music
My name is Matt Fritz. And Mr. Collins was very professional and courteous to me. He represented me for my diability case. And settled it in a timely manner. Would highly recommend this firm. Very appreciative and many thanks.
5 months ago Joanna DePano
If you need a disability lawyer, then this is the place to go. Mr. Collins was very personable and explained my case to me at every stage of the process. He put me at ease about my case. He did not promise me anything concerning my case except that he would work hard for me. And he did! Each time that I called the office, his staff answered all of my questions. It was a pleasure to have Collins Price as my attorneys.
6 months ago Tom
Like many other people I field my own Social Security Disability claim and was denied. So I hired an attorney. Well that attorney did not work out for me. It came down to crunch time after three attorneys later I found Collins Price. They went far above my expectations. The entire staff was so understanding and kind. They take their time to get to know you and listen. Another words. They treated me like family. I have and will always recommend this amazing team. Forever Thankful Stacy
9 months ago Richie Palleschi
I appreciate everything.Mr.Collins handle my case very professional. I would highly recommend this firm.
4 months ago Sandro Tollec
Got the job done. Professional and ProActive staff. Always gives 100% to conversations and available anytime for questions. Great Team. Thank you.
7 months ago Demetri Patrick
I thank you for your time and assistance, because of you and your staff this journey will be better. I will recommend you to anyone that needs your service. Be blessed. Leslie Norwood????
9 months ago Greta Camilleri
Prompt knowledgeable and Professional
9 months ago Beth Poppas
Said he had confidence in my case, and denied, as well as appeal. Not much expertise or knowledge I felt. No real explanations or guidance, wondering if its partially to blame on the fact he felt my case was strong. As I havent been able to work in years. Referred me to someone else to sue the government and the person doesn't even work for my area. Most of my information was already obtained but threw in my face the few hundred he spent on some records anytime I called trying to understand more of what was going on, or if things were done.
3 months ago Kurtrice Coleman
I am very happy and thankful I found this law firm. They were very helpful and reassuring the entire time they were helping me. I had previously contacted another big name law firm for my case and they refused me and said I didn't have a good case, however, this law firm made everything so simple and easy and won my case for me. Thank you for everything.
9 months ago Gregorio Castro
It took 2.5 years but Mr Bradley Collins was so smart that I won my Claim today on the Spot, I am so amazed and so shocked as nothing ever works out for me, Today it did Awesome amazing Job and a wonderful understanding Judge, God bless you...... Mike
4 months ago Curtis King
Suffice it to say that Brad & team got great results for me and made the process very easy, convenient and efficient. I was very pleased overall and would use them again and recommend to others.
8 months ago Dina Grokop
Mr Collins was very professional and every time I had a question I would call and he would always call me back.i would recommend him to everyone that needs a disability lawer
7 months ago
Popular places from the category Social security attorney