AutoZone Auto Parts
Auto parts store AutoZone Auto Parts, 8638 Woodman Ave, Arleta, CA 91331, United States:
114 reviews
of users and employees, detailed information about the address, opening hours, location on the map, attendance, photos, menus, phone number and a huge amount of other detailed and useful information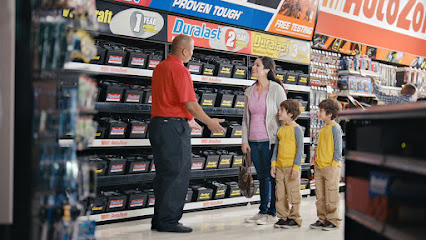 Address:
8638 Woodman Ave, Arleta, CA 91331, United States
GPS coordinates
Latitude:
34.2276505
Longitude:
-118.4335206
Location on the map
Reviews John Cameron
Went in to get a replacement passenger side mirror, asked the team there if there was an easier solution than the temporary cut out ones (since I screwed up the last one)…. The Parts Store Manager took time out of his shift to measure out …
4 months ago Krid Legov
Guy at front desk with tattoos and earrings was so incredibly rude when asked for help, he said to do our own research on google and was extremely passive aggressive. I work customer service and understand the things they go through but he didn't have to be so rude about it?
7 months ago Michelle Anderson
Naz helped me out this morning, he is very knowledgeable, pleasant, and super helpful! He really went the extra mile to make sure everything was done well and proper. Excellent service and experience, I will definitely be coming back to this autozone!
10 months ago Laraine Schwartz
Nice guy, helped me try my car cover
4 months ago Amy Hawman
Staff was very helpful in helping me find the right windshield wipers and helping me put them on my car. Store was super clean with hand sanitizer upon entrance and exiting the store.
9 months ago Kevin Foley
Always helpful when I am there
4 months ago Shirley Wharton
The Staff Here Was Friendly And Willing To Help. I Came Here Only For Engine Oil And Coolant And I Found The Engine Oil Without A Problem. Asked An Employee Where The Coolant Would Be Located And He Didn't Really Know Where It Was. When He Eventually Found It It Was Right In Front Of Us The Whole Time ????.
7 months ago Britni Russell
I called the AutoZone at 8638 Woodman and received excellent customer service from an associate Daniel. I want to commend his ability to go beyond the normal assistance. He not only located my purchase from last year, but also found the …
4 months ago James Hamilton
My remote case broke and I was helped by Daniel. He helped me find another case exactly like my factory original and went above and beyond informing me that AutoZone sells full remotes and even keys. He was courteous, knowledgeable and …
9 months ago Juan Flores
Helpful and courteous support from store
4 months ago Ian Behrendt
The don't have enough tools I drove 5 miles away for purchase tool set ?
7 months ago Adam Holmes
Woman power in that store , luv it.
7 months ago Melinda Belva
Great customer service better service than the one on osborne and Laurel Cyn....
2 weeks ago Lawrence Vinson
Very helpful staff great service
9 months ago Kyle Thomas
Needs to trained employees to have customer service! David is who helped me and has the worst serviced. Didn't even bother to tell me about brake fluid so I had to go back making two trips. Autozone needs to hire knowledgeable people!!
5 months ago Lonnie Laster
Amazing service from both Erik and Jeffrey. My battery died on me and they were helping me in removing my battery and in placing an order to a separate auto zone to pick up. I would recommend and definitely go back! They even helped me put the new battery in. I am an auto zone customer for life now!
5 months ago Derek Douglass
I had to replace my car battery and Ilda did an excellent job considering it was very hard to put back the battery in my car (2016 ford focus se) because the space was very narrow. Without hesitation, his co-worker jeffrey went out of his way to help Ilda to secure the battery and they were able to put the battery in its place.
7 months ago Steven Wright
I went in to get my battery charged and the store manager told me that my batterys voltage was too low and that she couldn't charge it , i drove about 5 minutes to another autozone location on laurel cyn and the staff there was much more …
4 months ago Michal Starosta
Cinthia was awesome and helped me get my car back to form. Thank you so much!
3 months ago Derek Mc
Pricier than Amazon, if u buy above $20 there is point based discount system...u need to register wifh ur phone number...
4 months ago shatika dean
Bad experience...really bad...they have in their system my parts warranty...and the guy who was attending he avoided my warranty...and i have to pay for my parts again......
10 months ago Matt Mallory
The little people need training because give me a wrong parts.
11 months ago Tom Foolery
Very cool People ???? great place to go....
3 months ago Willie Gee
Greatly appreciate the service,time, positive attitude ????.
3 months ago Honestly
The staff is very helpful a few weeks ago they didn't have a bolt for a tire but brainstormed for me to go to the tire shop next door they had the particular size $2.
4 months ago Janet Grant
We were in and out...staff was courteous and knowledgeable...
7 months ago joe jones
I have been going to this AutoZone for year's. Always go above and beyond . They have a customer for life. Great customer service and great attitude's !!???? I had a issue with my mom's light on her element and they were so helpful !!! Thank you guys !!!
7 months ago Shane Potter
The employee working helped us with more than we expected! Very wonderful customer service.
5 months ago Kenneth Easter
This place has kind friendly help everyone smiles
3 weeks ago prasanna naik
Cinthia and Jeffrey thanks for your service !! You are doing great thanks for helping me and installing my battery :) very helpful people !!
4 months ago Local Reviewer
Worst autozone that I ever been to, you guys need to train your employees, specially hilda the manager she she acts like if shes doing us a favor!
6 months ago John Lutkowski
Nice store. The staff is very nice and helpful. Got what I needed.
3 months ago Ed Oelschlager
The Employies there are the most helpful then any other Zone around Neighborhood☝????
5 months ago Suzane Pitcher
Conveniently located. Good selection of parts. Customer service is good.
7 months ago Sonya Bay
The staff here especially Francisco are knowledgeable, friendly and extremely helpful.
6 months ago Glen Howell
Friendly staff and helpful
1 week ago Grant Fahlman
The best customer service. Especially. The Manager his name is "MAX" I give him 5 star for exelent job & professional. Thanks Max You are The best.
6 months ago Pamela Lamb
The employee were playing loud music with foul language in the lyrics. It would have been fine they they were home but this is a business. Service was topical auto quality
7 months ago yolanda Colon
Short lines, great customer service all the way.
7 months ago Bryan Norton
Friendly and professional service. They ran a free battery test on my car, and associate was very honest about the results. Did not make me buy something that I didn't need. They work with honesty , I would shop there again and again for all my car needs.
8 months ago Andrea Lekaj
Very helpful guy didn't got his name should of done it (hey im the guy with a volvo) jajaja
5 months ago Laura Kalihd
Great service. Hilda took her time to come out in the rain and put my wipers on.????❤
6 months ago E Gramifar
Today July 3rd 2020 Came to AutoZone I was going to dump the oil and get a switch for a Nissan pick up and she's the manager …
3 months ago Jawr
Always have what I need.
5 months ago Judy Dorr
Teu have the best service... In looking for the right parts, based on year, make of the automobile. They also help on some kind of fast move on checking on the service that will be …
9 months ago Marilyn Biscotti
Nice staff. But need a couple more people on hand on a busy day to help customers
3 months ago nicholas carter
Very helpful and courteous personnel.
5 months ago Baruch wolkenfeld
Went in before closing and couldn't find receipt for my return. Went out to the car and finally found it but when I tried to go back in the store for simple return I was told they couldn't process anything after 9 closing.
5 months ago Karen Glick
Waist 30 minutes at a store for really really slow service with three people working for them to tell me they have a item in their computer but they can't find it unorganized . Guy who help me with halfway help me and then help somebody …
3 months ago Joann moss
Free parking'! don't miss the entrance. Helpfull staff. Dirty oil drop off
8 months ago
Popular places from the category Auto parts store