Car wash MobileWash - Car Wash & Auto Detailing App Los Angeles
Car wash MobileWash - Car Wash & Auto Detailing App Los Angeles, 6830 McKinley Ave, Los Angeles, CA 90001, United States:
30 reviews
of users and employees, detailed information about the address, opening hours, location on the map, attendance, photos, menus, phone number and a huge amount of other detailed and useful information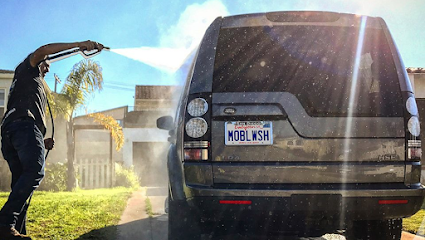 Address:
6830 McKinley Ave, Los Angeles, CA 90001, United States
GPS coordinates
Latitude:
33.9770243
Longitude:
-118.2613025
Location on the map
Reviews Carson Glossop
Great experience. Affordable. We went at night so it was to experience the heat rooms and the spa area (not Co-ed). The heat and main areas are co-ed however taking showers and jacuzzi are gender specific only.
9 months ago Brian Gardner
I love this place. They never push you on services, and instead let you decide what you would like. I always appreciate that. From drop-off to hand off, they are very professional do the job very well. They leave my lil bug squeaky clean each time.
2 months ago Acer Donald
The staff was very friendly and accommodating. Was lucky to arrive and there was no line. Appreciated the complimentary water while I waited. They did a fantastic job cleaning the car, both inside and out. Really happy with my experience there.
3 months ago J Massey
I had to call about 5 times because nobody ever came and washed my car and they tried giving me a 15$ cancellation fee, I called customer service and nobody's even trying to pick up the phone I would not recommend.
7 months ago Yunior Ortiz
Rafi is AMAZING. My car came out looking phenomenal and like it had when I left the lot at the car dealership. Prices and services can not be beat.But would made the difference was Rafi. He was not only looking to make the customer happy, but you can tell generally enjoy what he does for a living.
9 months ago Lindsey Hume
This place is a hidden gem. My car was hand washed and vacuumed thoroughly in 25 minutes. I'm glad to have found this place.
3 months ago Zelmablue Blue
MobileWash, his team and three adorable fur babies are amazing. They responded to my service request for a serious odor removal from my vehicle quite early in the morning and accommodated me with same day service later in the afternoon.
2 days ago Sue Wyatt
Very detailed cleaning job in and out on my filthy, leaf-covered bimmer and for only $35!Under new management - these guys are really killing it - great customer service and just an amazing car wash all around - so lucky to have these guys in my neighborhood.
4 months ago karamvir grewal
Best service ever great for last minute cleaning before a party or event
5 months ago Nicolette Chin
This was by far my best carwash experience ..the cost was cheap the guys were super fast and professional the manager is the sweetest girl i've ever met she was so welcoming and kind...i recomend this place
4 months ago mechelle Murphy
Almost don't want to review this to keep it a secret, but finally! A good car wash with nice people in SF. They did a great job inside and out and even cleaned the trunk area of my small SUV, will be back soon!
4 months ago Gursevak Bhullar
I would definitely use them again.
4 days ago Connie Howard
My car's beige carpet was basically black when I brought my car to Simon's. Years of spilled sodas, dirt and grime build-up left their mark. I figured they'd be able to clean some of the muck, but didn't expect a miracle since this was 11 years of build up.
3 months ago Michelle Tay
By far, WAY better than Ducky's. I feel like my car comes out cleaner than when I go to Ducky's and Jack's is much faster. Definitely coming here from now on to get the car cleaned even though it's a longer drive for me to get here.
6 months ago Corona Jr
First off, my car looks so good. Tyler helped me and was incredible in all aspects. If all of their employee are this quality of people, Birds will be the premier mobile detail company!!!
7 months ago Darcy King
Had my car detailed here on a Saturday morning. They work on plenty of high end cars from BMW M's to Ferrari's. They did a great job, work was highly professional and great attention to detail - will be coming back!
6 months ago Jonathan Vega
What more can I say but great service, professional, friendly. They come to you as well. They always take great care of my car as well as my familys. Always a great experience. Its hard to find reliable services in this day in age with consistency and im really glad Birds is there to do the job!
6 months ago Amani Alqtaishat
I've tried a few places in the Bay Area, and now when I think of a place to go ... I just think of this place. I guess that's the highest praise someone can give.
4 months ago Tyler Jackson
This car wash app rules! No more waiting in long lines! Good deals and easy to use.
3 months ago Zamaira Henriquez
Great service!! Washed my car super clean, loved it! I call them on a weekly basis! :)
3 months ago Angel Cerezo
Awesome service ! Manuel is the best! I normally have my car washed every week and detail as needed. I am a bit suspect of anyone washing etc my black car ...hate swirls, rubs etc. But due to surgery I could not drive and my car was filthy, kinda ocd about that. Lol. So I tried this service app and love it !! Great service , marked professional vehicles arrive with all supplies / equipment and Manuel was amazing, great job! Thank you
7 months ago Aaron Beal
New seating in a totally shaded outdoor area. I always get the budget wash and they always do a good job. If they ever leave a spot or water, I tell them and they clean it off. Couple bucks tip and I'm outro! Tha KS again ocw. BTW did u see them on the Jimmy Kimmel show? They gave away a brand new Volvo suv!
6 months ago John Connor
Great service !! Washer #47 was great very professional and arrived on time !! Car looked and smelled like when I first got it I totally recommend this app to anyone who wants a wash done very good ! I'm glad I found this app !
3 months ago Gloise Hunter
Went there meet that dude name Jairo! He did an amazing job, i always take care of my baby and wanted a special treatment for her today! Jairo went beyond expectation, i have never seen my car like that! It is spotless INSIDE OUT! Baby was polished like never! Thanks USA car wash and detail, and shoutout to my man Jairo!
9 months ago Ryan Shannon
Best car wash​ for the simple fact that this service is soooooo convenient. I hate going to the car wash knowing I may have to wait an hour or two for my car, however with ​mobilewash los angeles, I can keep doing what I need to at home while whomever is assigned to my ​mobile car wash​ gives it a scrub down. Plus, my car is ​hand car wash​ ONLY and that's what this service is too, so IT WORKS OUT PERFECTLY! Typically when I go to a car wash for a handwash, they're charging me $50-70.... However this service that CAME TO MY HOUSE only cost $35-40, and with tip, $50. THIS WILL 100% HAPPEN AGAIN!
6 months ago Jory Sandusky
I found out about Simon's Shine Shop through Google. I needed to the exterior and the interior of my car cleaned do I decided to try out Simon's.
3 months ago jacinta hillis
Good for a cheap quick clean
6 months ago Harsha Vyas
N/A
4 months ago Derek L
To expensive
4 months ago dania wang
Ese numero no es el correcto
3 months ago
Popular places from the category Car wash