PODS Moving & Storage
Moving and storage service PODS Moving & Storage, 7035 Winnetka Ave N Ste A, Minneapolis, MN 55428, United States:
88 reviews
of users and employees, detailed information about the address, opening hours, location on the map, attendance, photos, menus, phone number and a huge amount of other detailed and useful information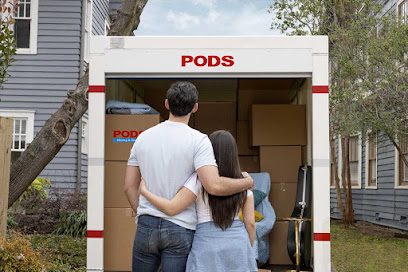 Address:
7035 Winnetka Ave N Ste A, Minneapolis, MN 55428, United States
GPS coordinates
Latitude:
45.0820728
Longitude:
-93.3830169
Location on the map
Reviews Matt Mahaffey
I had the best experience using PODS. I have used PODS twice in Minnesota for storage at my residence while I had remodeling done, and most recently used the out-of-state transport PODS service to move my property from Minnesota to my new residence in southern California. I found that setting up my initial order was most beneficial by phone. I spoke with a young lady who was extremely patient and thorough while taking my order. She explained the billing breakdown to me (three separate payments) and how the cost was applied. She told me the dates the payments would be subtracted from my credit card so I didn't have to pay for the entire cost up front. The delivery of my empty POD was done perfectly and the driver was extremely courteous and good-natured when he saw the difficult driveway he was dealing with for the initial POD drop off. The pick driver was just as courteous and professional, as were the two POD drivers in California where my POD was eventually delivered. I have already told several people that if they are looking for a storage and/or transport company, to check out PODS.
4 months ago Dan Hindman
If I could give negative stars I would.... This company advertises nationwide services and that they will move your stuff anywhere.... Not true... I live In MN and am moving 82 miles and they will not deliver my POD to my new house. I spent over 3 hrs on hold to talk to a customer service rep that told me there is nothing they can do and I would need to give 48 hrs notice to unload my stuff from the POD at their warehouse between the hrs of 8AM-3PM. I escalated the situation to a resolution specialist 2 weeks ago and she will not respond to any of my emails or calls. As if that wasn't bad enough, I am being charged a higher rate per month than the sales rep discussed with me upon booking. I have been paying $224/month for nothing from PODS vs $85/month for a traditional storage unit of the same size. Now on top of paying a premium price to store my belongings I will need to take time off from work, pay even more to rent a Uhaul or moving truck, and do it all myself... PODS has the absolute WORST customer service I have ever dealt with... Or not dealt with, since they wont even get back to me. Use anybody else to help with your move, PODS is a joke....
3 months ago Eric Petronis
Tried to get a POD to move my sister in Minnesota. I flew up from Florida for 4 days. It was supposed to be there between 7-10 am. 10 am no POD. We had people there ready to move! Tried calling for hours, kept getting recordings and disconnected. Finally got to talk to a person in Texas! She didn't really seem to care and said they have a window to deliver it. Lady we are hours past your window! We ended up canceling and just going with a storage place down the road. They charged her $50 to cancel.
5 months ago Luke Lee
The POD was delivered on time and exactly where we requested it to go. It was easy to load and the instructional YouTube video was very helpful to know how best to load it. We needed to change the pick-up date for the POD and that was handled efficiently and with excellent customer service. The POD was delivered to our new home again, in the correct location. Nothing was damaged in transit. It was all around a very successful experience and we'd highly recommend it to our friends and family members.
3 months ago Chantell Krind
Very professional and helpful service folks as well as the drivers. I had several changes needed to pick ups and delivery, they were very helpful. Didn't get a 5 star due to they could not guarantee a window for pick up that was needed for my preferred move date.
6 months ago Tony Godshall
I am going out of my way to make this experience work and it's still some cloudiness in this process. I am quite frankly concerned. Rather than have my POD delivered, I am having movers go to the PODS facility to load the container. Sounds easy enough right? Wrong! Apparently your POD container number is assigned SAME DAY. I have spoken to 4 different reps and it was finally disclosed to me that this is what THEY do. I booked this 2 months in advance and I scheduled movers! Tomorrow is the loading day and I still do not know my PODS number. I tried to get into the PODS facility at 10AM but the door was locked with a nasty note saying if you know your POD container number go to the back and load up. Well... I DO NOT know my PODS container number and neither does customer service because apparently they assign it SAME DAY. ???? If my movers have issues we will have issues... I am also writing this review on the BBB and reaching out to Consumer Affairs if ANYTHING goes wrong. I am also making a review on YouTube. I have paid in full. And their level of customer service is... Concerning. I will update this review in a week or so detailing this experience.
5 months ago Heather Griffin
Very professional, timely, and it was great to know my belongings were in good hands being transported across the country.
6 months ago Kathryn Souviney
DO NOT TRUST THIS COMPANY! THEY ARE AWFUL AND CHARGE A LOT! THEY LOST MY POD AND MY STUFF DIDNT ARRIVE FOR OVER 3 WEEKS!
5 months ago Nelly Fraga
Great experience using PODS for cross country move (MN->AZ). Closing on house was postponed requiring PODS retrieval and transport back to storage area then redelivery to house. Expected additional charges were added. All communication and interaction with PODS employees was positive. Only complaint with container is their 4 foot "tie downs" are inadequate (a few small screw eyes!). Overall, we are very happy with our decision to use PODS.
3 days ago Luke Walthour
The availability to drop containers was not communicated to us prior to selecting PODS. When we wanted to have our belongings delivered, we were informed that the address we wanted the PODS to be delivered to was "out of range." The company PODS suggested we use for packing the PODS was HORRIBLE. Pack and Load Services intentionally packed our belongings in a manor to make it impossible to open our containers. A mattress was bent up while the door closed, thus creating pressure on the door once it was closed. Even the PODS employees who witnessed this, said it was intentional. Other containers had heavy item lodged up against the door. A forklift was required to open the containers. Thanks for the reply, but when you suggest movers to your customers...I expect you to have vetted them. I understand they aren't officially affiliated, but we got their name from PODS as a suggested company to work with. That's why it's in my review of PODS.
2 weeks ago Sherwin Lu
Staff great and drives very friendly. I recommend PODS as it was super easy and stress free. Delivery windows were correct and follow up was great.
10 months ago Gabriel Lunjwire
I'm extremely pleased with their service and will 100% use them again.
5 months ago Brandy Struble
Great service. . . we priced full price moving service was double the price - will definitely recommend to friends and family . . .
11 months ago Rashika Guna
When I signed up for a moving container I was not told that my new city does not allow a container to be palced on the streets. Instead of informing me of this, I was forced into using their city service option for an extra +$500. This was after all my stuff had already been packed up and shipped that I was told my things wouldn't arrive on the day I had scheduled. I was unable to get to my container after 4pm and PODs would not leave it out for me to access after work. After having almost none of my stuff for a week they canceled the day of my city service. Two days later the driver showed up 2 hours early without warning when I did not have the loading dock reserved. All in all it was a major headache working with PODs and it ended up not saving me any money thanks to their surprise city service.
9 months ago Guiliana Orbegozo
I went to load my pod and it wasn't ready. They sent my the wrong version of a form to complete 3-4 times. They finally sent me the right version of the form which I completed and then they decided to delay sending my pod for 2 weeks due to "the form not being completed." However, they decided to email that they were delaying my pod and the email looked the exact same as all of the email that they spam you with. I've moved long distance many times and this is the only company I've ever had even one issue with.
3 months ago ratnakar jena
Extremely rude and unprofessional when asking for a quote. When I indicated that I just wanted a price breakdown before making a decision, I got hung up on. Thank goodness I did not reserve a container!!!
3 months ago Friendly Huda
Overall, it was a great experience and simplified the move. The container was initially delivered, removed, and re-delivered promptly. The final pickup of the empty POD was over a week. Not a huge deal but was expecting it to be removed as quickly as it was the other times so we could have space in our driveway back. Drives were all very friendly.
6 months ago Lawton Curtis
Cleaned my Pod out at the Brooklyn Park, MN location. Employees were great to work with Rob the manager went over and above in order to make sure my Pod was ready and accessible for me!
11 months ago Adrien Barbey
Worked perfectly for me, gave me plenty of time to load it then they picked it up and delivered it to the new place and still had a week to unload. Well worth the money.
9 hours ago Brittany Yurkovitch
PODs is great, we moved out of our house a few months ago and kept all of our items in the POD while our new construction home was being built. The POD drop off and pick up is always smooth from my experience. If you use a traditional storage unit, you need to rent a truck, load everything up, unload it at the storage unit, then when you are done storing you rent a truck again, load it up again and unload it at your new home. With PODs it's just one load and one unload. Worth the price for sure.
4 months ago Karen Park
On-time, reliable, cost effective and friendly!
9 months ago Dawn Kitchekeg
I have nothing but great compliments for every single person I have come into contact with at PODS. We moved from Minnesota to Nevada in January but we had obstacles from the start. PODS was more than happy to help us navigate our circumstances and even on short notice they came through! The customer service at both locations (Las Vegas, NV and Brooklyn Park, MN) were so friendly and helpful. Every person I talked to when calling their customer service line was extremely accommodating and had great personal relations skills! I highly recommend using PODS if you have a large or extended move... it took a lot of stress away during our long distance move.
5 months ago Kurtis Johnson
Quite happy with the service and the responses to my inquiries.
1 month ago Joe
Worst experience ever. I set up online but the site is really bad. Constant 500 errors. Can't update much without chat or call. I called in and adjusted an order. Looked fine and when I didn't receive an email day before I looked online and it was blank. So I had an empty pod sitting on property AFTER my lease expired when chatting they stated my fault and oh well. Horrible service not to have some type of emergency stand by, plus the invoices/orders showed NO changes yet can't get it picked up. End of the day I had to rent a Uhaul and empty said pod (which I have to get a refund for...) which was actually cheaper anyways. Will NEVER use it again because of customer service. Can't believe you would blame the customer for your mistake and also threaten. Simply not ethically right. I will leave negative reviews where ever I can on line for sure.
9 months ago Eagle Pro
Absolute garbage experience. No communication - support was rude and belittling. They overbooked my move day, impacting my plans so I cancelled. I'm glad I didn't actually get a pod. Avoid this headache altogether.
2 months ago Jennifer Ploeger
I rented one POD for Client to declutter the home for showing went to rent another one to move the clients to there new home and one POD can be delivered the day requested but the second POD can not - CAn't get an hold of anyone - VERY LONG wait times and no email fro customer service could be found. As a Realtor who recommends many companies to my clients I thought we would give POD a try, Not a good option Customer service need to improve and there no way to cancel an order on line . I should not have to tell my clients they wont get there belonging for a week but hey you can have the declutter storage on time
5 months ago Marwan Waber
You have no integrity. People rely on your service when they pick you. They expect you to meet your deadlines. I get it that there was a snowstorm on 12/28. But why does it take 6 days to move my POD after this date? Do you only have one driver who can pick these pods up and move them? The new owners are moving in today (12/30) and you're blocking the driveway. You won't answer my calls. The main customer service line can't help because you're basically you're own little company with no one to hold you accountable. I regret choosing you. I will never choose your company again. I usually ignore horrible experiences and just don't recommend or use you again. But you're affecting my life and the new owners of my old house. No one should have to go through this during an important change in their lives. Everyone should know that you have NO customer service and there are other options. Thanks for disrupting my life and not having the integrity to contact me.
5 months ago Andrea Black
I had the POD for a few months to store some stuff while painting my house. After going to retrieve some items, I discovered that the POD leaked, and everything to the back of the POD had to be thrown away. My driveway is not steep, but they delivered in the winter so they could not get the POD up the driveway, to where I wanted it. I settled for its placement toward the foot of the driveway, which ended up causing issues in my neighborhood. I would not recommend this company for all occasions or conditions. Next time I'll just take stuff to a storage unit.
7 months ago Michael Lavery
In area not there !
4 months ago Cody Christofferson
Hands down the worst moving company I've worked with. Moved from Miami to Minneapolis and not only did they drop off the POD in the wrong place they blocked my neighbors driveway. Driver didn't even get off to talk to me despite being home. They said they wouldn't send someone out to move it. We had to hire a fork lift to move it. Then when it came time to pick it up, again the driver didn't get off despite me being home and simply drove by and then left. This time of i recorded it. When I called they claimed the driver was unable to pick it up because something was blocking it. There were some pieces of wood that we could have easily moved if the driver notified us but instead he just left. Now we have to wait another two days and the POD I sitting in out drive way blocking our garage. We can't move our cars. Customer service doesn't care and/or is not willing to do anything about it. Will not be using them again.
5 months ago Lauren Baukus
Excellent staff, responsive to adjustments clean storage and thoughtful people to work with.
5 months ago Andrew Price
THIS IS RIDICULOUS!! I wish they have a ZERO star!! The communication is horrible!. They charged us storage price $235.48, but it sit in front of our drive way the whole time. They said they'll return money, but almost a week after they took the PODS away, they didn't return any dime. The worst part is they CHARGED us another whole new month $235.48 after they picked it up last Friday. I'm wondering the guy who pick up the PODS open it and see nothing inside it??!! We even returned it before 30 days!! My advice is save all bills, take pictures before loading and after unloading your stuffs or go with other company. I won't trust this company!
6 months ago Jeffery Ledford
HORRIBLE! DO NOT USE THEM. They have ZERO integrity. They will leave all your possessions stranded with no way to get them until they find it convenient for themselves.
5 months ago Jared Reyes
I give this company 5 stars not because everything was perfect but because when it wasn't it was handled immediately and professionally. Rob in the Brooklyn Park location was absolutely amazing Rob came to my home within 15min to help my movers with an issue, when no drivers were available. The customer service was stellar and a 5, star totRob and to Pods not because they are perfect (not sure what company is) but going above and beyond and exceeding my expectations in service.
6 months ago Susie B
Absolutely horrible communication with this company. I had 2 pods, and spent lots of money. Had my final drop off AND pick up scheduled for both pods. The woman I spoke with gave me each date I would be charged for the delivery. Call back to confirm 2 days prior to pick up and they don't have the FINAL pick up scheduled, and they can't figure it out. This company is RIDICULOUS.
4 months ago charisse filteau
They do not pro-rate price for empty pod before the month is up that you paid for. If you empty it and hve it picked up within 4 days of that month you get half back, if you empty it within 10 days you get half back. If you empty it within 11 days, you get zero of that month back, even tho you've paid for the 30 days. Customer service on the phone was horrible, rude, short, and very unfriendly. They seemed almost annoyed with having to answer questions. Not just one, of the 5 times i called, every single one of them. The drivers, on the other hand, were great! Friendly and courteous! Which is the only reason I am giving 2 stars rather than 1.
11 months ago franklin carcamo
PODS made moving cross country so easy. The rates were very reasonable, everything was delivered on time and in-tact. Their PODzilla is a sight to see, too. I appreciated the convenience of choosing when to have my POD delivered to my new residence and really liked that I had the POD for the entire month if I needed it. The customer care center was really great too and helped me get everything booked and settled. I think PODS are an exceptional value, I highly recommend and would definitely use again for local or long distance moving.
8 months ago Sheena Edwards
Wish I had read these reviews about delivering to Minneapolis prior to booking. I am in a similar situation where they will not deliver to the house because they refuse to get a permit from the city. They wouldn't give us any money back either despite not informing us when we scheduled the delivery that they wouldn't deliver a pod to minneapolis. Truly horrible. This was the entire reason I ordered a pod, to save on moving time/effort. Edited to add: in response to pod's comment below, Minneapolis does not allow residents to obtain permits for storage containers. They only allow companies to. PODS refuses to work with the city of Minneapolis on getting permits for residents. PLEASE use another storage container company that works with the city to Minneapolis to obtain permits. Believe me. I talked with customer service about this issue for almost an hour. Their only response was "take your chances without a permit and you may get fined. It's not our responsibility."
10 months ago Hassan Nawaz
Love it
5 months ago Dustin Plunkett
This company is utterly garbage, spent an hour of my day educating them about getting a street permit from the city only to have them continuously tell me its my responsibility which its not. Never, ever, ever will I consider calling them again.
5 months ago Lara Tuck
PODS was unwilling to provide the simplest of delivery schedule options: morning, afternoon, or evening, in order to accommodate condominium restrictions. Was simply told it would arrive sometime on that day. Hard to schedule actual movers when not sure when the pod will actually show up.
3 months ago Craig Kirouac
I want to give a shout-out to the deliverer of my POD to my new home with all my family's things (Leonard Clark). He went above and beyond offering to send pics of placement as I could not be there and even come right back if we needed it adjusted. He worked some amazing moves to keep the wheels of the rack off our new sod and sprinkler heads too. Great guy and a credit to the company. The POD itself came clean and ready - looked like new. Make sure you schedule these things in advance including visits as they need to pull it out of their warehouse if you need to grab something out before final delivery. Thanks for your skill Leonard!
3 months ago Billy Brown
PODS was super-convenient for the pre-staging part of our move. Basically let us get the excess out of the house and away ahead of house showings. (The move proper was contracted by work.) Clean, nicely usable POD. The storage ended up being fairly expensive since our sale took longer than expected/hoped, but that's hardly PODS fault.
3 months ago Marion Catt
We stored our POD at this location for almost 2 years. We accessed our POD a few times and each time it was always ready when specified and everything was just how we left it inside. The manager at this location was kind enough to let us keep the POD a few days after the end of our billing period when we finally moved and didn't charge us for another month for going over. We definitely appreciated that.
4 weeks ago Patty Moran
Pods was great. Easy to use. You can take your time, do a little each night. About the same price as U-haul IF you add up renting the truck (picking it up, dropping it off, filling it up with gas, the price of gas, the mileage), finding friends and family willing to help move, and how reliable are they. I plan on using them again in three years to move across state.
3 months ago Holly Kozera
Going through my 2nd cancellation and trying to get the delivery done. Horrible service and they can't ever fix the problems they cause. When you have a delivery, it doesn't come during the window of time they call and say on the night before.
4 months ago Mark Verg
Originally I had planned to rent a U-Haul to move my family cross country certain it would be the most efficient way to do it, but my wife had used Pods before and convinced me to do it. I thought it was needlessly more expensive but the more I crunched the numbers on renting a truck we may have saved money or it was a push at worst. So, we went ahead and booked a pod and that was that. A couple weeks after booking I stumbled upon the reviews for Pods in the Minneapolis area, specifically Brooklyn park where our pod was coming from and would be shipped out from. I started to panic with the amount of negative information I stumbled upon. We were doing this move right after the snowiest February in Minnesotas history, and had a hard closing date for the sale of our home. I called Pods a few times worried about if they would deliver our pod given the conditions, or what might happen if there was another storm leading up to our delivery. The day came and I met the driver (who was right on time) in our driveway. I should clarify, we lived in Minneapolis proper and our driveway can only be accessed through an alley. Add all the snow into it and things are even messier and more narrow than normal. I did spend a ridiculous amount of time breaking ice and cleaning mine and our neighbors connected driveway to make it as easy on the driver as I could, but let me tell you it was still a really difficult delivery for the driver. He told me they typically don't even consider alley driveways this time of year. Needless to say I was grateful he was giving it a go. There were many times I didn't think he was going to be able to do it, but he kept trying and eventually, he got it where it needed to be safely. I did nearly have a panic attack several times when I saw the podzilla thing struggling to maneuver through some ice build up, but the driver kept at it got it done. I will forever be grateful to this driver and Pods for making a very stressful move a lot less stressful than it could have been. There were zero issues with our Pods experience moving from Minnesota to California in the dead of winter. In my opinion the Pods employees, specifically in Minnesota, went above and beyond to make sure we had a good experience. I will definitely recommend them to anyone in the future.
11 months ago Maydelin Brito
Truly the worst service I have ever received. They couldn't deliver my POD for 3 weeks after I moved into my home. I had called with a week and a half notice and i still couldn't get it until 2-3weeks after we moved in. I had to go to the location and unload it myself. after that they kept billing me for 3 months. they even charged me a delivery fee to my house when i had already called and canceled the delivery and told them it was empty. They kept telling me that they delivered the pod to my house and that i have it and that is why they wouldn't refund me my money (i think i'd notice a giant pod in my driveway). After roughly 3 hrs of being on the phone with them they determined the POD was at the storage center EMPTY, just like i said it was. And what did i get in return for all of this ABSOLUTELY NOTHING. If i had to do it over again i would have definitely went elsewhere, even if it was a little bit more expensive. if you need something from them plan on having at least 30 minutes to spend on the phone to get nowhere!
8 months ago Nicole Kaloupek
Wish I could give them a zero. They refuse to pick up a prepaid, emptied pod until I remember a pin #. Would be nice to use the driveway.
7 months ago Heather L
Terrible service. We were told how much head-time we needed to give them for pickup and then when we notified them they told us the earliest they could pick up was 3 weeks later, well after when we needed the Pod at our new place. We rented a U-Haul and got the job done in a couple days at a cheaper price. Even though we never used the Pod, the day they gave us to pick up was pushed back an entire month. Didn't matter to us because we never used it but I can only image how angry I would've been had we received that news a day before the planned pick up, AFTER already being well delayed. We weren't refunded. Never use this service.
3 months ago
Popular places from the category Moving and storage service