Giunta's Meat Farms of Ronkonkoma
Supermarket Giunta's Meat Farms of Ronkonkoma, 318 Portion Rd, Ronkonkoma, NY 11779, United States:
165 reviews
of users and employees, detailed information about the address, opening hours, location on the map, attendance, photos, menus, phone number and a huge amount of other detailed and useful information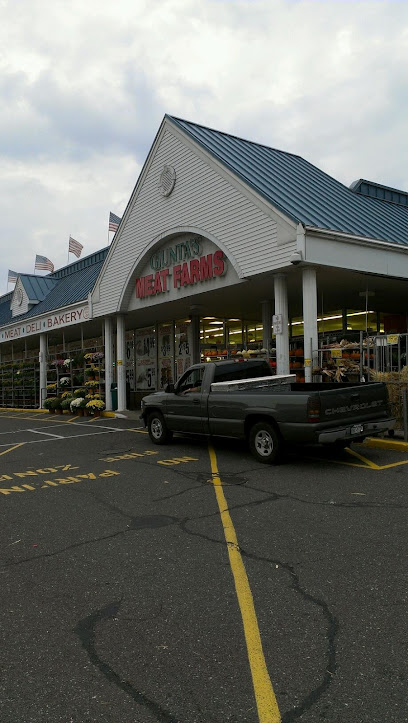 Address:
318 Portion Rd, Ronkonkoma, NY 11779, United States
Website:
giuntasmeatfarms.com
GPS coordinates
Latitude:
40.8273010
Longitude:
-73.1002424
Location on the map
Reviews Jose Roman
Super clean, well stocked, and pleasant staff. What more could you ask for? Love the wide selection of meats from their butcher department. As I raw feed my pets, I'm always able to find a wide variety of organ meat and cuts you can't normally find at other supermarkets and they are well priced!
4 months ago Muriel Geoffroy
I've only shopped here once before, but today i saw Beef Back ribs and thought thats dinner tonight. The cut was nice not too boney not too meaty, but just right. Right now its in the oven for 3 1/2 and i'll see what's good later. Wish me well. But over all the shopping was excellent, the store was very clean and i was able to find everything i was looking for with no problem.
3 months ago Wayne Ely
I've been coming here for the last year and have had a great experience every time. I leave getting exactly what I went in for and the cashiers are always nice and fun to talk to. I prefer coming here over anywhere else.
6 months ago Victoria Frick
They have more variety of produce than stop and shop for half the price
4 months ago Kim Cherry
Everything is fresh. Been going there for 35 years. Love it.
5 months ago Eileen Radzwion
I enjoy shopping here. It's pleasant. Not overcrowded, and checkout is fast.
5 months ago Helena Holly
I love this store. They always have an abundance of choices in the produce department everything is fresh well rotated and clean and the bakery section also has so many wonderful choices and I've never gone gotten anything in the bakery that wasn't good I highly recommend their baked goods as well. And all the other departments as well
10 months ago Nick Sinclair
Very nice place. Huge variety every thing you could possibly need for cooking a meal. Great beer selection nice staff
7 months ago Tim Bitz
Fantastic produce , fresh baked Italian bread and very affordable prices in my opinion. John D.
6 months ago sheldon truelove
I LOVE THIS STORE EVN MORE THAN THE BIG CHAIN STORES. EVERY IS ALWAYS FRESH WORKERS ARE ALWAYS ROTATING PRODUCT
9 months ago V D
This store is fabulous. Great staff, always very helpful. This place is clean and well stocked. More importantly the manager has donated cloth bags for the community to use for food donations through the Association for Mental Health and Wellness. Picture uploaded. Please shop with them, they are a great store and a supporter of this community!
2 months ago jacinta hillis
Clean. Their meats, fruits and vegetables are awesome. The bakery is also fantastic.
6 months ago Erick Nyabiba
Great for vegetables and deli meat. Very clean and organized.
7 months ago Melanie Charbonnier
I had a horrific experience here due to the rude manager. He yelled at an employee for a mistake I had made. I called the store to complain only to have him hang up on me.He refused to give me his name. He treats women very poorly. This happened 1/29/21.
9 months ago Amber Parkin
Meat Farms is great for meat products but their produce spoils very quickly. Makes you woder how long it sits in the back room before placing out for sale.
10 months ago David Vickers
I love that I can find very good fruits and veggies here. Affordable.
10 months ago Michelle Childers
I like this place. Great deli counter, the produce area is well stocked and, of course, the meat is superior.
8 months ago Adelaine Perkins
Great prices and store....clean and nice.
3 months ago Jane Overton
A great place for steaks and poultry. A little short on canned goods, but then again, it's not called CANNED FARMS.
1 month ago Shashank Tomar
Like always,Giunta's Meat Farms have the most fresh Meats,And Vegetables in town, Personal staff,And Tellers Service are Super,I love this Place!
11 months ago Elena Stakhurskaya
Great vegetables n home made Italian bread with or without sesame seeds
3 months ago Kristy Clawson
Well stocked, high quality, great service
9 months ago Sandeep Goraya
Used to buy my produce at stop and shop. Never again. Much better quality at meat farms, worth the extra trip
3 days ago Neal M
Great produce... Luv guintas
10 months ago Anand kumar
The produce at this location is very nice.
6 months ago MysteriousEnergy
Went to deli counter I was # 52 person ahead of me ordering. 3 staff behind counter chatting all looking at me but no one trying to help me. I had to wave my # to get help. Asked for 1lb store made roast beef asked to see 1st shows me in plastic bag two small dried out ends. At $12lb I don't think so. I went over & asked what about this big piece nice & red. Ordered 1lb it was delicious but would have been given the dried out ends if didn't ask.
7 months ago Darren Heinz
Great I go there almost everyday. I love the Fresh produce and homemade desserts It is a greatest store
2 months ago robert sargent
Very clean. Large produce section. Great meat selection. Very comfortable as they enforce face mask rules. Very satisfied
7 months ago Ronald Graw
Been grocery shopping there for years but lately im not happy. No sanitizing of carts and today Thank god i brought my own bags. They had no bags except the bags they were selling for 3.00 dollars thats not cool especially in these times.
2 months ago Khristina Elliott
Best one we have been to yet. Keep up the great work.!
2 months ago johnnie johnson
Clean, well stocked, on point.
4 months ago Morgan Link
Mostly a good store. Only four stars because I found bone fragments in the Italian sausage
10 months ago Alessandra Fleisher
The store is clean, prices are good and the employees I came in contact with were friendly and helpful. I felt comfortable shopping there in today's environment.
3 months ago MaryJo Dennis
Giunta's Meat Farms never disappoints. The store is clean and fully stocked.
9 months ago Terry Walmart
We love the selection of meat, especially the pork shoulder, various vegetables and fruit. We like the deli section and pies, too!
9 months ago perla ramos
Meat Farms has absolutely no respect for the health and wellbeing of their employees, they dont turn on the AC because it's too expensive and dont allow their employees to drink anything unless it's on their break because a single customer complained. If you do drink while on the clock you get a violation written against you. There are some serious improvements that could be made with management and the way they handle the needs of their own employees.
4 months ago Mike Class
Love Giunta's. Great local market, tons of fresh amazing produce. Very good deli, well stocked shelves. Clean, bright environment, very easy to find what you need. The staff is helpful and friendly, and here's the kicker... Even at busy times, it is not uncommon to find an empty checkout!!! They do a fantastic job of keeping their registers staffed. I can grab what I need and get out. Love Giunta's!
7 months ago Mansi Patel
Very impressed with produce section
11 months ago Bram Jj
Prices are great, good selection. Meat is always good as is their cold cuts. Never a long line at checkout. I enjoy shopping here
4 months ago Elijah Ray
Always have the best selection of produce and meats. My go to through supermarket supply issues from Covid 19.'
5 months ago Szilard Szilagyi
Great store fresh food.
1 week ago Sophie Santoro
Better prices, better produce.
11 months ago Amanda Cooling
Love it. Workers are so polite and friendly. Meat is excellent quality. Best price and selection on fruit and vegetables. Great sales on cold cuts.
6 months ago c sul
I love coming to meat farms bc they have an excellent array of produce! They also have good meats and a lot of the other essentials items. The people at this location are always helpful!
8 months ago Kathy Lookout
Fast, courteous & experienced employees make this an enjoyable event.
5 months ago Jovan Funches
Love this place, helpful, friendly and clean. Travel 45 minutes just to go.
5 months ago Michael Phelps
Best butchers in town when they cut thin cutlets they are perfect and there always willing to give you a minute of there time to answer questions about certain cuts of meat and what would be the best for different recipes. The produce has made a huge turn around with the quality of produce they use to sell as opposed to what they sell now. Best prices on cold cuts also. Would have gave 5 stars but the produce thing got me a little bitter.
9 months ago Dan Rosen
The store is always clean and the staff is very helpful. The cashiers even help bag your groceries when you bring your own bags, which a lot of stores that I go to. It bothers me that a lot of stores don't inforce their cashiers to make sure that they still should help their customers with the task of bagging.
8 months ago Ashwin Ramachandran
Excellent service in the deli and butcher department. Always fresh and a vast selection of fruits and vegetables. It's clean and the cashiers are friendly. I also find rare food items that I can't find in local grocery stores.
11 months ago Daniel Marquis
Love this place.My wife worked and I was off on Tuesdays and they have great meat,produce and deli.She never had a bad meal.Keep it up
4 months ago
Popular places from the category Supermarket