Reedsy
Book publisher Reedsy, 349 5th Ave, New York, NY 10016, United States:
220 reviews
of users and employees, detailed information about the address, opening hours, location on the map, attendance, photos, menus, phone number and a huge amount of other detailed and useful information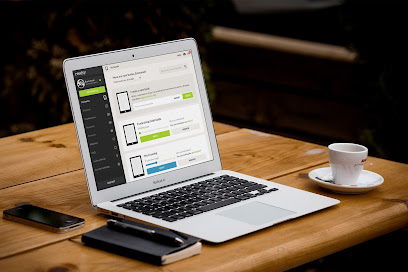 Address:
349 5th Ave, New York, NY 10016, United States
GPS coordinates
Latitude:
40.7481235
Longitude:
-73.9842325
Location on the map
Reviews Elizabeth Renner
So far I've worked with three editors at Reedsy and all have been outstanding! It's easy to find professionals to collaborate with, ask for quotes, and then compare offers to find the best fit. Their expertise and supportive guidance helped me improve my stories immensely, and are influencing new projects. I highly recommend Reedsy and will continue to use their services as needed.
6 months ago Jory Sandusky
I have worked with four different professionals on Reedsy, and all have been fantastic. The "Marketplace" feature connects independent authors with publishing specialists who can edit, market, and help with promoting a book. In an industry that attracts a vast array of sharks, Reedsy provides the highest quality service while ensuring the author's peace of mind. Reedsy will be my first and last port of call when I am ready to release my second book.
6 months ago Brandon Malone
After posting a question on an author/illustrator web site about the going rate for an illustrator. My inbox was flooded with people from around the world who wanted to illustrate my story for little to nothing! I was so afraid of my story getting stolen I almost didn't have it illustrated. Then someone suggested Reedsy. I checked them out, asked questions and verified their site. Then, after opening an account, I was able to navigate their site and choose the professionals I needed with complete security! Being able to choose up to 5 illustrators and get a quote before moving forward was calming. I liked the fact that I got to choose and accept the offer of my choice. My first book went very smoothly. All correspondence and downloads of materials were kept on their site so I could review at any time, I now have my second book being illustrated through the Reedsy website and so far it's going great. It is a bit pricey, but I'm relaxed in the fact that I have an agreement and my stories are safe.
7 months ago Joshua Bishop
What I especially like about Reedsy is the "Marketplace" feature, connecting independent authors with specialists in every aspect of writing, publishing, and marketing a novel. Authors can select and hire from among a large number of professionals from around the world in for several types of editing, book cover and interior design, website design, marketing, and more.
6 months ago Kader Ozdemir
Reedsy has been an invaluable resource for my self-publishing journey. From the articles on print-on-demand services to marketing tips and much more, I feel better prepared to release my debut novel. The professionals that are part of the service catalog are fantastic, world-class experts in editing, cover design, and more. I hired my copy and line editor through Reedsy and it was a simple procedure with phenomenal results. Highly recommended for new or established writers.
7 months ago Johnathan Medlin
I can highly recommend Reedsy to search for talented professionals for your book writing and publishing needs. I hired a wonderful developmental editor from the platform to review the draft manuscript of my memoir on grief and enoughness and now feel like I have an MUCH better book. Now I'm more confident that I can find an agent and publisher! The user experience was delightful. Very easy to use.
7 months ago Walter Keppler
When I decided that I needed a developmental edit for my new book, I went to the Reedsy marketplace. There are so many people offering their wares that I knew I needed a source that I could trust. The options that Reedsy gave me were so spot on, that I found it difficult to decide, and the proposals that I received were all tempting. My final selection was excellent. Thank you Reedy!
7 months ago Flamingpaper
I discovered Reedsy on a writing blog that recommended using it to find quality editors for projects, and I'm so glad I took that advice. I found three editors through Reedsy, and so far have received editorial feedback on a creative non-fiction piece (a memoir/essay) from two of the three. Both were excellent, professional, and thorough. The website system (for uploading pieces, communicating with editors and payment) is easy to use. I highly recommend using Reedsy and plan to continue.
8 months ago Emy Miller
It is my first time writing a book and I am so grateful to have stumbled across Reedsy. The platform is much more that I expected, opening my eyes to all the steps that will be involved in getting my publication to market. Further, I was concerned, being new to the writing world, that I would be taken advantage of by professionals out there. Reedsy gave me the confidence I needed by letting me filter to the exact type of professional I was looking for (a ghostwriter) and then to see the reviews and publications that they were responsible for. I have found a professional who has allowed me to see that I can actually write on my own and he coach me through. The collaboration has been great. I strongly recommend Reedsy and there is so much more to explore in their blogs and YouTube channel.
8 months ago Edmond Herring
Reedsy offers a wide selection of great editors who provide various kinds of editing services. What I like best is that you can write to different editors with questions before deciding on one and then compare their answers and their rates. Reedsy helps make finding the right editor not such a daunting task.
8 months ago Jamie Williams
I've been using Reedsy to work with an editor and illustrator for over a year now and couldn't be happier. I've continued relationships with these professionals and they've never let me down. Reedsy Discovery is a blessing too since I obtained my first professional book review that way. Thank you for everything Reedsy!
7 months ago Ian Smith
As a first time Author, I would have been completely lost without Reedsy. They make it so easy to find professionals that match your needs, in every facet of publishing your book. I used Reedsy to find my copy editor, book cover designer/interior formatter, and final proofreader. The process is so simple! You can search for professionals, see their qualifications and portfolio, and then request quotes from those you feel fit well with your project . I couldn't be happier with the professionals I found on Reedsy. Highly recommend!
7 months ago Jonathan Underhill
I queried editors for my book, compared their feedback on the sample chapters and their interest and suitability for the subject matter. I was very happy with my choice.
6 months ago Ender nerd
Alyssa is excellent on all fronts! Working with Alyssa has been a true pleasure and stress-free. She is a true professional with an eagle-eye for spotting areas, small and big, that need development to bring a novel to its full potential. Her explanations are clear and easy to understand regarding changes that need to be made, which I deeply appreciate since I've been writing the same novel for many years, and despite having had critique partners and beta readers, have become blind to some aspects. Alyssa is patient and encouraged me to reach out to her if I don't quite understand a remark in the inline comments. My sincere thanks to Alyssa for her stellar editing skills and assistance!
7 months ago John Willhite
Reedsy is one of the best apps for writers which I've ever used. I highly recommend to try it out. Reedsy helped me to find the great editor! And I would definitely use the app in future.
7 months ago Shahid Bari
If you have a story to tell and don't know how to begin you should join Reedsy. There are awesome writers, editors and agents to be found. I did the free five limit requests for a quote and all five had responded within 24 hours. All excellent but a wide range of cost. All kind and ready to help or to wait until I could do it. I highly recommend it.
8 months ago Charlotte Kennedy
I engaged several editors to provide feedback on a number of manuscripts that I'm considering rewriting. Their feedback was helpful to me in making decisions. I've decided to scrap one manuscript and focus on revising three others. I know of no other venue where I could quickly obtain several sets of professional opinions in a timely way at a reasonable price.
8 months ago Kent Handelsman
I love using Reedsy's editing services. Their professional editors are punctual and I know I can count on them. The Reedsy site is very user friendly and I never faced any issues. Highly recommended!
7 months ago Surti Swad
I used Reedsy for advice and guidance with marketing my book 'Stikine Wild - The Wilderness Years'. Reedsy gave me many good choices of people to work with, and the person I chose was really great, and quite reasonable in cost. After my collaboration, Reedsy has made available numerous free workshops on various aspects of writing, with excellent writers, attended by hundreds of writers from all over the world. Reedsy is a treasure for serious writers.
7 months ago Cecilia Ferrari
Reedsy has many experienced and verified editors covering different categories. I used it to find an editor for my book. The service was excellent. Reedsy offers a wide range of services (not only editing). The platform is easy to use and lets you collaborate with your editor with ease. Highly recommended.
9 months ago edward wilson
I can absolutely recommend Reedsy. The website is easy to use, and you can find pretty much whoever you need to hire, whether it be an editor, a cover designer or a person to help you with marketing. My experience with my editor was overwhelmingly positive - the rates were reasonable, and she was both professional and reliable.
7 months ago Willie Hill
I enjoyed each step in hiring an editor with Reedsy. It was clear, quick, and I got in touch with a high quality editor that fit my exact needs for my genre and audience. She knew the market and gave invaluable insight. I highly recommend to any writer, anytime, to search the Reedsy site to find the perfect person to help your creativity become reality. I'm more than pleased!
10 months ago Jonathan Kerr
"Reedsy is a platform that allows writers the freedom to choose from many great editors with highly successful backgrounds. It's an easy platform to use and very professional. I've already recommended it to another author and will continue to do so. My experience has been nothing short of amazing. I collaborated with Anna Bierhaus and if the other editors are anything like her you will be in excellent hands. I can't thank Reedsy enough. Truly a great platform for new or experienced writers.They respond is rapid time and pricing is excellent." Angie
9 months ago Nicholas DeSalvo
When the first editor I was looking for, for my book, said he didn't feel he was right for my project I was crushed. Then I found Reedsy.com. They bend over backwards to make sure you are happy and connected to the right people for your writing project! Looking for a new editor allowed me to realize that this is the one-stop-shop of writing. I now have someone designing my cover and am ahead of schedule when it comes to getting my book published. I am convinced there is nothing they can't do!
8 months ago Marley Nicholls
I had a wonderful experience using Reedsy! They are so helpful, especially the manuscript assessor I chose. Megan Zavala finished my project in record time, yet gave me a deep detailed analysis of the strengths and weaknesses of my story. I fully intend on calling on them when I start my next project!
7 months ago AJ YAZDANI
This year, I worked with Jane on six editing jobs on my three Upper Middle-Grade books—three Developmental Edits and three Copy Edits—for a total of almost 100,000 words. That is a lot of work, but all I can tell you is "time flies when you're having fun." I loved every minute of it. Jane is competent, compassionate, and considerate. Once she noticed unfortunate patterns in my writing, she took the time to explain to me how to fix them, and she helped me out when I was stuck and all of this in the most gentle yet firm way. Jane has all my admiration and trust. She is professional, reliable, and always on time. I highly recommend her and I can't speak highly enough about her work.
9 months ago Mostapha Maksoud
Reedsy is a wonderful site full of talented people that will help you through every aspect of your writing project. I was fortunate to find a fantastic editor who has helped me tremendously with my book. I highly recommend Reedsy and cannot say enough good things. If you are a writer or want to be you need to engage with Reedsy.
9 months ago Joe Pusta
Reedsy has been monumental at helping me start my journey as an indie author.
6 months ago aoran wang
This is such a great resource to connect to professional and talented editors and more. I was easily able to evaluate editors, collect bids on my project, hire someone and get a great product turned out in the end! So grateful to have found Reedsy!
7 months ago Jessica Jenkins
I've worked with Reedsy editors and publicists and it has always been a very good experience. It's great to know you have the support of quality professionals from the publishing industry. Such support improves confidence and helps to ensure the work you put out is of a high standard.
1 week ago Jon Fash
I had a fantastic experience with Reedsy. The site is very user friendly and easy to use. I entered into a collaboration that took my "idea" and helped me make it into a project I am very excited about and hope to publish soon. I could not have done this on my own.
9 months ago Tim Duncan
I had a great experience hiring an editor via the Reedsy website. Everything was handled professionally and the system was so easy to use. If I had any questions, the Reedsy support staff were there to help. I thoroughly recommend to any author requiring a service.
8 months ago Robert Gorski
Both Reedsy, the platform and the editor I selected are very responsive. Reedsy's response to emails is lightening fast and always with a complete answer. Refreshing from a platform. I like the search and selection process for professionals. Reedsy has great filters and many people to choose from, for services - in my case an editor. The editor's selected to interview were all reasonable with pricing - less than 1/2 of what I expected based on research before coming to Reedsy. The editor I chose is also responsive to emails, with reasonable pricing and a suggestion for the type of service this first time full length book author needed. I have started a second novel and plan to use Reedsy again for editing. Highly Recommend
10 months ago Larry Strauss
Reedsy.com offers authors access to invaluable resources. You're amazing! Thank you so much.
7 months ago Brian Hailey
I love using Reedsy because it's helped me a lot as a writer. The weekly writing prompts, especially, has helped develop my writing skills. In addition, the editorial services that Reedsy has provided especially for my manuscript has been extremely beneficial as I've received expert advice from my editors. I really recommend Reedsy for aspiring authors!
9 months ago sumit malviya
Reedsy is a godsend! When you don't know much about the publishing industry, Reedsy is a great resource for educating yourself and for finding the right people to work with. I had the privilege of working with Sara Schönfeld who gave me an outstanding developmental edit for a very reasonable price. This really improved my picture book manuscript. Reedsy is an incredible website imbued with a positive vibe!
9 months ago dave rogers
Reedsy was an easy platform to use. It helped me find a great qualified editor for my manuscript. The professionals are all vetted, but prices could be higher than finding an editor through another site. Their system was easy to use and allowed me to message my editor back and forth, send files, and setup up phone calls. They do take a 10% commission, but I felt that the quality of service I received was worth it.
11 months ago Donovan Lorde
Reedsy has been such a great resource in taking my novel from manuscript to finished product. I hired a copy editor/proofreader, as well as a cover designer through Reedsy and have been incredibly pleased with both experiences. Both have been professional and timely and have delivered high quality services. Reedsy's platform makes it easy to set up a collaborations, receive offers, accept offers, and make payments. I would absolutely recommend Reedsy to any author -- those looking to self publish or those looking to traditionally publish.
9 months ago Miara White
I am so thankful that I discovered Reedsy. As a new author on the self publishing journey I felt very lost many times. I finally committed to utilizing their services and had my first ever book edited. I can not tell you how thankful I am. The process is one that I now trust completely. Not only did I end up with a great editor, but Reedsy continues to be a wealth of knowledge and so much of it for free. I feel far more prepared and confident in my self publishing journey. I can't wait to see my book Iron and Cotton in print! I have Reedsy to thank for giving me the confidence and ability to see this to the finish line. Thank you!!
10 months ago Cassidy Baker
The website is easy to use. But even better is the marvelous editor that we found on the site. She is meticulous and seems to get inside our heads and those of our characters and offers suggestions that always improve our characters and the overall story. We'll go back to her for our next three books. My writing partner and I could not be more more pleased with our Reedsy experience!
2 months ago Radar Meds
Reedsy is truly a godsend. You can find the exact kind of editor that suits your project and work-style preferences. I highly recommend.
9 months ago Karl Przechocki
If you've decided to go the self-publishing route with your book, Reedsy is the place to find professional collaborators. The website is very easy to navigate and you have the opportunity to do a deep dive into the profiles of the editors, designers and other resources you need to complete your project. It's empowering as an author to make the decisions on who to hire. You are completely in control of the process and having so many candidates to choose from gives you a full range of possibilities. I highly recommend not "winging it" by trying to be a jack-of-all-trades. Hire through this service and you won't be disappointed.
1 month ago Anthony Dotson
Reedsy offers the chance for creatives to connect with publishing industry professionals in a way unlike any other. Their system is detailed and easy to use, and places control in the hands of freelancers. It's a wonderful opportunity for people just starting out to get a feel for the publishing industry and help at any step in their process, from both writing and editing standpoints. I love this service and can't recommend it enough!
1 week ago Thayer Thayer
Just finished my second collaboration with a wonderful graphic designer who laid out all the interior formatting for book 2 in my Cupid's Fall series. Domini was truly a professional in every sense - skilled in all the technical aspects of formatting, creative in artistic design and weaving in elements of the book's cover, talented in font selections and page layouts. The books have a light rom-com feel, and she captured that beautifully with every style choice. Above all, Domini wasn't satisfied until I was fully happy with the job, which required some late-breaking edits that were handled with grace and patience. As an indie author publishing my debut series, I feel incredibly fortunate to have this collaboration with a talented pro and look forward to working with Domini again on books 3 and 4.
10 months ago Donovan Sigler
I was very fortunate to find Reedsy to get my manuscript formatted into a book. Reedsy has many talented professionals to do the job that you need. I had two books successfully formatted, and I would highly recommend anyone to hire a Reedsy professional to get any work you need to be completed.
10 months ago Rick Miller
I love the Reedsy platform, everyone I have collaborated with has been encouraging, professional and practical. Wonderful experiences.
7 months ago Jeanette Cotto
I had an excellent first experience with Reedsy hiring a Developmental Editor for my children's chapter book. I sent out my request to five editors and got quick replies and quotes from all. So many top-notch professionals to choose from! The editor I chose, (Taylor M.) was professional, punctual, encouraging and thorough. I will use Reedsy again.
4 days ago Nicci Taylor
I used Reedsy twice for proofreading, as well as cover and interior design for my novel A House on Liberty Street. The process was very smooth. There is a good selection of professionals to select from and I appreciate the fact that Reedsy curates them. Utilizing Reedsy made the process of preparing the book for publication far less stressful and the results were outstanding. In addition to the services, Reedsy also offers a considerable amount of expertise and advice on their website.
2 weeks ago Terri Coffman
I recently had the pleasure of working with one of Reedsy's publicist and she was excellent. Prior to selecting a publicist I sent a couple of emails inquiring about their specific services and got a respond the same day each time! I love it when people respond with urgency as it leaves me with a good feeling that my time is valued and I am being appreciated as a customer. Reedsy have many options to choose from for different services. I love the broad selection of top professionals, and how easy it is to navigate through their website. I highly recommend!
1 week ago Usand Sports
I've used Reedsy service to find a professional editor. Since then, through Reedsy, I've written five science fictions books, all edited by Sara through Reedsy. I've enjoyed how easy it is to work with them, communicate, and go through what some would call a difficult experience. Using Reedsy, it wasn't. I highly recommend their services! Robert
8 months ago
Popular places from the category Book publisher