MRT Sungai Jernih (KG33)
Transportation service MRT Sungai Jernih (KG33), 7573, 1, Kampung Sungai Kantan, 43000 Kajang, Selangor, Malaysia:
220 reviews
of users and employees, detailed information about the address, opening hours, location on the map, attendance, photos, menus, phone number and a huge amount of other detailed and useful information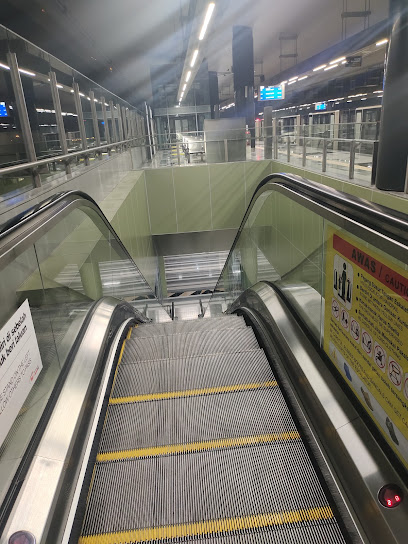 Address:
7573, 1, Kampung Sungai Kantan, 43000 Kajang, Selangor, Malaysia
GPS coordinates
Latitude:
3.0013634
Longitude:
101.7837821
Location on the map
Reviews Lyn Harwell
Good place with spaceful open parking space for.
10 months ago Cintia Garibay
Almost other facilities is good but the female toilet are so gloomy and the layout make it too condensed. Another issues is whenever its raining heavily, u'll see water dripping from the roof almost scattered everywhere. Hope the management can fix this immediately. Anyway, Prasarana's chairman just got terminated. I'm sure there's 'huge' extra allocation is in the pocket now.
8 months ago Branson Jenkins
Good and modern station but hope the authority will improve on: 1. More parking space. Despite there are 3 parking lot (2 multistorey and 1 open space) but only 1 of those is open for public. The multilevel parking opposite MRT still closed (since opening of MRT) and the open parking which completed for few months also closes. You can hardly find any parking if reach the station around 8 plus in the morning. Hope the authority can open these 2 car park lots soon. 2. Cleanliness on the glasses (walkway between multilevel car park to station) need to be improved as the drops from birds were not cleaned for months.
9 months ago Ludolph Kimberley
customer service is good. they'll listen and solve ur probs if you do.
9 months ago MISHAL FARRUKH
Good place
5 months ago Aaron Montgomery
Clean and well managed, and the staff are helpful too. But I don't like that the waiting area downstairs underneath the station is sooo dark, very poor lighting. It doesn't feel safe for solo commuters to wait around there in the late hours.
6 months ago Maria Stein
Alot of parking and can go via mrt train saving money abit
3 months ago kerim yuksel
Newly open MRT station that connects Kajang to KL and Damansara. Well designed structure.
4 months ago cindy meyer
Station is very very dusty due to the construction beside the station. Lights on certain part of the station was also not switched on which makes the place gloomy.
3 months ago Keyuri Solanki
Nice. Cosy
10 months ago John Kennedy
It's bad day for MRT on 3.5.19. The train service was down for a long time. Queue was very long and crowd was agitated and place was packed to the brim. It's at these situations where the true worth of a system/company is tested. And today, I'd say that they have failed. Not an epic fail, but still hopeless. When this many ppl are depending on a public transport like this, the maintenance shld have been much better.
8 months ago manav mehta
MRT Station from Kajang to Sg. Buloh. Very inconvenient for whom whose doesn't want to stuck in traffic jammed.
5 months ago Karan Barnes
The place is neat
10 months ago Joe Derouin
More security and staffs please especially during off-peak period.
5 months ago Joe Savage
Less crowded and find a parking place is not a problem. But the way to exit the parking is a bit complicated. Toilet cleanliness should be able improved further. Customer service staff at that time was not as friendly as I expected.
1 week ago Young Hughley
Good location with many parking spaces. Located near to hospital. I hope they continue surrounding project especially the abandon building beside the station.
8 months ago Edwin Alfaro
Clean & convenient mrt station
2 months ago Brenden Thomas
From Monday to Friday travel going to work...???????????????????????? Really good public transportation... ????????????????????
7 months ago Pascal Renault
Clean. Huge. New norm practise perfectly.
6 months ago Kolby Gordon
Maintained well
10 months ago Jason Brasch
The place is hassle-free. Not too many people. But the problem is surrounding the buildings, there are a lot of stray dogs. I even had experienced one day, two dogs were having a fight and it scares a lot of people. Because the stray dogs are huge and looks fierce. The authority needs to do something regarding this matter.
8 months ago Bill Hausmann
Less crowded and have multiple parking space. Need to improve on the cleanliness of toilet and surau.
8 months ago Karen Welch
Good rail station
10 months ago Lee Walker
Very beautiful and clean. There is a very huge parking lot linked to it but you need to be very early to get one during weekdays. Very convenient for park and ride to avoid the jam in the city. Very accurate display on the arrival of train.
9 months ago Rachel
Good facility for commuters, ample parking place here, less crowded traffic herr compared to MRT Kajang n Stadium Kajang
8 months ago Jennifer Mullins
Spacious & clean but the staffs manning the counter are more interested in their hand phones!
6 months ago omar finklea
Ample covered parking lots attached to station. Easy to get grab driver during peak hour.
10 months ago KurogamiMG
Nice clean MRT stesen
9 months ago Kimberly Russ
Park and Ride convenience, train schedules are on the spot. Entrance and Exit to parking area is quite a hassle. The best transportation so far.
7 months ago Matt DeFrain
No hassle. Free from traffic jam. Easy to drop and pick up passengers.
7 months ago Christopher Calhoun
gets me to my medical appointments fast and hassle free.
6 months ago Tony Coates
Ample parking for cars and bikes. OKU/PWD's friendly.
8 months ago Nicky Wilkinson
Friendly staff, good location for drop off and pick up passengers.
8 months ago Larry Cole
a lot of parking space.... those form batu 14, saujana impian, sg kantan and related area are suggessted to use this facilities
6 months ago Marie Thornton
park and ride. RM4++ per entry if travel using MRT via Touch N Go card. Lots of parking space, recommended to park here
10 months ago Collin Abeln
Clean Feeling safe
3 months ago george dolman
Nice mrt station in near kajang town
10 months ago Mindy Fisher
Not too crowded. Convenient for me.
8 months ago Jeffrey Schneider
Nice place to park your car before going to KL
8 months ago Lela W
Got parking space up to level 6. If come around 8am weekdays, parking level 1-5 full. Convenient parking level 3 because this is where the gate is located. 4-6 have to go up down stairs/lift.Use same tng card, rm4.30 parking charged full day. Got new open space parking lot nearby the parking building but still not in service yet. Some people park their cars nearby the shop houses/tesco cause its free but need to walk quite a distance.
6 months ago LZHEN
Clean toilets and clean surau. If you want to park your car here come early it gets filled very fast on working days!
2 months ago Zachary Maxwell
Frist time to this mrt station
8 months ago Jennifer Mullins
Queit
1 week ago John Challenger
The station is convenience. The toilets and the prayer rooms are clean. The station is equipped with convenience store and Multi Storey Park and Ride. Also self service ticket machine and Touch and Go top up machine. The staffs are very helpful and friendly. There are elevator for disable and also escalator. At the platform, you'll find emergency button to press during emergency. There are benches to sit on while waiting for trains to come. Passengers are not allowed to eat or drink at the platform and the station. The station is only about 300 meter from Tesco Kajang.
6 months ago Jonny Cardot
Very clean place. MRT makes it very convenient to travel to the city. Spacious trains and station. Maximum wait time is only 7 minutes.
10 months ago Anfernee Chapman
It's hard find parking on weekdays. So be early. Otherwise, the place is clean and nice. The prayer room and the toilet are very clean
6 months ago Ronald Mims
Clean. I always prefer clean facilities.
8 months ago Brittany Dockery
Easy access
6 months ago Eddy Burchell
Easy parking
4 months ago Michael Chambers
A new MRT station. When I went there, it was almost spotless clean. Clean toilet too. Very high class look of an MRT station.
10 months ago
Popular places from the category Transportation service