Hennepin Healthcare Clinic & Specialty Center
Family practice physician Hennepin Healthcare Clinic & Specialty Center, 715 S 8th St, Minneapolis, MN 55404, United States:
22 reviews
of users and employees, detailed information about the address, opening hours, location on the map, attendance, photos, menus, phone number and a huge amount of other detailed and useful information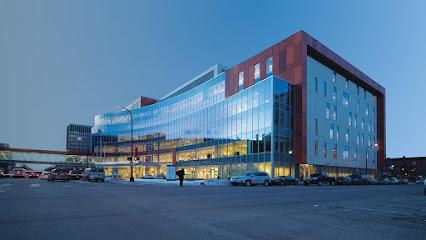 Address:
715 S 8th St, Minneapolis, MN 55404, United States
Website:
hennepinhealthcare.org
GPS coordinates
Latitude:
44.9711981
Longitude:
-93.2638801
Location on the map
Reviews Jayson Love
Top notch care and you can get in quickly. Whoever mans the phones needs more help. Over a 30 minute wait to get through to make an appointment. Otherwise, I have been impressed with the care. Parking can be expensive, although they do offer validation to reduce the cost. There is also some in Street parking. Do note that some of the other patients can and do come from all socioeconomic backgrounds.
3 months ago Emilee Smith
Do not even bother trying to get any appointments here, I was told to get an mri for the simple purpose of neurosurgery "would not take a look without one" because I have something that feels like it is protruding out of my skull. The nurse called me, left a message, and # and I tried to call 4 separate times this week with nothing but a vm every time. Welcome to socialism at work in medicine! We are just another dob, and name. Doctors can give a #### less about the problem, because doctors are already making bank, while everyone else is facing what nursing homes have been dealing with for years. We are seeking care like everyone else, but we never lose the courtesy of calling people back, just goes to prove how they don't give a $### about the average Joe anymore. Don't go here, you will spend more time leaving messages than getting the care you deserve. Might as well go to their competition.
7 months ago Big M
Great pharmacy to pick up essential medications but it doesn't have a store option so be aware of this before you visit hoping it is similar to other commercial pharmacies. But if you need to pick up Rx this is one quality facility. Highly recommended!
1 month ago Hermes Parra
Here to see the orthopedic but come here for everything from acupuncture and chiropractic to eye doctor great place very freindley and they do good things here .thank you health care workers for doing all you do
11 months ago Raul Pleitez
My ER experience was not that great but my time with Dr Luger and Dr Hadley was fantastic. I had a mid clavicle fracture, surgery went well and 2 weeks later I was back on a bike!* They both have a sweet sympathetic touch and I will go to them for all of my future broken bones. *Honesty Update* Took a couple mile ride and realized quickly that I should not. But range of motion was nearly 100% two weeks after surgery.
8 months ago kenney edwardsen
"Maurice" very unprofessional and unhelpful in assisting me with acquiring assistance to facilitate a patient's care.
5 months ago Adriannah Willenborg
AWESOME!! Everything in one building. Will continue going there.
1 week ago Lynsey Davidson
These people are angels. No matter how backed up or treated badly they too often are, they still stay on track. They always treat me with respect!
3 months ago breanna guidotti
Absolutely the worst clinic I have ever been to! I had a very bad broken arm the required emergency ortho surgery and had to follow up here with the surgeon. He was kind and explained things well. However when it came time to followup for Physical Therapy he did not return calls to my primary care provider. Nursing staff was condescending to my husband and myself. I would not EVER go here unless and emergency.
5 months ago Chealsea Erman
I was supposed to have surgery tomorrow (3/28/2018) to remove hardware, but it turns out they never actually scheduled me for surgery and apparently my name wasn't anywhere in the system! I do have to say that Dr. Varecka is an amazing doctor and I wouldn't ask for anyone else but the nurses and staff need to get their S#*% together.
2 weeks ago Nick Brand
I am not sure if this rating is fair for the whole specialty center, as my experience is with the oral surgery department. After my dentist located a growth under my tongue my insurance company sent me to your facility for a biopsy. I have a history of cancer and it was important to make sure everything was okay. My procedure was on March 14th. It is now April 8th. I have called on several occasions and spoke with nurses to get results and they have assured me my results have been in for some time. They have passed on messages to the doctor to call me with results and I have still not heard back. This is the by far the worst patient care I have ever experienced. My sutures fell out the night of the procedure. No after care, no results. Unacceptable. Even my vet calls to see how my dogs are after procedures. Just disgusted with the whole ordeal.
9 months ago William Palka
First the regular general practice doc told me I had a ruptured ear drum. I did not, but it was days before I could get into the ENT to find out what was actually going on. The stress they put me through was unnecessary and unwarranted. Second a routine iud removal went wrong and I had to get surgery to get it removed. This Was very costly. Plus the hospital overcharged me and acted like I was wrong till I went through it with them line by line. Third when getting routine tests run they messed up and now I have to get the same tests redone. They simply make too many mistakes.
11 months ago Jesse Bonin
I saw concussion specialist Brooke and Speech specialist Kim and they do great work. Would recommend!
3 months ago Shelly Pecor
Couldn't of asked for a better Dr than Mr. Templeman and his team threw our journey of years putting my pelvis back together. And always was treated with respect from everyone at the clinc. Can't thank them enough for getting back as far as they have :)
1 month ago William Powell
Great care and attention;
4 months ago Larry Walls
On 3/6/2018 I had a bad slip and fall on ice Dislocating my knee and rupturing my ACL and PCL along with breaking my fibula. Dr. Lugers team has done a fantastic job putting me back together. Their personal touch, and attention to detail have been appreciated. Dr. Luger has personally called my wife a few times answering questions, always promptly. I look forward to my continued care at HCMC with Dr. Luger.
8 months ago Nazy Khadem
My daughter had an appointment today with doctor Marjorie Hogan . . My daughter refused to do the ear examination and to collaborate because she was scared due to her last week vaccinations , the doctor told her "fast please I have another patients waiting for me " . Doctor seemed angry not wanting to help the child to come down . She was in hurry like we are less important . This is wrong and I will not let it pass because her resume says 40 years experience with kids . What I witness is some one who can get easily irritated by being around kids or is it only racial profile !!!!
3 months ago Nicholas Bridges
New facilities, spacious with much natural light and views of downtown Minneapolis. Clean, updated, new.
9 months ago Marshall Thurlow
The best staff and beautiful place
3 months ago Bianca Clarke
never give meds on time half the nurses are very rude, being on there phone playing angry birds is more important love to starve and make patients as misserable as possible
3 months ago Tommy Whalen
It is what it is.
3 months ago Jaipal Kumar
Never again!!!!!!!!!!!!!!!!!!!!!!!
7 months ago
Popular places from the category Family practice physician