Bring a Trailer
Auto auction Bring a Trailer, 1300 17th St, San Francisco, CA 94107, United States:
220 reviews
of users and employees, detailed information about the address, opening hours, location on the map, attendance, photos, menus, phone number and a huge amount of other detailed and useful information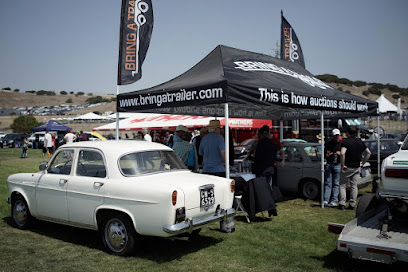 Address:
1300 17th St, San Francisco, CA 94107, United States
GPS coordinates
Latitude:
37.7653607
Longitude:
-122.3969662
Location on the map
Reviews John Dodge
Sold a few cars on bat, great audience and very knowledgable following and staff. Such a breeze to do business with. Have a few more cars in cue. Sold 4 there in June and July.
4 months ago Philip Lundh
Great auction. BaT has really got their act together for Online Auctions of specialty cars. We sold a 1963 Corvette Split window. Mark was the BaT "point man" and made things go smoothly. Have used BaT before and actually I am putting up another car to be auctioned in a few days.
5 months ago Daniel weeks
I am quite happy with the whole process of selling an exotic car through BaT, and don't know of anything that could have been done smoother or better. My Eddie FourFather Hill auction of our 10-mile 2019 Ford GT had 92,969 views, as of a few minutes ago, and still getting views well after the close of the auction. And 3,128 watching- that is excellent exposure. Yep, they do it right!
5 months ago Kalea Loper
Bree'an Moon and the Bring a Trailer crew did an excellent job selling my 94 ZR1 Corvette. Bree was courteous and professional guiding me through the process. I will use them again in the future.
5 months ago mary hellyar
As the buyer, this has been a horrible experience. Decided to use their shipping service to make everything simple (big mistake). I was told that it would be delivered Friday night around 8pm. It's Saturday morning and my car isn't here and Bring a Trailer isn't sure where it is ??? Last I heard (through the seller) he received a text from the driver that he was tired and going to bring the car to his home, to deliver in the morning (btw, the whole trip is 170miles) 14 hours later (after their given delivery time) and still haven't heard anything. Wondering if I should report as theft, since I can't get an update where my vehicle actually is. As the buyer, I pay auction and shipping fees, with nothing to show for it. Stay far away!! Giving 1 star, and that is too generous. Update, the delivery driver is going to bring it over after breakfast (yes, that was his response at 10:30am, no apology). "There was a lot of traffic last night (at 9pm???) and just wanted to go home". But "don't worry, it was safe parked out front of my house" I couldn't make this up if I tried. DO NOT USE THEIR SHIPPING SERVICES, they don't care!!
4 months ago Charles Massey
Sale went through and the price was close enough to make me happy. BAT may be the best place to sell a classic or special car and they are very helpful. I did not give a five star rating because the scheduling is unpredictable and we spent a number of days wondering if we could leave town or not waiting for the listing to start.
5 months ago Kelli Knight
I had a great experience auctioning a motorcycle on BaT. The fee is entirely reasonable and the service is excellent. The website itself is a joy to visit if you are a car or motorcycle enthusiast. Thanks BaT!
4 months ago Sweet Tea
Used them to sell a rare Saab. They were professional throughout, offered helpful advice, and even found me a professional photographer who drove 100+ miles to my location for a photo shoot for a very reasonable fee. I highly recommend them.
5 months ago Fat Cat
Very professional service. Good overall experience. Plan on buying and selling my cars in the future through BaT. Wished they had a number one could call with questions, but I understand the cost of having staff locked on endless phone calls all day. They compensate by timely emails replies, so all is good in the end. I recommend BaT to anyone trying to sell or buy an out-of-the-ordinary vehicle.
4 months ago Bill Holden
Just sold my Mercedes CL600 on BAT and it was so easy. I took my own photos, uploaded them to their site, a few days later i was told the vehicle was accepted and they recommended a reserve. A week later the car sold for 25% above the BAT recommended reserve. The next day the buyer called and wired the money within 24 hours. The whole process was so easy that i plan to see other cars i own on BAT too.
10 months ago Ken Cooley
Really good experience selling my Porsche. I follow the Bring A Trailer auctions daily looking at cars, but was not sure how it would work if I decided to sell a car of my own but decided to give it a try. I was not disappointed. My auction specialist was great, and the Bring A Trailer community added a lot of feedback for bidders to consider. Would definitely use them again.
5 months ago SIMON
Bring a trailer is truly an outstanding business. My experience with it was the most rewarding experience I've encountered with a "new to me" business in many years. The representative assigned to me was outstanding, the platform itself is amazing, and the user community is full of true "car people" who ask great questions and provide tremendous insights during the auction process. I cannot recommend BAT enough!!
5 months ago Polina Shumilina
I am so impressed how many people and in so many different countries know that BAT is where to go to fine their special car. Great writing by the staff. the commentary from the BAT members helps all keep the listing accurate. so many know about the car / truck for sale, they help both the seller and winning buyer to get a proper purchase. I have seen where the seller get way more and where the buyer gets a fantastic deal. BAT is where I have been listing my collection down and my friends too. FANTASTIC!!!
4 months ago Jane Stevenson
Just completed my first auction with BAT and was very happy with the results. Their team was very professional from start to finish. I used their white glove service and they took care of everything. The photographer they sent out did an outstanding job and the pics looked great. I am happy with the results and will use them again.
5 months ago Kristy Ibsen
Bring A Trailer, BAT, in my opinion is by far the very best means to sell autos, trucks, unusual vehicles of any kind and parts and accessories. The audience is huge and the results are amazing. I have used them 3 times now and I have been extremely satisfied with the overall results and highly recommend them to everyone that is reading this. The process is not difficult at all and the assistance they give you is wonderful. It is actually verybexciting at the ending of the auction and quite entertaining too.
5 months ago gbriddon
I just delivered my Datsun 240Z to its new owners. A very good and rewarding experience with Bring a Trailer. Would not hesitate to use or recommend.
4 months ago Dana Allen
Wah Hoo, she's gone! We had a sweet 1929 Chevy Touring Sedan, fully restored to original, the very person that loves and bought her found her here. Excellent job! Kiss her goodbye.
5 months ago Constance Kelly
Excellent platform. Sold a car and a motorcycle. I got what I was expecting for the car, nothing less. The motorcycle was a record sale, even for BaT. Cannot recommend this service enough. Great job BaT.
9 months ago Meredith Scott
BAT approved my application within 2 hours and always responded to feedback or requests on my listing within 24 hours. The car sold and within 24 hours of the buyer requesting shipping they had already reached out to confirm the address and arrange a window. The car was picked up exactly 1 week after auction closed. Very satisfied with the level of communication and professionalism. Others have mentioned that setting up time with a photographer through BAT can be a headache. I ended up hiring my own professional photographer which sped up the process and I think improved my experience.
5 months ago GUILLERMO Morrone
BaT is second to none in selling a vehicle that is hard to part with. The ease in using the BaT auction process was a very satisfying experience!
4 months ago Marilin MP
BAT offers an amazing variety of great vehicles, and my experience was that of professionalism throughout the entire selling process. Even though the wait was a bit long behind a lot of great vehicles, it was worth the wait. Representation with accuracy and precision is a high standard at BAT and that integrity shines brightly everyday. I also enjoyed the hilarious comments by the BAT audience diehards. Thank you BAT.
3 months ago FabiRon Orelana
I sold a valuable motorcycle using BAT and could not be happier! They have a very helpful and personal staff to help prepare for the auction, and I was pleased with the results, as I believe was the buyer. The format is interactive compared to most auctions, and that brought the sale to life versus being cold and remote. I will be using them again.
10 months ago Walter Ventura
I was very pleased with the experience. The advisors were helpful and professional.
4 months ago Fatima Abdullah
Bring a Trailer provides thorough service from start to finish for auctioning your vehicle. The staff create a professional listing for your vehicle, and advise you on what kind of photos bidders expect to see. You review and approve the vehicle description before it goes live. For my vehicle, I got more than I was expecting. I am pleased all around with the results. Bring a Trailer also provides a one-stop shop for shipping. While that process is still in progress, I am patiently awaiting confirmation of a driver to pick up the vehicle.
2 weeks ago Billie May
BaT did exactly what they said they would in listing and helping sell my vehicle. I look forward to listing my next vehicle. Thanks!
5 months ago Yassine
Bring a Trailer made my selling experience seamless and as transparent as possible. From start to finish everything was as advertised and assistance was only a keystroke away when necessary. Overall I have nothing but compliments to the entire Bring a Trailer team and process.
5 months ago Bhau Yadav
I had an amazing experience on BAT. BRing a Trailer was so easy to use and they are so helpful from the beginning of the process to the end. My car that I posted had over 3500 views and 425 watchers. They recommended what my reserve should be and I agreed with them and I sold it for my reserve. The photographer came out and took 250 pictures. The pictures came out amazing and showed every bit of the vehicle every corner. I would definitely use BRing a Trailer again.
5 months ago Richard Johnson
I read everything about the car, the comments & the auction process.I decided to go for the car that was for auction based on a series of factors. One of those factors was that BAT offered shipping. It was to cost me $880.00 to ship my purchase enclosed from seller address to my address. It said during a window of one to two weeks. They collected payment immediately. We do, by law, have a signed and agreed contract. It is now 13 days and no truck. When I call they are going to get on it but now the one to two week window, they claim, is the time it takes for them to give a pick up date. Unfortunately they claim they cant find a "competent" driver. Their defense is that they know by my attitude they will not make me happy so they will give me a full refund. That is their customer service. I have had enough experience to know that they cannot get a driver to haul my car in a covered trailer for the price they quoted and I paid. I found a company today that will pick up the car tomorrow ( Sunday April 12th) delivering it Tuesday or Wednesday. It will cost me about $300 more. The driver is paid at time of delivery. Don't trust them for this service. My seller needs the car gone & I want to get my car. There is liability issues as the seller is not willing to safeguard the car. NOT TO BE TRUSTED. I want my money back immediately as they are not capable. They talk the talk but they can't walk the walk. You however, are absolutely expected to with no excuses.
9 months ago Harriet Smith
Tremendous attention to detail in selecting cars for consideration. Very responsive team members. Most importantly, an extremely transparent and honest model with all the facts out on the table. A massive improvement in vintage and classic car auctioning credibility. Bravo to the OCD at Team BaT!
5 months ago Cartin Andrei
The experience from Bring a Trailer as a seller was great. I think it's got a lot to do with their customer-focus in the early stages all the way up to and including the auction period. The community is also very good, in many ways it's the kinds of prospective buyers and sellers that should be connected to buy and sell these interesting cars, so kudos to BaT for building and maintaining such a great audience!
6 months ago Chinwe E
I had a great experience with Bring a Trailer when i sold my 1972 Datsun 240z at auction. Submission was easy, lots of details about your car. You can get a professional photographer to shoot your car, or do it yourself. You get a gallery of your photos on your auction page, as well as the description. You get an auction manager to help you through things, and get the auction up live... and then you are in it. You get to interact, answer questions, etc. People liked the presentation, I had videos of many aspects of the car, and everyone had an good time. If you have a classic car you are looking to auction... I recommend Bring a Trailer.
10 months ago Chantil Dukart
My husband did the all the work to sell my 95 Jaguar XJS V12 2+2 every thing went good and we got the price we where looking for. Setting up and the pictures taken was super and the posting looking great. Could not have ask for anything better. Thank you bring a trailer
7 months ago Genie Baker
Absolutely the best way to sell a vehicle! Great guidance to best display the finer points of your car and assistance continues trough the entire process.
10 months ago Olivia B
sold a TR6 on the site. Very smooth and professional platform. I would gladly use it again.
5 months ago Jasmin Winnie
I have purchased 2 Cars and sold 4 cars, 3 Pick Up trucks and a motorcycle. All experiences have been excellent. Very fun platform to use, great feedback from buyers and excellent comments from viewers! Highly recommend. Just getting ready to Submit another one!
4 months ago NALGUSTO ALVES
We have been using Bring a Trailer more and more to trade classic cars. Their system of holding an auction open till no one has bid for 2 minutes is much better than the hard time that encourages sniping. The comments are a great resource both for evaluating details on the cars and the credibility of the sellers. I think BaT is going to take a lot of business from the traditional auction houses going forward
8 months ago Ian South
Once again I had a very good selling experience with BAT. Nick Baumbich; my assigned auction specialist was on top to create, make changes and add pictures to the listing. I will not hesitate to list again with BAT. Jan
5 months ago Jasmine Belliard
This is a website strictly for people who don't understand the real value of what they're purchasing. Every single car sold here sells for more than you can buy it literally anywhere else. It's so preposterous it's astonishing, and people will FREAK OUT if you say it in the site chat. Do yourself a favor and use literally any used car search service to save 10-50% against the absurd prices propped up by delusional buyers here.
5 months ago Ioannis Loizou
My first experience was awesome. Tyler at BAT was very helpful making it a seamless effort. I was beyond pleased with my first sale
5 months ago Nash Colbia
We used BaT for the first time, and the whole experience was fantastic. The auction specialists are responsive, the fee is fair, and it's easy to upload pictures. Bring a Trailer is a great platform, and we can't wait to use it again.
7 months ago craig glen
A great place to sell a car if it is Unique or even slightly rare. They show really nice stuff right from the owner typically. The format allows folks in the "community" of that make to comment and help educate those considering to bid. The also avoid the dreaded last second snipe bidders because they don't close out the bidding until 2 minutes expire from the last closing bid. Very Fair to both the bidders and the sellers. Check it out. Bet you make it a daily view if you consider yourself a Car Nut.
5 months ago Steve Holodnick
Fantastic experience. Lots of help and advice.
4 months ago Travis Bray
The Team @ BAT was extremely professional from helping me with my listing to the post auction process. I would highly recommend them for both buying and selling your next collector car. I have been on both sides with buying and selling from the site and consider them a top notch organization.
8 months ago Joe Dabouis
Fantastic experience all around. Great support, and prompt responses. Highly recommended.
5 months ago Kevin Osborn
Bring a Trailer is a great venue to buy or sell a collectible car, motorcycle, or boat. The customer service is excellent and they have developed a platform that attracts credible buyers and sellers. You can trust this auction site and the comments posted from experts are informative and add value to the selling/buying process. Highly recommended!
9 months ago Brady Kruchten
The Bring a Trailer staff helped us get 2 of our cars sold and were very helpful, considerate, friendly, answered all of our questions, and helped me find some things on this car to show the authenticity to some of the people watching it. This is the 2nd car we have sold and both times the sale price has exceeded our expectations. The write up on our cars has been exceptional, informative and helpful to anyone watching the sale while they pay attention to detail. It is so easy to get a car on an auction and get an interest in any car on the auction. I would recommend selling a car here rather than ANY in person auction. We tried those with NO LUCK and to the staff of the "in person auctions" auctions we were just another seller. The Bring a Trailer staff are there to help through the whole process and they make you feel like you are not "just another car to sell". Thanks to the whole Bring a Trailer staff for all of your help and especially to the person assigned to help us because he was GREAT!!
7 months ago Bryan Sands
Great, streamlined process. Richard was very helpful from start to finish. Got a good return as expected. Thank you BaT!
6 months ago Deborah Bigelow
First time seller (but have also purchased a motorcycle using BaT before). It was a great experience, and they delivered, what I feel, the opportunity to receive top dollar for my vehicle. Their writers are very helpful and will create a great listing for you!
1 month ago Gauri Sawant
I wanted to list my 1973 Mercedes 450SL, one of few collectible cars I have with BAT for sale. After full day of work to take lot of pictures of the car, and by end of the night over an hour on their website to upload all the pictures and fill an application and answer all the questions honestly accurately and finally submit them all. After three days I got an email without any said reason they just refused to list my car. Called the contact number on their website and sending few emails asked the reason for refusal I was totally ignored by BAT. At least BAT should have the courtesy of replaying to the customer whom ho has worked free all day for them to be able to keep their website, BAT and business running. This is not the way they should do business.
5 months ago Josh
BAT is a very good way to sell a classic car. They are set up for online and their forum helps buyers and seller exchange detailed information.
4 months ago
Popular places from the category Auto auction