Highland Park Service Center
Auto repair shop Highland Park Service Center, 126 Raritan Ave, Highland Park, NJ 08904, United States:
38 reviews
of users and employees, detailed information about the address, opening hours, location on the map, attendance, photos, menus, phone number and a huge amount of other detailed and useful information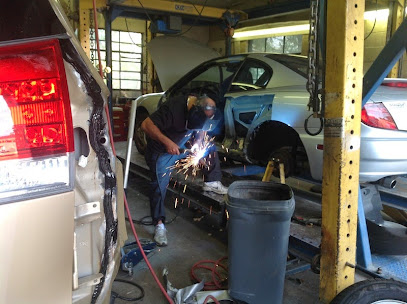 Address:
126 Raritan Ave, Highland Park, NJ 08904, United States
GPS coordinates
Latitude:
40.4981363
Longitude:
-74.4312662
Location on the map
Reviews Charlotte Garnier
Highland Park Service Center is my go-to garage for my 2012 Subaru Impreza. I have gone to them for everything from engine diagnostics and repairs to regular oil changes. I just took my car in for an oil change this week and was impressed with the new and improved office space that is clean and allows for social distancing. As always the work was fast and affordable. They let me know what work was coming up for my car in the near future and gave me the full cost and breakdown. They take good care of the cars they maintain, their customers, and are never pushy or disingenuous. I highly recommend Highland Park Service Center for all of your automotive needs!
4 months ago Stephanie Wells
This is a local shop meaning the people who own and operate this shop live local too. This is not a chain operation , when you let them, Gedalia, Rhymes with vadalia onions, George, Louie,Andy,and David in the office work with your precious vehicle, you not only get excellent and fairly priced service, you support a business in your home neighborhood and that's good for you on many levels and it's smart shopping, ,you can even walk home if you're close enough.That means it's also good for your health. My '95 Bonneville was entrusted to the same mechanic where I bought her new for twenty five years, when he retired I asked around and got great positive encouragement to try Highland Park Service Center , I am tickled pink so much so that I now also let them take care of servicing my fiancées new Chevy Cruze. We are both quite happy and you will be too.
4 weeks ago Robert perrin
My 2002 Toyota Tacoma felt like a new truck after being repaired! Issues that other mechanics had glossed over were addressed and fixed. George thoroughly explained the repairs that were needed and gave me options for each. I am very happy with the service that was provided, thank you.
7 months ago Chuck Hamilton
They were fast and honest about the work that needed to be done. They ordered a new back bumper for me and replaced old and damaged one with a day. I also had them replace a tire pressure sensor. When I expressed concern that another mechanic had told me he couldn't tell which sensor wasn't working, HP Service Center told me they could run a diagnostic and pinpoint the issue so that I would only have to replace the nonworking sensor (instead of 4). The also touched up a paint job that some other repair place had not done so well. As a result, the car looks a lot better.
6 months ago Bayardo Silva
The service here is fantastic. George not only took the time to learn my name, he had tremendous patience with me. I'm a techie, but I'm only just now learning about cars. He spent time with me explaining what was wrong, what needed immediate attention, what could wait, what was pricy (and why), and what was cheap. All in all, I paid a great price for a lot of work that was done very quickly. I know my wife and I will be bringing our cars here for anything we need in the future - we have found our garage.
11 months ago Rony Blum
The Highland Park Service Center does a GREAT job of keeping my two old station wagons (1989, 1997) going nicely. One of the best things that the staff has done recently is repair the heater in my 1989 automobile. No one else had been able to do the repair! Driving without a heater was obviously uncomfortable. The people at the Highland Park Service Center really CARE about their customers. They are top-notch on customer service. I cannot recommend this firm highly enough.
11 months ago Patrick Junginger
Highland Park Service Center has been maintaining each of my vehicles for more than 20 years. The staff is very professional and they keep me informed on needs for each.
7 months ago AD
Best repair shop around. They always do a great shop, and won't shame you for driving cruddy cars like a lot of shops will. I have come to them time and time again and they have often saveds cars that other shops would refuse to even work on for a fair price.
3 weeks ago Mel mama
As usual George did a thorough inspection of my vehicle. Although the original problem was remedied, we couldn't find the root cause. But that's not unusual for a 2005 car of this make & model. The car was returned to me running better than it ever had and lots of other important things we fixed, much to my surprise. Wouldn't let anyone else touch my car! Thanks again George.
3 weeks ago Nathan Cortez
Great service as always. They remember my car history better than I do. Worked with my insurance company and took all the worry away. Thanks
11 months ago Vanisha Rounds
Excellent repair shop, highly recommended. They did a very thorough job on fixing my car and were able to find things that even the dealer had neglected. Would definitely return, trustworthy and reliable.
11 months ago Shannon Greene
Superb service! Staff is great! Got quote by email very fast.
5 months ago Deepak Chourasiya
Good mechanic shop. I will be using them again. I was satisfied with the service and with the staff and felt comfortable and confident about the work being done on my vehicle.
1 month ago Shanay Fennell
Best place for car repairs and service. George is the best.
2 weeks ago CSL
They did a great job and quickly. And it is very convenient to have such a skilled team close in the neighborhood. I strongly recommend them.
2 months ago Daniel Green
I've been a customer for many years and have always found the service to be friendly and excellent! I've dealt with both George and Gedalia and they both are more than willing to answer any questions and give helpful advice. I've used many garages in my 40 + years of driving and this is the one I like best! I don't think I've ever waited more than a day or 2 from the time my appointment was made to the time my service was done!
2 months ago Destiny
Service was excellent. Car was ready when promised with everything done.
3 weeks ago Chris Howard
I have been to these guys with three different cars over the course of the past 4 years. They have always been straight shooters who do good work and really look out for you -- especially against insurance agents and used car dealers. They have always given the option for alternative fixes for major repairs (my exhaust manifold needed to be replaced) always at a cheaper cost. I cannot recommend this place highly enough!
11 months ago Christina Hillers
Great service, they communicate often and work fast.
3 weeks ago Scott Deffenbaugh
Excellent response and fast resolution of small issue (turn signal bulb) on our Passat. Thanks, George. Making life easier!
5 months ago JAYPAL RAJPUT
Great experience. They are trustworthy and knowledgeable.
11 months ago Candice F
I know this Shop is under new Ownership, and have used them for about a year and a half. Clean, friendly shop, and the work has been good so far. Responsive to questions and timely service. Not sure what else there is to ask for in a repair shop. My big question was to fix it or time for a new car. I was satisfied with the answers.
5 months ago Magdalena Garza
Had a great experience working with George on my car. HPSC is an honest and affordable option for anyone looking to tune up their ride. Would definitely recommend to others.
6 months ago Jennifer Snow
love this place great, quick, and honest service
3 months ago Mike Archer
Just come back for a tire repair. Done within 20 minutes. Very good service. Fast, inexpensive, quality and honest service. Highly recommended.
6 months ago Isak Botma
The mechanics at HPSC have done routine work on my car for years, keeping my old car on the road. They have also come to my rescue when unexpected repairs came up.
1 month ago Abby Crabtree
Quick, reliable, and knowledgeable. I've been using this place for the past year and a half with both small jobs and big. The prices are good and they work with my schedule. Would recommend to anyone!
9 months ago Aleksandra Karpova
THEY ARE THE BEST OUT THERE
4 weeks ago Jon Anderson
This is a FIRST-RATE garage. My old station wagon looks great after a visit to the Highland Park Service Center. It drives better, and I feel safer than ever, thanks to the careful work by the staff. My other old station wagon is going there soon! Benjamin R. Beede
1 month ago yasmin garcia
Recently I needed a headlight replaced at the end of my work day. They squeezed me in. They've done other work for me as well over the years. Good guys.
3 months ago Gail Flister
2004 jeep... sideswiped 15 minutes after I bought. Other driver's insurance (Progressive) allowed me to bring it here... my usual go-to place. Excellent body repair and paint job, and they went a little beyond what the insurance company paid for. George is the guy I talk most to and he's always given honest and direct answers and advice. We bring all our cars here. Downside: closed Saturdays, so can't get emergency weekend repairs.
3 months ago Andrew Lewis
Overall great experience with this shop highly recommended item
4 months ago Sridhar Srinivasan
Had a great experience and will use their services again.
11 months ago Keith Stivers
Whenever I send I my car to the highland park service center I can rest assure that my car is in the hands of competent professional mechanics who know what thier doing. If you need a mechanic in Middlesex county area highland park service center is the place to go.
3 months ago Aaron Calkins
I've had nothing but excellent service at this center through both the old and the current ownership. Problems are diagnosed properly, and whether it's mechanical issues or body work, they've always done what was needed. I recommend them to friends who need a place to bring their cars.
7 months ago klaudillaca G
Great service!
11 months ago Mathijs Stultjens
Very reliable and honest. I bring my car here regularly for service.
8 months ago Gail Goldberg
They've helped with every repair, helped passed emission test. I'll go here everytime I'll a car repair
6 months ago
Popular places from the category Auto repair shop