LINE FRIENDS Hollywood Los Angeles Store
Gift shop LINE FRIENDS Hollywood Los Angeles Store, 6922 Hollywood Blvd #101, Los Angeles, CA 90028, United States:
220 reviews
of users and employees, detailed information about the address, opening hours, location on the map, attendance, photos, menus, phone number and a huge amount of other detailed and useful information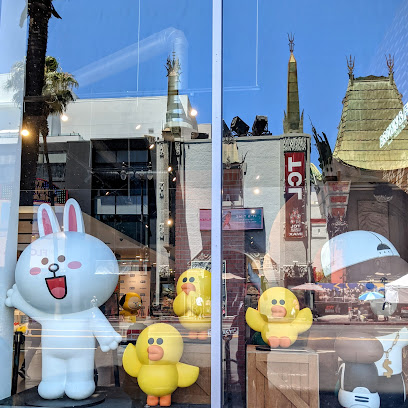 Address:
6922 Hollywood Blvd #101, Los Angeles, CA 90028, United States
GPS coordinates
Latitude:
34.1013610
Longitude:
-118.3407924
Location on the map
Reviews DANISH THAMEEM
I've been wanting to go there and for my first time there they did not disappoint. They had a lot of cute spots to take photos and a lot of adorable stuff and useful merchandise. Overall I love it and my purchase!
7 months ago Raymond Tammany
I really enjoyed my experience at line friends Hollywood. The employees are amazing people as well. I loved everything in the store wishing I could buy all. I totally recommend for army to visit????
7 months ago Greg Schwartz
Right on Hollywood Boulevard across from the Chinese Theater, it was easy to get to. So much fun BTS merchandise inside along with photos with their characters. I overspent in here but it was well worth it. Another trip to visit is in the plans for sure.
7 months ago Chip Taylor
Our daughter loved it here she was super happy and they had the cutes bt21 here I highly recommend it! I won't spoil what they have just come here! With family and friends! And you must have your face mask at all time!!!
10 months ago Aaron Mckinnon
Was super fun!! Had lots of bt21 things!! Will go again.
7 months ago Marek Casimir
Confrontational employees need to be retrained. Had my daughter take a photo in the store had the cashiers - possibly young …
6 months ago Annette Copeland
I LOVE IT ????????????????❤️ It was my first time going into this store! it was clean and the workers were helpful! Yea it expensive but if your a new army I definitely recommend this store! They have a lot of cute stuff and useful stuff. I'm definitely going to come back to the store :]
7 months ago Johnny Barber
Amazing very nice clean not too much stock but loved it went two days in a row would of liked to see more sizes other than just up to L Would of bought more stuff but came home with big haul.
10 months ago Lijoy Philipose
I love everything about this store. High quality products and always such a fun experience!
11 months ago Ken Cooley
Pros: clean and spacious store, friendly staff Cons: less than 1/4 of the store was of Brown & Friends (only the section in …
8 months ago Terry Pierce
Best store! If you're a BTS fan you have to visit!
8 months ago Brian Whitley
The ultimate ARMY experience. Tons of photo ops, a plethora of merchandise, and friendly store associates.
2 months ago Dawn Peters
This place is so great the staff is amazing and they have SO many bts merch to choose from I ended up spending $280, when I was checking out my stuff, the worker told me to spin the wheel and GET A FREE PRIZE. The prize I got was a chimmy mouse pad its so cute I definitely recommend this place.
10 months ago Steven Hagan
It was my first time in LA and I wanted to go to this store first! The place was amazing and I loved how we were able to take pics with everything. The staff were really friendly and I was able to get what I wanted instead of ordering online. :)
7 months ago CJ McKinney
A lot of unique stuff and the prices were about on point with other shops on the walk. Nothing crazy expensive, but nothing cheap either. Good stop to look around
7 months ago don harris
They are open! The line was pretty long but it's because they are limiting the customer capacity (great environment for taking a photo with mega TATA) so it didn't really take that much time to get in. They checked each and every customer's body temperature before letting them in, and the store was super clean.
4 months ago Aline Guillaume
Super fun place to go! We drive from oklahoma and decided to stop in and get something. The staff was super nice.
7 months ago Alex Wiese
Perfect place for any army looking to buy bt21 merch! Great customer service!
7 months ago Amani Alqtaishat
There was alot of the BTS characters but not enough real BTS stuff i was expecting so much more merch but its a must for any BTS fan.
7 months ago Manoj Andalkar
Lots of colorful merch that make you want to buy even if you know you don't have enough money to buy. There were a variety of merch but I do wish they had big plushies available in the store.
7 months ago Danielle Davidson
I love it, much things to buy and a lot of pretty background to take pictures.
7 months ago Ryan Swinson
If ur black they follow you around the store. I had my parents take pictures of me and the security guards made us feel SO uncomfortable the entire time. Embarrassing for Line brand . Find better people to represent you
7 months ago Derrick Steed
A fun place for not just fans of LINE characters or BTS but also for non fans. Everything is so bright and colorful. And they set up many Hollywood theme corners for visitors to take pictures.
10 months ago Nick mucaj
Our 1st time to line friends and we had the store to ourselves! The vibe was great the staff was amazing and the security guard was da bomb! He told us stories about grand opening and the BTS visit. …
1 week ago Simone Brooks
The staff here are really kind and helpful! They're happy to answer any questions and even offered to take photos for me! Everything is organized and they restock items often. I've been here three times since it first opened and have had a …
6 months ago Duane Rigsby
It's not really for me, but I went with my daughter, and it's a pretty badass store. Visually it's really a cool place and has some cool merchandise.
1 week ago Maria Noriega
We went on a very busy day after Jingle Ball. The wait was not long at all. They got people in and out quickly. If your size was out on the floor, the staff was happy to look in the back for you. Lots of cute photo opportunities!
8 months ago Michael Reilly
This store truly is lovely!! I am so glad that I was able to make a stop to this location during my LA vacation this past Fourth of July weekend. The store is super clean and filled with all the cute and lovely things I am into. As the …
8 months ago Mariah elmer
BTS fun merch. Daughter got new items and loved it. I was sitting down waiting for her just like the Brown Bear.
3 months ago Julie Parent
It is an amazing store!! It has so many different products of BT21 merchandise and the staff is super nice, is a must go store if you are a BTS fan
9 months ago Mark McCrae
Everything is so cute! So many things, figures, phone cases, smart watch accessories, airpod cases, scrunchies of course the plushies and so many other things. It is wheelchair accessible!
10 months ago Karen Grigoryan
Honestly I feel like with this store it was the closest I'll ever be to BTS. The store is magnificent with a range of things to but from stationary to clothes. Not only did they have BT21 they have other LINE characters as well. And I …
8 months ago angelia brown
Great store! Just wish the location was better.
7 months ago Kyle Mikota
Clean, well organized, located in the heart of Hollywood, it was a great visit. Don't forget your camera, tons of photo spots in the store
3 months ago Kaht Yen
Not the best LINE store I've been to. It was almost empty and there were more BT21 merch than LINE friends merch. Lots of things were out of stock too which was a little dissapointing. …
6 months ago Coby Ashkenazi
I Love it. My daughter loves it. It's a win win for me.
9 months ago Shadin Turgidson
It was great! I hope they become a permanent store,Service was great,Security there are awesome,GREAT quality,The employees are so nice as well!!! It is fairly expensive,But its worth it!❤
7 months ago X X
Can't argue with an 8 year old on this being "the greatest store in the world" lol
9 months ago Andrew Lavin
The photo spots were all well upkept and super clean! I'm glad they have these little stations! Store staff were all very helpful. Prices vary from item to item a little bit. Stationary items like notebooks and stickers are actually really …
8 months ago Merve Daylak
Line friends store is always one of my go-to places to check out when I travel. They have very cute characters and interior decorations. Compared with their New York pop up location in Time Square, this location is slightly bigger and has …
3 months ago Adrien Marte
Aaaaaaaaaaahhh! T~T Nearly cried in here. You can put your hands in the molds of the boys hands! So amazing. Great job everyone. Every army should take the time to see it!
7 months ago Chris Brown
It was vary fun! There was a lot of parts to take pictures at!
7 months ago Crocop Fan
I came here on a tuesday afternoon. Michelle was really nice, helpful and friendly! I also got to touch jimin's hands on the wall. He has the smallest hands among bts. ????❤️
9 months ago Karla
I loved it!!! I went for my birthday and it was the best gift ever and the workers are very nice the guy that rang us up made us laugh and gave me bags of the other bt21 characters. Every single person had a smile on their face I will definitely want to go back!!????
9 months ago Anna Geneseo
Unsure what this is all about to be honest, but mini me wanted to go in. Expensive store for no reason.
7 months ago Jerk Haxxer
This store was pretty amazing. I've seen the characters but the experience in the store was quite fun …
6 months ago kevin dwyer
Lovely little place and I got to hold hands with RM ????
8 months ago Brad Kaeser
Such a cute store! Moze was so friendly he helped me to take my pictures! Thankyou moze forgive me if I am writing your name incorrectly. You are awesome
10 months ago Jonathan Yuen
The perfect little store for our daughter.
7 months ago Ethan Davis
Really nice store with lots of different products of Line.
7 months ago
Popular places from the category Gift shop