Unique Events
Party equipment rental service Unique Events, 120 50th Ave SW #400, Cedar Rapids, IA 52404, United States:
32 reviews
of users and employees, detailed information about the address, opening hours, location on the map, attendance, photos, menus, phone number and a huge amount of other detailed and useful information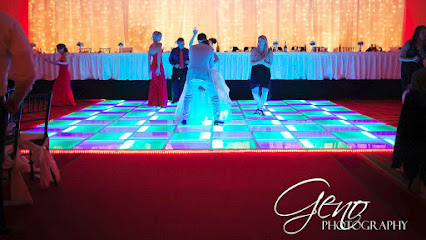 Address:
120 50th Ave SW #400, Cedar Rapids, IA 52404, United States
Website:
uniqueeventsiowa.com
GPS coordinates
Latitude:
41.9296357
Longitude:
-91.6600298
Location on the map
Reviews Betty Hansen
Wow!! Unique Events is THE BEST! We had beautiful rentals and and even more amazing DJ. Travis Hempstead is seriously the best human to work with - hilarious and personable! He spoke with us on the phone multiple times to get to know us, our music tastes, and HE DELIVERED! I hope we are able to use him again in the future. THANK YOU!
5 months ago Veena Swamy
I cannot recommend unique events enough! Ashley was soooo awesome to work with and made part of the wedding planning process a lot less stressful!
5 months ago John Fingerle
Erin Martin and the team at Unique Events created the perfect atmosphere for an intimate, first day of fall wedding/reception at the Celebration Farm. Throughout the relentlessness of 2020 with a pandemic and derecho leading to change after change, Erin was always so positive and ready to pivot. She provided updated visuals/design/floral plans and set-up logistics which helped us to envision and enjoy our event without any worries. The result was unreal! We highly recommend this great team of literal magic-makers for a stress-free, beautifully detailed, unique experience for your special occasion.
2 months ago Mark Critelli
Ashley was easy to work with and highly professional. She actually partnered with our other vendor Borrow My Vintage and put in place perfect farm style tables for our wedding. Would highly recommend Unique Events and Ashley for any event you might have!
6 months ago Lindsay Spradlin
We used Unique Events DJ service for our wedding. Travis H did a great job and not only kept the dance floor moving, but they kept our reception stress free by keeping things moving along and we didn't have to think about a thing after we made our grand entrance until we left. I highly recommend Unique Events, they go above and beyond to make your evening an enjoyable event and help in any way they can.
4 months ago June Westdal
Glen is an ANGEL! Impeccable service and on a short timeline. I haven't even seen the arrangement, but I trust it will be just lovely and perfect for our friend and her family. Sincerely, thank you to Glen and the Unique Events team!
6 months ago Ilona Melnichenko
Friendly staff, beautiful setups
5 months ago Junk Truck
My video company ( Newlyweds Cinema) had the pleasure of working with Unique Events this past weekend and the experience was absolutly amazing. Travis was the DJ for our couples wedding and was just the best we've ever worked with. On your wedding day your planner, photographer, videographer, and DJ become a super hero team for you. Travis was friendly, communicated with everyone so we were all on the same page for what would be coming next during the event, a great MC and DJ who kept the dance floor packed. HIGHLY recommed Unique Events for couples who want a great and memorable experience.
6 months ago Kevin Perry
We recently had our wedding in Iowa City, and our DJ was extremely impressive, professional, and an excellent taste in music. He told us that he has been DJ'ing for 14 years, and it definitely showed. The dance floor was always packed, and he shied away from playing the typical songs that are always played at weddings. Our guests have been commenting about how great of a time they had and have noted that the music was a big reason. I would definitely recommend going to Unique Events in the future if someone is looking for a DJ for a wedding.
6 months ago simone assaad
Having been a wedding coordinator for many years I can say that Travis stands out as exceptional in this field. Professional, personable, and fun. Kept guests I formed and moving through the evening. A great dance party!
4 months ago En Esstah
Unique Events completely transformed our wedding space by setting the entire mood and atmosphere. their photo booth was a guest favorite! cannot thank travis and his team enough for how well executed everything was from start to finish. Their whole team made planning for the big day effortless. knowing that you are in good hands and that everything is taken care of is priceless. I would highly recommend Unique Events!
3 months ago Jeramie Sutherland
We used Unique events for our design and DJ needs and we couldn't have been happier with what they provided for us Erin was absolutely wonderful to work with when coming up and executing design ideas & Travis helped our evening go smoothly, as well as, keep our dance floor super active and fun!! We felt so happy with our decision to hire unique events for our special day and would highly recommend them.
7 months ago May Can
Unique Events was the DJ for our daughter's wedding and I can't thank them enough!!! Avery was our DJ and Riley was so helpful to work with. They are amazing!!! You CANNOT go wrong by having Unique Events help you with any event!!! They made the day run so smoothly and it was completely stress free for me. I was able to just enjoy my daughter's wedding and I knew Avery had everything under control!! I would give them more stars if I could!!!
8 months ago David Svrcek
Travis Newell did an amazing job as our wedding DJ. He listened to my husband and my ideas/music taste and played the perfect selection of music both during dinner and for dancing. The dance floor was full all night long. He even made a special mash-up song for my father-daughter dance as a surprise for my dad, which he loved. Unique Events is professional, easy, and fun to work with. Their services are well worth the money. I would recommend them to any bride and groom that values a fun dance party at their wedding.
6 months ago Christopher FigueroaPerez
We were so happy we had the experience, and organization of Unique events for our wedding. Travis was an excellent maestro to our evening and did so with such professionalism! We truly recommend Unique Events and their various options to coordinate a fantastic and fun event. Our guests enjoyed the photo booth and lounge furniture, which added special touches to our evening!
10 months ago Vita Lisevuch
Great!!! Riley and team provided DJ service for our wedding and it was fantastic; I've never seen better. They are beyond a DJ; they made sure our entire evening ran smoothly. From coordinating the flow of the night to even getting drinks for the bridal party at the head table; I was blown away by the service. And, the music was fantastic; always reading the dance floor crowd and adjusting as needed. Great music and flow can make your reception a success and a great time - these guys are the best; you will not be disappointed!!!
6 months ago Jack Lenz
I have been planning events in Des Moines in various capacities since 2015, and Unique Events is one of my favorite vendors to work with for all my event needs. I have used almost all of their services - floral and decor, equipment rental, photo booth rental, DJ's - and they always deliver! My events are beautiful with gorgeous floral and impeccably maintained equipment and they always work within my budget. Glen is organized, responds quickly, and is fun to work with. Their set up crews are professional and work quickly. I can't say good enough things about Unique Events and their team. If you plan events in Des Moines - don't look them over just because they are based out of town. You won't be disappointed!
3 months ago Randy True
Unique Events is the best option for anyone wanting holding any kind of event. Service is fast, the people are friendly, and they deliver every single time! I cannot say enough great things about this company!!
6 months ago Rachel Willis
I have worked with the Unique Events team for nearly a decade now on hundreds of events, and without a doubt -- they are amazing! They are truly leaders in this area in terms of service, products, and quality. Their attention to detail is top notch, and everything is customized to each client's needs. I love it when one of my couples hire UE, because I know everything will run smoothly. They are wonderful!
1 week ago Steven Grant
Travis and everybody involved with UE helped make our wedding day equal parts smooth and INCREDIBLY FUN! We had all of our linens and dinner stuff brought in by UE on top of them taking care of the DJ duties. Before our day, we met with Travis and discussed what songs we want/didn't want and he got a wonderful sense of the vibe we wanted for our party. Both in the meeting and at our venue, we could tell Travis was a PRO and this was not his first wedding...we really felt in good hands. After my wife and I ate dinner, we walked around to all our tables to thank guests, and every few minutes Travis would come up to us, without interrupting, and fill us in on how much time we had before speeches, first dances, etc. AND he offered to get us a drink each time :). He helped create the schedule of events for the night so we felt he was completely on the ball and helped my wife and I focus on each other and the guests without worrying about logistics or timing. The music was also ON POINT as was our intro, first dances, and everything else that was handled by Travis and UE staff. They brought in a photo booth/mirror thing that our guests LOVED...they also brought in all the props to be used for the booth and even gave us a thumb drive with all the pictures from the booth to have after the wedding. Overall, we felt incredibly taken care of and I would encourage anybody considering using UE to absolutely have these guys on your wedding team!
5 months ago Rich Green
It was a wonderful experience having Unique Events as our DJ, photo booth, and up lighting. They did an amazing job. They helped with the logistics of the reception, music, entertainment, and many other things. I would highly recommend Unique Events.
3 months ago safasherza
Thank you Unique Events! Your flowers are truly unique, timeless and beautiful.
6 months ago Ralf Olonson
I absolutely love Unique Events and their team. No other place in the area has the level of dedication, incredible talent, and amazing services and offerings like UE does. Their floral is incredible, their staff is hilarious, kind, and awesome at what they do, and they have some of the most gorgeous rentals and items around. The DJS are one of the only ones we recommend, since they knock it out of the park every time! If you are looking for a one stop shop to make your wedding planning needs a heck of a lot easier on yourself, UE is the place to go!! :)
6 months ago Christina Brown
Rob and his team were absolutely amazing. Our wedding would have not been the same without them. Keep up the amazing work!
1 month ago Sarah Cole
Unbelievable experience!! Delivered everything the y promised Riley was a superstar. The reception was one of the best events ever played out on pour area!! Highly recommended.
8 months ago Demetrius Williams
I just decorated the party room. Sean is very understanding staff.
6 months ago Nicholas Koulermos
I've had the pleasure of working on jobs with UE multiple times and each and every time I see the best of professionalism, kindness and attention to detail.
9 months ago Allison Harper
Travis was great to work with and we received so many compliments on our event!
1 week ago Mary Klich
They truly go out of their way to make your wedding special, they take all the stress out of everything and made sure our party was truly amazing. Dance floor was packed the entire night.
7 months ago J Jones
I left this same review on the knot, but I couldn't help myself because I think everyone should know what a spectacular job these guys do! To say these guys are awesome is a total understatement. We spoke with Riley and immediately knew these guys were quality. My now husband wasn't totally on board as far as the price tag, but he had put me in charge of the budget and I chose to spend more on entertainment and less on other areas...he went around telling my bridesmaids and family not to tell me, but that it was worth every cent! Riley ended up being our Dj and he brought Miles for lighting, the two were fantastic! We had so many comments from guests that they could not stop dancing, they loved the music and the different changes in lighting! Riley did an amazing job steering the evening events and drawing attention where and when it needed to be done. He made sure the groom and I's parents and wedding party members had what they wanted to drink. He also recalled things I had not written down but mentioned in passing, and used them for the evening, these guys don't miss a detail. They worked extremely well with our other vendors. UE totally transformed our run down venue into a beautiful reception hall. Upon our request, Riley, Miles and Bobby came to town early in the week to set up the dance floor and do our final consultation. He even travelled in 6 months prior to scope out our venue. I can't say enough great things about this team, they're able to improvise when things don't go as planned and make recommendations on many areas of your day. All the stress brought on by a wedding day went away as soon as I arrived at our reception because UE had everything under control, I HIGHLY recommend these guys, I can't say enough great things about them!
3 months ago Terrance Carter
Incredible people to work with!
4 months ago Anjali Khurana
Thief Group
5 months ago
Popular places from the category Party equipment rental service