House cleaning service Los Angeles Maid Service & House Cleaners
House cleaning service Los Angeles Maid Service & House Cleaners, :
64 reviews
of users and employees, detailed information about the address, opening hours, location on the map, attendance, photos, menus, phone number and a huge amount of other detailed and useful information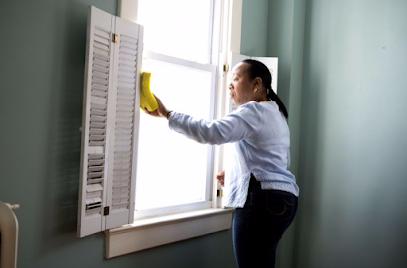 Website:
losangeleshousecleaners.net
GPS coordinates
Latitude:
34.0204989
Longitude:
-118.4117325
Location on the map
Reviews Alfred JHB
We love this cleaning company. The owners appear to care about the staff and it reflects in their work. We ask that they wear masks the whole time they are in our home and compliance is good with this. We love that they super clean revolving areas in the house and let you know which one they completed and which area they will super clean on the next visit. Highly recommend!
3 months ago teyecorn
job well done!
4 months ago Brooke Hawkins
Excellent quality of work. Detailed, nothing was left unturned and wiped down. My main issue was the real hardwood floor and the owner accommodated and gave me choices on how to deal with it. And when the crew arrived, they were aware of this which definitely helped. I am very pleased with their work. Thank you!
3 months ago Merle Stebbins
Amazing staff and cleaners!!
4 months ago Justin Payne
Really happy with these guys. I switched to them after another cleaning company was just not doing a good job.
5 months ago Stephen W
Los Angeles Maid Service & House Cleaners make my studio look amazing every week. BEST service ever!! Really happy with them.
4 months ago Carolyn Mraz
I just got my cleaners Anni And Nora giftcards to the red lobster cause they are that good and feel like family!
4 months ago Patrick Junginger
Los Angeles Maid Service & House Cleaners helped me clean up our old apartment after my partner and I moved. We had lived in this apartment for 3 years and it showed. Los Angeles Maid Service & House Cleaners were able to come in and in the course of 4 hours made the entire place look like new. I mean they got spot off the stove that I had scrubbed for hours previously and made no progress on. I have no idea how they did it! They were quick, efficient, and professional. If you need a cleaner, hire Los Angeles Maid Service & House Cleaners. They're the best.
10 months ago Shay
I have been using this service for about 6 months now and I am so glad I finally found the one company I will need. Before that I was switching companies almost every month because they all had different issues come up.
5 months ago Jerry Lesher
Gave a call after having problems with my last maid service showing up late. The maids showed up right on time ready to clean. And they did a wonderful job cleaning. Scrubbed the floor real good and got out some tough stains in my bathroom. Will definitely be calling them again.
4 months ago Shawn Wavra
The cleaning team made our move out clean so easy! It was required per the end of our lease so we really need a company that could do an exceptional job. They showed up, knocked it out of the park, and provided communication afterward to ensure everything was up to par. Highly recommend!
3 months ago paul zlotolow
After moving out of my apartment in Los Feliz I used Los Angeles Maid Service & House Cleaners. They made it look pretty great and I got my security deposit back. Thank You.
4 months ago Michele Riordan
The maids were incredible! They handled a move-out cleaning for a medium-sized apartment, and went above and beyond. Great communication ahead of, during, and after the cleaning to ensure they would get the job done right -- and they definitely did. Highly recommended!
3 months ago julia hardell
We contacted this cleaning company 3 days before a weekend gathering we were hosting. Like most people we don't particularly enjoy spending energy cleaning and our house was embarrassingly in too bad of shape for us to handle alone. This company booked us for the very next day, and did a phenomenal job. 10 out of 10. I would definitely recommend them to others.
4 months ago Anga O
OMG, I really do not know where to start, these ladies were PHENOMENAL!! They came in and worked really hard! I am very pleased at the level of service they provided and I look forward to seeing them again Next month. Los Angeles Maid Service & House Cleaners is my GO to and once I move from this apt, I will continue to utilize their service. I am very happy and pleased, thank you for making my life easier:)
4 months ago Jose Rojas
We have an apartment/cottage on our property that hasn't been used in quite a few years. The cobwebs had been collecting and just general dust and lack of use made it necessary to have a deep clean before putting our house on the market. This team of cleaners had the place sparkling. I'd highly recommend Los Angeles Maid Service & House Cleaner.
3 months ago Rony Blum
We used LA house cleaning when moving out of our 2 bedroom apartment in koreatown. Martha and her partner were on time, upfront about the timing of the service and did an amazing, very thorough job. Because of the great job they did we received the full security deposit back from our landlord. 10/10 would recommend.
9 months ago Tim Dickson
Truly blown away by the professional cleaning service from them. They did an amazing job on deep cleaning my studio apartment - everything is shining and literally sparkling now. It was my first time using the service and I'm 100% satisfied! I will definitely be using this service more regularly. Thanks!!
4 months ago Bob Pieron
Martha's team from Los Angeles Maid Service & House Cleaners are assigned to me in LA and I really wish I could have hem in my orange county property too! Best service.
4 months ago Terry Robison
I called them and needed a last minute service. Even though I never ended up booking because of some work issues, I was really impressed at how accommodating they were. They made a special exception for me to come later in the evening.
4 months ago Macey Chrestman
I hired Los Angeles Maid Service & House Cleaners after another service cancelled last minute and my landlord needed me to be out by 9pm that night. I was desperate and called these guys for a same day cleaning thinking there was no way they could fit me in but it was worth a shot. They arrived within an hour and did stellar work.
4 months ago Mario Parlev
Hands down, this is the best cleaning company I've ever dealt and I've hired plenty. The cleaners were professional and detailed, the owner called throughout the service to make sure I was happy. Cleaners went above and beyond to get the job done and I will be hiring Los Angeles Maid Service & House Cleaners again.
3 months ago shawn r
Had a great experience with Los Angeles Maid Service and House Cleaners. I found them randomly online and asked them to clean a studio apartment before someone moved in. They were punctual and did a very thorough and timely job. Working with them was extremely easy and efficient. I would definitely use them again.
1 month ago Starion Black
Getting older & needed help with cleaning my house. Unsure who to use as I'm careful about letting people I don't know in. I was referred to this house cleaner by a friend that had a good experience. First appointment was for a deep clean and once a month after. Very happy with the result of the deep clean. The company kept me well informed on pricing, time the cleaner would arrive and what to expect. I would highly recommend this company
4 months ago HarshaSuneetha Fernando
In less than 24 hours from my initial call late in the day, the Los Angeles Maid Service & House Cleaners were able to dispatch a team of pro cleaners to deep clean my late father's house. The real estate agent was delighted with the results; I was kept informed via text (my choice) of progress from the moment they left their headquarters until the job was complete. The service was fantastic: an exemplary experience that shows how things ""are supposed to work"". I couldn't be happier.
4 months ago Skylar Barnett
I've used Los Angeles Maid Service & House Cleaners many times with a variety of housekeepers. It's been an entirely positive experience. The workers are conscientious, hard working and efficient. The products are eco friendly. The workers arrive with everything needed, even vacuum cleaners. The house looks great when they finish. Nearly all of the workers speak Portuguese and I do not, but I use Google Translate on my phone and we communicate just fine. Also, the fees are reasonable. Highly recommended.
4 months ago Kreativeguy
My first time using Target Los Angeles Cleaning reasonable price for my 1 bedroom and 1 bath home and the cleaners did a magnificent job.
7 months ago Ben Ludi
Javier and Leslie did a fantastic job cleaning our apartment before we moved. They were very pleasant to work with and arrived early to the job. Daniela also provided great customer service via text to give us a cleaning quote and coordinate times. We will use Los Angeles Maid Service & House Cleaners in the future and would recommend it to our friends.
3 weeks ago Arielle Segal
I was about to move into my new flat in central London and I needed a good cleaning company. Therefore, After doing a little research, I came across Target.
7 months ago BillionPig
The move out clean was great. The place was immaculate and cleaned areas we did not even think of. Very satisfied and would highly recommend.
11 months ago Jeff Field
We have been happy to use Heather's service bi-weekly for about 6 months now. After consulting with Heather, we had an initial cleaning and were very pleased with the quality of the work. We settled into a bi-weekly routine and have received excellent service every time. Christine has been our regular cleaner and is always on time. I appreciate that Heather has contacted me well in advance when there has been a time conflict, and also appreciate the follow up she provides to ensure that we were happy with the service we received that day. The rates are reasonable and the quality and care are far above expectation.
9 months ago Lucy Alvaro
Isabella was remarkable! I'm generally a germaphobe so I wanted deep cleans of the stove, fridge, bathroom, inside every single cabinet before I relocated. She was wonderful as well as listened to each and every single demand (plainly paying attention incredibly well given that everything was done to exactly the standard I asked for). On top of that she turned up exactly on time, and also got going immediately. She was easy to speak to, did terrific work, as well as went above and also beyond to fulfill all my demand (such as no shoes after she cleans up the floors). Can not stress enough what a fantastic experience I had with her.
1 month ago Eric Hiss
Juan & mary are the ones to tidy my home and it is always gorgeous when they're completed, plus they're incredibly quick! Not only that but they are truly the best individuals personally. I like it that the very same people are going to clean my residence every time since it makes things easier for me. They recognize what I like as well as where I need them to focus so they can get here and also get going while I am running errands.
2 months ago Mou Hoque
Los Angeles Maid Service and House were some of the best house cleaning services i've ever used! showed up right on time, did an amazing job and really helped me out :) Isabella was absolutely awesome, couldn't recommend this place more! if you need a good deep move out clean this is the place!
11 months ago Stephanie Underwood
I have a nice experience from the beginning to the end with this cleaning company! The team was super friendly. They came on time and took care of our stuff. They saved our time. Thanks a lot. I highly recommend this company !!! Overall, it was a good experience for us. Looking forward for using their service again!
3 weeks ago Jasmine Mower
LA House Cleaning is without a doubt the very best house cleaning in Santa Monica (and I'm rather sure they rock throughout LA!!!). I tried a number of various other cleaner services prior to, yet these folks were an instant like. I say this because their system is flawless with very easy reservations. I do not even need to think of cleaning up the house anymore. They do a deep cleaning every 2 weeks for me and I often feel some fairies do the cleaning while I watch netflix, that's exactly how smooth the service is.
1 month ago Lisa Ghini
They did a fantastic job! Very thorough. I would definitely use them again.
10 months ago Viviana Zanardi
I wrote a scathing review a few months ago about a horrible experience I had with one of the cleaners. Sparkling Clean made every attempt to rectify the issue. They really showed me that they valued my business. I decided to give it another chance, and I'm glad I did. They went above and beyond to make things right, and I really appreciate that. For this reason, I would recommend Sparkling Clean. I plan to continue using them for my cleaning needs!
7 months ago Jennifer McConville
They are wonderful with their communications as well as finishing the job the way you want. I had a minor problem that I just mentioned without expecting much but they came all the way back just to fix it. I would certainly use them in the future. I required them to clean a house after moving out. If you require any type of cleansing done, THIS is the agengy to go to!!
2 months ago Andrew Mayfield
I hired them last minute and I was on a budget but they somehow, some way, made it work. They got stuck in traffic and were a little late but that's understandable since it was during the worst rush hour (3-5pm). They gave me a discount for that even though it really wasn't their fault and they did a great job too. I kind of feel bad I paid so little for such great service. Hopefully this review makes up for that!
1 month ago Mark Gilbreath
I had an amazing experience. To echo some of the people below me, I have had some bad experiences with cleaners so I've become incredibly apprehensive about using them. My entire Isabella was positive from the get go. Isabella was early and brought all of the supplies necessary for the job (this has been a issue with other services). She was very professional and friendly. When I got back from running errands I was shocked to see how clean my apartment was. She was extremely thorough and finished right on time. She got to EVERYTHING. I legitimately have nothing but great things to say about my experience. I will be using them again and recommending them to friends in the area.
4 months ago Jeff Bennett
We decided to hire regular cleaning services with Los Angeles Maid Service & House Cleaners and have not been disappointed. Israel and Izabel are fantastic, just like others have mentioned. Thorough and pleasant to work with. We've been very happy with them.
3 months ago Kari Lowry
They did an amazing job! Definitely recommend their services
4 months ago Ahmed Mohamud
They cleaned my 3 bedroom, 2 bathroom place in about 2 hours, did a great job and were very professional. Would definitely use this service again
2 months ago Matt Benson
Good work. My home looks clean as can be. love it.
2 months ago Robbie Mackay
We did a deep clean service with Los Angeles Maid Service & House Cleaners and were very happy with the results. Gabreilla and Bella were awesome and cleaned every nook and corner of our condo. Will definitely recommend them!
6 months ago Omar Yousof
The owner and his crew are truly the best house cleaners ever. He came with his team on short notice, he was flexible with his schedule to figure out a time the would work best. He and his team were very sweet and professional and they did an amazing job cleaning my house and I have high standards. They went above and beyond what most other house cleaners do and it made a huge difference. I will definitely be calling Maid Service & House Cleaners on a regular basis. Thank you!
9 months ago Dan T
This is the reply review for Los Angeles Maid Service & House Cleaners: I complained about it yesterday- Toni texted me, emailed, called me within 24 hours. Vania showed up and fixed everything. I am really impressed with how they responded to my comments. Thank you !
3 months ago Patricia Henderson
Heather's Home Cleaning is THE BEST I have ever hired over 27 years of hiring cleaners. It has been time-consuming and frustrating trying to find a really good housekeeper and I finally found one that exceeds my expectations and am very grateful. If I could give this service ten stars, I would.
6 months ago Shannon Hopple
BEWARE!!! DO NOT use there service! Had my bosses place cleaned as a thank you & the cleaning ladies stole his cleaning supplies! ! I called & spoke to Mark/Marco is his name & his response was basically there's a misunderstanding?????? I've used cleaning services before & wow! Misunderstanding???? They even changed out there ugly bucket for his newer bucket! Consumer beware!
3 months ago
Popular places from the category House cleaning service