Gift shop The Soap Opera®
Gift shop The Soap Opera®, 319 State St, Madison, WI 53703, United States:
68 reviews
of users and employees, detailed information about the address, opening hours, location on the map, attendance, photos, menus, phone number and a huge amount of other detailed and useful information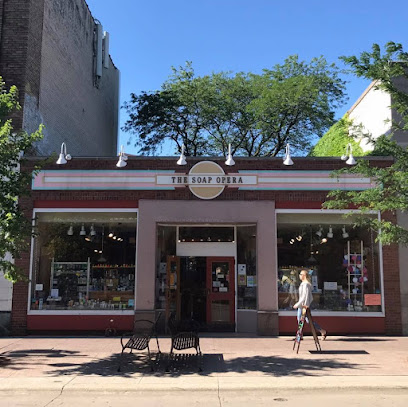 Address:
319 State St, Madison, WI 53703, United States
Website:
thesoapopera.com
GPS coordinates
Latitude:
43.0747206
Longitude:
-89.3909929
Location on the map
Reviews Brandon Bish
Absolutely fantastic. I worked with Stacey while planning a Scenting Party as part of a bachelorette bash. She was accommodating, friendly, responsive, knowledgeable, literally everything you could need or want. The party was AMAZING. Due to rain we were inside, but we were welcomed immediately and they worked with us at the counter to blend custom scents for each member of the party and make products that would work best for us. We were able to peruse the store and make other purchases and the bride was ecstatic to have a custom scent for her wedding day. 10/10 would recommend and will absolutely revisit, this experience was everything we could have hoped for!
7 months ago Bibek Neupane
Excellent store. Always go there when I come to Wisconsin. Love, love, love the wonderful smells of the soaps and also the fun other surprises to buy. Wonderful selection of perfume oils as well. Wish I had on in Texas where I live now.
3 months ago Carla Calvert
Lovely little gift shop. They have all kinds of soaps, bath bombs, perfumes, and other scented stuff. It's a very enjoyable place to walk through and smell things. I only wish they would expand their men's section.
5 months ago Sylvia Seklecki
I have long been a big fan of The Soap Opera! The team is incredibly friendly and knowledgable about the wide range of products they carry. A major highlight of the store is the array of custom-scented products they offer, which are crafted on the spot. Shoutout to Luna in particular for great service and phenomenal work many times over!
4 months ago cscottbeach
I placed an order online in the evening. My order was shipped in morning and I received it today, along with a personal thank you and a sliver of homemade soap. There's so much to love about The Soap Opera and small businesses. Thank you! ☮
1 month ago Charli Robinson
Found what I wanted. And this store smells amazing. I will go back soon.
4 months ago Robert Niknam
This has got to be one of my favorite local shops. I often find customer service a lost art but when I walk into the Soap Opera I remember it still exists. The staff is always helpful and even on busy days make sure to take the time to help each guest. My favorite products are the make your own collection. I get a shampoo and conditioner scented with my favorite scent that reminds me of Hawaii. Thank you for a refreshing experience. Its the little things that go a long way.
6 months ago Christian Gibbons
Haven't been down State St. in a while, but it's so great to see The Soap Opera is still there. Awesome selection as always, and such a fun place to find a thoughtful gift or to treat yourself
6 months ago Annie Hutmacher
AMAZING! Before I was ever a customer, I knew The Soap Opera as the store on State that you could smell from blocks away! But the staff are so polite, and the store has an incredible stock of lotions, soaps, etc.! The Oatmeal Chai soap made in store is TO DIE FOR. I use it every day and also I bought many bars and shipped them to family members for the holidays. Love the Soap Opera!!
11 months ago Bruce Pankers
Love this place! It's so unique.
7 months ago Jenny Wilkins
With covid I've been ordering online a lot to get by being indoors all day, and have never had any issues! In store and online I've had wonderful experiences, they've even offered to recreate a scent from a brand that went out of business that I really enjoy. Would recommend :)
11 months ago Josh Evoy
Fun store! Lots of great gifts. Definitely worth a stop-n-shop.
10 months ago Johnny wink
Local shop with lots of variety and helpful staff
7 months ago Talha A
Staff super helpful and they have excellent products!
8 months ago Wayne Cataldo
I love everything Soap Opera has to offer! A fun store that is a must visit. When I don't have a chance to get to the store thier online website is easy to navigate and thier shipping is super speedy!!! Help support small local businesses shop The Soap Opera!!
2 months ago Karen Callender
You can smell this place from down the street. Great service and selection. Make your own blend of soaps, lotions and more. They will keep a record of your blend and ship anywhere. Close quarters but rent is high on State Street. Pleasant walk and lots of other stores to see
7 months ago Cynthia Molinari
It's all about the scent. There are so many soaps and other body essentials. I like that the smells don't compete with each other in this shop. Nice variety of personal hygiene, essential oils and scented oils as well a clever and practical gifts. I found the staff friendly every time I've been there.
9 months ago James Briley
This place is just fabulous! The staff are knowledgeable and super friendly. The selection of high quality and hard to find products is excellent. They also have an oxygen bar, which is pretty fabulous. I highly recommend checking them out. I'll definitely return.
3 months ago Epic Gamer
Was in again today for air freshners. Many different types and love that are non-aerosol(?)..Store always has great fragrance. Sales lady is terrific!! For such small place they have EVERYTHING!! Need more than 5 stars.
5 months ago Jill Fallin
Adorable Shop. Great products. Fun to visit. Local & Independent. Get away from the mall.. you'll Love it!
4 months ago Tom A
My mom and I stopped into The Soap Opera during a visit to Madison, and had the most amazing experience! The owner was so patient and spent time with us as we created our own scents. Coming home with a perfume I created myself was the BEST souvenir I could have asked for! Such a unique shop with amazing service.
7 months ago Patsy Neff
Great selection of soaps, lotions, oils, and related personal care items. Those that are sensitive to perfume type scents should steer clear. Edit after owner's response: lol, I've been coming there since I think the mid '80s, and never had a clue that a back courtyard existed. Thanks for having it available!
4 months ago Patrick Duval
Yes, this place is awesome! I was looking for a special soap that no one else seemed to carry. Not only did this place have it, but the staff was incredibly helpful in telling me about it! Not to mention the vast array of fragrances for men and women that are incredibly unique.
11 months ago Guido Mintjes
My boyfriend and I stopped by today while we were poking around State Street. Friendly staff answered my questions about a certain scent they didn't end up having but debated about how they could try to create it. Store was clean, well stocked, and smelled delicious--we had a great time sniffing all the wonderful scents and trying out the test products!
7 months ago Lily Quach
There is A LOT of selection for such a small store with all different kinds of soaps, oils, and personal care products. The smell was a little overwhelming but not intolerable. Everything was displayed very nicely and the prices seemed ok.
4 months ago Yehuda Schwimmer
Just recieved my order from you guys. Awesome product, loved the soap sample too. Thanks!
5 months ago lale lu
I LOVE your store! Every time I have shopped there it has been a wonderful experience! The sales people are very helpful and happy. The guy that made up some oil for me (from a sample of perfume that I had brought in on apiece of paper) was spot on!! Oil lasts so much longer on your skin than most perfumes; with me anyways. I would and do recommend The Soap Opera to anyone and everyone who wants to smell great and get it by not spending too much. Go and experience the feeling as soon as you can.
6 months ago Franz Daffner
Beautiful store with unique soaps. Friendly and helpful staff.
3 months ago Angale
Huge selection of soaps and skincare products for every type of skin. They even have locally made and vegetable soaps that are entirely vegan. They have a generous return policy so it definitely doesn't hurt to try shopping here.
9 months ago Giselle johns
I've been going here since I was a kid. Staff is always helpful. Soaps smell great throughout the entire bar and the bars last a long, long time. I have not had a bar that has irritated my sensitive skin. In the long run, I have found that the bar soap used with an exfoliating scrubbie is less expensive than body wash from a grocery store.
9 months ago angelo zielinski
The staff here is so friendly. I got a new shaving cream here, custom scented for me, and it's one of the best shaves I've ever had.
3 months ago Landry Zagre
The variety of product in this little store is unbelievable, but the owners clearly put so much thought and love into the creative displays that the space doesn't feel cluttered. Unique gifts and skin care at reasonable prices!
7 months ago cprzewoznik
You wouldn't think you would need high quality soap from a local soap vendor until you do and realize your whole life of hygene has been a lie up until this point.
5 months ago Marta Rivera
Great place to visit. Awesome selection of everything from soap to body oils. Helpful and friendly workers. ????????
6 months ago Heather Stevens
Oh the smell of this place !! Soo damn goooood. They have some really good collection of bathing cosmetics.
9 months ago Jeremy Williams
I was just in this store and might as well have been totally invisible. Not one of the staff bothered to say hello, may I help you or anything. I stood at the counter for a good 5 minutes and noone even paid any attention. I finally had to ask at another counter if I could be checked out. The smell of incense was so strong it covered up the smells of the soaps and perfumes. Not a welcoming environment.
8 months ago Phil Bossart
This place is excellent. Their house soaps are really the best I've ever used. They also have a lot of wet shaving and beard care supplies. Excellent place, excellent service!
9 months ago Ann Garmager
I lived in Madison from 5th grader until I graduated undergrad college in '78- my Dad taught at UW, Madison, Art Dept.- I remember when The Soap Opera started in the tiny corner store where The Peacock was-? (I think- ?so long ago!) I love, love, LOVE The Soap Opera! I always bought my favorites soaps and lotions throughout the years from The Soap Opera! The fragrances always bring good memories- and now memories of my youth- a German soap that was clear red in particular- YUM! Love that smell so much I could eat it!! Lol! My sister, her daughter and grandkids, (and a man friend also grew up in Madison from high school age- we all live in the SF Bay Area, CA now) are going back in a week for a reunion- wish I could afford to go too..but I started the trip vicariously, by looking you up! Yay! You're still there! First stop The Soap Opera!! LOVE You guys! :)
7 months ago Georgianne Vinicombe
Was looking for some essential oils, came here and they were very nice and helpful, made me my own scent, and even wrapped it up! Great place!
7 months ago Duncan Ploetz
Great place and great products! If you take time to explore the store you are sure to find something you need and love!! The owners and staff are also great!
3 months ago Manuela Garduno
Lots of scents to choose from! Was able to find exactly what I was looking for plus more !
7 months ago Angela M
Your owners choice to post a picture in a medical mask while there is a shortage to healthcare workers is in very poor taste and shameful
3 months ago Temeika Washington
It is really beautiful place. They have very good collection of products and also the staff is very supportive.
3 days ago Emerson Bunnell
I LOVE, LOVE, LOVE THIS SHOP!!! I WISH I LIVED CLOSER. THEIR WONDERFUL STAFF HELPED ME CREATE MY OWN CUSTOM PERFUME OIL 2 YEARS AGO. I GET COMPLIMENTS EVERYTIME I WEAR IT AND EVERYONE WANTS ME TO ORDER IT FOR THEM TOO!!!
10 months ago Cecilia Tran
Not just a place to get pretty trinkets. They have quality products and lots of them!
3 months ago Teresa Lesure
Great service. The prices are amazing too for the great quailty products they have.
9 months ago Tammy Jones
LOVE THIS STORE❤️
4 months ago Troy Nason
great variety of luxury candles, soaps, oils, etc. love that things can also be custom scented. sometimes it's a bit hard to find help but i've always managed to find what i needed regardless
8 months ago Nofel Abbasov
Love this, but can be pricey.
4 months ago Noel Nobleza
African Black Soap rocks my world! I've been going here for my soap since I was a kid. It's a little piece of heaven.
3 weeks ago
Popular places from the category Gift shop