Staples
Office supply store Staples, 515 W 41st St, Sioux Falls, SD 57105, United States:
34 reviews
of users and employees, detailed information about the address, opening hours, location on the map, attendance, photos, menus, phone number and a huge amount of other detailed and useful information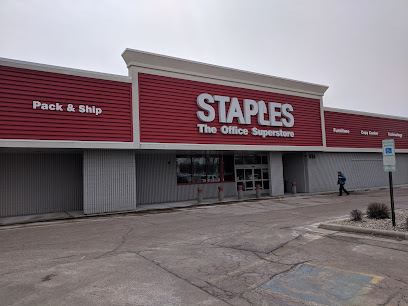 Address:
515 W 41st St, Sioux Falls, SD 57105, United States
GPS coordinates
Latitude:
43.5138320
Longitude:
-96.7319480
Location on the map
Reviews Isaac A
Print Shop bid my 2 sided full color businnesses cards $69. Staples bid same $14. I would of rated Staples with a Five Stars if I didn't have to build card myself. Similar to ordering online, but Staples prints them I one day. Pretty dang good in my opinion.
4 months ago jay singh
Just bought a desk chair. Asked them twice to double check if it was the right chair and they confirmed. They ordered it and put it together for us. We waited an entire week and then went to pick it up and it was the wrong chair and wrong color.... then made us wait 20 min for to get a refund.... Now going to try Office Depot to look for a new desk chair.
7 months ago Sherri Loeb
Their inventory continues to shrink so they become less useful to me.
10 months ago Kristy Clawson
Poorly lit, understaffed. Always feels empty. Location is convenient, but that's about the only thing to recommend it.
4 months ago Mark S
I went in today to get a few things printed. The lady who worked the printing station was extremely helpful and nice. I don't think I could've asked for a better associate.
10 months ago Unicorn Lover
I had went to Staples to print and bind my document. I go in there and they tell me to come back in an hour to pick up my document. I come back an hour later and the printer doesn't have the right ink and I was told to go somewhere else. They had let me sit for over an hour waiting for my document to print, didn't call me to tell me something went wrong. Plus how does a printing place not have the right printers and why couldn't they have fix them and had me come back later. One of the most frustrating processes to print. Will not be back.
6 months ago sagiv reich
Had displayed desk on sale. Not in stock. Ordered through the store to be delivered. Paid for it. Manager said they didn't have it while I was leaving. Waste of time. Not knowledgeable. Poor attitude. Zero stars. Bad management.
7 months ago Lacey Jones
it was good except they did not have anything to have a witness sign my Affata
4 months ago Jillian Bakke
I ALWAYS use Staples for all of my copying needs. I was working a job in Sioux Falls and needed some copies last week, basically 30 copies on card stock. It was 8pm last Thursday night. The girl at the copy counter wanted me to wait an hour for the job and actually she wanted me to leave it and pick it up in the morning. I asked if she could get me the card stock and I'd copy them on the self-serve machines. She said I was welcome to buy a package of card stock but she wouldn't give me any card stock. I get that maybe they couldn't, but it was a 5 minute copy job and I needed 10 sheets of 3 different colors ... not going to buy a package. I went down the street to the Office Depot and was out of there in less time than it took to drive the distance back from the Staples. Was it really worth this. Won't say I won't use Staples again, just probably not the one in Sioux Falls.
11 months ago Jeff Zuban
Excellent customer service in print shop. Quick, knowledgeable and courteous. What a nice change.
7 months ago Puppy Simba
Absolute garbage customer service. Had three employees what appeared to be a supervisor ignore me for 30 minutes. When they finally acknowledged me I was told that the desk I was trying to purchase wasn't in stock even though the website said there were two available.
11 months ago Goodlife Bullys
Kristine and the staff done an excellent job of caring for my needs.Well done to all staff and a big thank you to Kristine for bring so professional.
9 months ago Carla Frazier
The people their are the best. Unfortunately, things happen in shipping goods. I was there not because they sent my chair to the wrong address, as I noticed someone transposed my street numbers so I went and grabbed it. But the box was really beaten up, and there was a missing screw. These guys were dynamite and gave me a screw from the display model (but why do these people not have spare small parts in the first place?). Unfortunately, one of the screws was cross-threaded and would not screw-in. I know it was the screw because it would not screw into any hole. So, I will be back tomorrow and call Staples or the Chair manufacturer support for the 4 missing screw caps, too. But if these guys didn't have my back, my wooden dining table chair would be breaking it, for sure!
4 months ago Beth Allman
Called on a Saturday morning, open at 9, called at 9:15, was on hold for 20 minutes before I just hung up. Horrible, horrible customer service.
8 months ago Deborah Marks
NOT a key copy vendor. Please remove them on google maps search as key copy near me. Wasted my time & effort across town.
9 months ago Shivendra Rajput
I have had nothing but great service from Staples in Sioux Falls. I have read the negative reviews and I couldn't have had a more different experience. I have made several purchases of computers and other electronics, as well as office supplies, and have had nothing but the best service. On the one occasion where I needed to return a printer ordered on-line, a representative even came to my car to carry it inside because the parking lot was icy and he didn't want me to fall. I have to mention one person in particular and that is Jeremy. He is super! If you need special help, ask for him and I guarantee you won't be disappointed!
9 months ago Vicki Jackson
I have received excellent service during my frequent visits to Staples
10 months ago chris smtih
Worst Staples store in the entire company. Ordered a few items for in store pickup. the site says one hour. I ordered at 10:00am and went to get the items at 3:00PM and they had not even started putting the items together. Since I was the only one in the store I asked if they could put it together for me. I was told that they would call when it was ready. No call from the store I called the store the next day a full 24 hours later to see if it was ready and it was still not ready for pickup. If you are going to order for in store pickup just drive over and get the items yourself and save a lot of frustration. Remember in store pick is available in 1 hour. what a joke!
2 months ago Gina Jones
Tyler was very very good. GREAT guy!
4 months ago Sky B
Open early so I had a great jump on the day!
9 months ago JEFFS SPOTT
The staff at the print center is excellent. Used them many times and enjoy doing business with them!!!
8 months ago Dana F
Great sales people and customer service. Items are a little pricy.
9 months ago Ray Rzeplinski
Lots to see.. Some great prices for the holiday.
10 months ago Dennis Walk
Nobody would help me and I will never shop there again
7 months ago Yolanda Dunn
Great experience, very knowledgable
4 months ago Marco Coster
I purchased a Chrome Notebook but the instruction book is WORTHLESS! but figured out by myself a few things. Then when I got a printer, it needed a certain password which had to be done at my house at a fee of $100. The tech really didn't know what he was doing - kept going to GOOGLE to see what was next.........then I learned my Notebook was to small to hold the photos I want . He showed me briefly how to put some pictures in and only ONE comes up.( I take a lot of random photos for scrapbooking etc...cheap camera) and the tech told me I needed the portable hard drive to hold all my photos. So I purchased it from him the next day and this instruction book is worthless also. I called Staples in SF today and the techs were busy but they would call me................Guess what - that's been 7 hours ago and still no call. I finally got smart and went to the Center for Active Generations and they will give me all the help I want - all I need to do is show up! SO I guess I too will KISS Staples GOODBYE.Staples --you lost another customer...my neighbors say the same thing!!!
4 months ago Rahul Srivastava
Clear signs , it led me to what I needed, I was literally in and out in less then 10 minutes.
9 months ago Alondra Vargas
Service was lousy and had a poor attitude. Told her I'd go elsewhere if not willing to help. Her comment, "fair enough". Obviously didn't care.
9 months ago Joy Borchman
Great place to shop
4 months ago seth novak
They are very professional and prompt.
9 months ago Sage Turner
Had the printer in store
7 months ago Carty Zandra
poor service every time visit!
4 months ago charles foster
Had most of the school school supplies
4 months ago George Horak
Always nice
8 months ago
Popular places from the category Office supply store